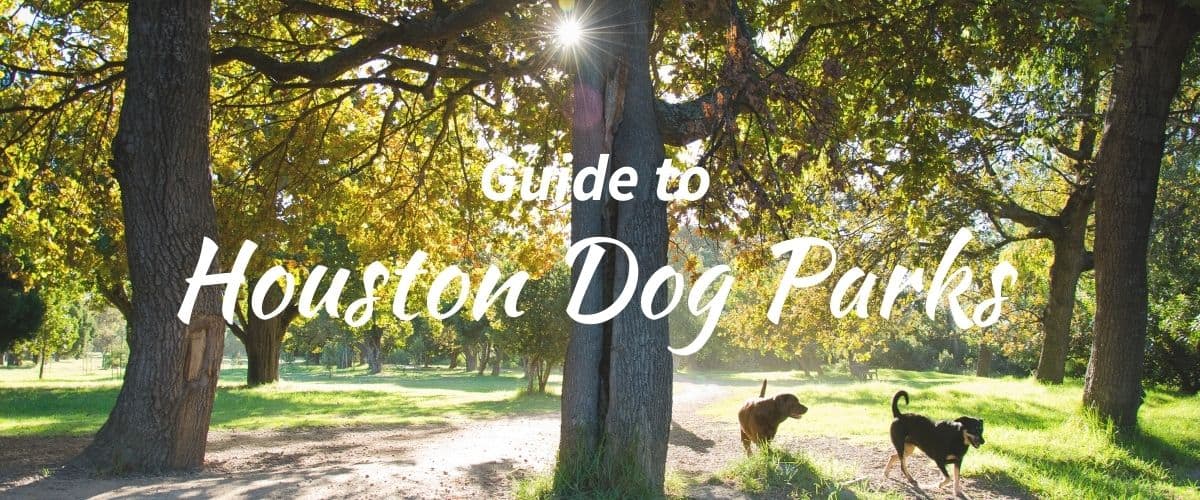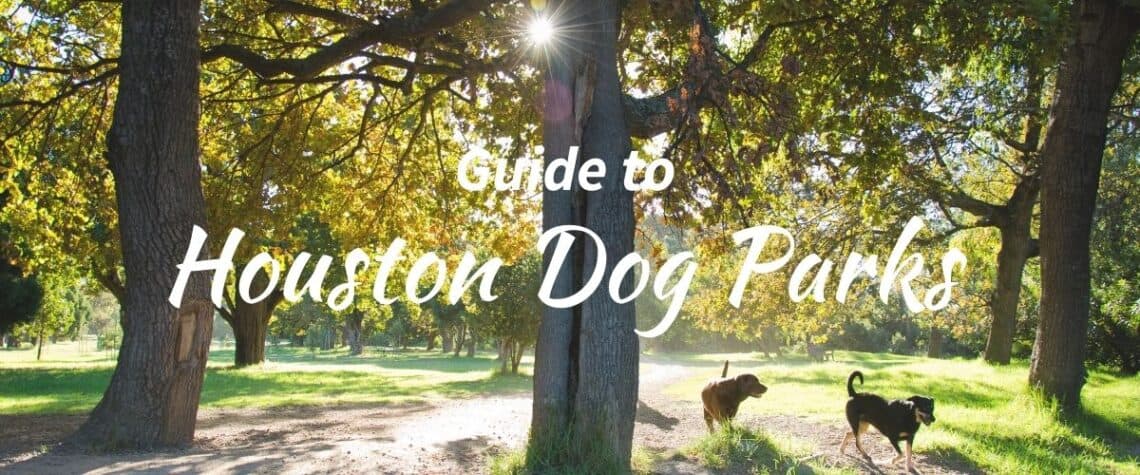 Looking for Houston dog parks near you? It's great to get outside and play with your dog in the fresh air. But how to find a dog park in your area? Here's where you can take your dog in Houston. It's our list of Houston dog parks by area, including Houston dog parks with water.
Houston Dog Parks Downtown
Neartown and downtown dog parks make good use of tight spaces and are a good option for those living in town.
Danny Jackson – Bellaire – This is a narrow park that makes use of a small strip of land along power line easement. On the plus side, there's a big parking lot and small man-made lakes, benches and bathing stations. On the negative side, not a ton of grass for the dogs. Address: 4828 1/2 Loop Central Drive.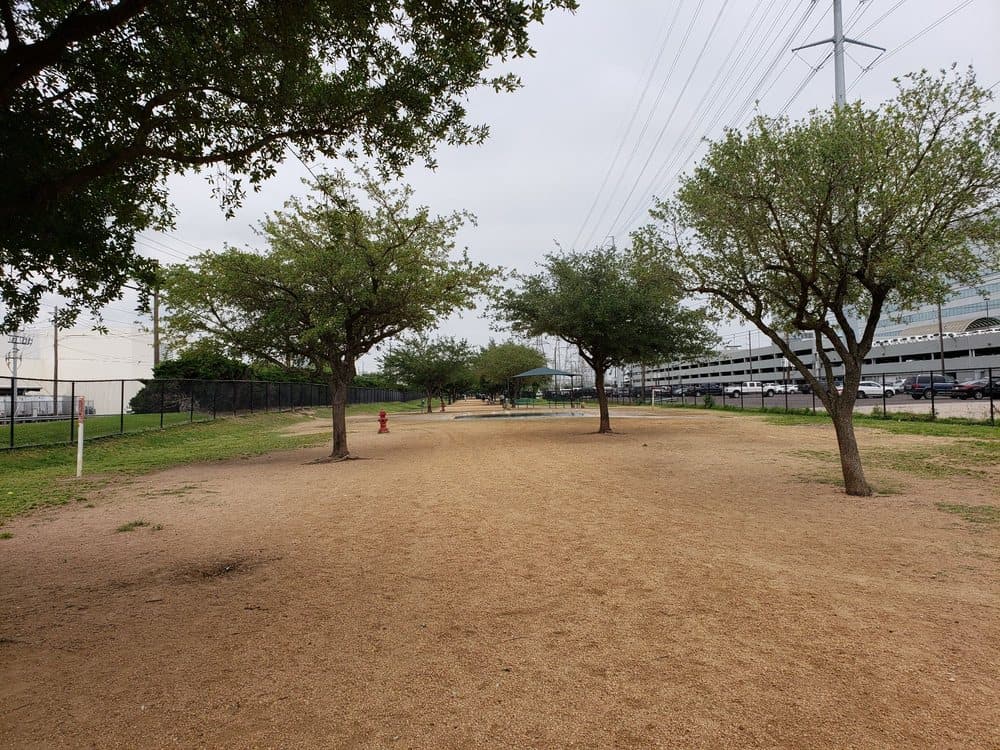 Ervan Chew Dog Park – 4502 Dunlavy Street. This was the first neighborhood park in Houston to allow dogs to legally run off-leash. This is a small park, with mostly gravel and mulch.
Levy Park – 3801 Eastside. Levy Park is located in the middle of several large condo and apartment complexes near Kirby. The dog park is a small carve-out on one side, but it gives city dogs a place to stretch their legs.
Johnny Steele Park – The crown jewel of downtown dog parks, this location at Memorial and Studemont has great views of downtown. Limited parking, prone to flooding, it's a good effort to offer fun for city dogs. And it's great for people watching.
There are small pocket dog parks scattered across downtown, giving urban dogs a place to scratch and sniff. These include: Discovery Green, Market Square, Midtown Park, West Webster Dog Park, EaDo Dog Park, Officer Lucy Dog Park.
You should feel free to take your dog to ANY park in Houston, as long as your dog is people-friendly, and remains leashed and under your control at all times. And please, pick up your dog's poop! Don't be gross.
Houston Dog Parks Heights
The Heights, Garden Oaks and Oak Forest are all known for their dog loving families and singles. So it's surprising that this neartown community has just one official dog park. But never fear, this area is loaded with dog friendly places. (Check our dog friendly bars and restaurants below.)
T.C. Jester Dog Park – 4201 West T.C. Jester Blvd. This is an official dog park. It's small — just 1 acre, separated for large and small dogs. But. Grab your leash and explore the hike and bike trail along the edge of the bayou. Your dog will get a feast of scents, and you can usually see some wildflowers spring, summer and fall.
Park for Dogs and Humans – 901 Sawyer St. This small park is located in the heart of Sixth Ward, in the Washington Avenue corridor. It's jointly managed by the neighboring apartment complex and the Sixth Ward Redevelopment Authority. The central point is a gazebo, which came from the turret of a now-demolished historic home.
Houston Dog Parks Westside
I'm mostly familiar with the dog parks on the West side of Houston. My personal favorite — Bill Archer Dog Park, for it's wide open spaces and walking trail. My dogs don't go to dog parks anymore. Doug attempts to preach the Gospel of Spay & Neuter by humping every unneutered dog he finds. Tammy's fear aggression has turned to full on hatred of other dogs, so she occasionally gets to run free in a fully fenced neighborhood baseball field. But if you want the best dog park in Houston, I'll give that award to Bill Archer Dog Park.
Bill Archer Dog Park – 3201 Highway 6, between I-10 and Clay Road. This 17 acre park includes both large and small parks, and ample parking. The large dog park includes a .7 mile walking trail, and both sections of the park have dog swimming pools. There are typically large muddy puddles on the far side of the park after any rain, which the dogs delight in. Of course, there's the requisite dog-washing stations for both large and small dogs.
Millie Bush Dog Park – 16101 Westheimer Parkway. Located in the George Bush Park is the Millie Bush Dog Park, named after the late president's dog. This large facility has parks for small and large dogs, with ponds in each, and dog-washing stations After you enjoy the facility, you can walk with your (leashed) dog on any of the many hike and bike trails in the area.
Deputy Darren Goforth Park – 9118 Wheatcross, around Barker Cypress & 290. This is the hidden gem of the Harris County dog parks, located on Horsepen Creek. There's a track to walk around, a covered area for shade, plenty of water stations, a dog bathing station and a real lake. Well, what Houston considers a lake. It's a drainage area for the neighborhood, but it's as close to a real lake as dogs will find in a dog park.
Houston Dog Parks Eastside
Maxey Park – 601 Maxey Rd is a City of Houston park with 13 acres fenced for dogs. There are separate large and small dog park sections.
Alexander Deussen Dog Park – 12303 Sonnier St, on the shores of Lake Houston. What? A lake in Houston? Yes. It's where a lot of the City of Houston water comes from (filtered, of course). The dog park is the typical — small and big dog parks, bone shaped mini pool, yada yada. The real gem is the lake itself. Take your dog on a long lead and let them swim in the lake. Then use the dog-washing station at the dog park before heading home.
Houston Dog Parks – Worth the Trip
There are open spaces and beautiful parks across Houston where your dog is welcome. These are all a little drive from downtown Houston but worth the trip! Keep your dog leashed, or make sure you have a strong recall to avoid conflicts with other visitors.
Willow Waterhole Greenspace Conservatory – 5300 Dryad. This 290 acre greenspace does not have an official dog park. But it does have fabulous walking trails and open greenspace. Located southeast of the city, outside of 610 but inside the beltway on Highway 90.
Keith Weiss Park – 12300 Aldine-Westfield. This is not a dog park. But it is 500 acres of woods close to town, including paved pathways and boardwalks over the Hall's Bayou watershed. An easy drive up 59 or Hardy Toll Road, outside of 610 but inside the beltway.
Pundt Park – 4129 Spring Creek Drive, Spring. There is a small dog park here (Bibi and Mini-Me Bush Dog Park). But this park is more well known for its creek with a sandy beach area. While not an official dog park, many dog owners visit before 9am and let their dogs explore off-leash. Follow Creekside Trail to Canoe Launch to find the beach.
Burroughs Park – 9738 Hufsmith Road, Tomball. There is a 6-acre dog park, but there's also miles of walking trails and a 7-acre lake at this park north east of Tomball.
Independence Dog Park – 3449 Pearland Parkway, Pearland. This city park has a small dog park. But you can also enjoy a walking trail and open space if your dog needs to stretch their legs.
Pawm Springs Dog Park – 15300 University Blvd., Sugar Land. This 6-acre themed dog park in Sugar Land is within Memorial Park, which runs along the Brazos River. Take your leashed dog on a walk on the 2 mile hike and bike trail and enjoy the views.
Houston Dog Parks with Water
There are a number of Houston dog parks with water, whether natural swimming holes or dog swimming pools.
Most of the dog parks listed here have water. But the best dog park with water in Houston is Alexander Deussen Dog Park on the Eastside and Deputy Darren Goforth Dog Park on the Westside.
For a private dog park swimming pool experience we recommend Joasis. This backyard oasis turned dog swimming pool facility offers dock diving lessons, swimming lessons and retriever training. Or just go for good old swimming with your dog. (Check out the dog birthday party we had at Joasis.)
Or on the west side, your best bet is Rummy's Beach Club, a private one-acre dog park near Houston, Texas. Rummy's is pretty well known with Houston doggos because of the hundreds of toys for your dog to play with. There's also an 8 foot commercial chain link fence completely surrounding the park so no dogs can escape, shaded areas to lounge in, and a staff member there to assist.
Health & Safety Issues at Houston Dog Parks
There are a number of health and safety issues that come to mind with dog parks. Here are some to keep in mind.
Be vigilant. We see too many people at dog parks with their heads down looking at their phone and not monitoring their dog. Dogs can quickly get into altercations. Monitor your dog's activity while in the park and break up any over-zealous rough housing.
Watch for dirty water. Dog parks contain puddles. And those puddles could contain parasites, water-borne amoebas that will cause diarhea, plus urine and feces. Always wash your dog off with soap if they get into the mud puddles in the dog park, taking care to wash their feet.
Check your vaccinations. Puppies should not enter a dog park until they have had their full round of 3 parvovirus / distemper vaccinations. Both can be deadly. Both viruses can be transmitted through soil and feces.
Know your dog's limitations. Is your dog a nervous nellie? A happy go lucky pup that doesn't understand boundaries? Not all dogs need to go to a dog park. And even if your dog is great at the park? They will find other dogs that aren't. Watch your dog for any signs of agitation and remove yourself and your dog it it's too much.