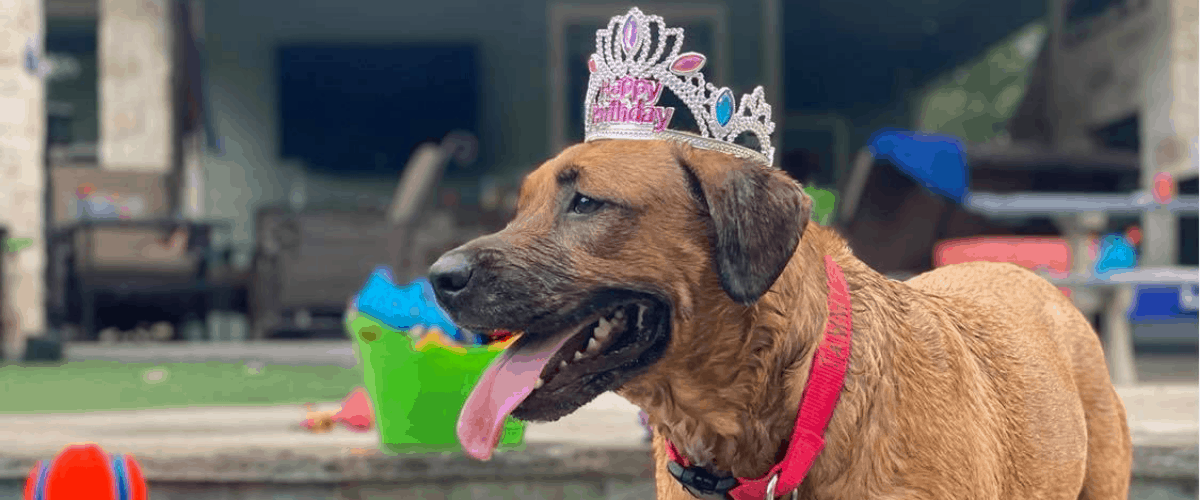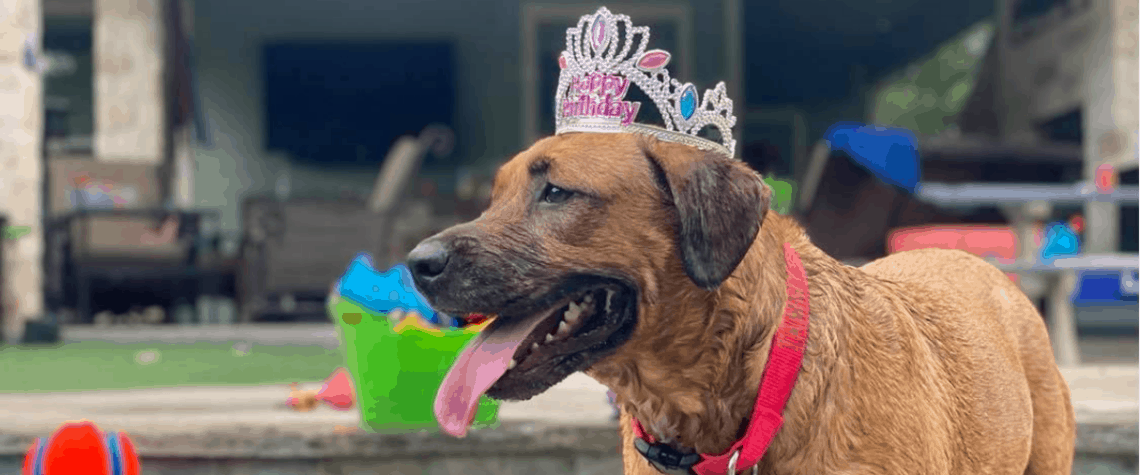 How to Have the Best Birthday Party for Your Dogs – Joasis Houston
Everyone knows their dog is the best, right? Doug and Tammy are the best dogs ever.
So when I was looking for the best place to have a dog birthday party in Houston? I looked immediately to Joasis, a dog swimming and dock diving facility in Houston Texas. We had a blast there, celebrating Doug Dog and Tammy Lynn's birthdays.
How to throw a birthday party for your dog in Houston
Now, throwing a birthday party for your dog depends on your personal style.
There are special venues for dog birthday parties. You can do a doggie pack walk birthday party, homemade dog birthday cake at home and even a dog birthday party just for the Instagram photo shoot.
But my dogs love to swim and haven't had access to a pool in over 2 years.
And we were having a string of days over 90* here in Houston. So a doggie pool party seemed the perfect dog birthday party venue.
And luckily, I found the best place to have a dog birthday party in Houston — Joasis dog swimming and dog dock diving.
Joasis – Dog Swimming, Dog Dock Diving and Dog Birthday Parties
Joasis is located in a mixed commercial/residential neighborhood in Garden Oaks, just north of The Heights. Driving down the street to visit Walking Stick Brewery, Heights Brewing Company or Wakefield Crowbar, you'll notice a fenced private house with a large sign outside.
Owner Jo Dunham built the pool as her own private oasis and for dock diving practice with her dogs. Her dogs Goose and Watson are #1 and #5 in Air Retrieve for Golden Retriever Dock Diving.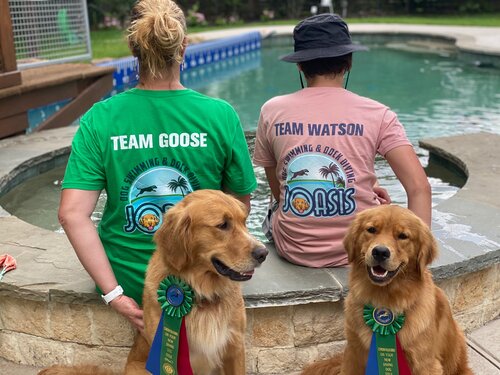 So how did Joasis become a for-rent dog pool facility? "My mom, Jack Daniels and I got to talking one night in the back yard," Jo laughs. Next thing you know, her private oasis became a for-rent facility for dog swimming, dog dock diving, dog rehabilitation and water exercise, and dog socialization classes.
Jo's favorite thing? Teaching puppies to swim. Jo says, "If I could teach puppies to swim every day, I'd live to be 200!"
Dog swim lessons start out in a life vest with a handle. That allows Jo to maneuver the dog and help if it starts to panic. After a positive first experience in the pool, the vest comes off and the play begins.


Jo has also seen the benefits of water therapy for dogs. One of her clients is a german shepherd with a wheelchair due to degenerative spine issues. With water therapy, he's now moving his back legs in the water!
Her classes Socialization for Every Dog include one hour of basic behavior instruction plus 30 minutes of structured pool time. (Next classes start August 19, $290 for 5 classes and orientation!)
Or for dogs that love water and need a job, the Water Work/Water Play class is an introduction to dog fishing and retrieving. Dogs will learn to dive and retrieve underwater, plus enjoy pool games like water polo, keep away, buried water treasure, come to owner in water, and dock diving. (Next classes start August 16, $300 for 4 90 minute classes.)
The pool is open year round, and the pool is heated in winter.
You're invited — It's a Doggie Birthday Pawty!
The fun started as soon as we arrived. Special signs greeted us at the entrance. Doug and Tammy got their doggie birthday crowns.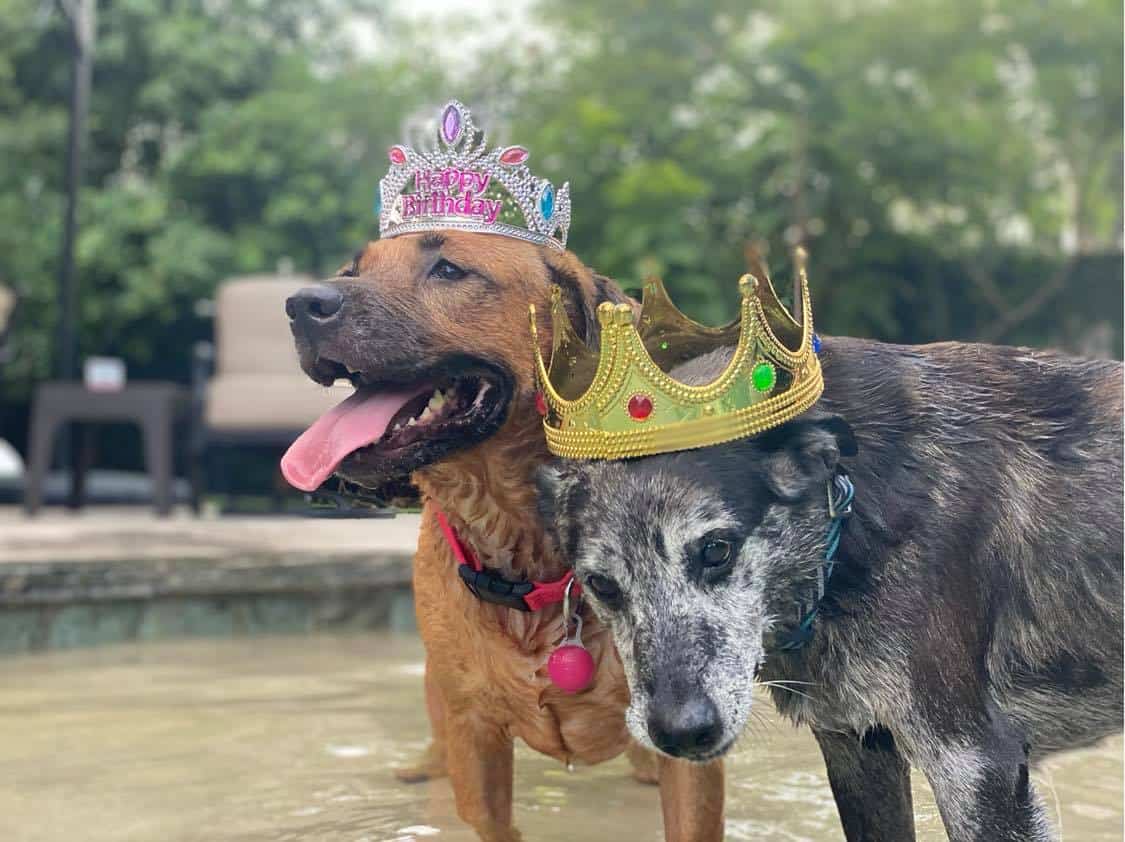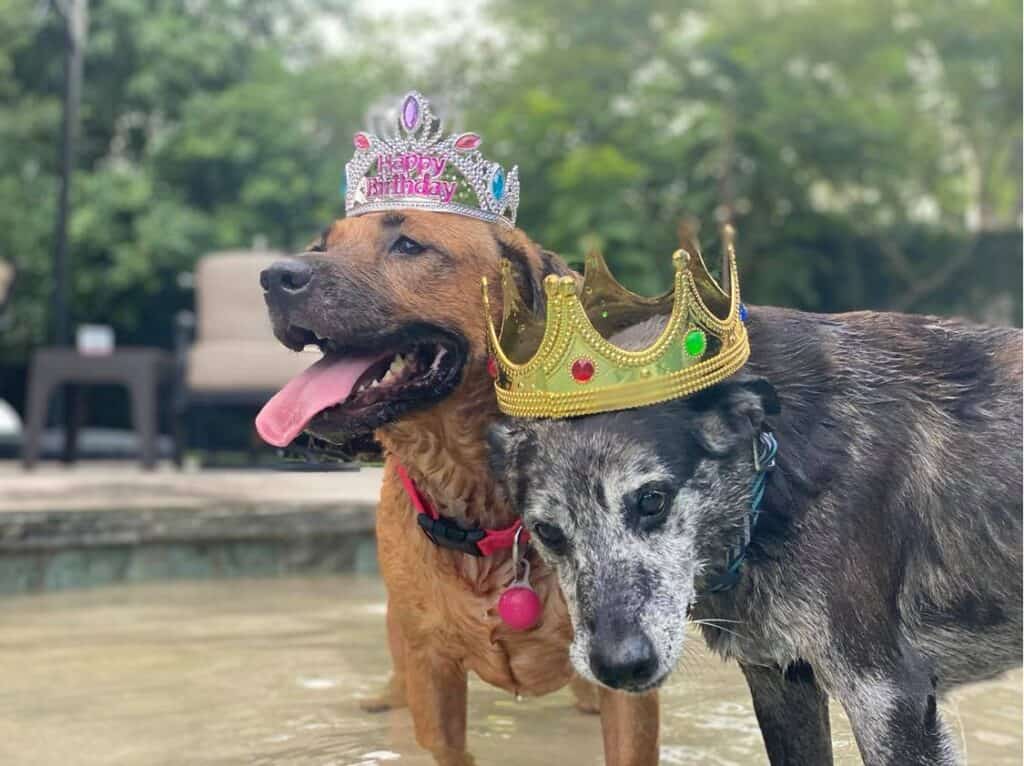 My puppers needed no invitation to jump in. After sniffing every corner of the back yard, they made their way into the pool and pushed off into the cool clean water.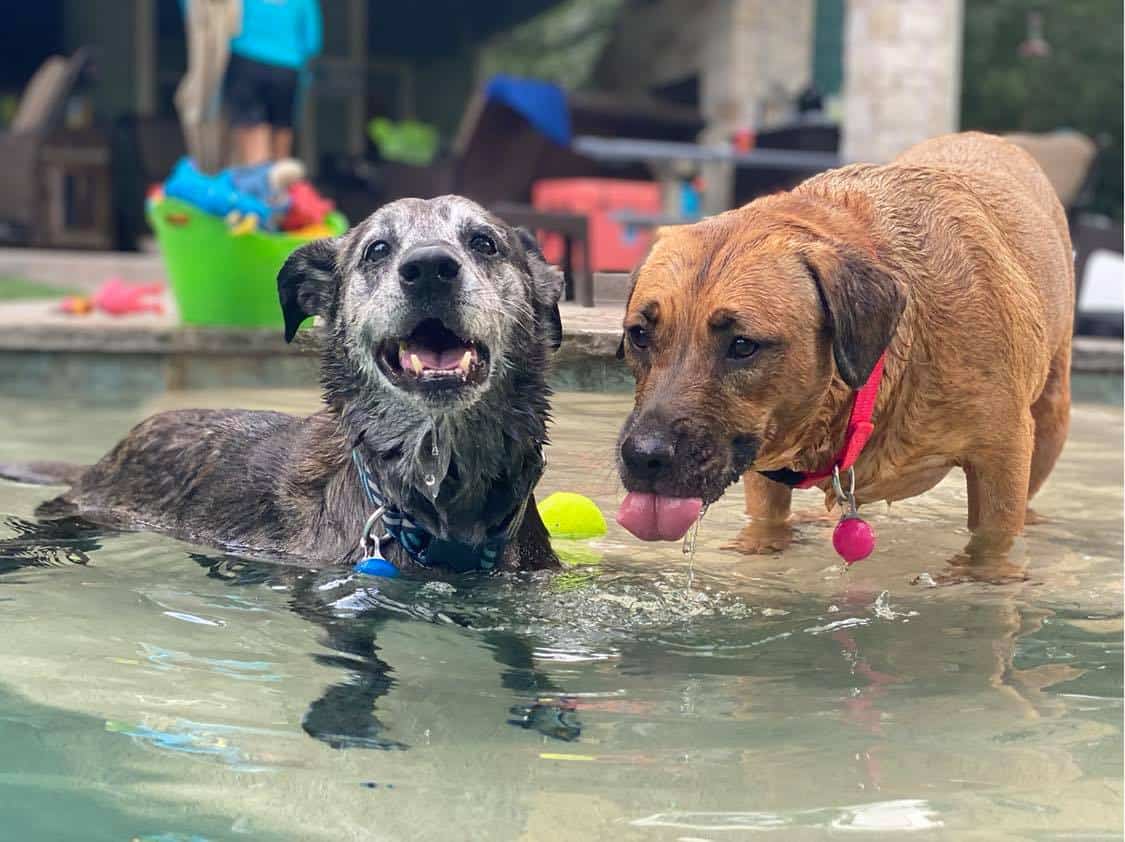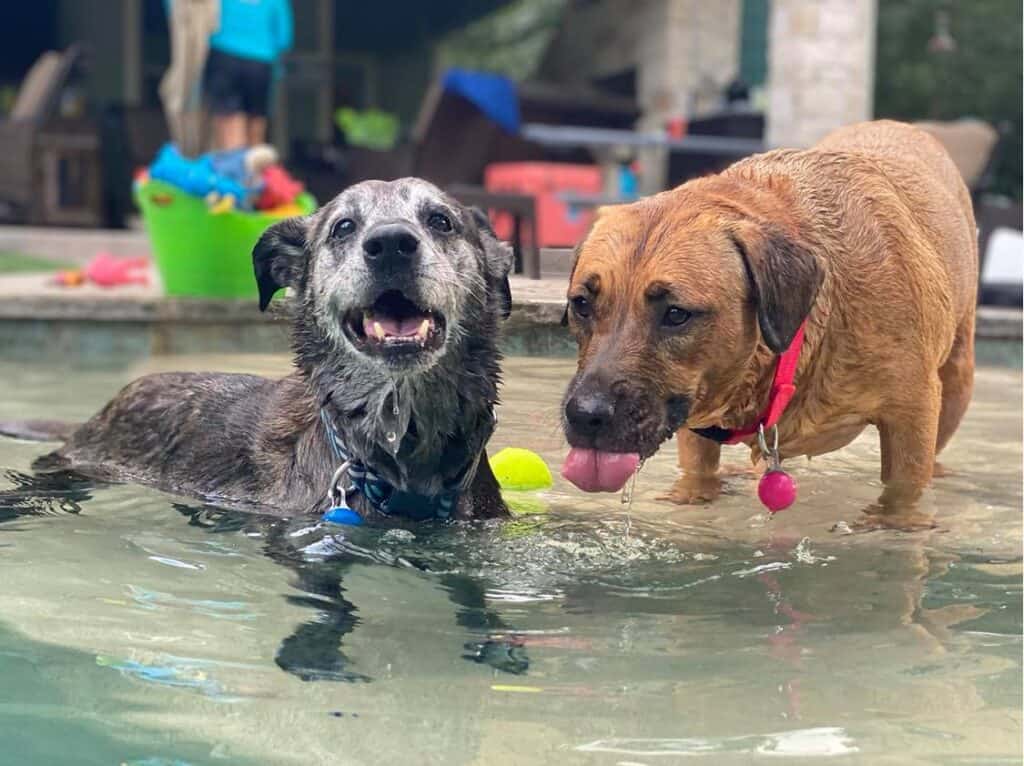 Ok, scratch that. In reality, Doug went in to swim, and Tammy went in to steal the toy out of his mouth and attempted to drown him.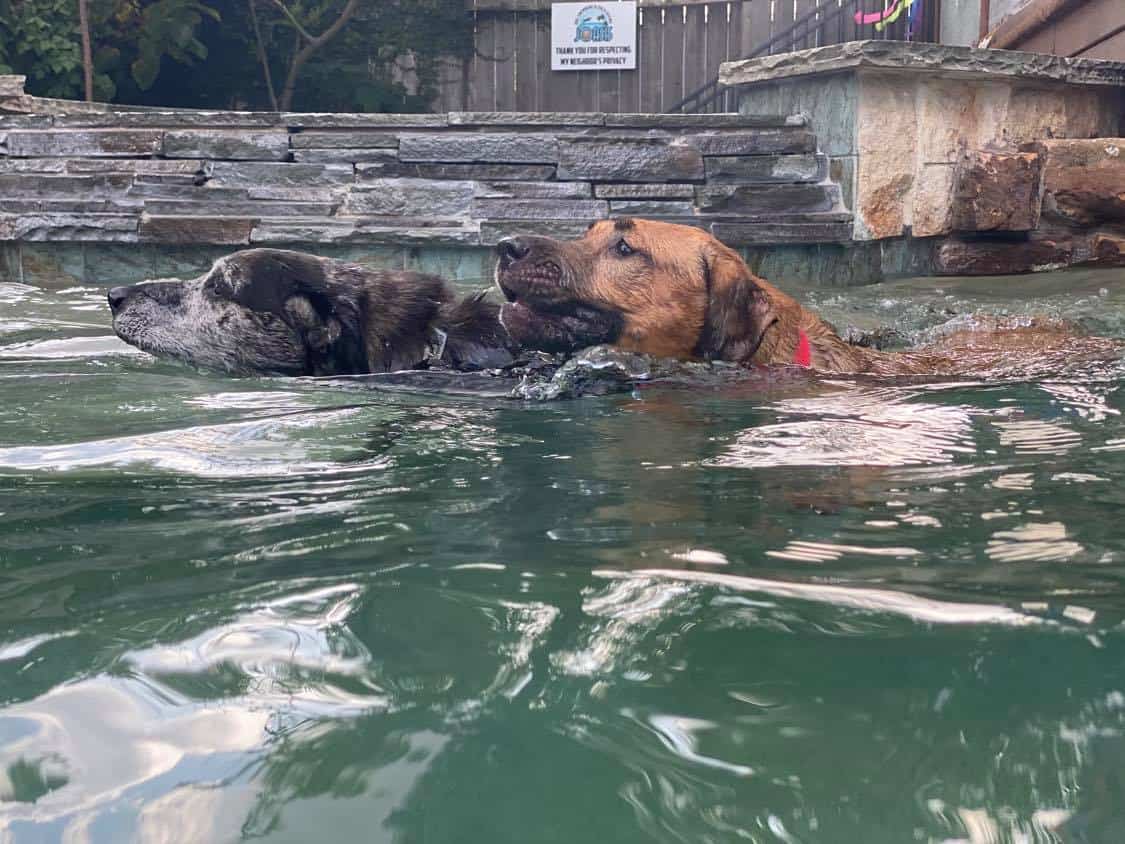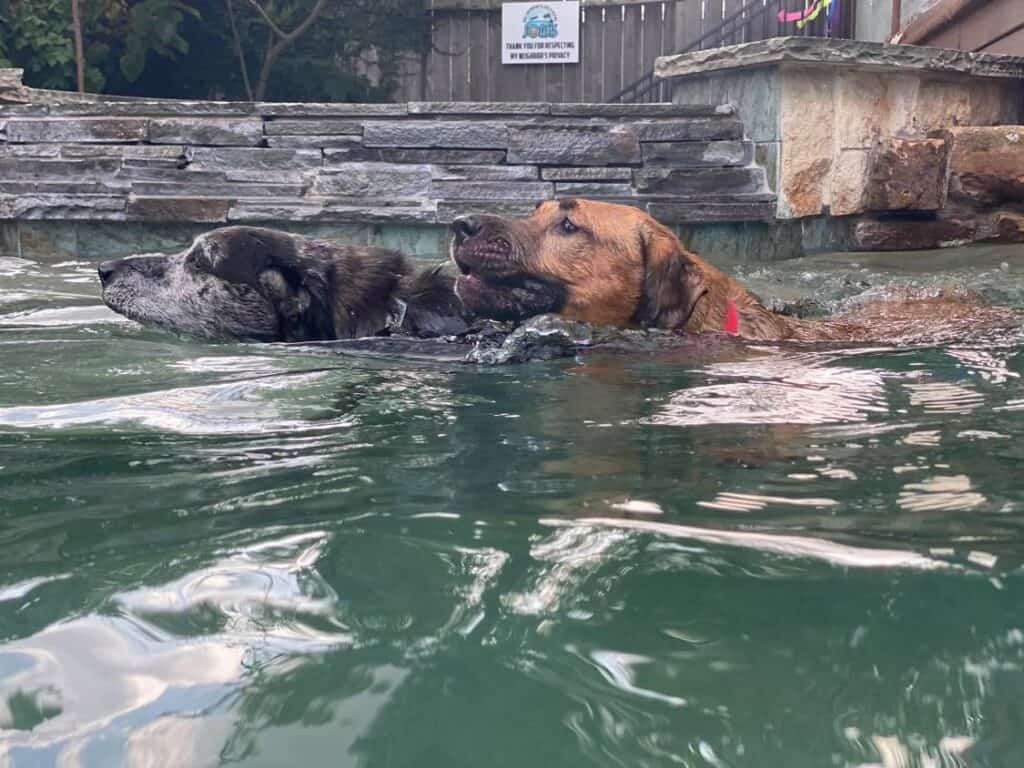 While Tammy enjoyed(?) her time out for poor dog-manship, Jo hopped in the pool to start Doug down the road to becoming a dock diving champion.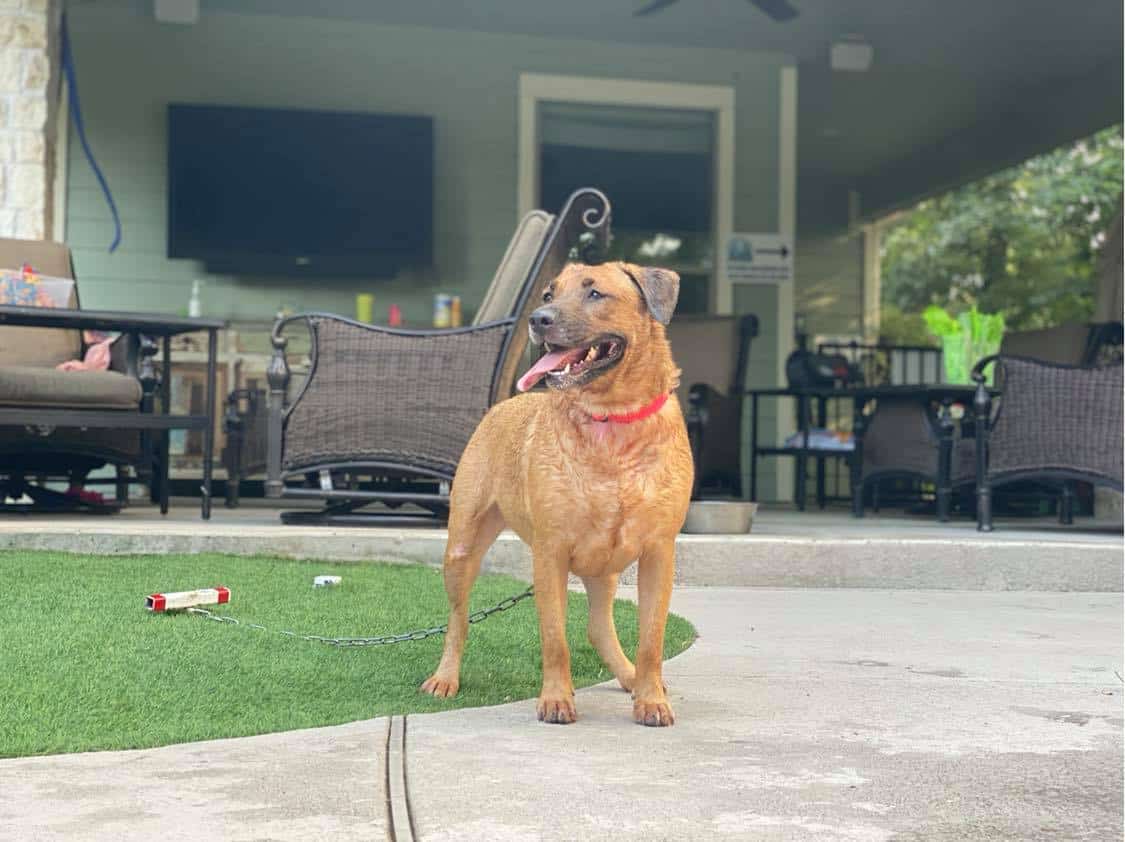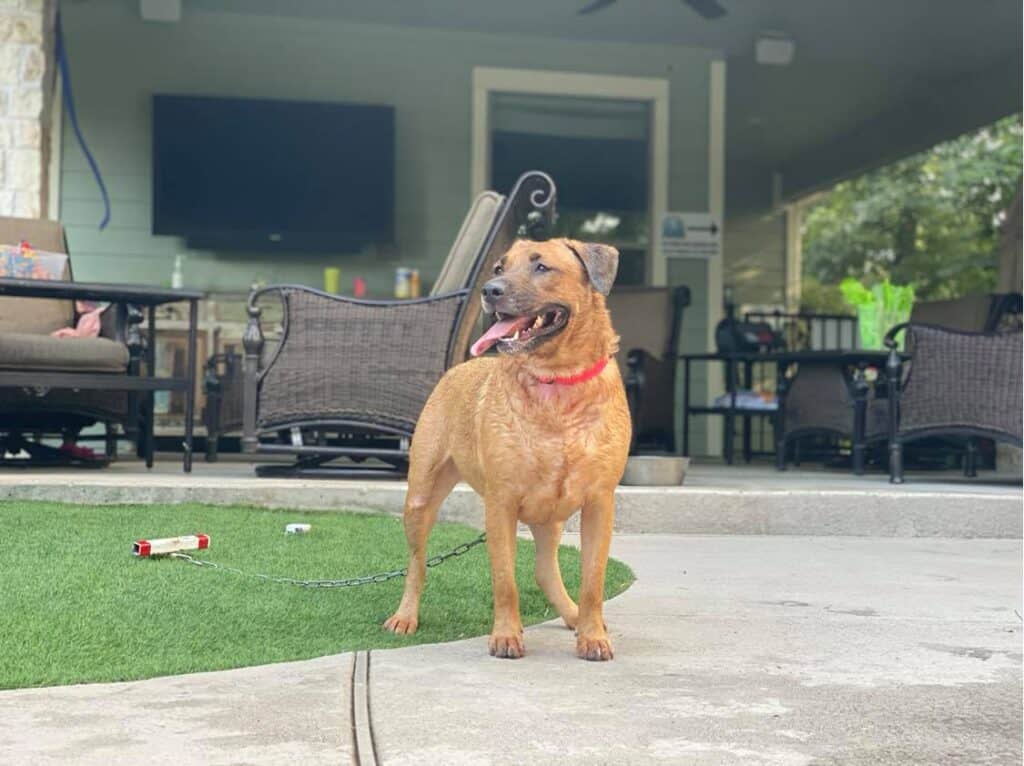 We started out easy on the stairs. Jo pulled out a large rubber mat to get Doug used to jumping into the pool from the stairs.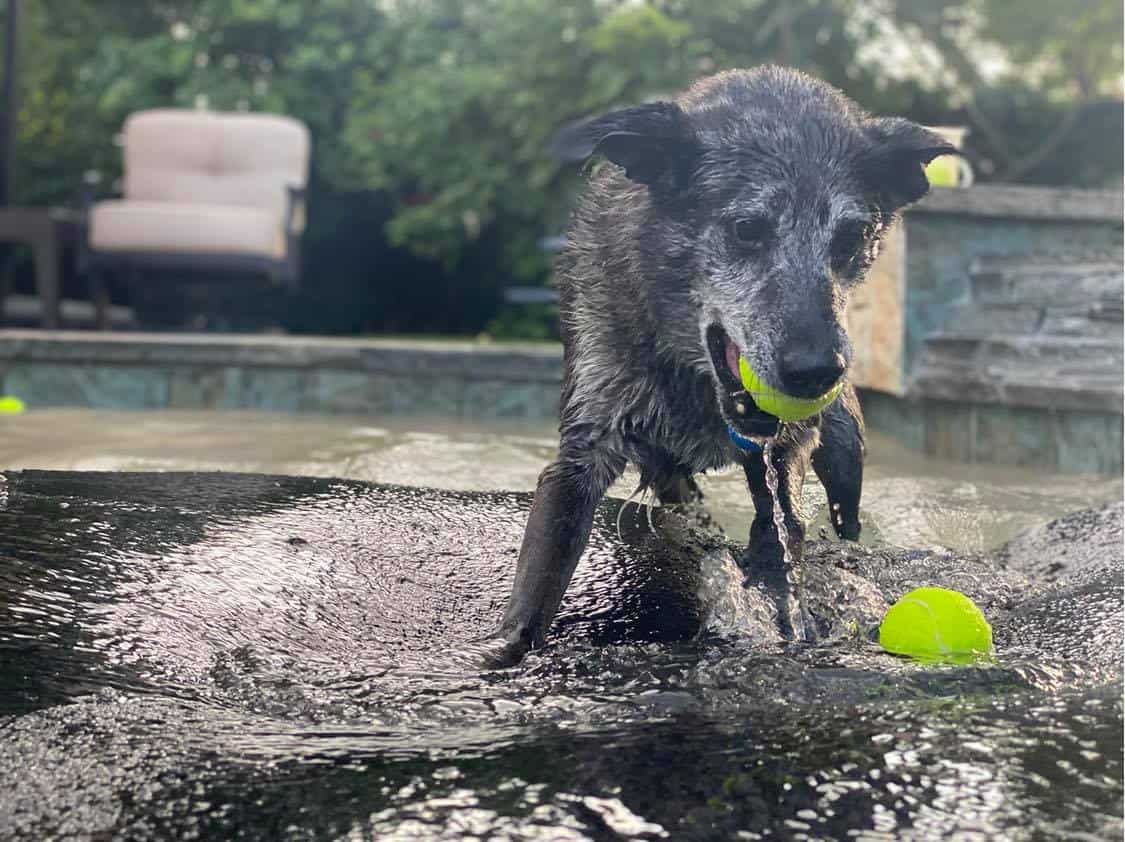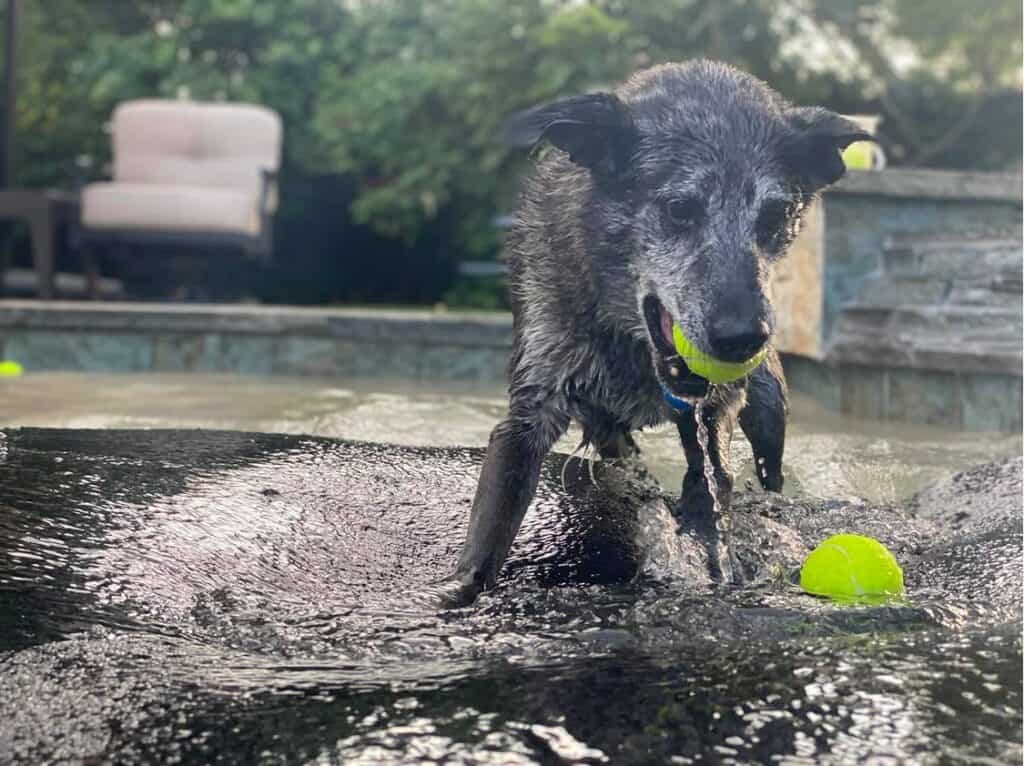 Once he mastered that, he started jumping from the steps.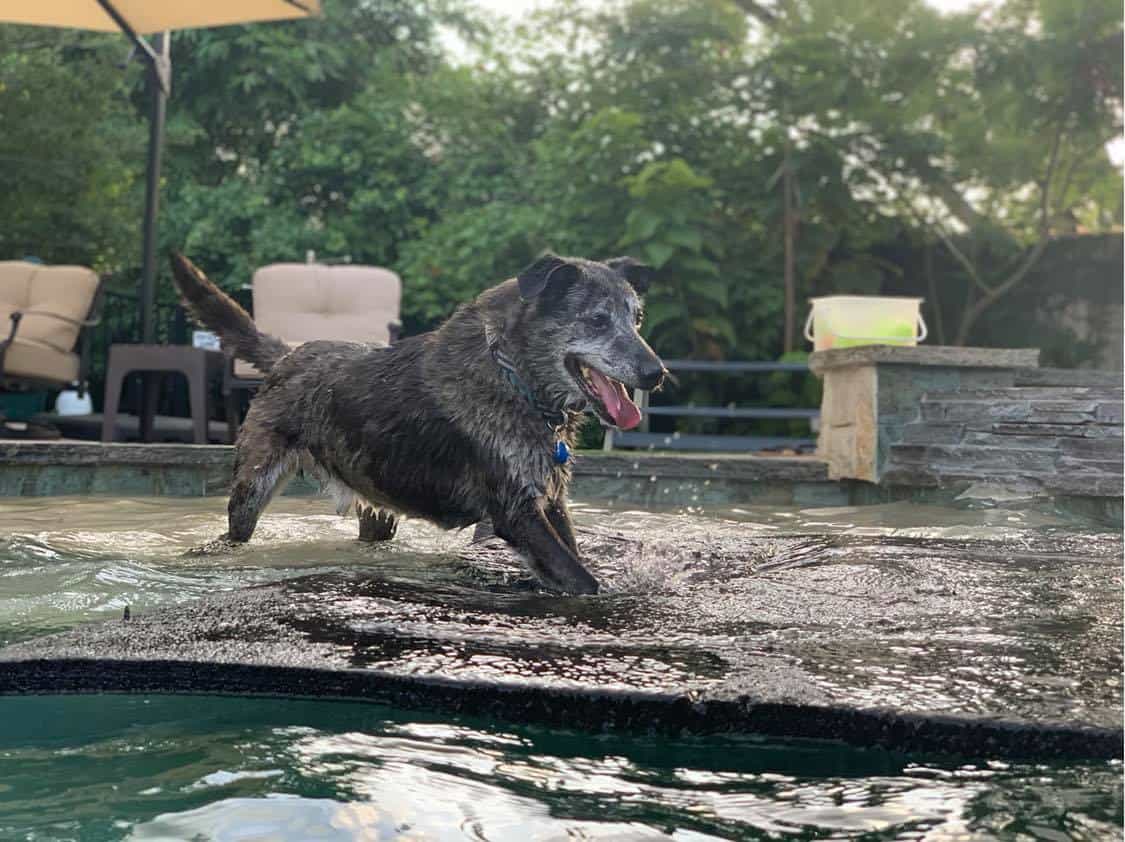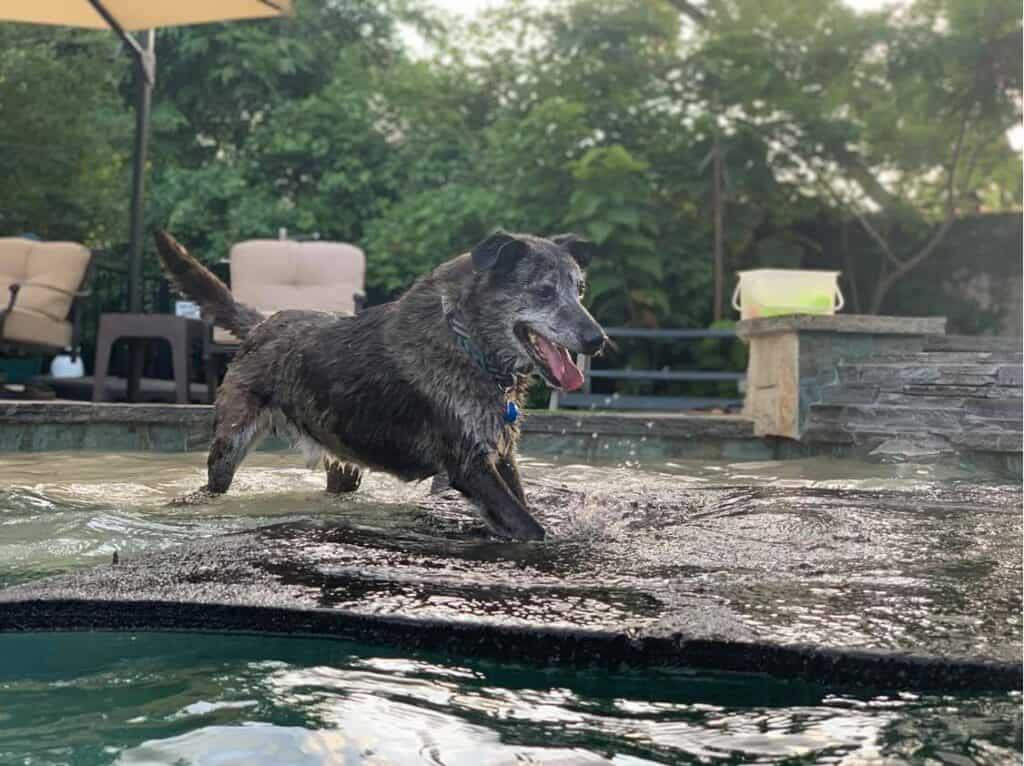 And progressed to the far side of the pool.
But mostly Doug just insisted that we get the ball and toss it again and again while he barked like a fool.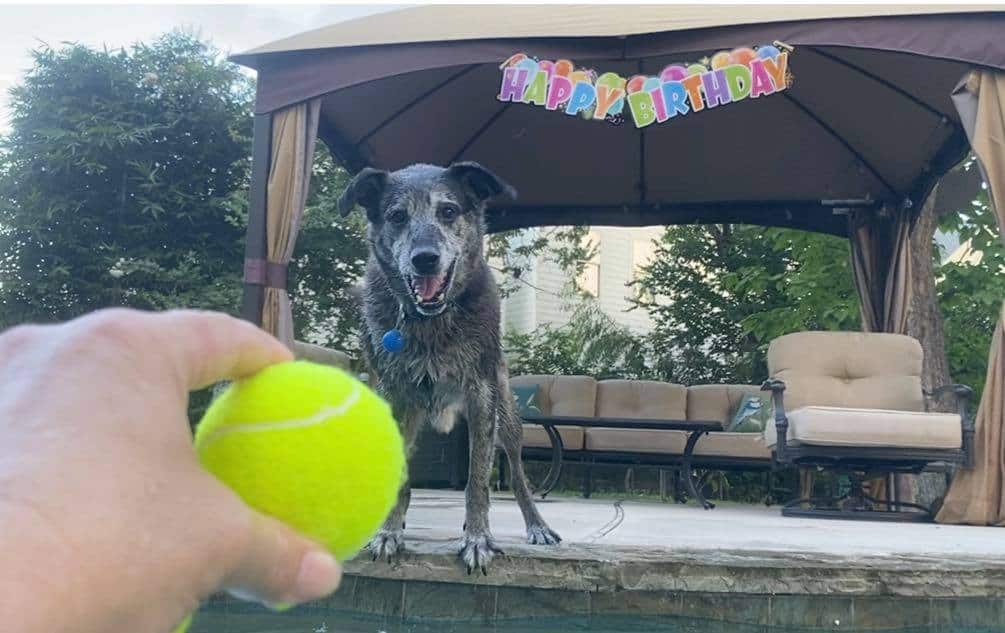 Our guest, Rizzo the Mighty enjoyed her time swimming too.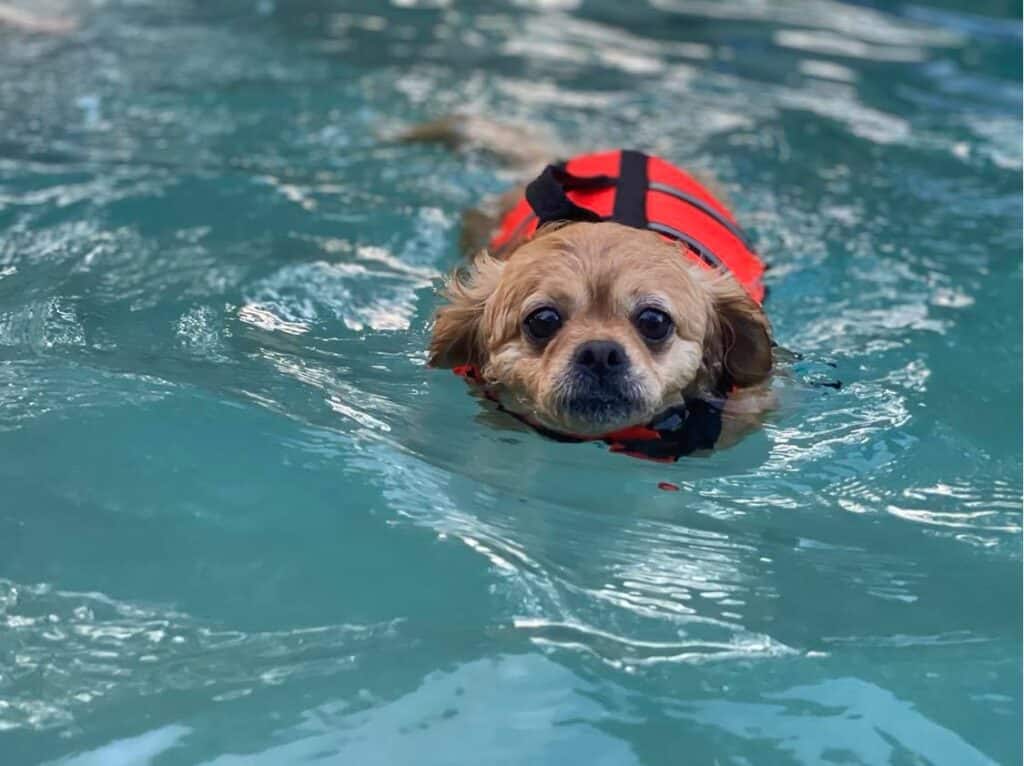 And so did I! After swimming at Joasis, I need to have a dog party every weekend, it was so enjoyable!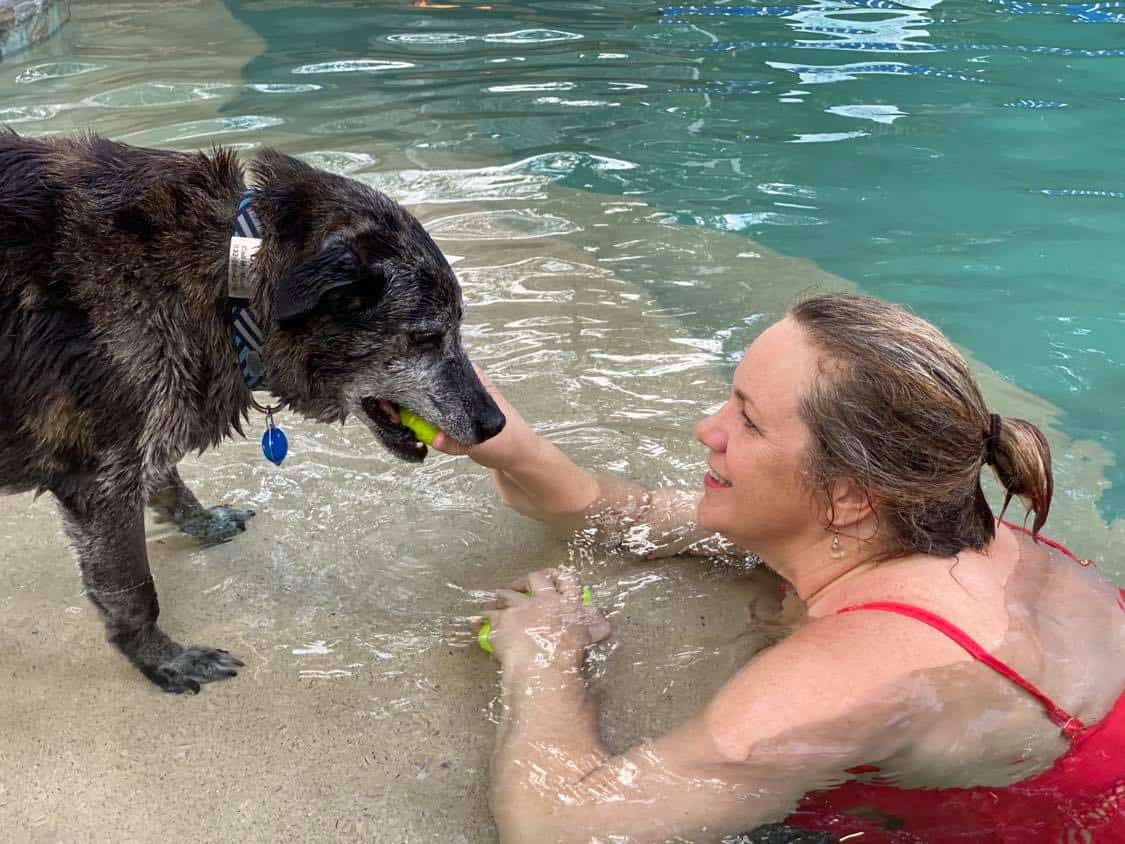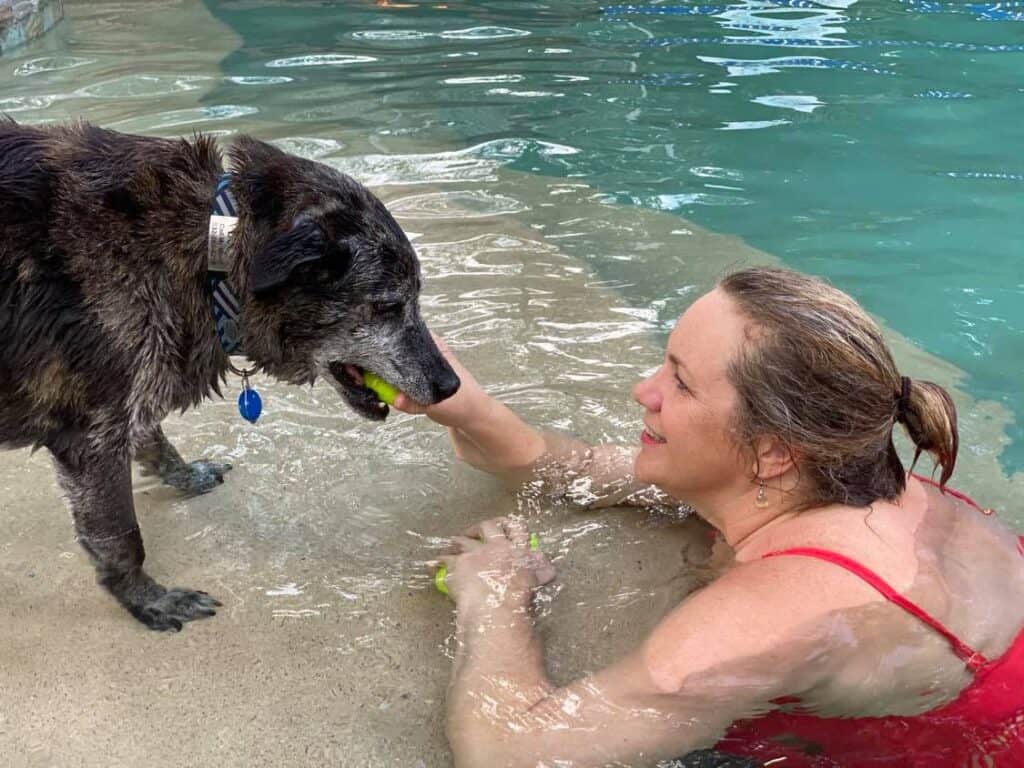 Seriously, I think Jo has thought of everything for her Joasis. There's even a dog wash station in a separate fully fenced side yard, including shampoo and conditioner and a commercial dog blow dryer.
Plus a changing room and bathroom for the humans, with bags for your wet bathing suits. There were even human snacks and water provided.
After swimming, we sat down in her covered patio with ceiling fan and enjoyed our treats from The Doggie Express! They each received a dog birthday bandana from Briggs 'N Wiggles too. This is a local company that hand makes reversible dog bandanas that slip over the collar.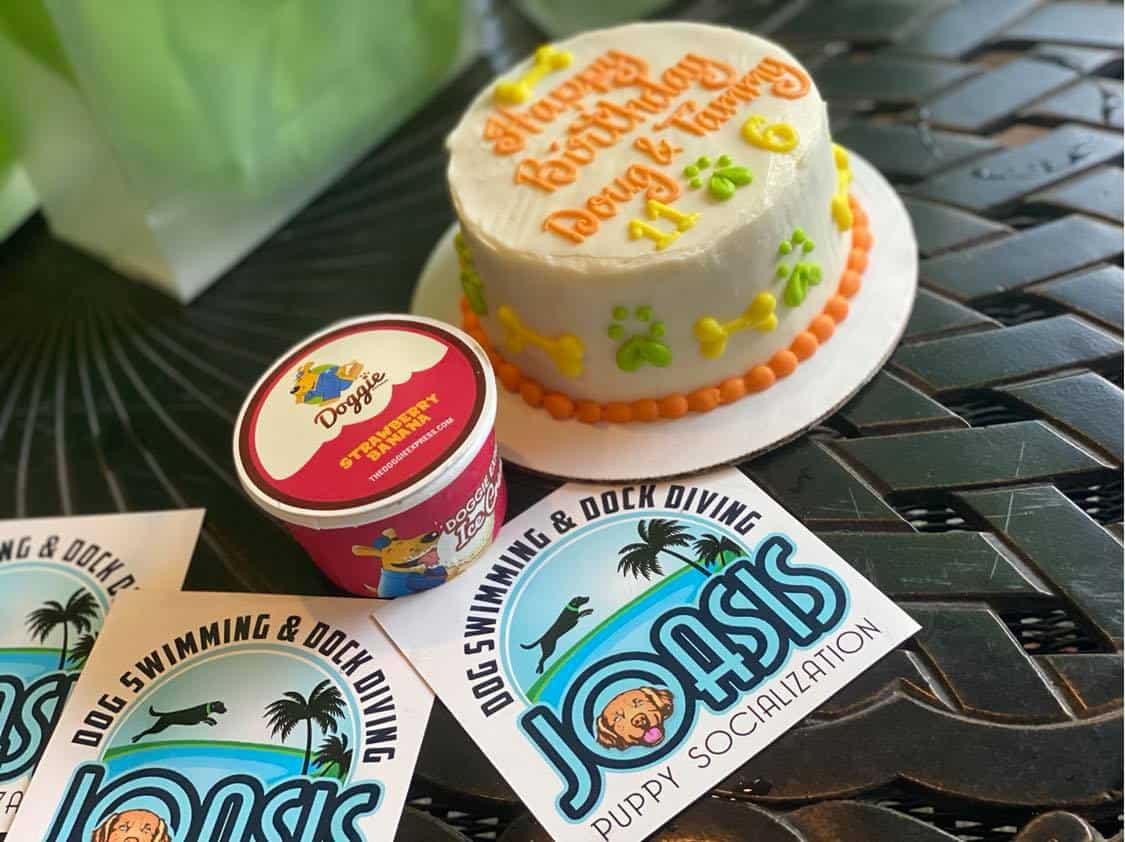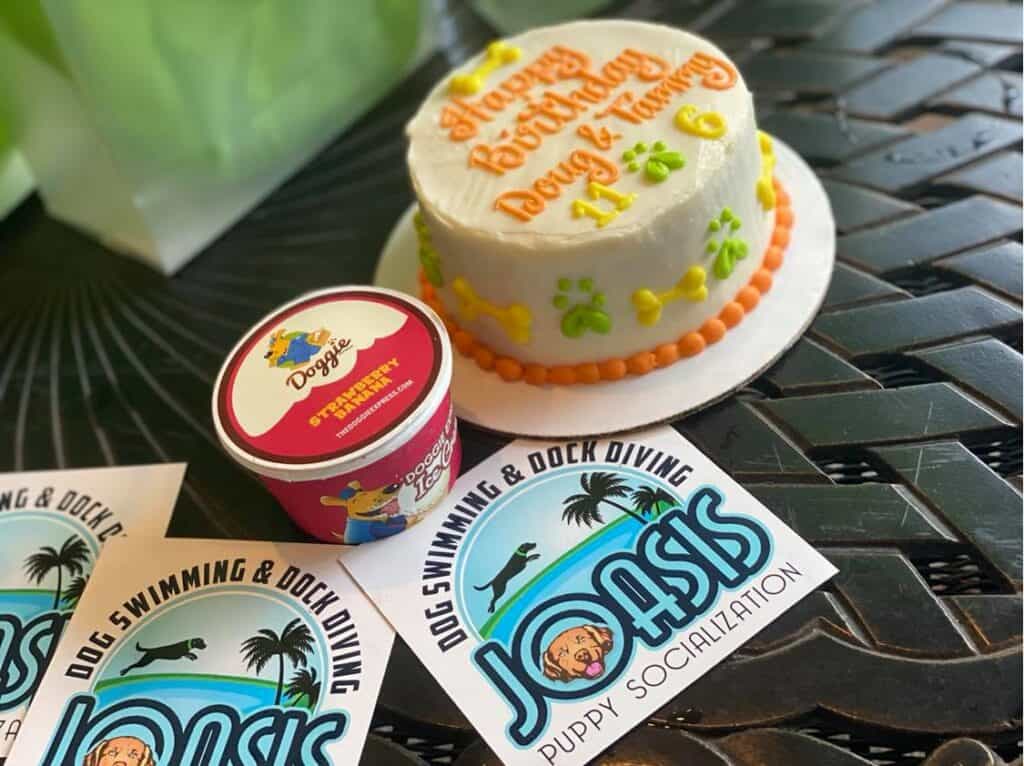 As usual, Doug dove in with gusto and attacked the cream cheese frosting on top of the carrot bacon cake. Tammy the food snob was suspicious as always, but enjoyed cake for breakfast the next day at home — a girl after my own heart.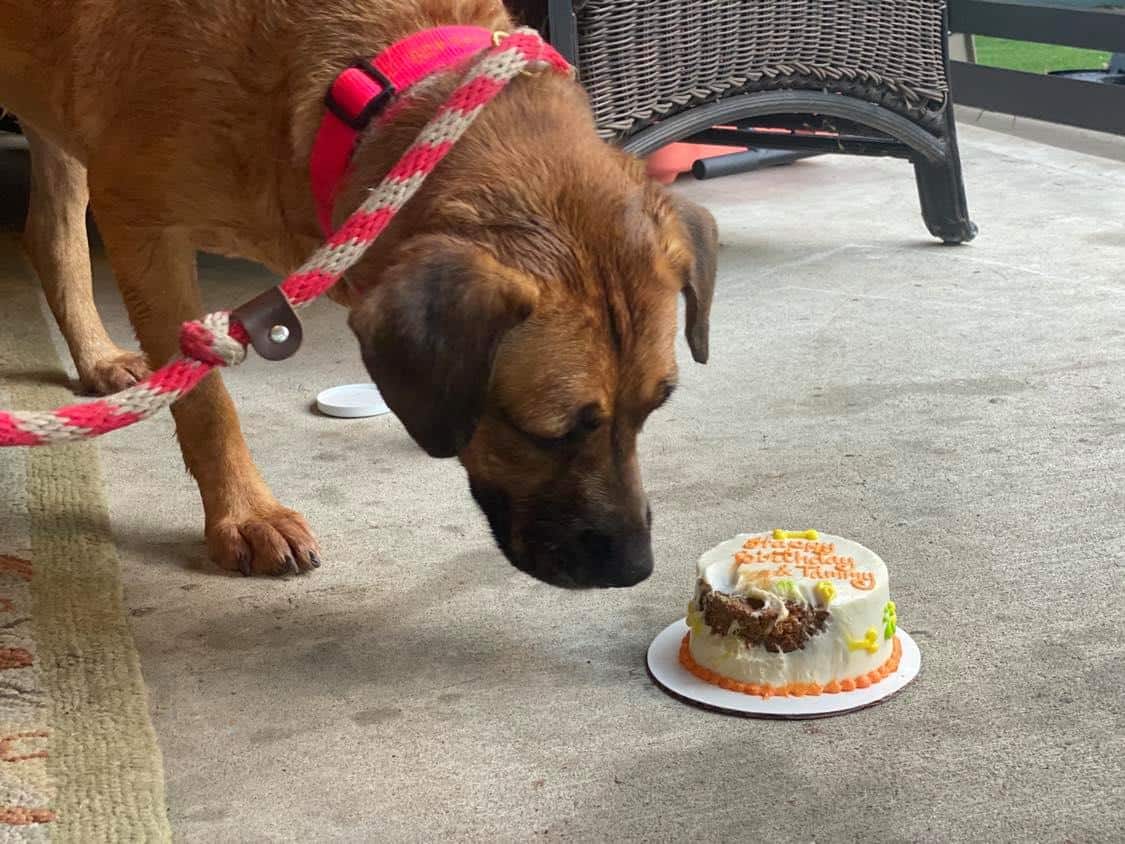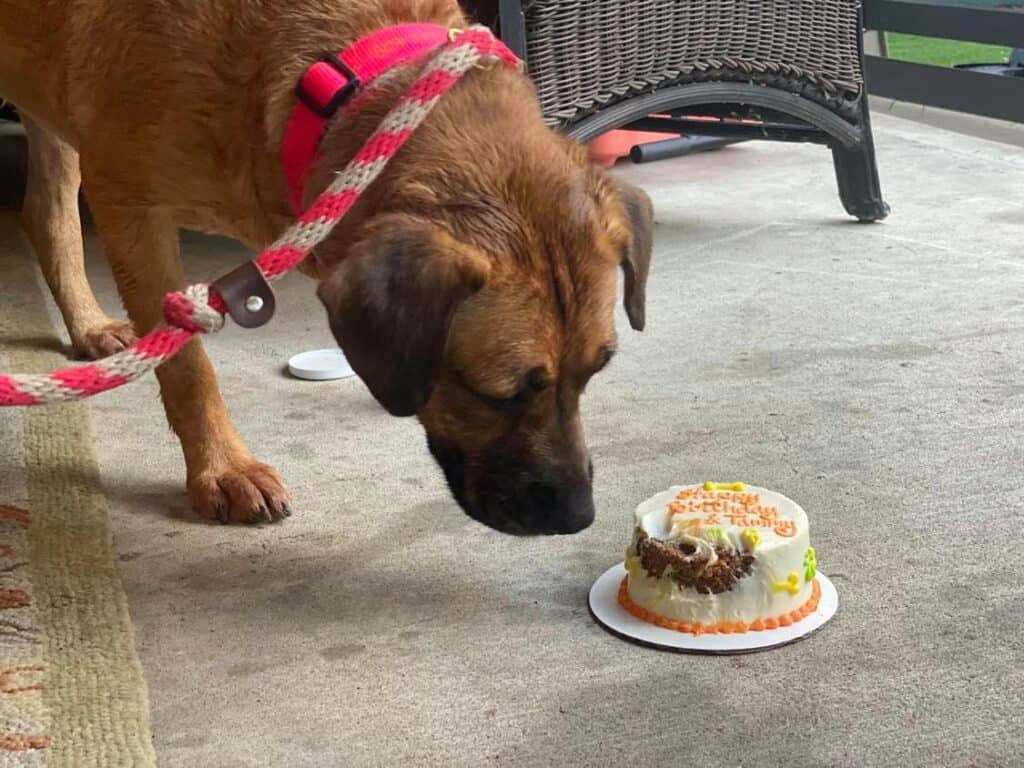 Joasis is an affordable dog birthday party venue — just $85 for one hour of play and party time.
It can be a totally turn-key dog birthday party, with Jo handling decorations, dog birthday cake and treat bags, or you can bring your own.
As one reviewer said, "Going to Joasis is like going to a friend's and chilling at the pool…only here, the back yard is designed for dogs!"
To plan your dog birthday party, contact Joasis at:
Online: Joasis Houston
Facebook: Joasis Houston
Email: [email protected]
Phone: 713 997 9039
Don't know your dog's birthday? Just pick a memorable day to have a dog party, like Doggie Gotcha Day, or Dog Adoptaversary.
Remember, your dog doesn't know what you're celebrating. They are just thrilled to be with you and have a good time.
Pin This Info for Later!
Now I know you're saying, wow, I totally want to do this, but how do I remember? Pin the info to your Pinterest page! This pin is on our board on how to throw a Dog Birthday Party.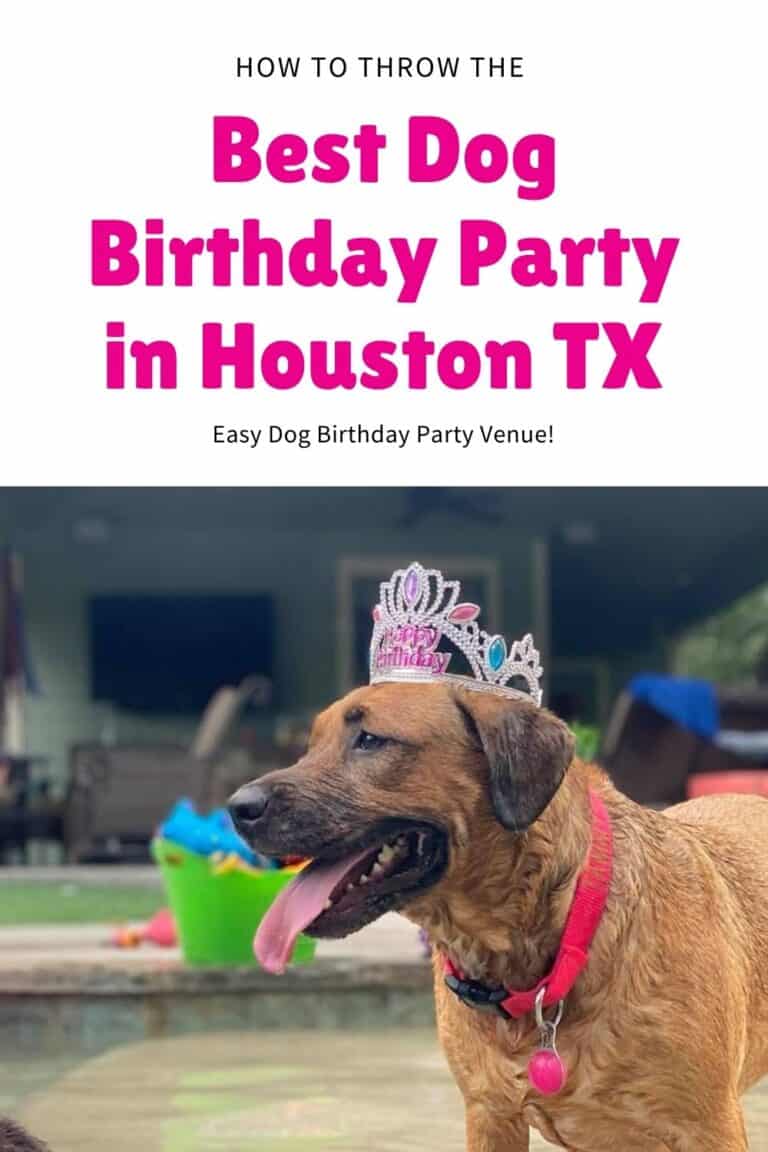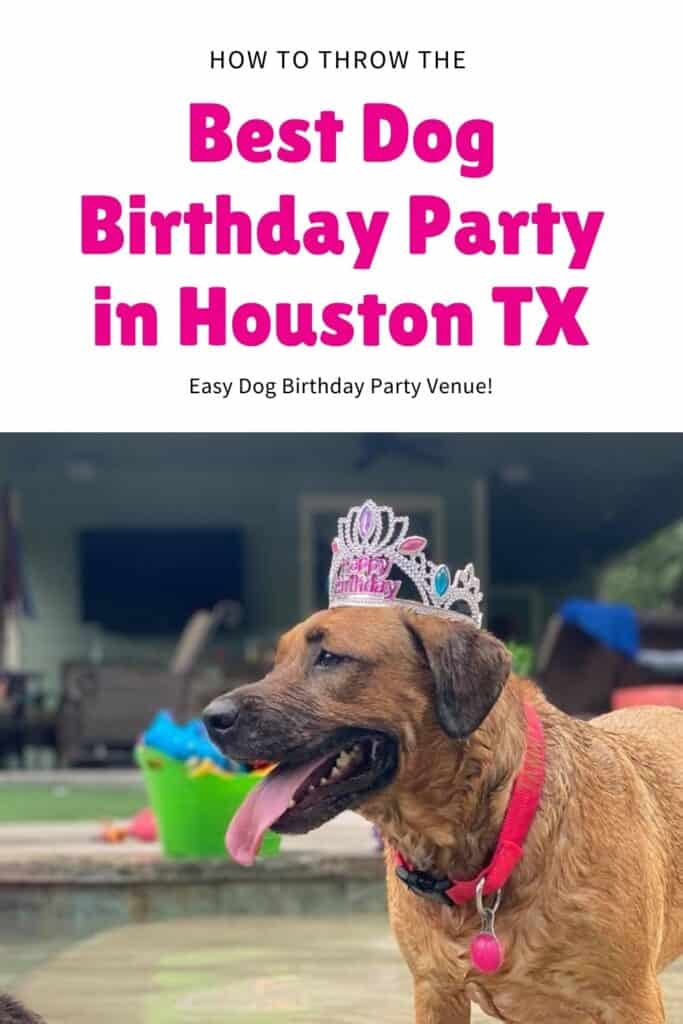 This is a sponsored post, but the content and opinions are all ours.