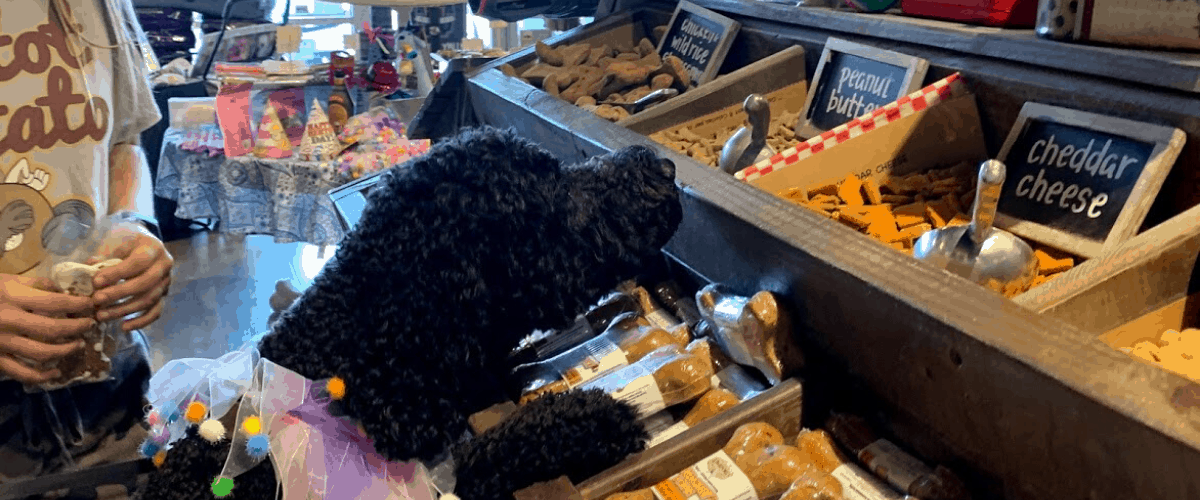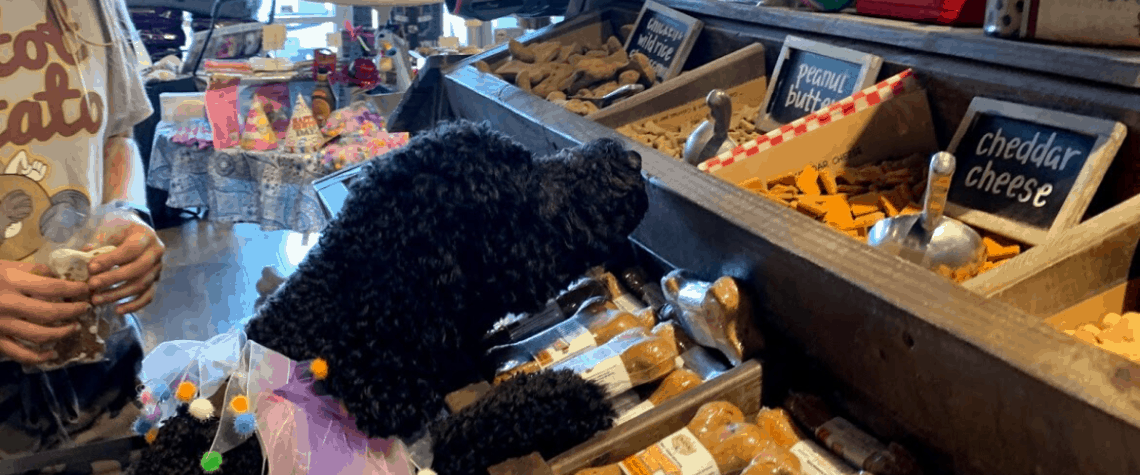 Patsy's Pet Market – Katy's Farm to Kibble Market
Patsy's Pet Market feels more like an quaint boutique than a pet food store. But then again, Patsy's is more than a pet supermarket. It's a community center for dog and cat owners in the Greater Katy area.
On the Saturday that I stopped by, they were hosting Dauchshund Rescue of Houston for a hot dog cookout and fundraiser. Wiener dogs in costumes or simple harnesses pranced around in front of the store. "Hot dog?" I was immediately asked. "Water? Lemonade?" And in the middle of it, Patsy McCray stands surveying the controlled chaos around her with a big smile on her face.
This is a woman who loves dogs and who loves her job.
And if you have a dog with digestive or skin issues, or just want high quality for your dog, she's the woman to talk to.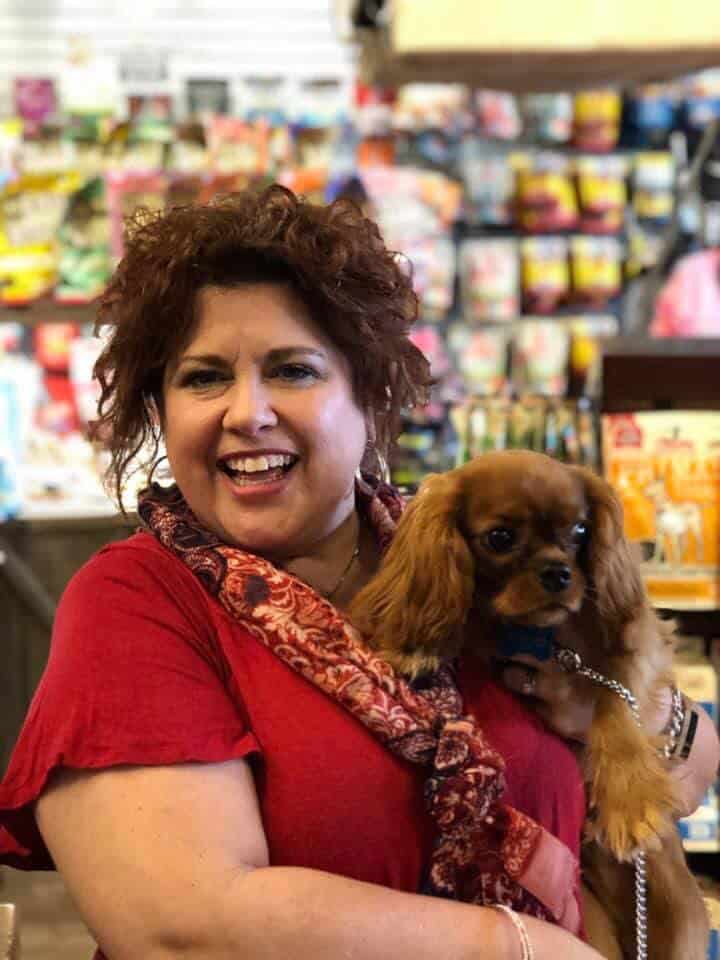 How Patsy's Pet Market Started
Before dogs, Patsy worked at the phone company in Atlanta. (Her voice still drips southern honey).
After surviving 5 layoffs in 3 years, she took a severance package, and planned a trip to refresh and regroup. She dropped her dogs off at a free-roaming pet boarding facility and thought… "I could do this."
Her relaxing holiday became a business strategy session as she sat on the beach and wrote a business plan.
Upon opening her boarding facility, she noticed many dogs coming in with bad skin. The food the Atlanta Dog Moms were dropping off was filled with corn, wheat and animal by products. Junk food makes it hard to thrive.
She soon met a canine nutritionist and learned about healthy pet food. She researched various product lines, began experimenting and saw a big different in her own dogs. She soon began selling pet food at her boarding locations and has been doing so for the past 23 years.
Upon relocating to Houston, rather than opening a new boarding facility, she opened Patsy's Pet Market in September of 2015 to bring healthy pet food to the community.
What is Healthy Pet Food?
When Patsy was researching commercial dog foods, she was horrified at what she found. "Basically any meat that's not fit for human consumption — including diseased animals — go into dog feed," she says. Many commercial pet foods contain animal by-products, cornmeal, wheat gluten and soybean. These inexpensive fillers are hard to digest and can lead to allergies, causing skin irritations and costly medication.
"Good dog food is almost human quality food," says Patsy.
All food lines carried at Patsy's have a protein source such as chicken, beef, fish or turkey and must also contain fruits and vegetables in addition to whole grains. It is important to have the correct combination of carbohydrates, proteins and fats – just as it is with humans.
Patsy's does not sell any food products made in China. Their sourcing policy is to give preference to local and national companies that source their ingredients and make their products in the U.S.
Patsy works with multiple rescues in the Houston area, consulting on skin allergy conditions.
As we were chatting, a dog owner came up to say hello. Patsy immediately called the dog (and the dog owner) by name, and commented on the improvement in the dog's skin condition. The owner beamed with pride, his day totally made.
The Well Adjusted Dog
Just then a woman walked up and introduced herself as the mother of one of Patsy's regulars.
"We live 3 hours away" she said. "But we wanted to come by and get something for our dog's anxiety, as we are going to be traveling in a motor home and are concerned when we leave him alone."
Patsy shook her head gently. "You're encouraging the anxiety, precious lamb." said Patsy. (There's that southern honey).
"Ignore your dog. And when he's calm, give him a 'good boy.' But stop checking in with him, chin up, and ignore him whatever he does." She approved of the True Hemp Calming Supplement Chews the woman had purchased, advising a 2X dosage the first 2 days to get the dog's adrenaline production in check.
The woman holds up a busy-tray that she also bought. "Put wet food on that, applesauce, canned pumpkin and freeze it. That will keep the dog busy when you leave," says Patsy. With a few more sweeties and sugars she sends the new customer on her way.
"We create an unnatural state of mind with our dogs, checking in on them all the time. Be the mother lion. The mother lion doesn't constantly check in and coddle. She just surveys her domain."
How to Keep Your Dog Busy During the Day
A busy (or tired) dog is a good dog. Patsy's offers a collection of enrichment toys, treats and chews for your dog. In addition to the Busy-Trays, Patsy's offers freeze dried chews plus Kongs and bones of all sizes.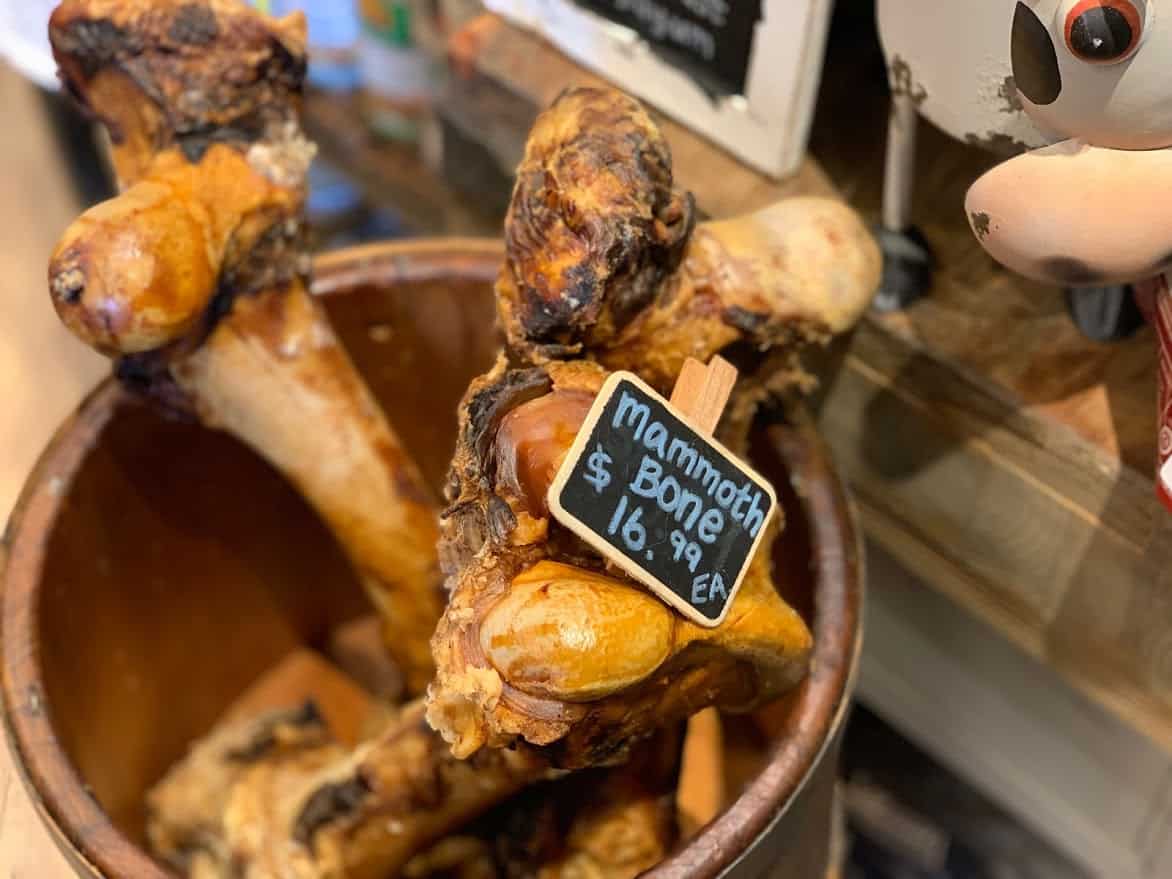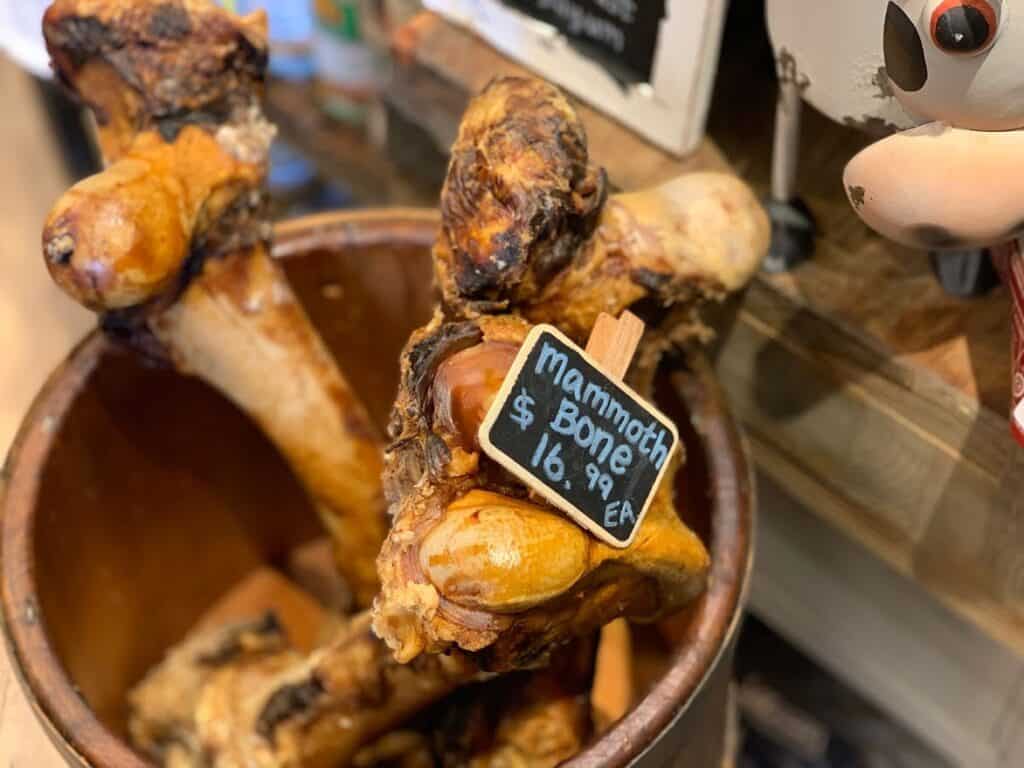 What to put in that Kong? Never fear, Patsy's Stuffin' Recipes are here. Yes, Patsy has written a "cook book" for delicious treats to stuff into the Kong. Plain peanut butter? How passe! Download Patsy's Stuffin' recipes and treat your dog to Spinach Souffle, Blue Plate Special or Chicken Pot Pie.
Patsy's offers classes in dog enrichment as well. Check the Events Schedule online.
What Brands Does Pasty's Pet Market Sell?
Patsy's carries major brands, and has their own line of dog treats served bulk foods style. Just scoop your own treats and they'll weigh them at the register.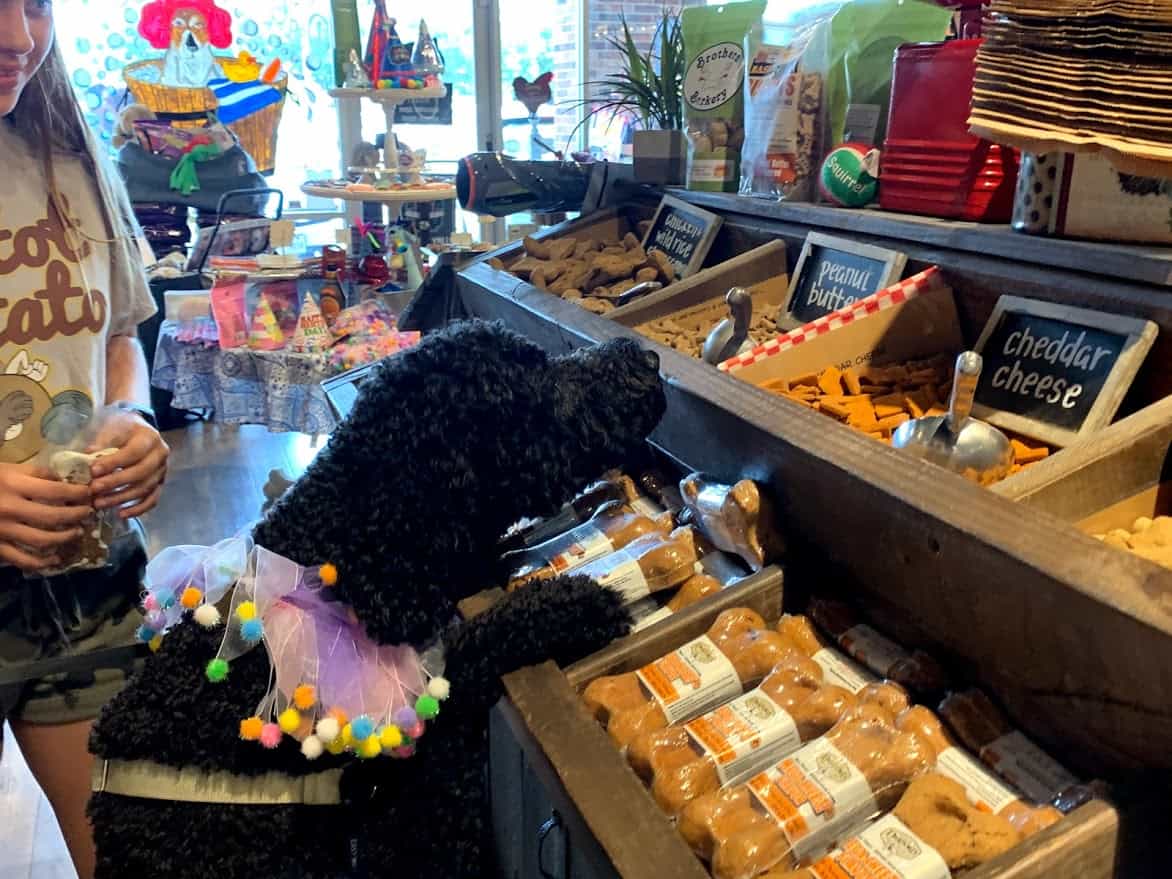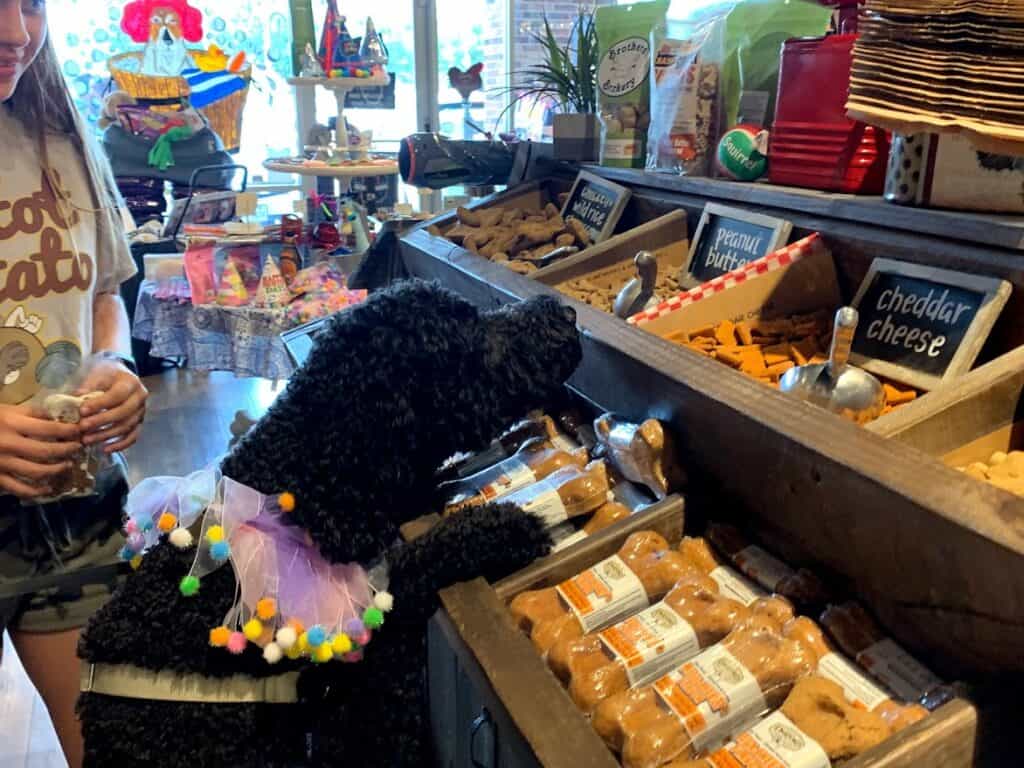 Commercially produced brands they carry include:
Patsy's Pet Market Makes It Easy to Shop, Easy to Save
Patsy's is a fabulous shopping experience, but sometimes time is our most valuable asset. Patsy's Pet Market Pet Food Delivery Service delivers dog food, cat food and any other pet supplies you may need right to your door for any purchase of $49 or more! (Check with Patsy's for delivery radius).
They also offer Patty Cake's Frequent Buyers Club, named after Patsy's beloved pet. Upon joining, members receive a $5 coupon and save 5% for every $100 spent on everything in the store.
Plus you'll receive regular discount coupons if you text "petdeals' (all one word) to 1-877-PATSY35.
Wind Down the Week at "Bark 'N Wine"
We said at the beginning that Patsy's is a community gathering. Nothing proves if more than their Friday Bark 'N Wine, every Friday from 5 to 7pm.
With the slogan "You bring the bark and we'll provide the wine!" it's the happening hot spot to hang out with your dog on Friday after work.
It's almost enough to make me move back outside the loop. Almost.
—–
How to Find Patsy's Pet Market
1644 S. Mason Rd., Katy, TX 77450
Located in the Spec's Shopping Center on Mason Rd. at Highland Knolls
Phone: 832-437-0401