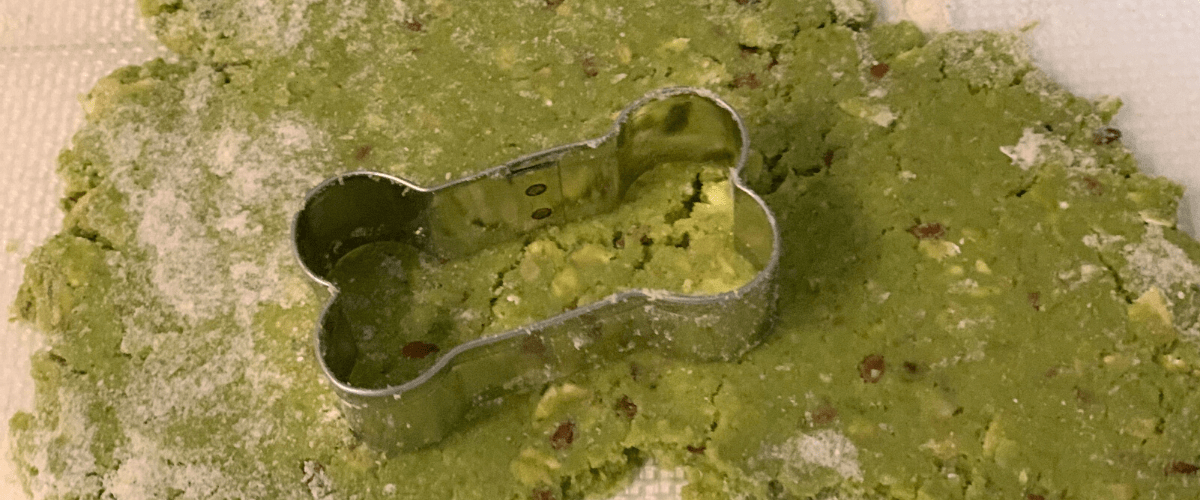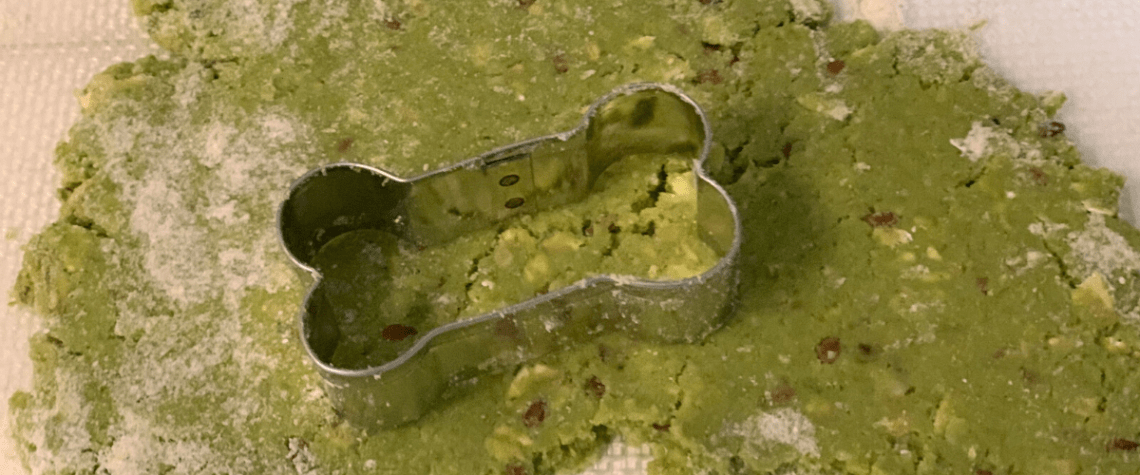 Easy Healthy Homemade Dog Treats: Gluten-Free Chicken & Spinach Flavor
These easy, healthy homemade dog treats are an original recipe that you won't find anywhere else!
With Saint Patrick's Day coming up, I wanted to do something special for my dogs to celebrate. So why not green dog treats?
This is an original recipe, created in the Houston Dog Mom test kitchen and Doug & Tammy Approved! Before you proceed, a word of caution. Drooling is likely.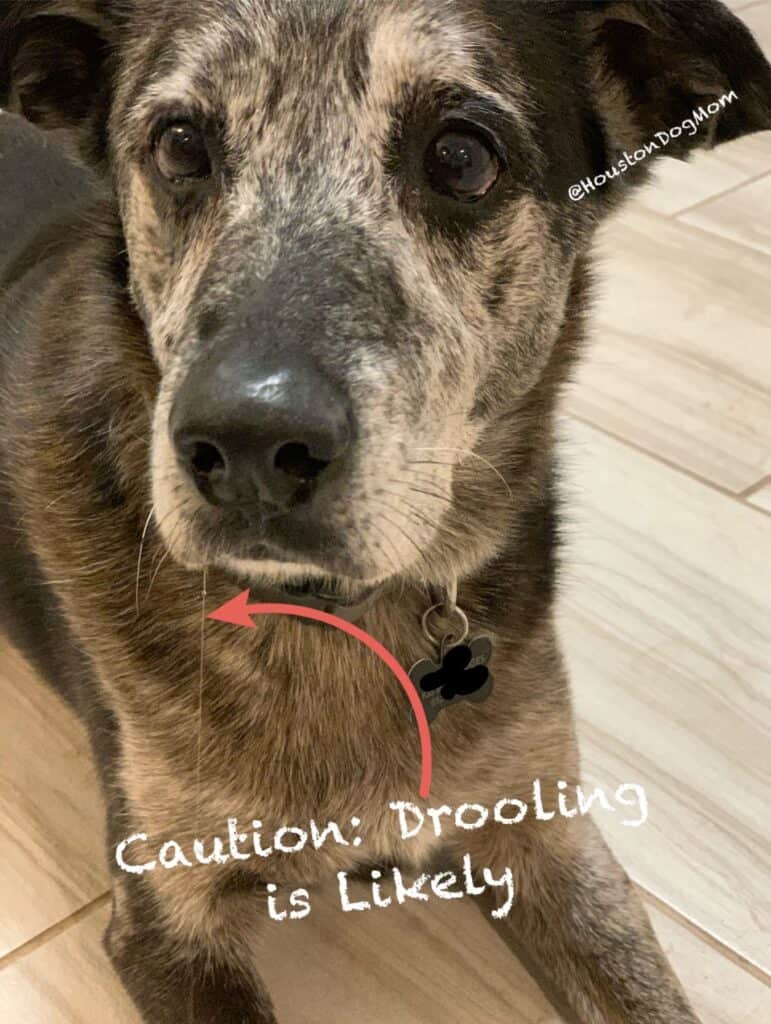 (Jump to Recipe)
Ingredient List for Easy Healthy Homemade Dog Treats
I experimented a little bit in creating this recipe. There were certain ingredients I wanted to use:
Coconut flour: Coconut flour is gluten-free and high in fiber, protein and healthy fat.
Oat Flour: Oat flour is easy to make, and an excellent gluten-free alternative to wheat flour. It's easy for dogs to digest and full of vitamins and minerals. I made oat flour by processing dry old-fashioned slow-cook oatmeal in a mini-blender.
Coconut Oil: Coconut oil can increase energy levels, improve skin and coat, improve digestion, and reduce allergic reactions. Look for organic, virgin cold pressed coconut oil in your grocery store.
Flax Seed: Loaded with fatty acids, flax seed is good for a healthy coat and skin. These are also an anti-inflammatory, great for my older dog who has the beginnings of arthritis.
Then of course I wanted to make sure my dogs would love them — so I chose to add both egg and chicken broth as binding agents.
And, since St. Patrick's Day was around the corner, I wanted the biscuits to be green — enter spinach and peas.
In my test kitchen, I created the recipe trying both ingredients. The peas give a sweeter flavor, but I decided to go with spinach for my final version, because it created a more consistent green color.
I chose to use a combination of Coconut Flour and Oat Flour because of my dog's reaction to gluten.
Tammy, my picky eater, is allergic to everything. She seemed to have issues with the wheat flour I used in my previous DIY Peanut Butter & Pumpkin dog treats. (Meaning she chewed all the hair off the base of her tail. Sigh.)
Here's the recipe I came up with for DIY Easy Healthy Homemade Dog Treats that are gluten-free, using spinach and chicken for flavoring.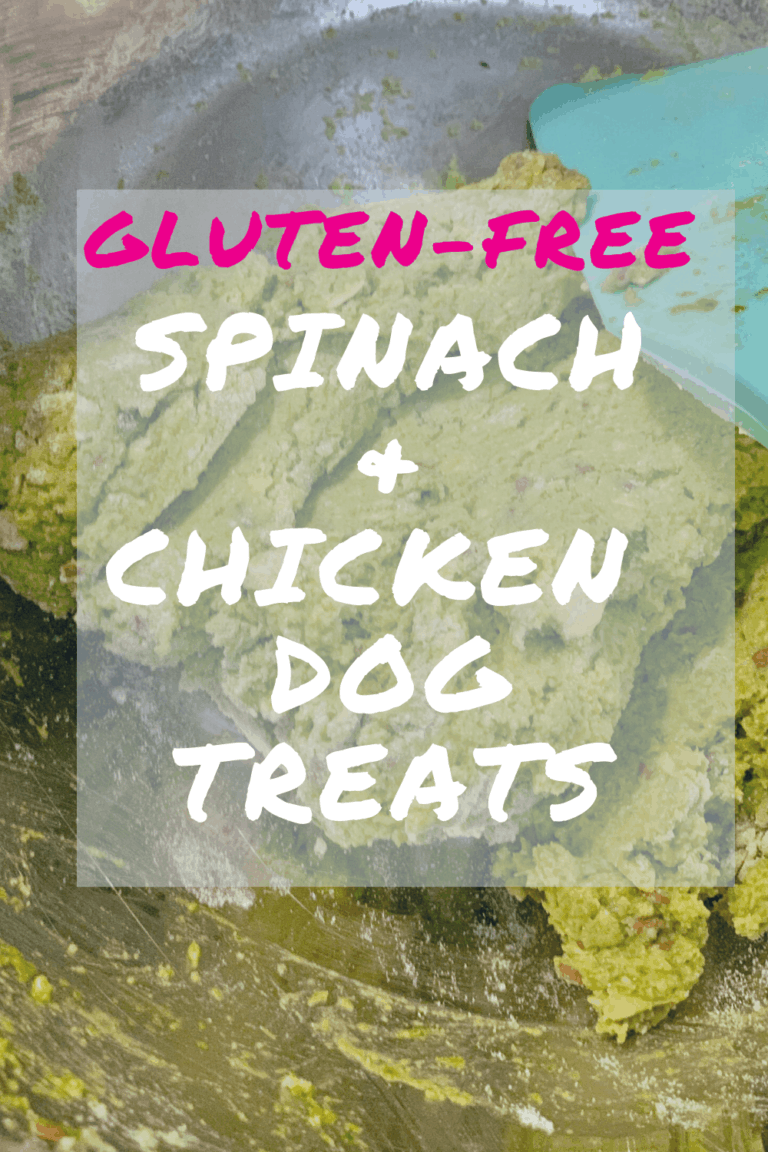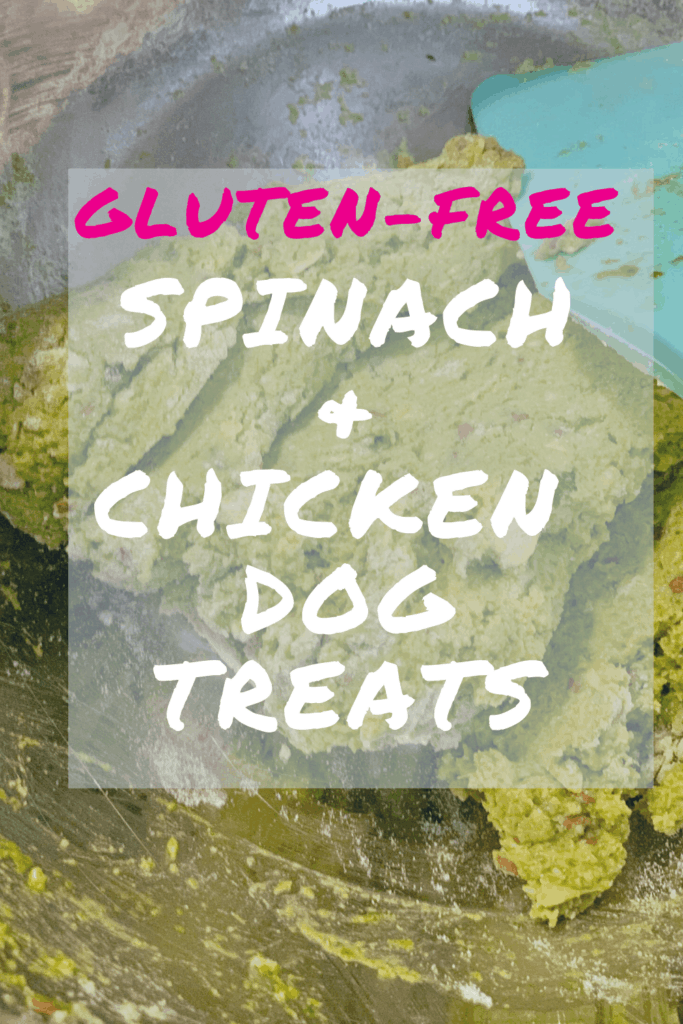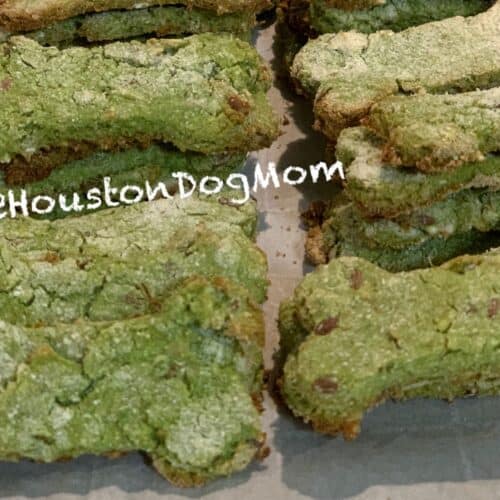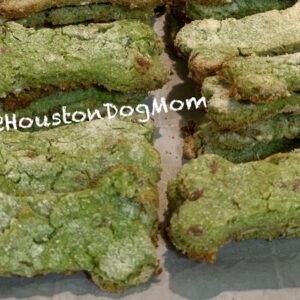 Easy Healthy Homemade Dog Treats (Gluten-Free Spinach & Chicken Flavor)
These easy healthy homemade dog treats are gluten-free, made with a combination of oat and coconut flour. They also include coconut oil, honey and flax seed for nutritional benefits. They are flavored with chicken broth and use spinach to create natural green colored treats. These dog treats are perfect for Spring , Easter or St. Patrick's Day dog treats.
Equipment
Small blender, such as Magic Bullet.
Ingredients
1 1/2

cups

Oat Flour

1/2

cup

Coconut Flour

1

Tbsp

Flax Seeds

1

Egg

1

Tbsp

Honey

1

Tbsp

Coconut Oil

Virgin, cold-pressed

1/2

cup

Chicken Broth

No added salt preferred.

1/4

cup

Spinach

Use frozen, chopped spinach for easy prep.
Instructions
Preheat oven to 350* Fahrenheit.

Line baking sheet with parchment paper and set aside.

In a large mixing bowl, combine coconut flour, oat flour and flax seeds.

Add egg, honey and coconut oil. Stir to combine ingredients, and set bowl aside.

Combine spinach and chicken broth into a blender and puree. (Pureeing the spinach and the chicken broth together will create a smoother consistency.)

Fold the spinach/chicken broth puree into the mixed ingredients, and mix until a dough is formed.

Roll out the dough on a floured board, to 1/4 inch thickness.

Cut dog biscuits into desired shapes.

Place biscuits on baking sheet. These will not expand when cooking, so you can place them close together on the baking sheet.

Bake for 20 minutes at 350*. Cool on baking rack. (For crisper biscuits, cook at 250* for 35 minutes)

Store in an air-tight container in the refrigerator for up to 1 week or in the freezer for up to 3 months.
Notes
For a tasty alternative, substitute 1/4 cup pureed peas in place of spinach. For brightest color, use frozen peas, cooked for 3 minutes. Then proceed with pureeing the peas.  
For faster prep time, use baby food! Baby food pureed spinach or peas will make your recipe come together in no time. Just know that you won't have the bright color. 
Want to make other color dog treats? Cut the spinach and use blueberries, strawberries or carrots to replace it.  Here's a list of dog-friendly fruits and vegetables you can try. 
But the proof is in the taste testers, right?
Doug and Tammy both loved them, as did my neighbor's dogs. And Tammy (below) is a suspicious taste tester. She assumes that any new item I offer must be medicine! ?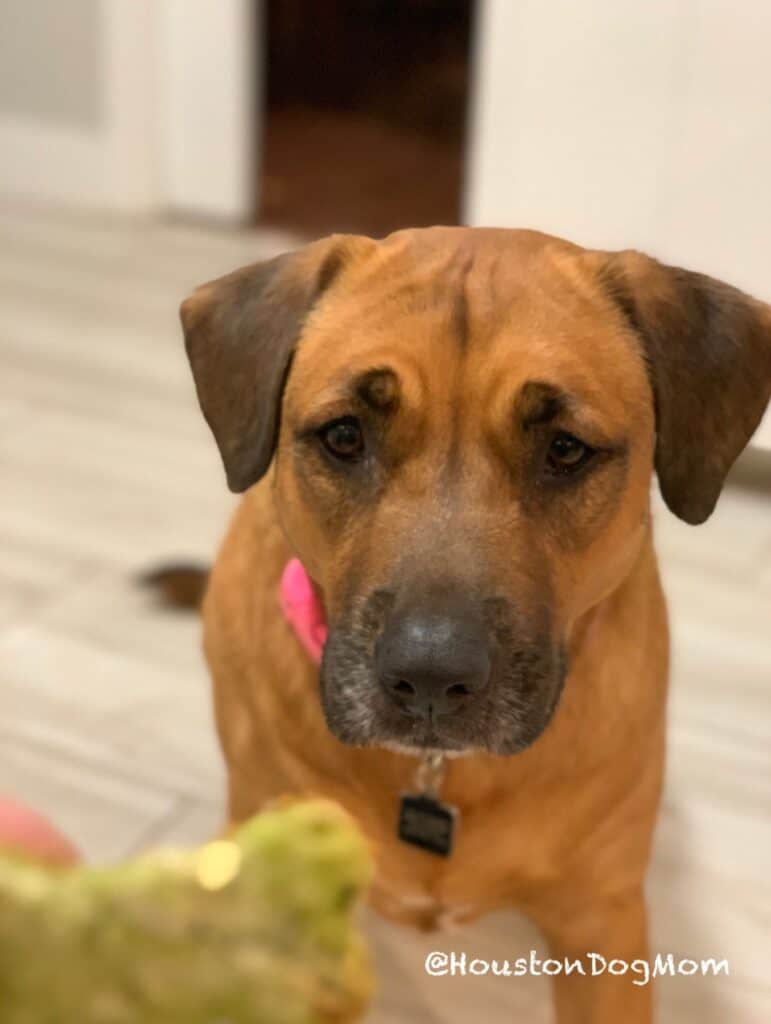 Why You Should Not Use 100% Coconut Flour for DIY Dog Treats
So when I started playing with this recipe, I decided to do 100% coconut flour for these dog treats.
I'd never cooked with coconut flour, ever. What could go wrong?
Maybe I should have read this before I started making my homemade dog treats:
While it (coconut flour) is a versatile baking flour, it can be challenging to use, and you should rely on established recipes, especially if you're new to baking with this alternative flour.

Source: The Nourished Kitchen
I quickly found that coconut flour is very absorbent. I added double the chicken broth to get to a dough consistency I could work with.
Even then, the dough was so sticky that I resorted to pressing the dough out with the back of a flat spatula, rather than using a rolling pin.
And, it probably didn't help that in my first trial, I just added the peas whole, and didn't puree them!
The results were flaky and tasty, but not exactly what I thought people were looking for in an easy and healthy homemade dog treat recipe.
Despite that, my 100% coconut flour DIY dog treats were a hit with the dogs. As you can see below, Doug enjoyed them tremendously.
Remember, your dogs will love your homemade healthy dog treats, no matter what they look like.
Every moment with your dog doesn't need to be Instagram and Pinterest-worthy. Have fun!