6 Perfect Dogs You'd Never Believe Are Homeless
What does a dog have to do to get adopted? These long-term foster dogs in Houston Texas are hoping for a home this Christmas. Read their heartwarming profiles and share this story to help them find a home!
Pollo – Instagram Famous, Homeless for Over Three Years
Pollo has his own Instagram and Facebook, his own hashtag #AdoptPollo and professional pictures from local dog-photographer Robyn Arouty. So why is he still homeless after three years?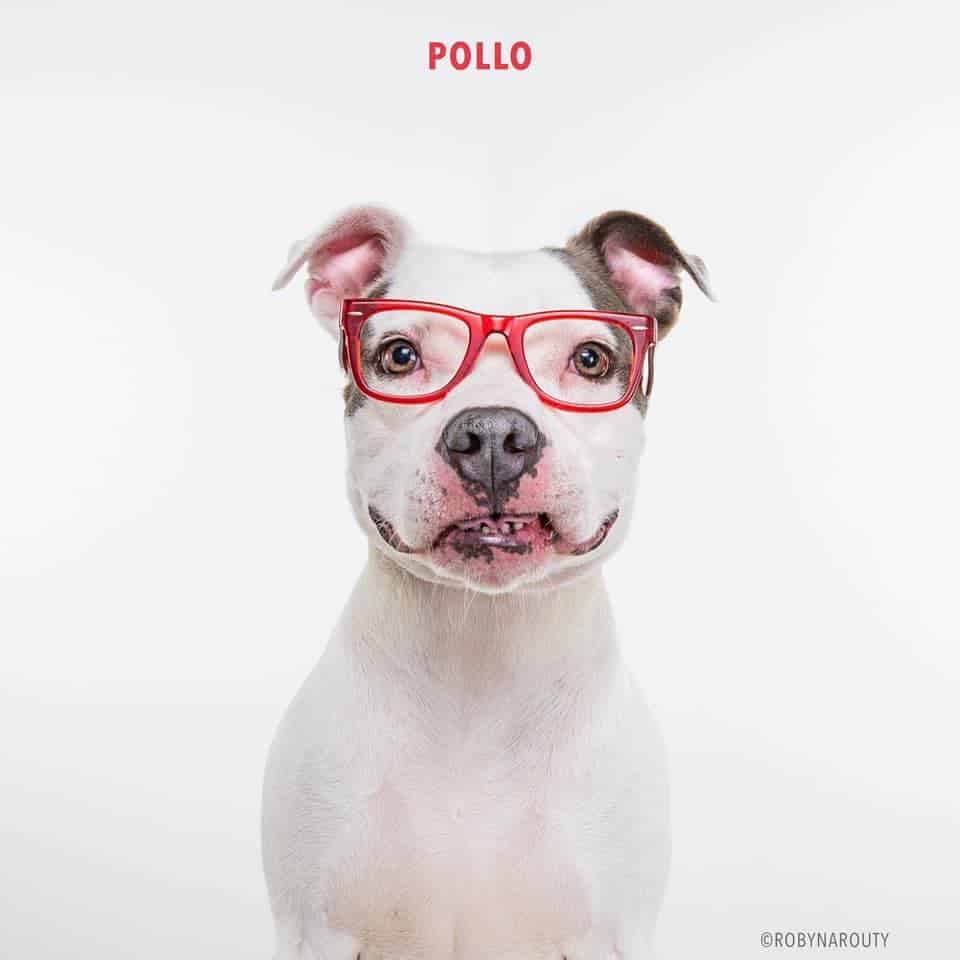 Here's what Pollo says:
My name is Pollo and I've been waiting patiently for my forever home most of my life. This is my 3rd Christmas without a home. And I'm only 3 1/2 years old! So that's a long time. Right now I'm in a group foster home called "boarding."
I am trained, full of energy, love to go on adventures with my humans, and I adore children! I need to be an only dog, or have someone who is really patient with introductions, because I am picky. I love long walks or runs. I've got great house manners and I know sit and stay. Because that's what I've been doing for 3 years. Sitting and staying.
Pollo is a 54 lb pitbull mix. He's adoptable through Animal Justice League.
Reggie – Perfect Chihuahua Dreams of Forever.
Reggie is the perfect little dog for any size home. At only 14 pounds, Reggie deserves a tree or menorah to curl up next to this holiday season.
Reggie says:
Adore Houston pulled me from a shelter near Houston, TX in May 2018. They are pretty certain that my life before was not a nice one. At first, I did not trust people. Now I love them…just give me some time to warm up to you. I like other dogs but am cool with just us, you and me, me and my human.
I was in a foster home but was recently returned to the rescue. They say it was through no fault in my own. I still think about that, and it makes me sad. Everyone that gets to know me say I am the best little doggie.
UPDATE: Adopted! But visit Adore Houston Rescue to see their other adoptables.
Toby – "Too big" dog with a big heart.
Toby is a handsome Pointer and American Bulldog mix. His long legs point to him being more pointer than pittie, but it also means he's "too big" for some people.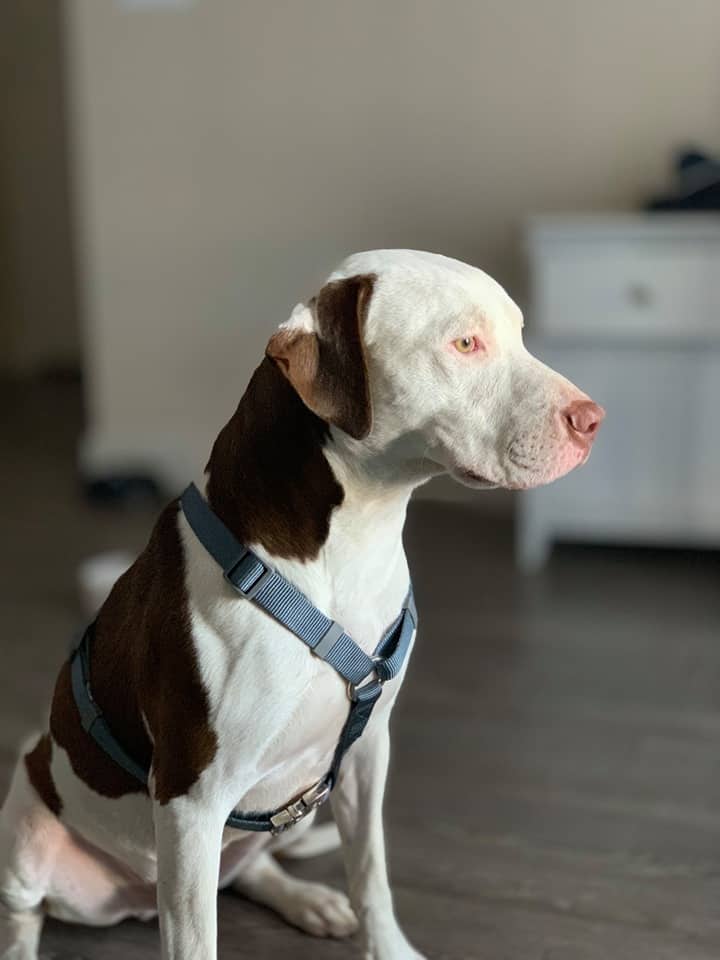 Toby says,
I'm not sure how I ended up in the shelter the first time. I know it was super loud and scary. They took me to something called the Mega Adoption Event at the convention center. There were over one thousand dogs there and I got adopted. But after a few days I was back at the shelter. "Too Big," the landlord said.
Now I am in a foster home, because a kind person decided to help me. I get to play with their other dogs and kids. I get to go to the dog park! When my foster says "kennel up!" I do it right away. I'm potty trained too, like a good boy. I hope someone sees me. I hope someone thinks that I'm not too big, I'm just right.
Want more or this handsome guy? Watch Toby's video.
Update 2/7/20: Toby transported to the Humane Society of Southwestern Michigan, along with 27 other dogs! This life-saving transport was funded by Houston PetSet. Happy trails, big guy!
Buster – Fourth Time's the Charm?
What's a guy gotta do to get a forever home? Buster is practically perfect in every way. He's had three homes so far, but none of them have worked out.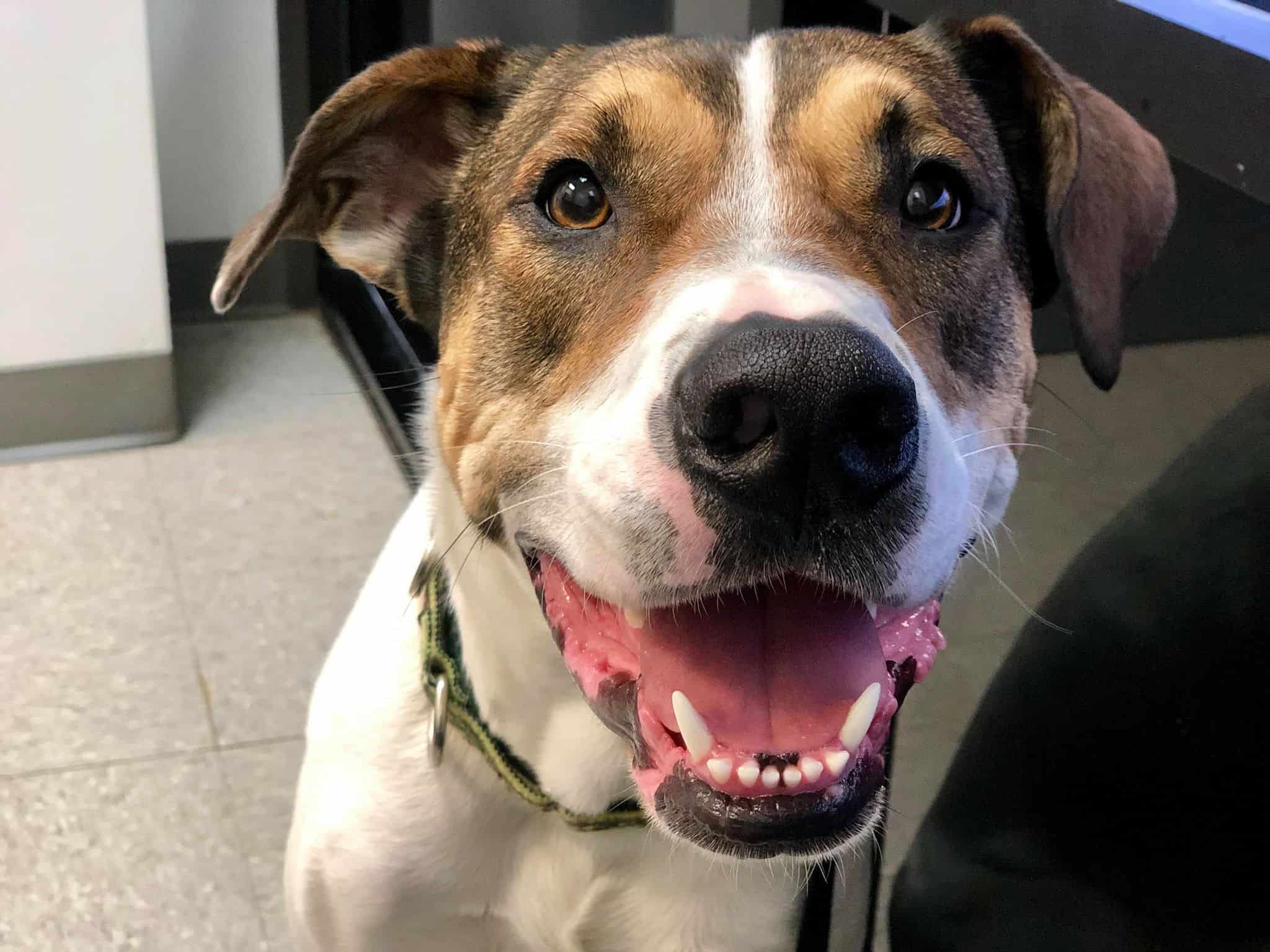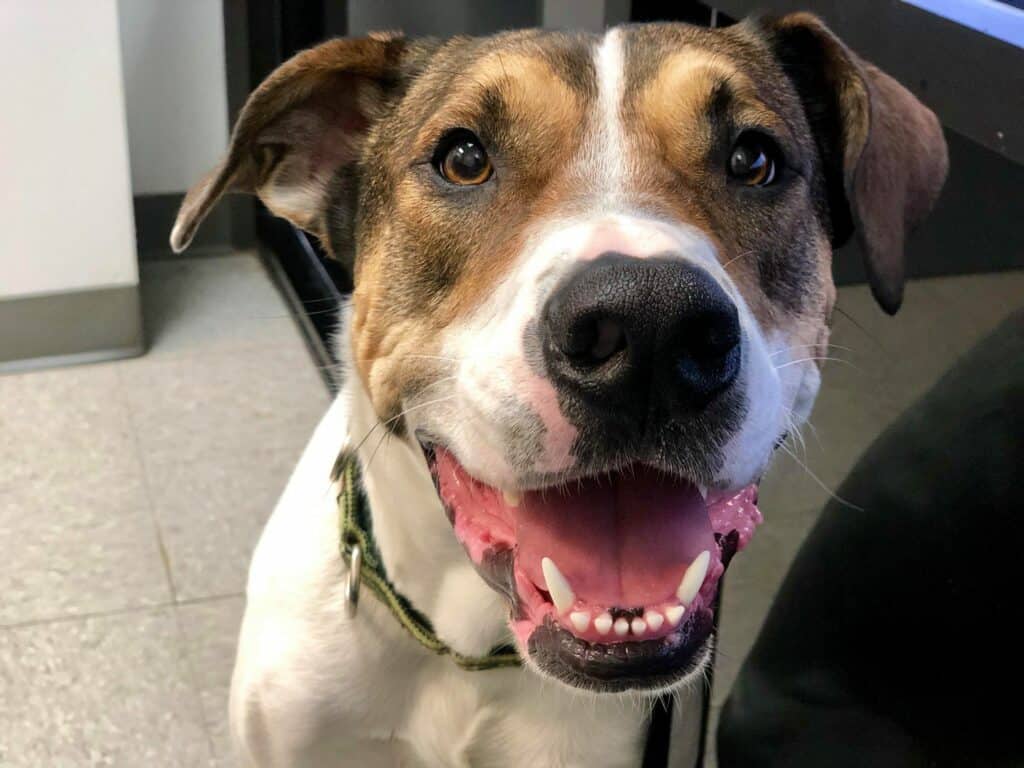 Here's Buster:
My first home was when I was a puppy. But they returned me to the rescue because Mom and Dad got 2 more dogs. I guess they liked them better? Then after 6 months, I got 'dopted again, but I got into a food fight with the family's 500 pound pig so I had to go! He bit my tail but it's ok now. Then I got 'dopted again, but I was too big (80 lbs) to play with their little dog.
I know sit, down and shake. I potty outside like a good boy and am crate trained. My group home has 7 other doggy friends that I play with. For my forever home, I would like another medium or large dog to play with. No cats or pigs, please. I hope that fourth time is a charm?
Buster is an American Foxhound/American Pitbull mix. He's available through Honoring Hope & Faith Rescue.
Gable – DNA Tests Show He's Perfect; But in Boarding for 3+ Years
Gable is a handsome boy who's been in rescue for 4 years, the last 3 of them in a boarding facility. DNA tests show he's 100% perfect — a mix of American Bulldog, Great Dane and Bull Terrier.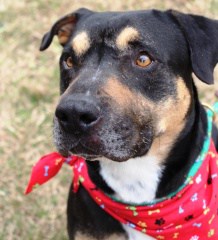 Here's Gable:
I wandered the streets for what seems like forever in dog years. I begged forscraps and whatever I could find. Nice people tried to take me home, but I didn't want to go near that rope thing.
Now I know that the rope is called a leash. And the leash connects me with people! Which I love! Because connection with people means I get belly rubs, treats, walks and car rides.
Gable is 7 years old, house trained, crate trained and friendly with medium and large dogs. Adopt him through Scouts Honor Rescue.
Buc-ee – Calendar Cover Dog and People Magazine Feature
ADOPTED! 12/16/19.
Buc-ee got his break from Harris County Animal Shelter when he was tagged for a calendar photo shoot in May. Truth be told, he was on "the list" for that day. He only got a reprieve because a volunteer selected him for the shoot. Buc-ee's picture was also in People magazine!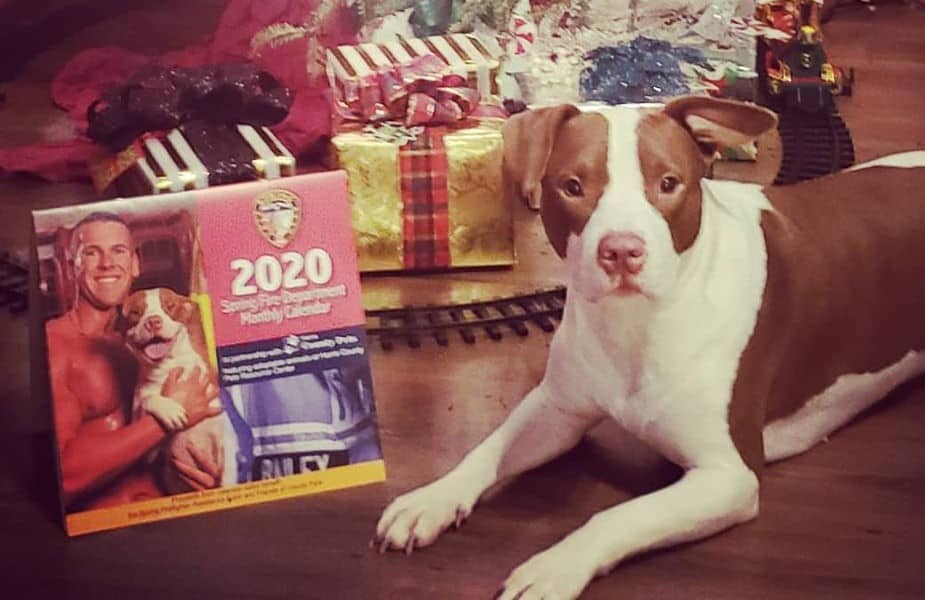 Buc-ee says:
I am Buc-ee like the Texas beaver, but I'm a doggo! I love to do zoomies and watch squirrels out the window. I'm smart and have learned down and sit, and am kennel and potty trained.
I love people so much that I need a home where I'm the only doggo. And none of those pesky cats please! I love fetch and cuddling. Foster mom says I'm a big goober.
PUPDATE! As we hit the "publish" button on this on 12/16/19, Buc-ee was finalizing his adoption! Happy trails to Buc-ee, now Biggie, after Craig Biggio. Kudos to his foster mom for sticking with it, and congrats to his new adopter!
---
These good dogs and more are available from local Houston rescues and animal shelters. Can't adopt? Fosters are always needed! Fosters serve as the bridge between the homeless dog and there forever home.
Follow HoustonDogMom on Facebook and Instagram for updates on these dogs, and more dogs in need!