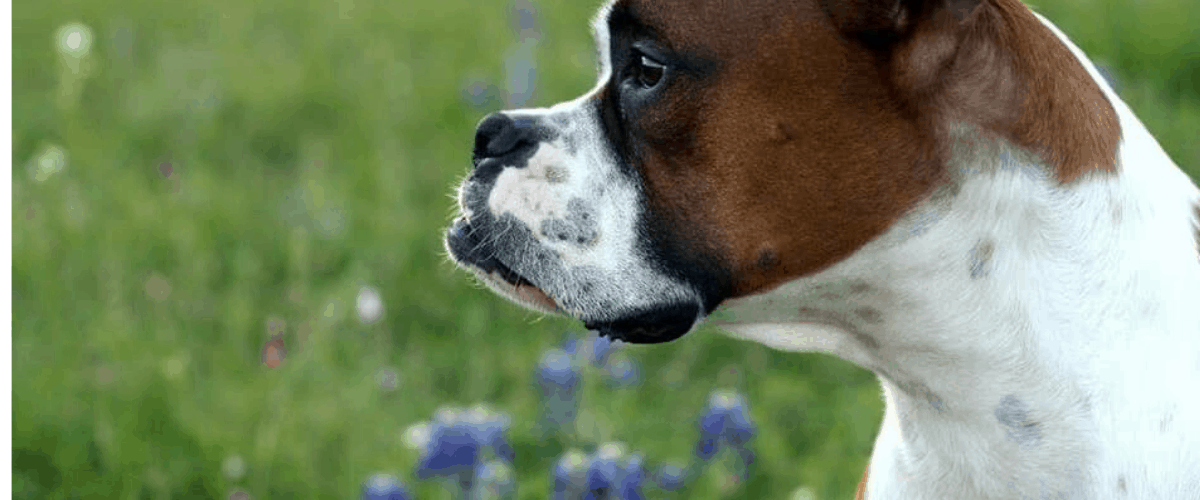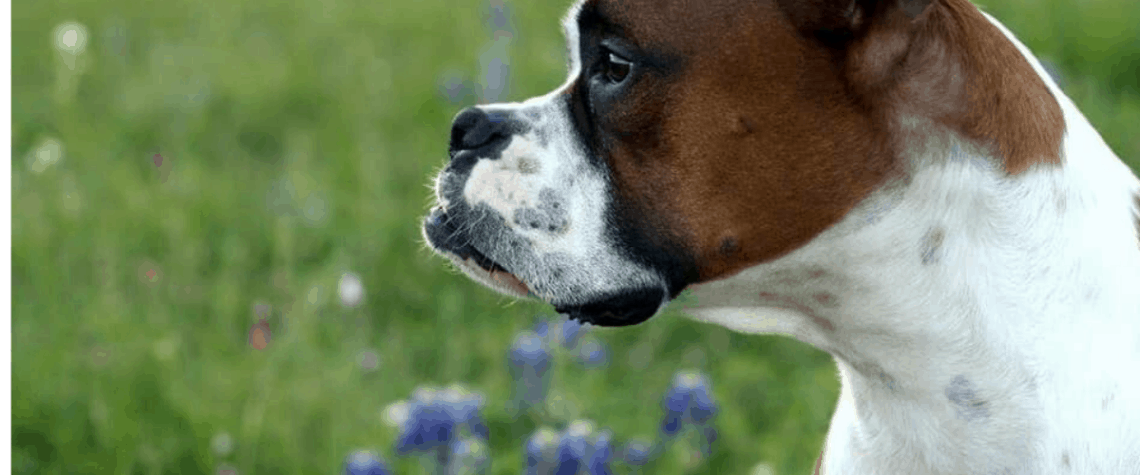 Guide to Texas Bluebonnet Dog Photos
Bluebonnet dog photos are tradition for every Houston Dog Mom. What could be cuter than a bluebonnet photoshoot with your dog?
Here are the top 10 tips for the best dog bluebonnet pictures.
(Cover dog photo of good boy Jack is courtesy of Chelsea Schott.)
10 Tips for the Best Dog Bluebonnet Pictures
1. Exercise Your Dog First
How does your dog act in a new location? Curious? Excited? Take them for a long walk before the photo shoot. Let them get the zoomies out of their system. Remember, a tired dog is a good dog.
2. Location, Location, Location … and Timing
To get the best bluebonnet dog photos, you want a location that has a large number of bluebonnets, without a distracting background. Avoid a background full of houses, highways, and concrete bayous.
If you plan to take pictures off-leash, make sure you have a strong recall or sit-stay with your dog. Regardless, don't take photographs too close to the road, just in case a squirrel pops up.
The best time for bluebonnet dog photography is the "Golden Hours," before 10am or after 4pm. This avoids the harshness of the sun being directly overhead, and will give your photos a warm glow.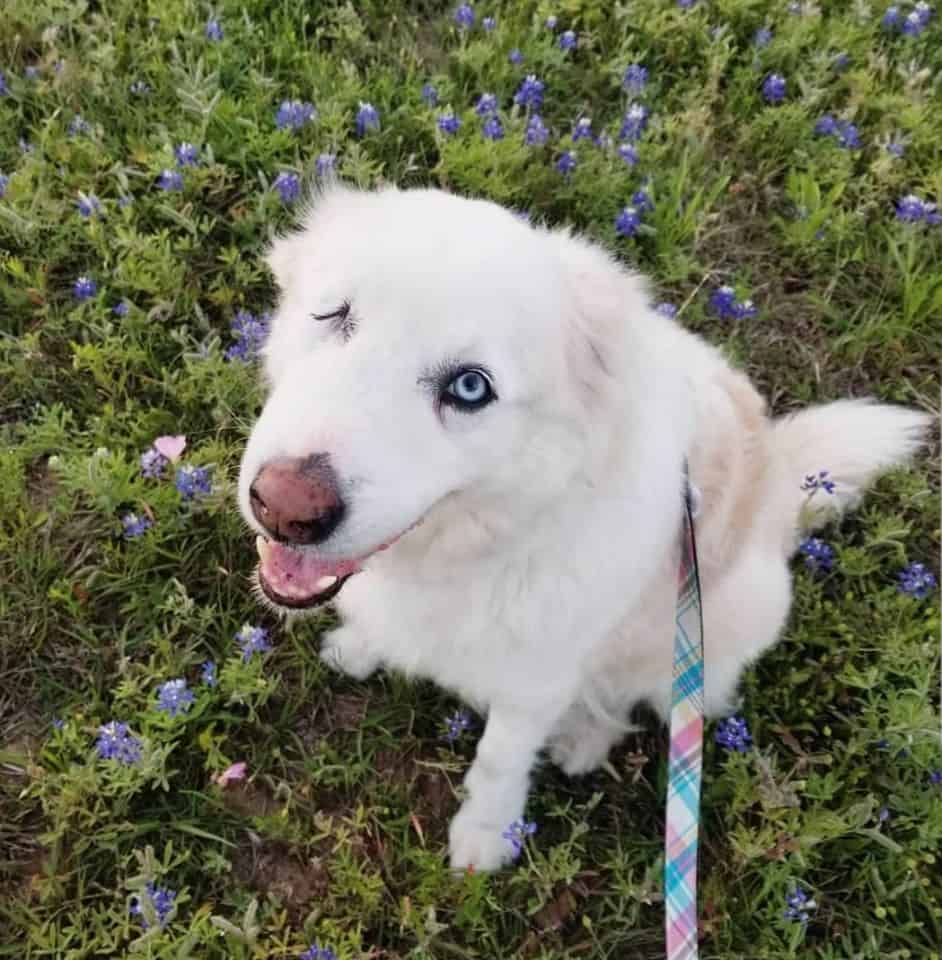 3. Get Help From A Friend(s)
Want your bluebonnet dog photos to look their best? Professional dog photographers usually work with a team. For DIY bluebonnet dog photos, here are the roles that you need to cover:
The Wrangler: You'll want one person to stay with the dog and keep them in position. This person should remember not to interact with the dog. Otherwise they will distract the dog's attention away from the photographer.
The Jester: The Jester's job is to entertain the dog and attract their attention. This person stands behind the photographer and offers enticing treats or squeaky toys. They work to direct the pet's eyes to the camera, so the dog is focused in the right spot.
The Photographer: Works to get the shot, and communicates with the Wranger and the Jester so they know what's expected. If there are only two of you, the photographer can also play the role of the Jester.
In our time of social distancing, work with someone you live with. Or if your dog has a good sit/stay, you can get great photos solo! Turn on the "live photo" on your iphone, or shoot in bursts by holding down the button. That way you can edit the photos to get the perfect shot!
4. Focus on the Eyes
Place the focal point on the dog's eyes. Then have the Wranger squeak the toy to get their attention to the camera. Their ears will pop up. And then take the shot!
Tip: Don't forget, you can shift your body to reposition if your dog isn't cooperating. Sometimes we forget that!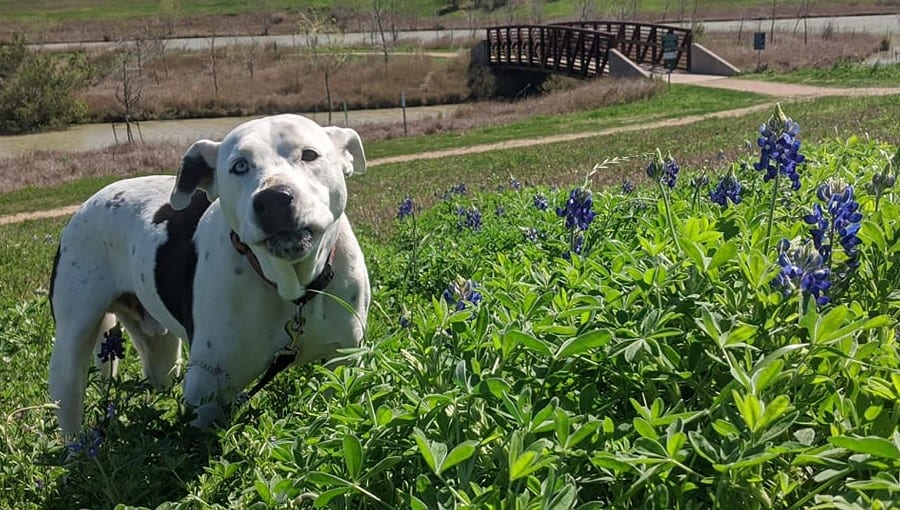 5. Consider Using Dog Photoshoot Props
You can photograph your dog "au natural" (without their collar), with their collar or with dog photoshoot props.
Want dog photos for Easter? Bring some stuffed bunnies or some bunny ears. Or how about a picnic, with a blanket and basket?
If your dog doesn't mind clothes, we found some doggie outfits on Muttropolis that you can use for adorable bluebonnet photos with your dog.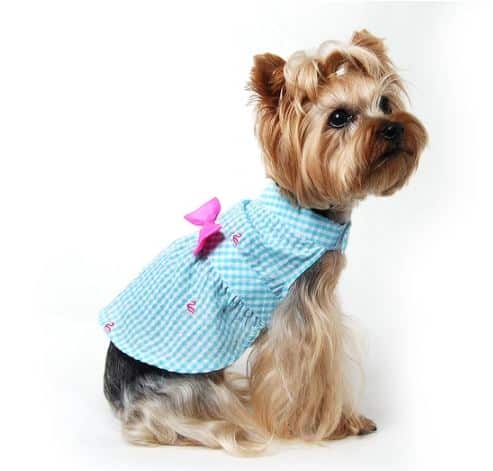 6. Fill the Frame with Fido!
For dramatic shots, try a close-up shot of your dog with the field of bluebonnets in the background. Don't be afraid to fill the frame with your dog.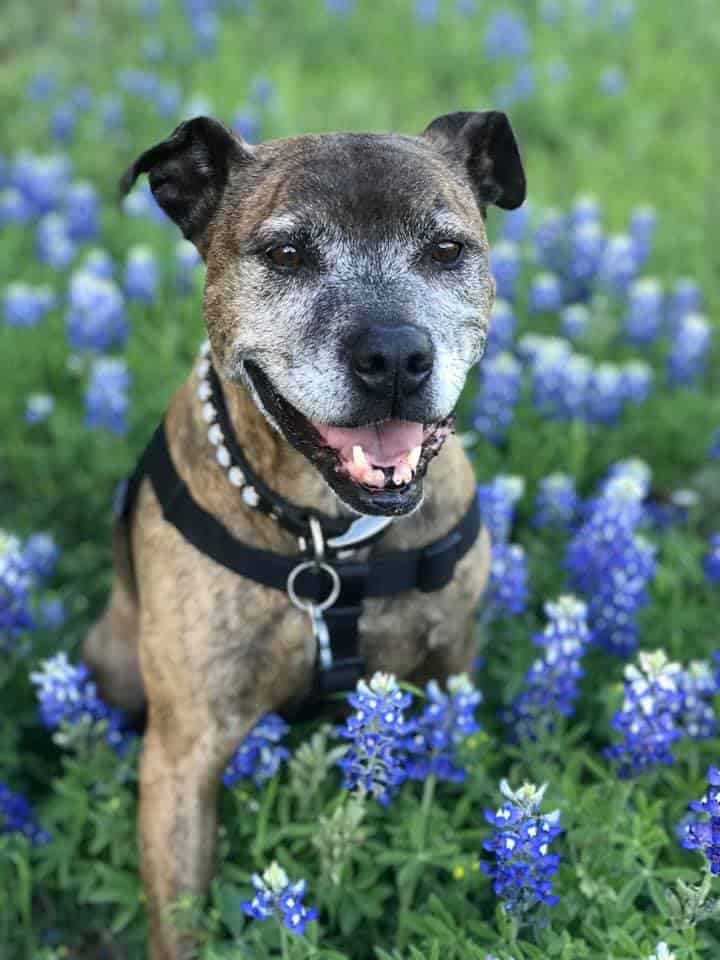 7. Experiment With Your Bluebonnet Dog Photoshoot!
Take your time and try different angles.
Try a shot from above, with your dog looking up at you. (Adorable!)
Get down on their level.
Try a wide angle shot as well as close-ups.
Use your feet to zoom in when using a phone for photos. Otherwise your shot can get pixelated when you blow it up.
Use a small tripod and do selfies with you and your dog!
For more ideas, check out our Pinterest Board, Dog Photoshoot Ideas.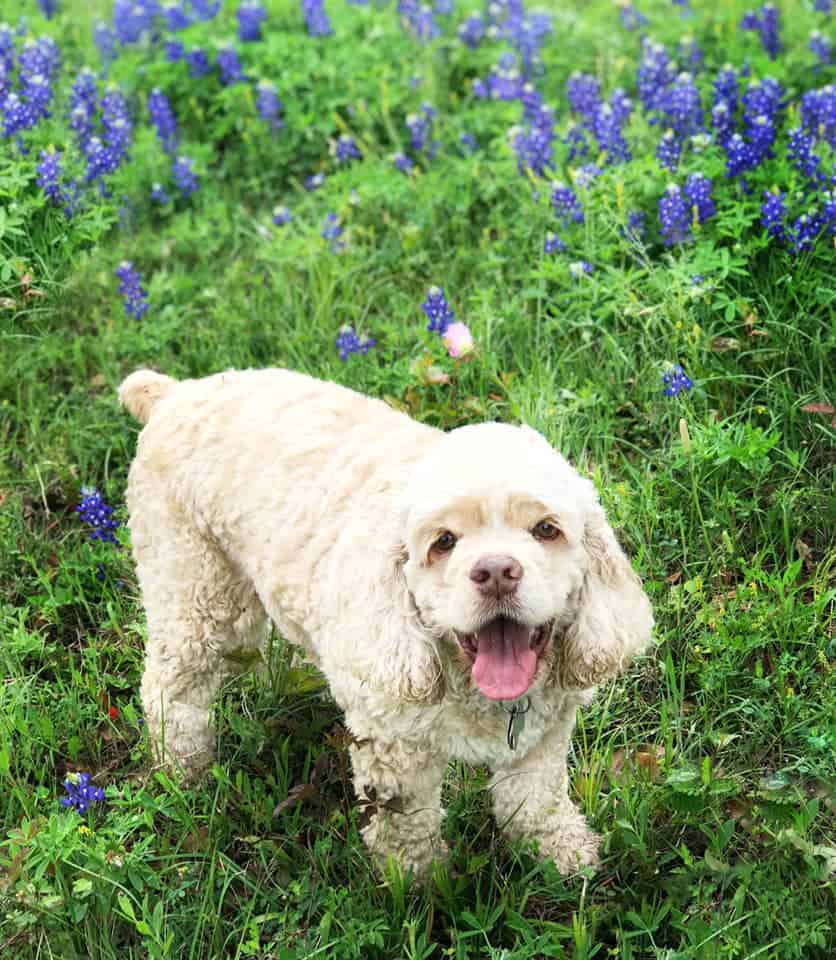 8. Be Patient
Be patient. It's supposed to be fun! Your dog will also feed off of any anxiety it senses. Stay calm, stay patient, and take a break every now and then to walk around. Assume your dog has the patience of a two year old and act accordingly.
9. Let it Happen
Sometimes the shot that takes you by surprise will become your favorite photo. After all, life is what happens when you are waiting for the perfect Insta-worthy shot.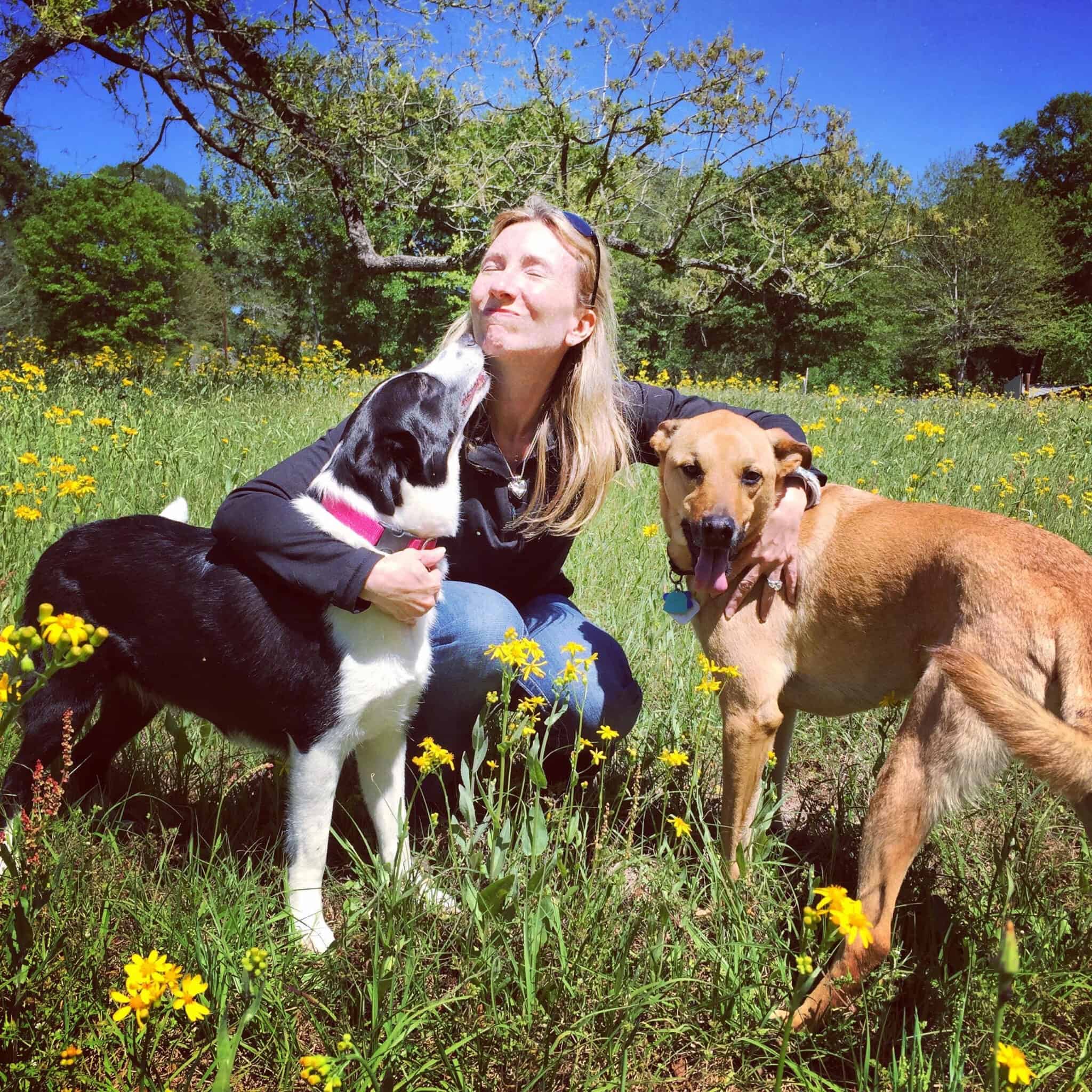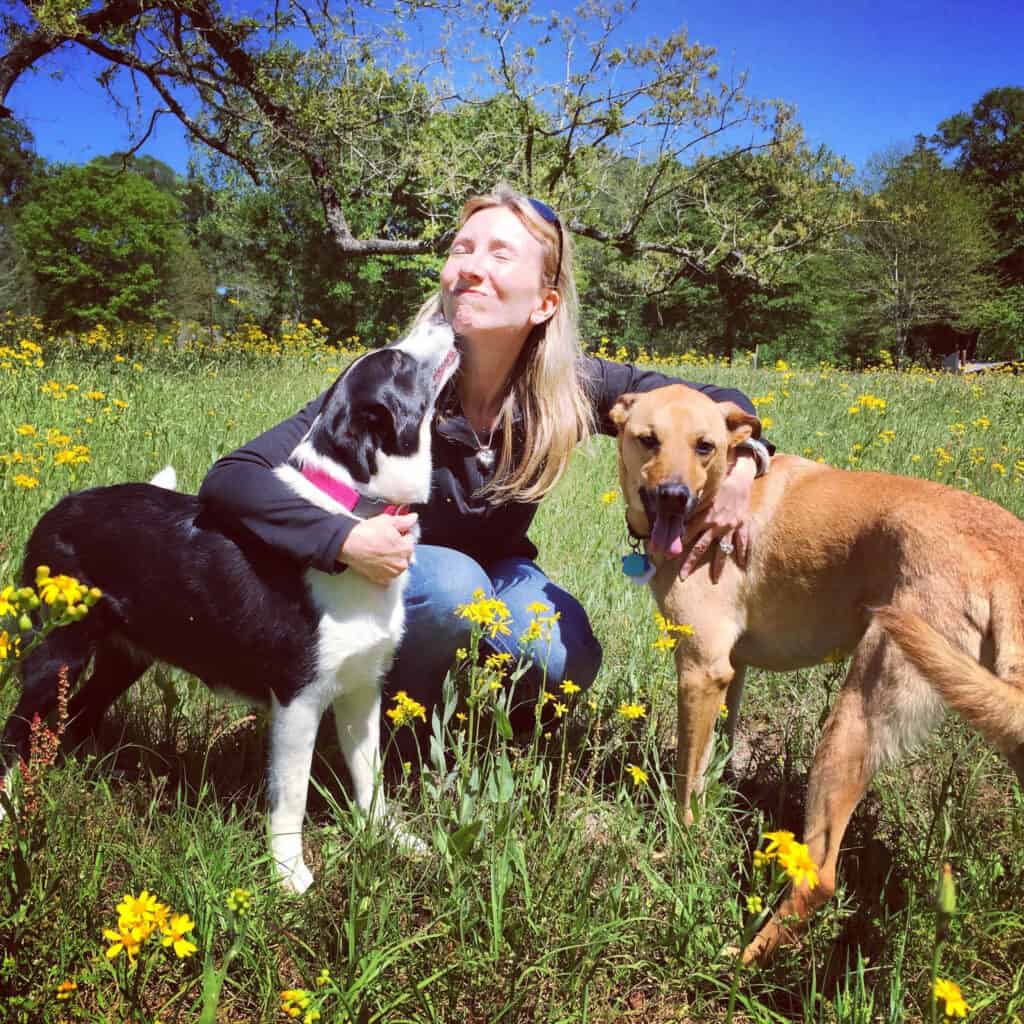 10. Watch for Critters in the Grass
Finally, do a quick sweep of the area before you begin. Watch for bees and yellow jackets (also known as jalapeno sky raisins), snakes and ants. Pick an area where both you and your dog can be comfortable.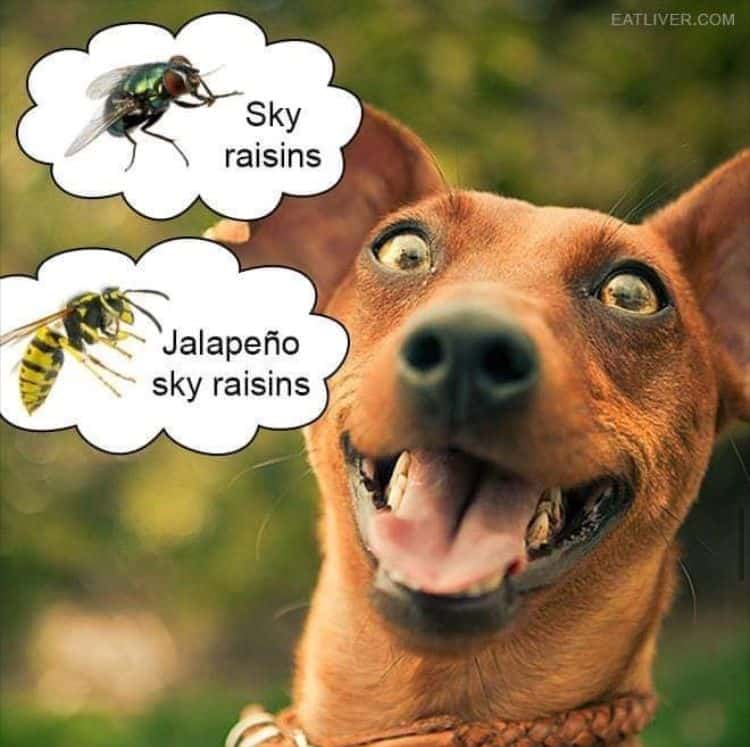 Best Places to Find Bluebonnets in Houston
Looking for where to find bluebonnets in Houston? You don't have to go far. Bloom is early this year!!
Below are some of our favorite locations for dog friendly bluebonnet and wildflower photography in Houston.
Buffalo Bayou. This park near downtown is huge. Bluebonnet patches can be found all over the park. Known areas for bluebonnet photography include Jackson Hill Bridge, and the south side of Buffalo Bayou.
Memorial Park. Bluebonnets surround the park, especially when driving in on Memorial Drive, heading east from the 610 loop
T.C. Jester Park / White Oak Bayou. You'll find patches of flowers along T.C. Jester from W. 43rd St. to 34th Street.
Spotts Park. Located at the intersection of Waugh and Memorial Drive, this open field will give you an array of flowers, plus downtown Houston in the background. Also, check out Stude Park at Studemont and White Oak.
Brays Bayou. Brays Bayou runs behind Hermann Park, near Almeda and South MacGregor. While you're there, take some photos in the Hermann Park McGovern Centennial Garden.
Terry Hershey Park. Popular with cyclists, you can find bluebonnets in the park, just off Dairy Ashford.
Willow Waterhole Greenspace Conservatory. This 290 acre park in the Westbury area of Houston, near the intersection of South Post Oak and South Main, features walking trails, fields and wooded areas.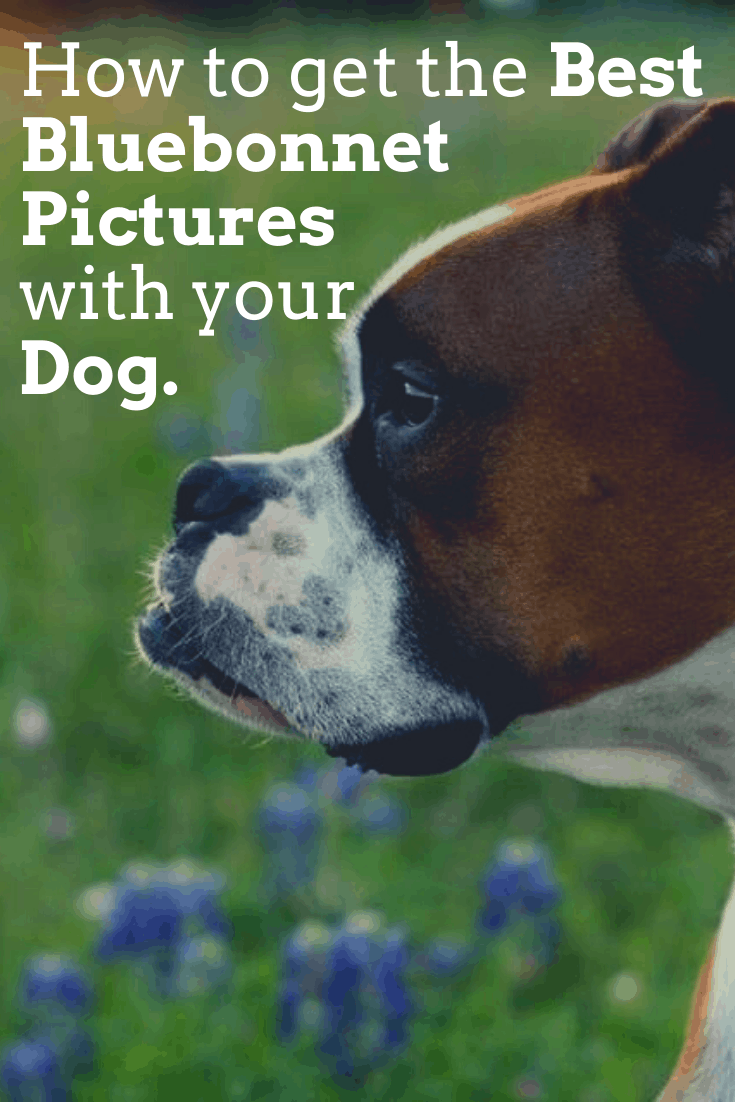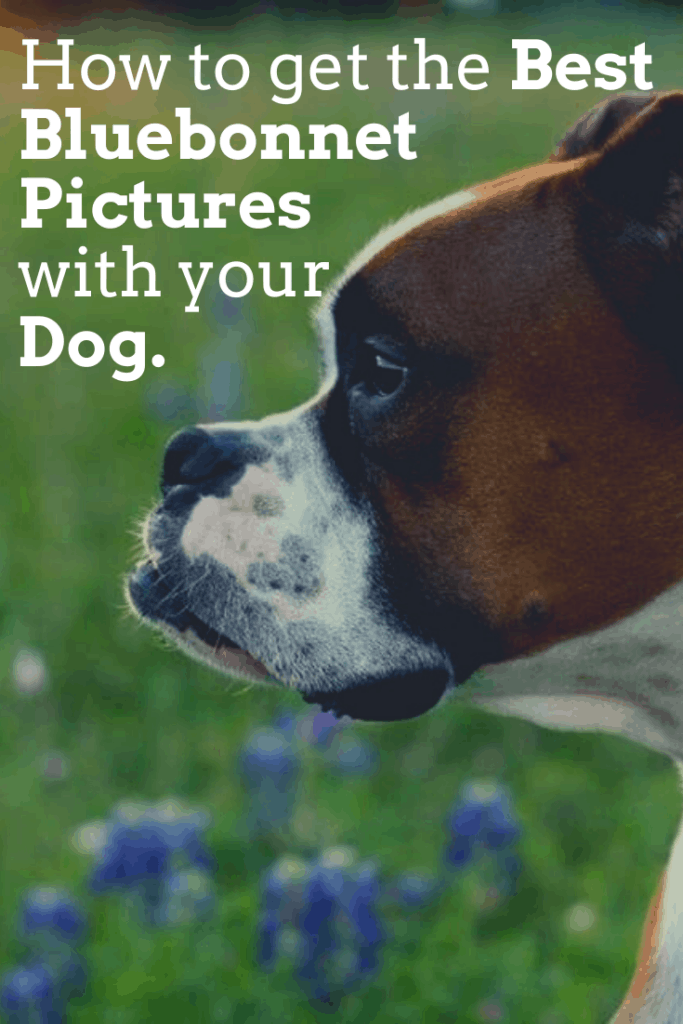 Best Places to Find Bluebonnets – Roadtrips From Houston
Have more time? Plan a weekend drive in the country. Here are some spots outside of Houston where you can find lots of bluebonets.
Rob Fleming Park. This park located in The Woodland and popular with local families. They typically have a large field of bluebonnets.
Sealy. Just west of Katy is Sealy, Texas, gateway to farmland and country. Sealy is far enough west on I-10 to give you the start of rolling hills.
Sugar Land. Check out the Telfair community, or look near the Sugar Land location of the Houston Museum of Natural Science.
Brenham. Get some Blue Bell Ice Cream, then head out on 290 for peak bluebonnet dog photo backgrounds.
Chapel Hill Bluebonnets, hills, farms provide the perfect backdrop. Make a weekend out of it and stay at a dog friendly hotel like La Quinta.
For updated information on the best places to get bluebonnet photos, follow the Texas Department of Transportation Wildflower Report. This report is updated on an ongoing basis throughout wildflower season.
References: