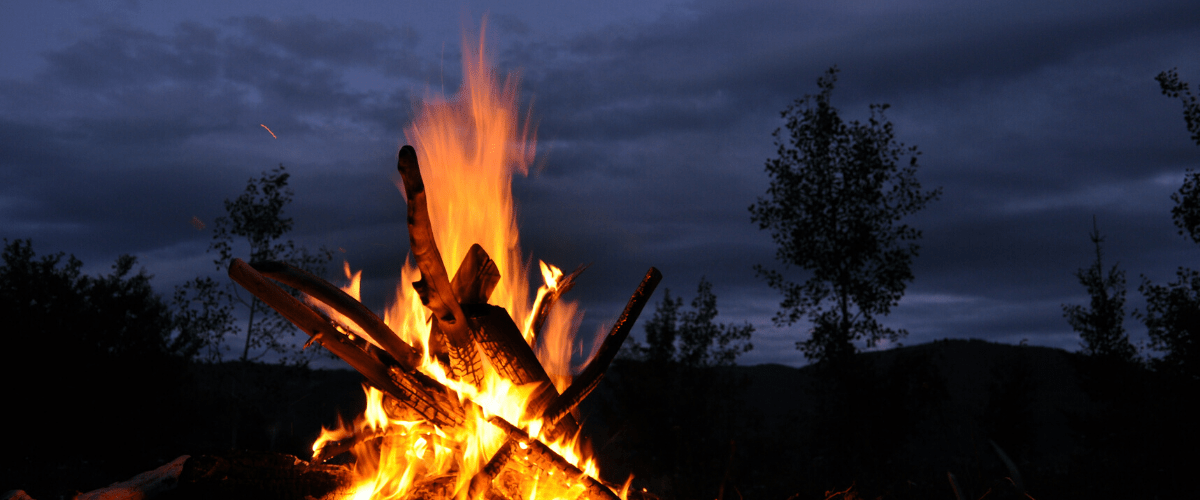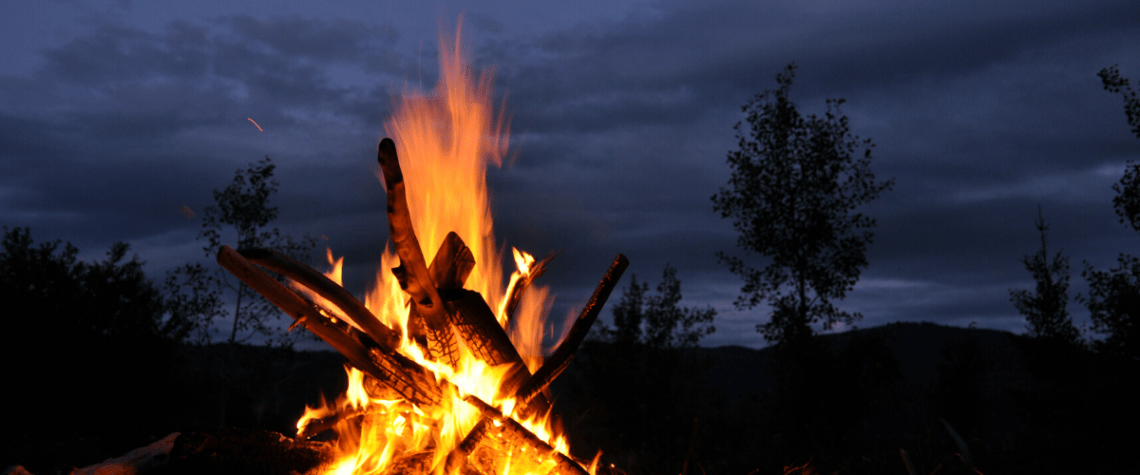 The Bonfire Texas – Music & Rescue
Do you remember seeing old movies with a group gathered around a campfire, strumming a guitar, the loyal dog at their feet? That's the feeling that The Bonfire Texas evokes.
The Bonfire Texas is a music festival that celebrates Houston musicians and gives back to animal rescue. The big event is Saturday October 5 at Stevens and Pruett Ranch, a 38 acre ranch just 30 minutes from downtown.
We chatted with The Bonfire Texas founder, Tracy DeJarnett, to find out more. (Psst… read to the end for your discount code!)
About The Bonfire Texas
This is the third year for The Bonfire Texas, now in a new location in Rosharon.
Bonfire Texas founder, Tracy DeJarnett, explains how the event came to be. "Nothing brings people together more than love of music, love of animals and love of a bonfire. Today, social media keeps us informed, but keeps us apart. This live music event brings people together over a common bond, to create a feeling of community."
Tracy's background is event marketing on a large scale with major companies. But once she got into dog rescue, she was hooked, and wanted a way to raise money for rescue. "There's an incredible need in Houston, an overwhelming problem of strays a need for rescue groups. Dogs bring so much love to our lives, and this is a way to help the Houston animal population."
The event also supports Houston area musicians by giving them more exposure on their work. "I've always been a fan of music and when I hear a musician, I get to know them. At our first Bonfire Texas festival I realized the amazing amount of Houston talent. A friend from Nashville confirmed that some of the best recent breakout acts have come from Houston."
The group has already raised $12,000 for local rescue. Come out, enjoy the day and help them raise even more!
The Line-Up
1:00 PM – 6:45 PM Acoustic Chapel Stage Performances
Scott Sean White (finalist, 2019 Kerrville New Folk Songwriting competition)
Sarah Golden (The Voice finalist)
Charles Bryant
Olivia Bogard (up and coming artist being coached by Tom McKinney, Beyonce's music coach)
Rona Williams
Alex Coba (Finalist, 2019 Texas Country Music Awards)
1:00 PM – 5:00 PM Save Them All Saturday Animal Rescue and Vendor Market – FREE 5:00 PM – 8:30 PM BBQ Served! Admission ticket includes BBQ plate and drink ticket 7:02 PM Lighting of the Bonfire! 7:30 PM – 9:30 PM Main Stage with Jesse Raub Jr (4-time #1 hit songwriter) featuring Holly Tucker (The Voice 2013, and 2-time female vocalist of the year)
Houston Dog Moms can buy your tickets at 10% off using promo code BONFIRE10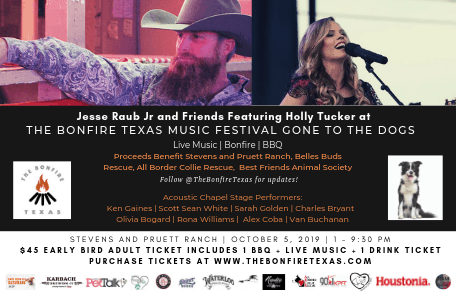 Entry ticket wrist-band allows in/out privileges.
The Venue
The Bonfire Texas has partnered with the Stevens and Pruett Ranch for this year's event.
The ranch is part of the Stevens & Pruett Foundation for Children and Animals, founded by Jim and Joy Pruett in the early 1980′s (remember KLOL??). This 38 acre ranch provides a foster home home for girls and rescued animals. Young girls ranging are provided a safe place to rest their heads, given warm meals and love. Abused animals are nursed back to good health with the able assistance of the girls. When possible they find adoptive homes for the animals; however in most cases, these animals will call the Ranch their everlasting home.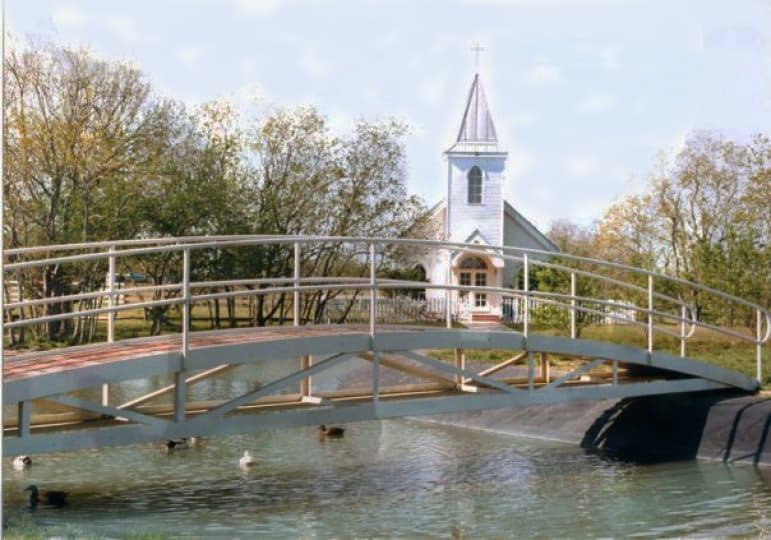 Save Them All Saturday Rescue Event & Vendor Market
Outside the main gate (free admission) Best Friends Animal Rescue is holding their monthly Save Them All Saturday event from 1-4pm. Rescues in attendance include:
Best Friends Animal Rescue
Belles Buds
All Border Collie Rescue
Animal Justice League
Mercy Cares
BARC
Harris County Animal Shelter
Honoring Hope & Faith Rescue
Reggie's Friends
A Life to Live
Alvin Animal Rescue
Camo Rescue
Fifteen vendor tables are already sold (ranging from food, doggie items, jewelry, home goods). Vendor tables are still available, at a cost of $50 per table. To reserve a spot, visit EventBrite
Silent Auction to support Rescue
In addition to a portion of vendor and ticket sales, the silent auction will support rescue. Attendees can bid on:
Custom Boots from Republic Boots
Autographed sports memorabilia donated by Helfman Dodge
Weekend Galveston getaway
Wine tasting from Nice Wines (Winner of the 2018 Rodeo Uncorked)
Wine tasting from Lost Door Cellars
Undersink Water filtration system from Total Home Services