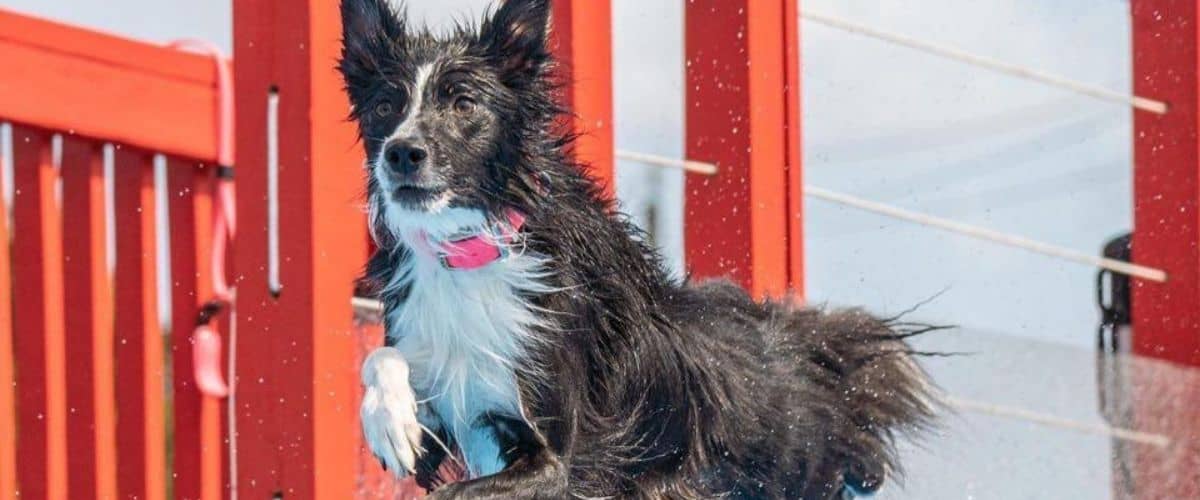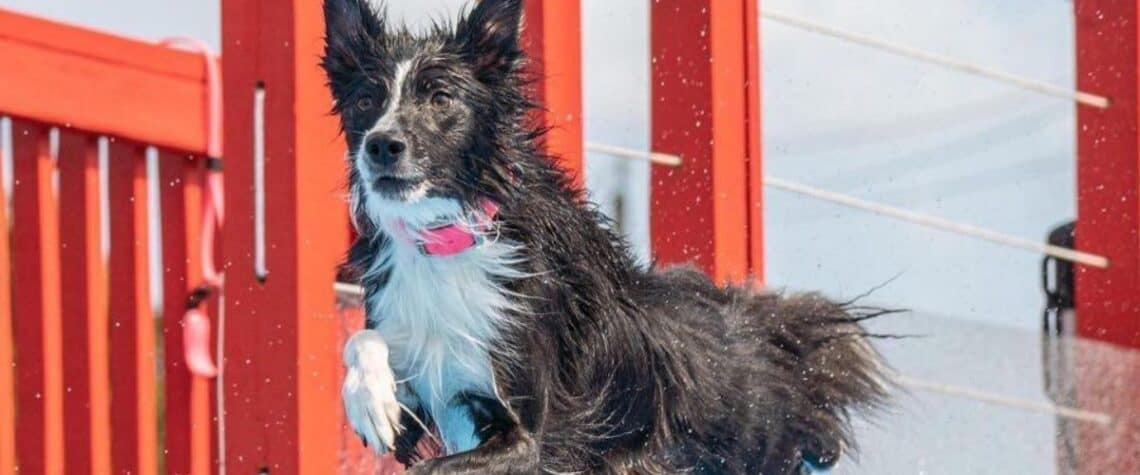 Dock Diving + Dog Pop Festival = One Big Splash
What do you get when you combine Dock Diving with Houston's most popular dog festival, Houston Dog Pop? You get One Big Splash!
This dog-friendly event is coming to Houston this weekend, August 21 to 23 at Sit Means Sit Dog Training, 4506 Yale Street. Here's a run-down of the event, plus what you need to know about Dock Diving. (Jump down to print a schedule of events.)
What is Dock Diving?
Dock Diving is pretty simple in theory. A person throws something into the water, the dog jumps out and get it.
But the reality? How about a dog jumping 20-22 feet into a pool? Or a dog hitting a vertical leap of 8 feet?
There are several dock diving organizations in the US. For example, North American Dock Diving or NADD, is the official dock diving competition for AKC dogs. Another is DockDogs, which is holding the local event in Houston. DockDogs doesn't care about your pedigree. They just care that you can get air.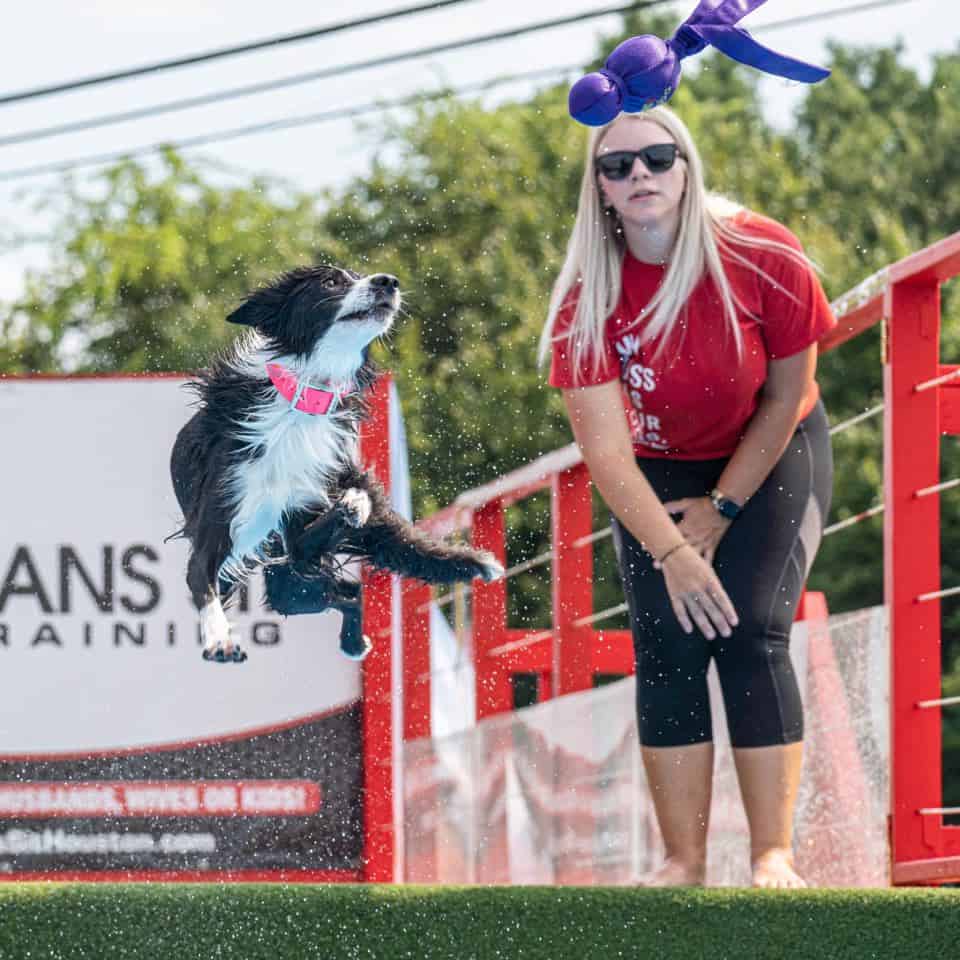 DockDogs dock diving events include Big Air, Speed Retrieve, and Extreme Vertical. Here's a rundown of each type of dock diving event:
Big Air: In Big Air, dogs run down a 40 foot dock and dive into a pool of water after a bumper. They are judged for the length of their jump.
Speed Retrieve: Speed Retrieve is a timed competition, with dogs racing against the clock. Each competing dog runs, jumps and swims to retrieve a bumper attached to the opposite end of the pool. Dogs start at the 20 foot mark on the dock, with a total pool length of 58 feet.
Extreme Vertical: For Extreme Vertical, dogs compete in a high jump, with a running jump to snag a bumper suspended in the air. With each grab, the height increases in 2-inch increments until just one dog remains and is crowned champion of the vertical leap!
Dock Diving at One Big Splash
Want to check it out? You're in luck. A 3-day national DockDogs event, Bayou City Dock Diving Wild Card is coming to Houston.
Mark your calendar for August 21, 22 and 23, and head to Sit Means Sit Dog Training at 4506 Yale Street, Houston, in the Independence Heights area of town.
There are pro, semi-pro, contender and amateur divisions. Placement in each division is based on earlier event qualifiers and points. Amateur entries compete alongside other dogs.
"The goal with DockDogs is to make K9 sports available for the everyday dog. It's all about having fun with your dog," says HP Parvizian, owner of Sit Means Sit.
To register your dog in the event, visit DockDogs online.
Dog Pop Festival at One Big Splash
Houston Dog Pop is Houston's original dog festival (think "Puppies For Breakfast.") And they'll be ramping up the fun on Saturday August 22 and Sunday August 23 at the dock diving event.
Dog Pop will feature a variety of local dog industry brands and vendors, food and drink trucks and dog splash pads and pools. Humans can keep their cool too, with tents and misting fans. Plus, music provided by DJ Illset and DJ Nando1.
All vendors will be socially distanced. There will be sanitation stations (and doggie waste stations) throughout the area.
Admission is free, however a minimum $5 donation is requested, with all donations going to animal rescue.
One Big Splash Schedule of Events
DockDogs Day 1: Fri. Aug 21 2020
Onsite Registration/Practice – 9:30 am
Big Air Wave #1 – 10:30 am
Big Air Wave #2 – 12:00 pm
Big Air Wave #3 – 1:30 pm
Speed Retrieve Wave #1 – 3:00 pm
Extreme Vertical Wave #1 – 5:00 pm
DockDogs Day 2: Sat. Aug 22 2020
Onsite Registration/Practice – 8:30 am
Dog Pop Festival Opens – 10 am
Big Air Wave #4 – 9:30 am
Big Air Wave #5 – 11:30 am
Big Air Wave #6 – 1:30 pm
Big Air Wave #7 – 3:30 pm
Dog Pop Festival Closes for the day – 5pm
Extreme Vertical Wave #2 – 5:30 pm
Dock Dogs Day 3: Sun. Aug 23 2020
Onsite Registration/Practice – 8:30 am
Dog Pop Festival Opens – 10 am
Big Air Wave #8 – 9:30 am
Big Air Wave #9 – 11:00 am
Big Air Wave #10 – 1:00 pm
Speed Retrieve Wave #2 – 3:00 pm
Big Air Finals – 4:30 pm (Pro, Semi Pro, Contender & Amateur Finals)
Dog Pop Festival Closes – 5pm
What should I bring to the festival?
For the humans: Bring a folding chair, face mask and sunscreen. Food and drink available on-site. $5 donation for entry, with all proceeds going to dog rescue.
For your dog: There will be water bowls, pools and splash pads available to keep your furry friend cool. Dog-friendly and people-friendly dogs only please! All dogs must be on a leash except in designated play areas.