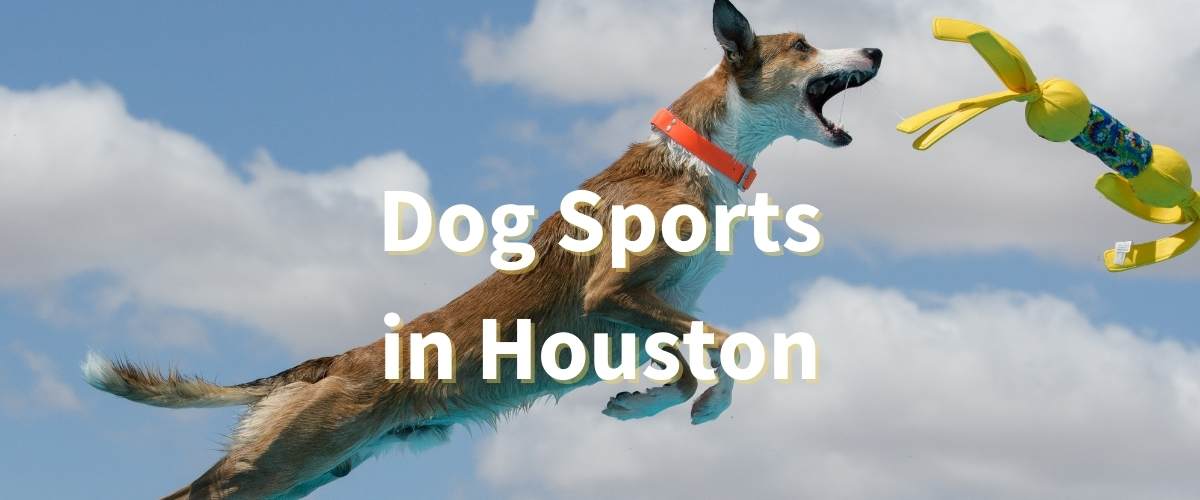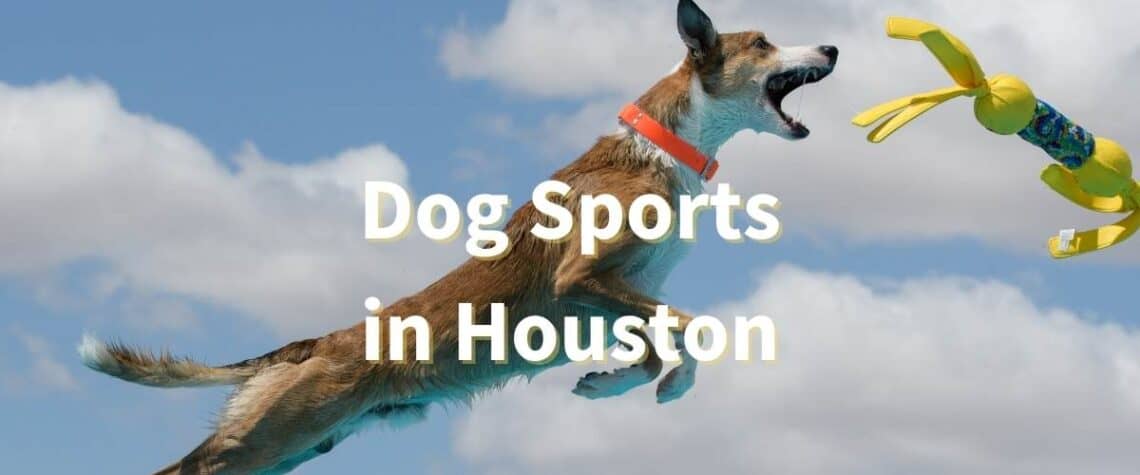 Guide to Dog Sports in Houston Texas
Does your dog crave more than just a walk around the block? If you have a breed that's known as a working dog, they need a task to focus on. For many people, getting involved in dog sports in Houston is a way to fulfill that need, and gain a new hobby.
In this article we'll review the top dog sports in Houston, and where to learn and practice dog sports in the Houston area.
Types of Dog Sports in Houston Texas
Here are a few of the dog sports you can participate in within the Houston area.
Agility. Dog and handler proceed through a course of jumps, tunnels and other obstacles in a timed event.
Rally Obedience. Rather than focusing on jumps, Rally focuses on your dog's ability to perform a simple task on command. Participants walk the course and follow the instruction cards on the floor. which may include circle, stand, sit, stay and other basics.
Disc Dogs. Does your dog love to play catch? Consider disc dogs! Events include Toss & Fetch, Long Distance and Freestyle, where participants go through a routine of tricks.
Dock Diving. For dogs that love water, there's nothing better than jumping off a dock to make a splash. There are 2 types of events: Air Retrieve, where the dog jumps toward a toy suspended above the water, and Distance Jumping, where dogs compete for the longest jump.
Flyball. Does your dog love to run and have a strong drive for toys? Flyball is for you! Flyball is a team relay competition. Dogs run a course of jumps, and grab a ball, hitting a backboard to turn and race back over the course.
Lure Course / Fast CAT. Fast CAT is a 100 yard dash for dogs. Each dog enters the fenced course individually with a release and catch person at each end. Dogs then chase a simulated bunny, typically a plastic bag, tied to a lure system. Dogs can hit speeds of 25 mph or higher on the course.
Barn Hunt. Also called rat hunting, dogs search an obstacle course of hay bales to find the hidden scent.
Search & Rescue. Your dog can learn a very useful skill of searching for and finding missing people. Practicing this task involves creating a trail of scent and having a willing person who can hang out with a book while waiting for the dog to find them!
Can any dog do any sport? Absolutely! There are no size or breed requirements for any of these sports. For example, below is Houstonian Bully Balloo, a pit bull rescued from the shelter who now regularly wins dock diving events!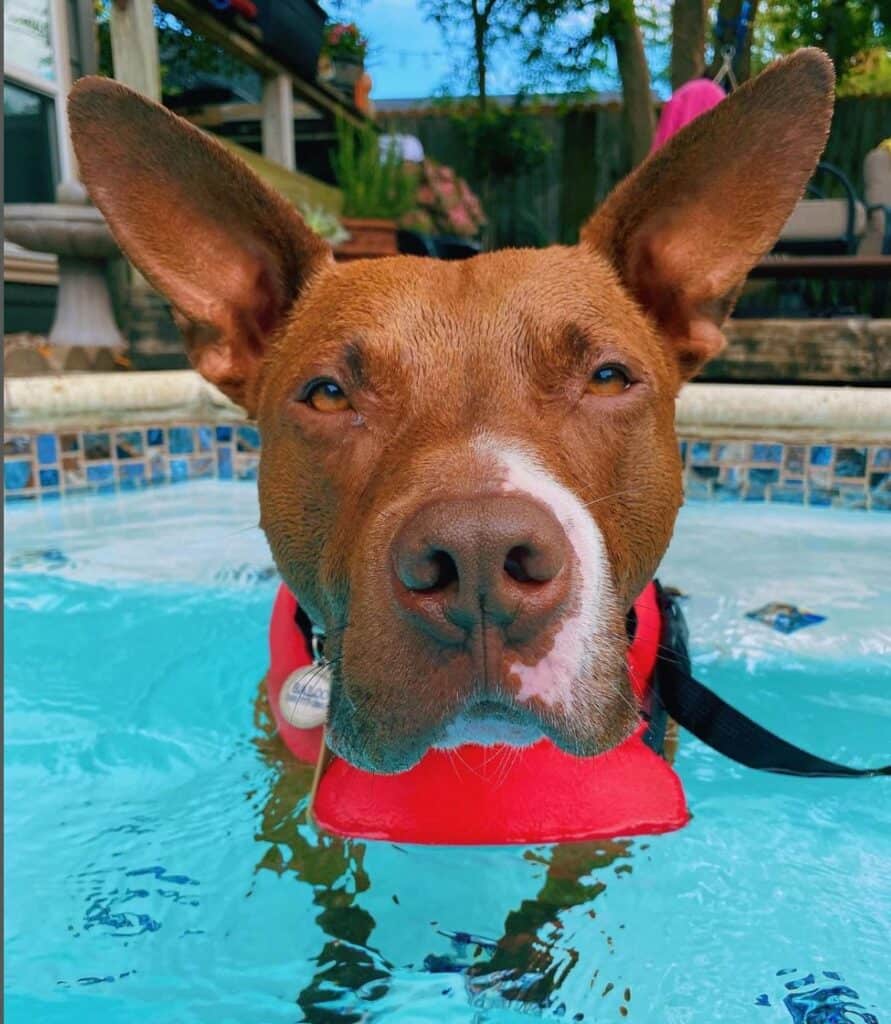 Local Practice Facilities for Houston Dog Sports
If you want to get involved with dog sports in Houston, here are a list of places and resources!
Dog Agility & Dog Rally Obedience in Houston
For dog agility training in Houston, there are a lot of options.
The biggest training center in central Houston in Hot Dog Club, which offers beginning to advanced training courses. They also hold regular competitions. Don't be intimidated if your mutt doesn't have a pedigree. While there's a big breeder focus here, you can still kick butt and show them that mutts rock.
And we can't forget the big canine sports complexes in Houston! KraftyK9 Dog Sports is just north of the Beltway near 45 on the north side of town and Dog Gone Fun Agility is in Magnolia. Both facilities have multiple training classes and events. You can participate in classes in any of of these canine sports, in addition to agility and rally obedience.
Disc Dogs Training in Houston
If you want to get involved in Disc Dogs, check out the Houston Canine Frisbee Disc Club.
The club meets typically during weekly toss & fetch league matches. By participating you'll get ideas, tips, information, fellowship and a safe place to practice this exciting sport. The club works to welcome newcomers to the sport!
You can also check out Disc Dogs of Greater Houston or check K9 Frisbee Toss & Fetch leagues near you.
Dock Diving Training & Dog Events in Houston
Dock diving is big in Houston. Here are a list of facilities to follow for training and competition offerings.
You can also rent the pool at Joasis Houston to have events like birthday parties for dogs.
Flyball Dog Events in Houston
Check out the Barkworthy Flyball Team in North Houston to see dogs in action and find out about participating. Club Canine hosts a number of Flyball teams in Houston. And you can find Flyball clubs in your area with the national directory.
Fast CAT Dog Events in Houston
Someday soon I will get my dogs out to this! My squirrel obsessed girl will fly down the track! Follow American Lure Course Racing on Facebook to find local events. Events are hosted by local dog clubs, but they are all-breed and mixed-breed friendly. Sign up for a practice run or enter the competition. This is a very open and welcoming group and you are sure to have a great time.
Barn Hunt Event in Houston
For Barn Hunt in Houston? You have to go with Texas Rat Masters. Located on Franz Road in Katy, they hold regular barn hunt classes and competitions.
Search & Rescue Dog Training in Houston
SARQuest is tops for Search & Rescue training in Houston. When you join the team, you can learn from the experts.
And it does not matter what your dog's breed is. As evidenced by the adorable Rory, an Irish Wolfhound. In this video, he excited alerts his owner to a find by spinning.
"He is way too big to do a bump alert, and he's barked only a handful of times in his entire life… So instead he spins to let me know he's found someone. With a dog this big, you don't miss the spin.
(And if I do, he just repeats it)."
Dog Sports at the Houston World Series of Dog Shows
The Houston World Series of Dog Shows returns to NRG Center on July 20-24, 2022!
Dog sport exhibitions at the Houston World Series of Dog Shows include:
Barn Hunt
Canine Frisbee/Canine Disc
Canine Freestyle (Dog Dancing)
Flyball
Obedience & Rally
Scentwork
Check out the schedule for the Houston dog show to plan your days!