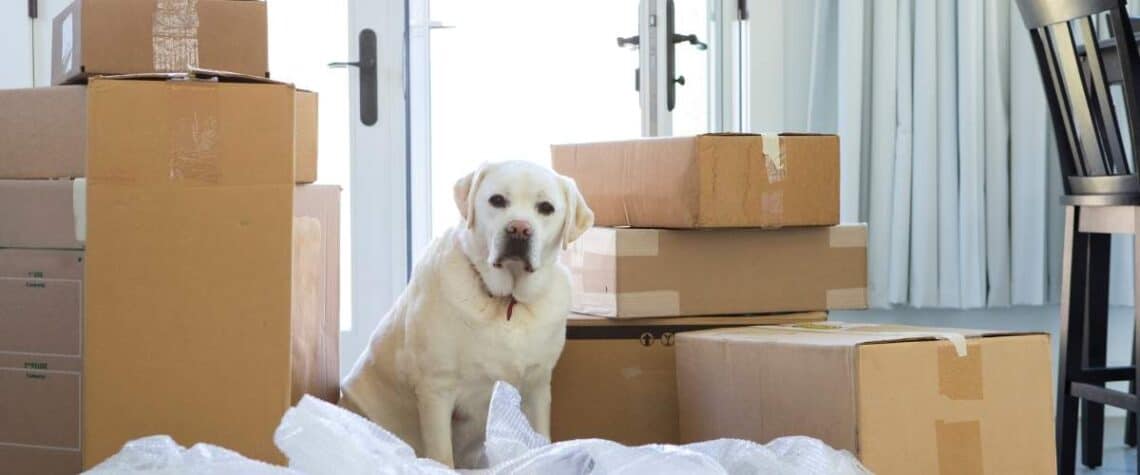 Tips for Finding Pet-Friendly Rentals With a Large Breed Dog
Pet-friendly housing in Houston is hard to find. And if you're the owner of one of "those breeds" and you rent, you know the challenges. Bully breeds, Dobermans, German Shepherds, Huskies and Rottweilers are all on the dog breed exclusion list for many landlords. And if you have a dog over 40 pounds, regardless of the breed, it's difficult. And even when you find a place, the pet deposits can be astronomical.
Pet-friendly housing and finally getting the keys to a new apartment or rental house often comes after spending hours searching. Reading agency website, submitting costly applications and looking at rental units. Then the final say in getting the keys is in the landlord's hands. And one of the big black marks on your rental application is having a large-breed dog.
But there are ways to help change any but the most stubborn landlord's mind about renting with large breed dogs.
Most landlords that have size restrictions have them in place because of past problems. But you and your dog are different. And proving that can put their mind at ease and help you move into the rental home or apartment of your dreams.
Here are 3 tips for finding pet-friendly rentals with a large breed dog.
Tip 1: Train Your Dog to Avoid Barking & Bad Pottying Behavior
Training is a part of ensuring your dog is on their best behavior. Don't think you can just enroll and that will impress a landlord. Learning good behavior take time but dogs also need to show that they have the behavior that society expects.
Barking hello is one thing. Barking constantly due to separation anxiety or boredom is another. Your neighbors will complain, you'll get kicked out, it will be a mess you don't want to deal with. Deal with the situation asap with training.
Your dog also needs to be fully potty trained. Marking in the house and soiling the carpet will get you a bad mark for future landlords, plus cost you your deposit. You wouldn't want the dog pottying in your house. No landlord wants that either.
TIP: Pursue the AKC Canine Good Citizen Certification. This helps document that your dog has good behavior.
Tip 2: Get Supplemental Insurance for Animal Liability
Life comes with constant changes and our animal companions fall into this category. Insurance reflects these changes, and while most renter's policies don't include pet insurance, you may be able to add that to an existing policy.
Pet insurance normally covers your dog's health. But a supplemental Animal Liability Insurance Policy will provide coverage if your dog bites someone or causes damage to another person's property.
Tip 3: Create a Renter's Resume for Your Dog
Your dog may be a large breed dog over 40 pounds or a dog on "the list." But if your landlord only knew how awesome your dog is, they would understand.
That's the point of a Renter's Resume for your dog. I created this for my 2 dogs when I was looking to rent a home 3 years ago. It included pictures of each dog, their name, their age, and a personality description. Turns out my landlord was a dog lover, especially big headed dogs. He met them and fell in love. He didn't give me a discount on my pet deposit, but I was in!
An emotional plea to a business owner is unlikely to get you what you want. After all, rental units and rental homes are a business. Anything that might encroach on their ability to generate a profit, or that would create a potential liability is to be avoided.
So the Renter's Resume for your dog is the way to show why and how your dog is different for the stereotypes. Prove that your dog is different than what the experienced in the past. Follow my example above on how to create the renter's resume for your dog.
Along with documentation of your dog's obedience training, you can also get letters from your current landlord and neighbors documenting your dog's:
Attitude
Conduct
Obedience
Ability to get along with other animals and people
Endearing qualities
Each letter of reference should include that person's name and phone number.
How to Make Your Apartment Search Easier & More Effective When You Have a Large Breed Dog
Not all areas of Houston are the same, and you can see that in the neighborhoods. Some areas are full of dog-lovers that readily accept new pups. Others leave you amid people who would rather not have dogs around them.
Stick with neighborhoods where you feel your dog would be welcome. For example, look for an area that has a dog park nearby. Or look for an apartment complex that has a well maintained (non-stinky) dog potty or dog play area. When you are driving the neighborhood in the evening, look to see if there are other people walking their dogs. And consider if you would feel safe walking your dog in the area.
You can use an online tool like Dwellsy that lets you search and filter by the size and type of animal.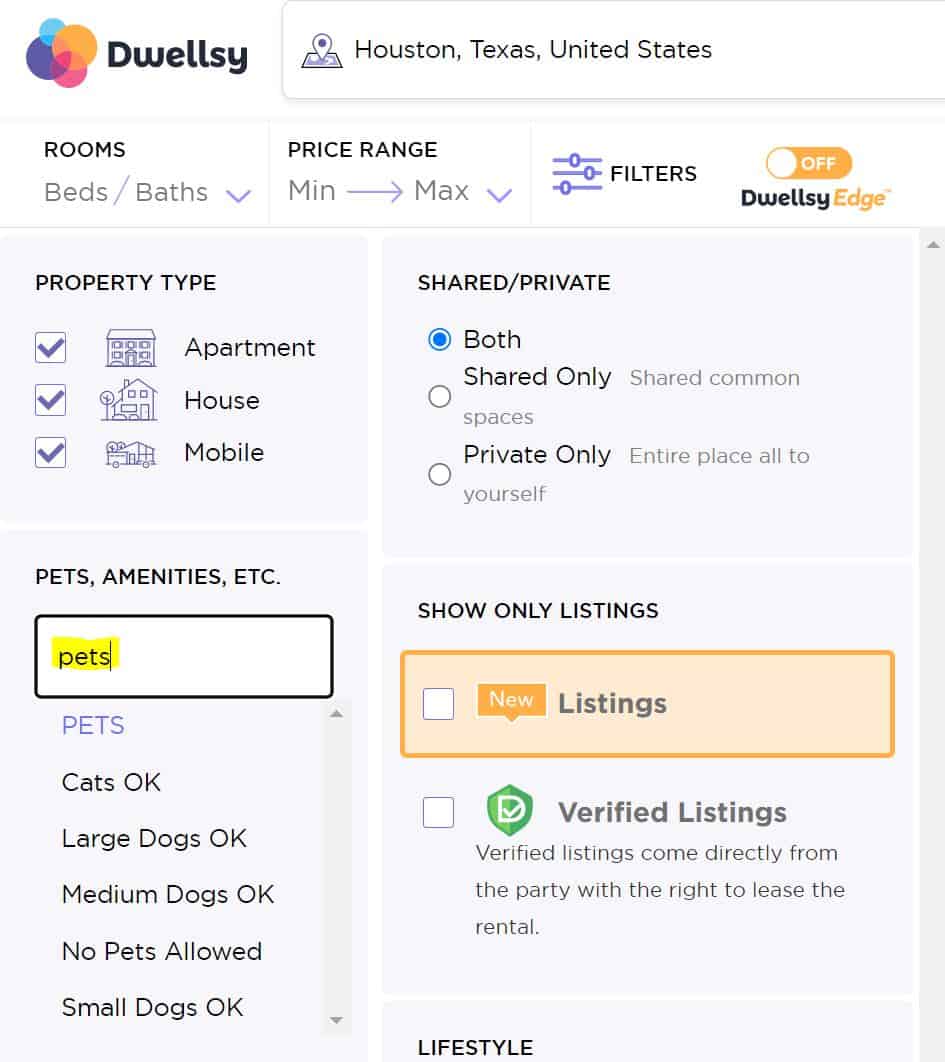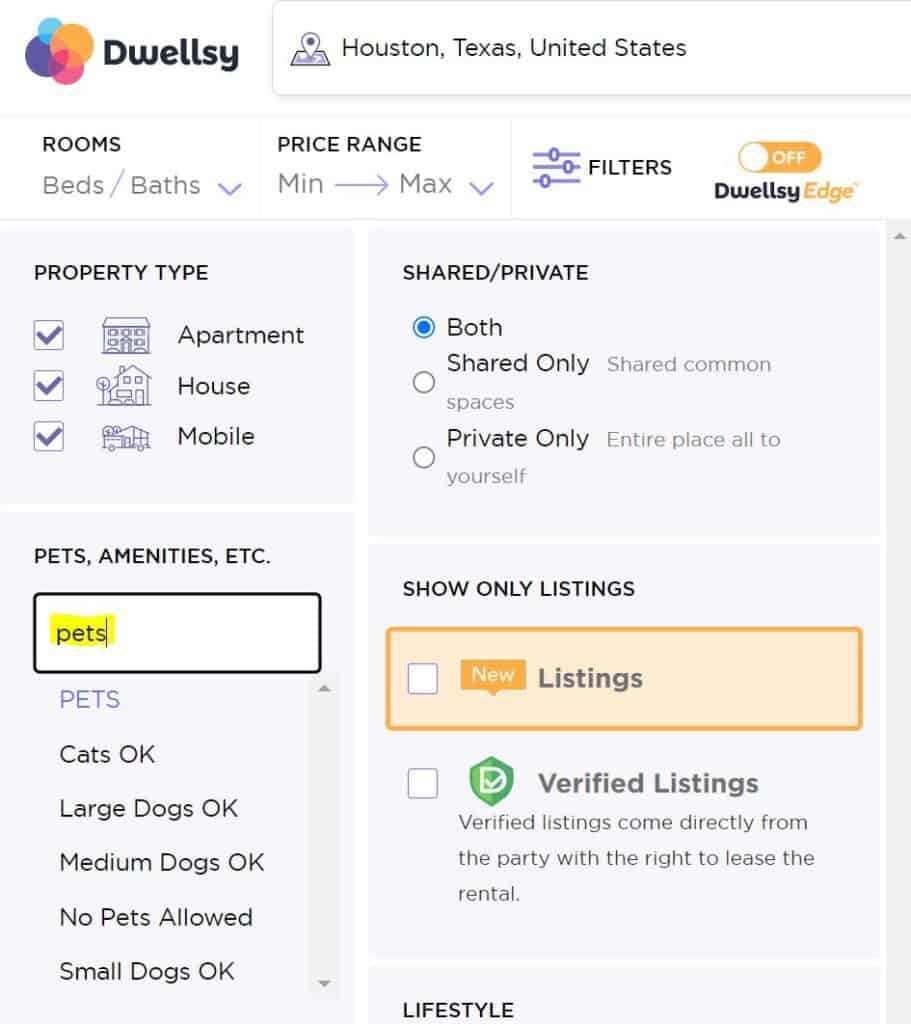 Many people are used to renting within an apartment complex. You will have amenities like a gym, pool, security, assigned parking, storage spaces, playground and more. But you may want to give that up to benefit your dog. None of those items are crucial to having a happy, satisfying life. But your dog? They are family.
So instead of leaning toward all those goodies in a rental apartment complex, consider a single family unit. Search for a single family home rental that's dog friendly. If you are looking for a dog-friendly rental home, look for strong fencing, and consider putting in a temporary doggie door to make your pet feel at home.
Ensuring your dog is well trained, creating a renter's resume for your dog and getting supplemental liability insurance can help your search for pet-friendly housing in Houston.
FAQs About Finding Rental Housing in Houston with Large-Breed Dogs
Why do people give up their dogs when they move?
At Harris County Pets, BARC and other shelters across the city "moving" is a common reason that people surrender their pets. The cost of pet deposits, breed restrictions and the availability of affordable housing play a role. For some families, moving means they are moving in with relatives due to a financial hardship.

Give grace to people who are giving up their pets when they move. And help them rehome their pets by offering to foster for rescue. Give help, not hate.
Can I make my dog a service dog to make it easier to rent an apartment?
There's a trend in renters to make your dog an emotional service dog to make it easier to rent an apartment or rental house.

You do you boo. But falsifying an emotional support dog just to rent a house damages the reputation of all service dogs and hurts people who really need them.

If you take this route, don't buy a service dog or emotional support tag online. They're totally bogus.

Instead, get a letter from your doctor certifying that you need an emotional support animal. Your landlord must accept that and allow your pet, regardless of the size and breed, under the Americans With Disabilities Act (ADA).

You can read more about emotional support animal certification and the ADA in our article on that topic.
How much is a pet deposit for dog-friendly apartments in Houston?
The amount and type of pet deposit you will have to pay varies by your landlord.

Some apartments charge a pet rent fee of $35-$50 per month in addition to your rent. Some landlords charge a one-time pet deposit of $250 per pet.

Make sure you understand the details of your pet deposit, and whether it's refundable or not. Some landlords will keep your pet deposit plus charge you for any damages in addition to that. Read your rental agreement closely to avoid a misunderstanding.