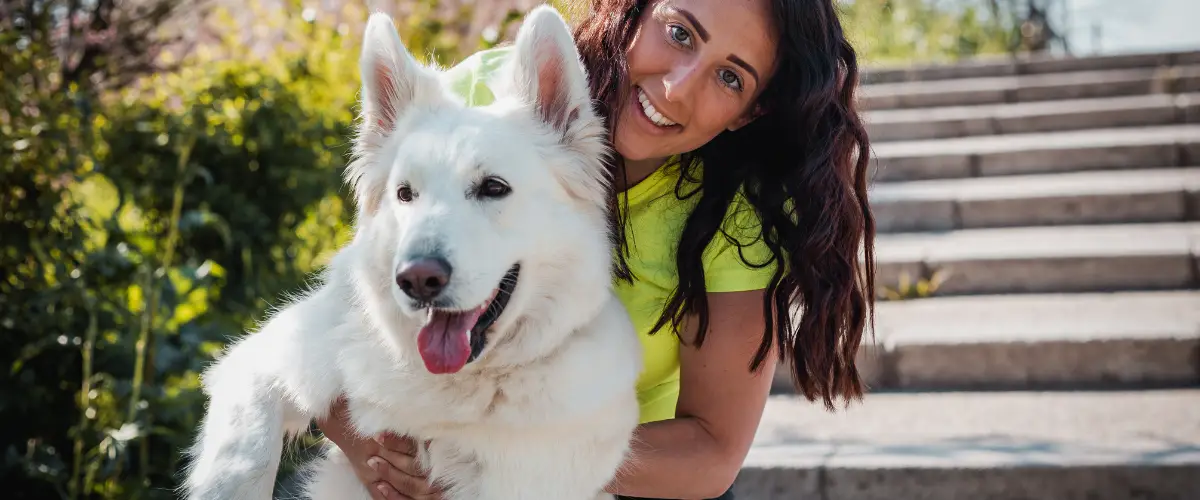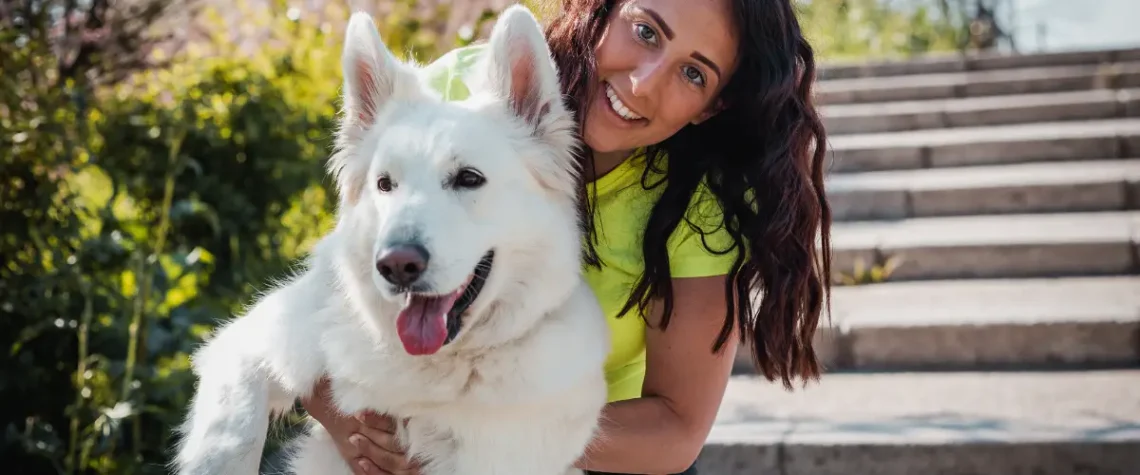 Heartworm Prevention & Treatment in Houston
Houston, also known as the Bayou City, has our fair share of mosquitos. That makes heartworms a common issue in dogs here.
According to data from the Companion Animal Parasite Council 22 percent of all heartworm cases in Texas are in Harris County. One in 27 dogs in Harris County will contract the disease.
In this article, we'll review some basic information on heartworms, different prevention methods, and where to find low cost heartworm prevention and affordable heartworm treatment.
How are Heartworms Spread?
Adult female heartworms living in an infected animal produce microscopic baby worms called microfilaria that circulate in the blood stream.
When a mosquito bites an infected animal it picks up these microfilaria. The mosquito then becomes a carrier of the heartworm. The worms develop and mature into infective stage larvae over the next 10 to 14 days.
When the infected mosquito bites your dog, the infective larvae enter your pet's bloodstream.
It takes approximately 6 months for the heartworms to grow and reach sexual maturity. Then they begin to reproduce inside your pet.
Adult heartworms grow inside your dog, living in the major vessels in your dog's heart. Once mature, heartworms can live for 5 to 7 years and can grow up to a foot in length.
As you can imagine, having worms in your heart is not a great way for your dog to live to old age.
That's why you MUST use heartworm prevention for your dog in Houston.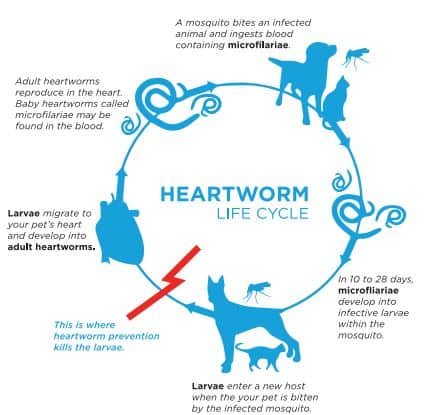 Ways to Protect Your Dog Against Heartworms
There are four basic categories of heartworm prevention:
1. Ivermectin-Based Heartworm Prevention Pills
Ivermectin is the most common heartworm preventative. Common brands of ivermectin-based pills include HeartGuard Plus, Iverhart Plus, Advantage Multi and Tri-Heart.
2. Non Ivermectin-Based Heartworm Prevention Pills
Certain herding breeds, including collies, Australian shepherds, border collies, shelties, Shetland sheepdogs and German shepherds, should not take ivermectin-based pills.
Interceptor Plus is a non-ivermectin alternative heartworm preventative for these breeds.
3. Topical Heartworm Prevention
Moxidectin or selamectin are the active ingredients in topical heartworm prevention. Brands include Advantage Multi, Advocate and Revolution. These medications also treat intestinal parasites such as hookworms, roundworms and whipworms.
Topical heartworm preventatives are applied to the skin on the back of the neck and are absorbed into the body. They are given monthly to kill immature parasites.
4. Injectible Heartworm Prevention
And now for my favorite, injectable heartworm prevention. Proheart 6 (2X annually) and Proheart 12 (1X annually) is a moxidectin extended-release injectable that protects your dog from heartworms without the monthly maintenance.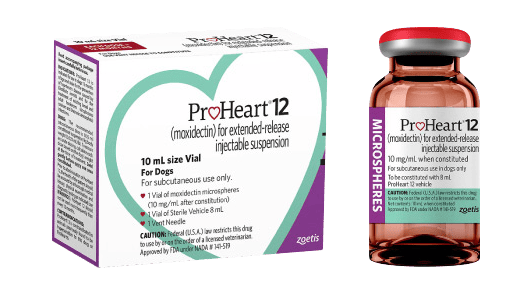 Why I Switched to the Heartworm Shot
One of my dogs will eat anything if it involves a cheese slice. The other is suspicious of all treat offerings. And once she sees me going to the cabinet where I keep doggie meds, she makes a beeline for the doggie door.
So when I found about about injectible heartworm prevention, I knew I had to try it. I've been using Proheart 12 for Doug & Tammy since 2019 for 3 reason:
Convenience. Despite reminders on my calendar, I always seemed to be late administering monthly heartworm prevention. With the shot, I don't have to worry.
Cost. ProHeart injections are based on weight. At Thrive Clinic, I paid $156 for 67-lb Tammy and $135 for 43-lb Doug. That's equivalent to a $11-$13 monthly heartworm tablet.
Dosing. Tammy would frequently spit out part of her heartworm chew, and would usually vomit within 1 day of dosing. I was never sure if she was getting the proper dosage.
You can learn more about Proheart on the Zoetis Petcare website.
DISCLAIMER: I'm not a vet and don't pretend to be one. You should talk to your veterinarian about heartworm prevention alternatives for your dog, and choose the one that's right for you.
Low Cost Heartworm Prevention in Houston Texas
You can get the heartworm prevention shots at your veterinarian, or check this list of low cost heartworm prevention in the Houston area.
In all cases, your dog will need to have a heartworm test before the vet clinic will sell you heartworm prevention.
The heartworm test will be approximately $20-$40 depending on the clinic. Heartworm prevention can be as little as $8/month for a simple pill.
Here are resources for low cost heartworm prevention in Houston. Click link to see pricing.
Low Cost Heartworm Treatment in Houston
So you've just found out your dog has heartworms. Don't panic. Heartworms is now easily treated. And you can get affordable heartworm treatment in Houston.
There are 2 treatment protocols: Fast Kill and Slow Kill.
If your veterinarian recommends slow kill heartworm treatment, your dog will get 1 month of doxycycline and a monthly preventative dose. After 12-18 months, your dog should test negative for heartworms.
For fast kill heartworm treatment, your dog will receive 1 month of doxycycline and 1 month of prednisone, followed by a series of injections. Some vets perform these injections back to back over 2 days. Others prefer to administer the injections once a month for two months.
Affordable Fast Kill Heartworm Treatment Options in Houston
The options below are less than 1/2 the price of treatment at a full service veterinarian.
For additional information on heartworms, visit the American Heartworm Society.