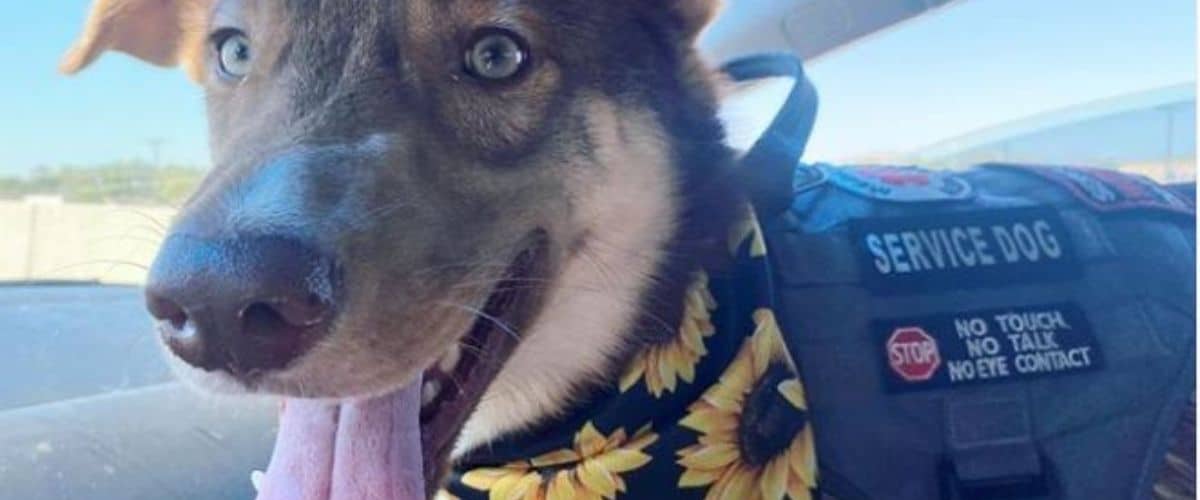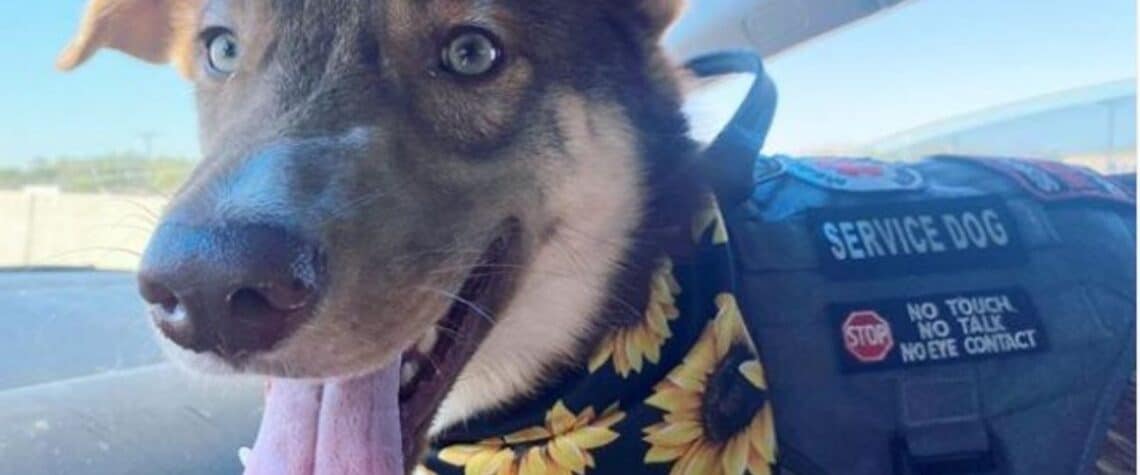 Educating the Public on Service Dogs
Kaydin Downey doesn't look disabled. She doesn't look like she needs a Service Dog. And yet, her task-trained dog, Hamilton, sits under her seat inside a coffee shop in the Heights.
Her experiences with her Service Dog inspired her to become the owner of Hamilton at Your Service LLC, also referred to as HAYS. HAYS provides education for companies, schools and individuals in efforts to end the stigma about Service Dogs.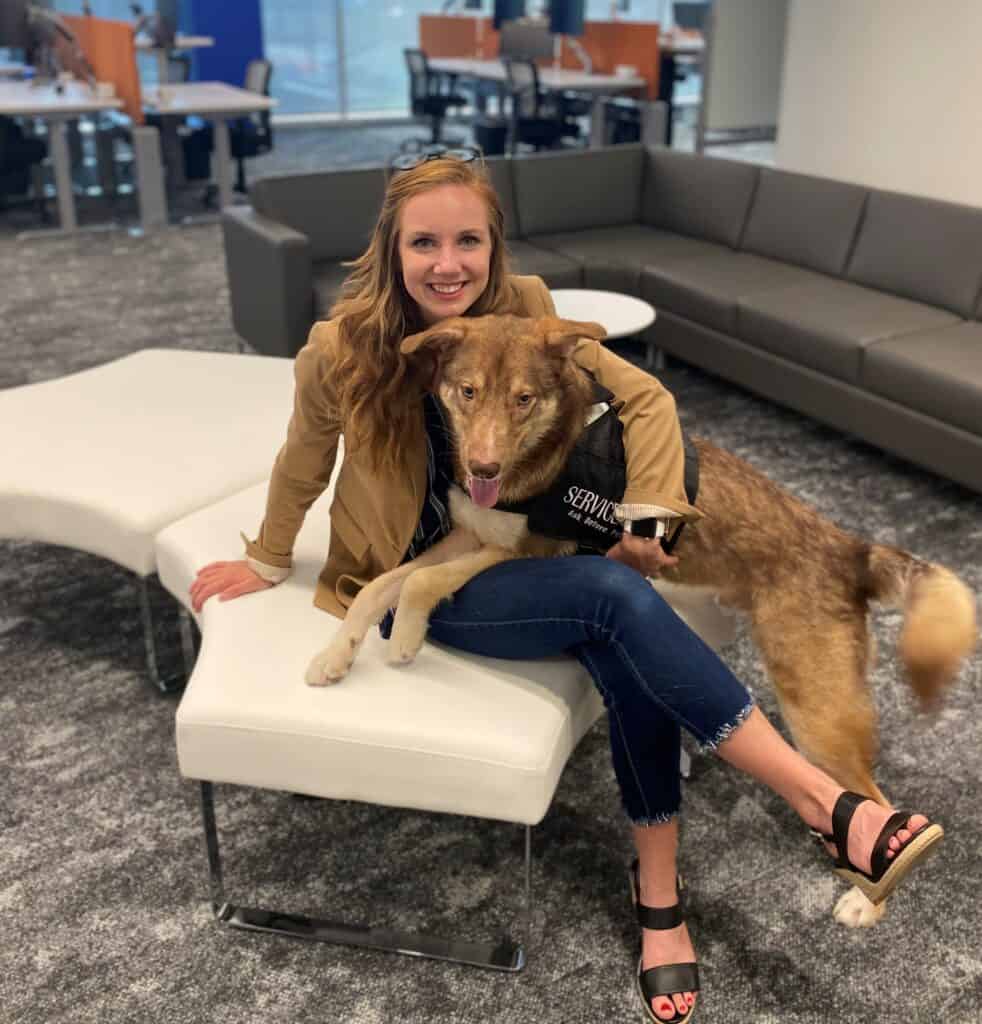 Getting a Service Dog
Kaydin adopted Hamilton from the SPCA, a local Houston rescue, when he was 7 months old. He had basic obedience training already. Then he had a professional temperament test specifically to evaluate if he would be a good candidate for Service Dog work.
Kaydin was risking him "washing out" and not being able to graduate from a Service Dog in Training to Service Dog. And, if he wasn't able to learn assistive tasks, ignore high pressure distractions and have a calm temperament in every situation, he wouldn't be able to graduate.
Luckily, Hamilton, a husky/Australian shepherd mix, took to training like a champ. Because of their high behavioral requirements, training and testing, Service Dogs are typically $30,000-$42,000.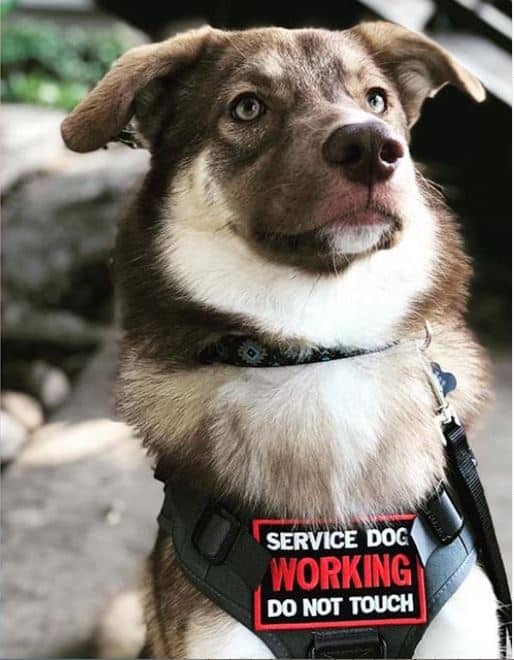 As a medical alert and response Service Dog, Hamilton now performs tasks for Kaydin such as:
Alerting to an oncoming bipolar episode or panic attack
Performing deep pressure therapy
Blocking destructive and harmful behaviors
Performing crowd control
Guiding to safe places when she disassociates
Momentum pulls when physically limited
Bracing to help her stand
"The difference he makes in my life is amazing," says Kaydin. "I can do things again!"
In her search for a solution, Kaydin learned about the differences in Service Dogs versus Emotional Support Animals. And she experienced the challenges that she and other Service Dog teams face.
Kaydin launched her full time business providing educational training and awareness on Service Dogs based on these experiences. The company is dedicated to ending the stigma about Service Dogs. They help individuals struggling with their support options. And, they help businesses know their role in keeping Service Dog teams safe.
Service Dog Education Services
Hamilton at Your Service, LLC offers a number of training workshops including:
Happy Hour or Trivia Event. Basic awareness of Service Dogs in a collaborate corporate environment.
Customer-Based Workshop. Focused on training staff that are in the service industry to avoid lawsuits and to understand proper safety protocols for Service Dog teams.
Education Workshop for schools, on Service Dog jobs and etiquette. Low income school districts can qualify for a free workshop
One of the more important and personalized services is One on One Consulting for those interested in obtaining a Service Dog or Emotional Support Animal. They will walk you through the process of identifying the type of dog needed and how to approach it, including legal aspects.
HAYS also offers Personalized Liaison Services, for those having difficulty with a business, landlord or doctor. HAYS communicates your rights on your behalf. And they work with you every step of the way.
The Danger of Fake Service Dogs
An industry has developed offering vests and certificates online. Having a "fake" Service Dog to gain access to places that are usually off-limits for dogs is extremely harmful and illegal.
"If a dog isn't properly trained as a Service Dog, an interaction with them can be very dangerous for the Service Dog team," says Kaydin.
Kaydin relates this example: "I have personally had friend, also a Service Dog handler, end up in the hospital because a pet was in Walmart distracting her Service Dog. Her dog stayed in his heel and was not reacting, but still his attention was diverted from her to this pet. He missed a seizure alert."
By buying online registrations or vests to falsify a Service Dog status, consumers are supporting this illegal industry.
Kaydin concludes, "My message to all is, be respectful of Service Dogs. They perform life saving tasks."
---
---
Have questions about Service Dogs? On November 7th, Haydin (and Hamilton) are sponsoring a Q&A event about Service Dogs. This virtual Facebook event is free to attend. To submit a question before the event, ask here!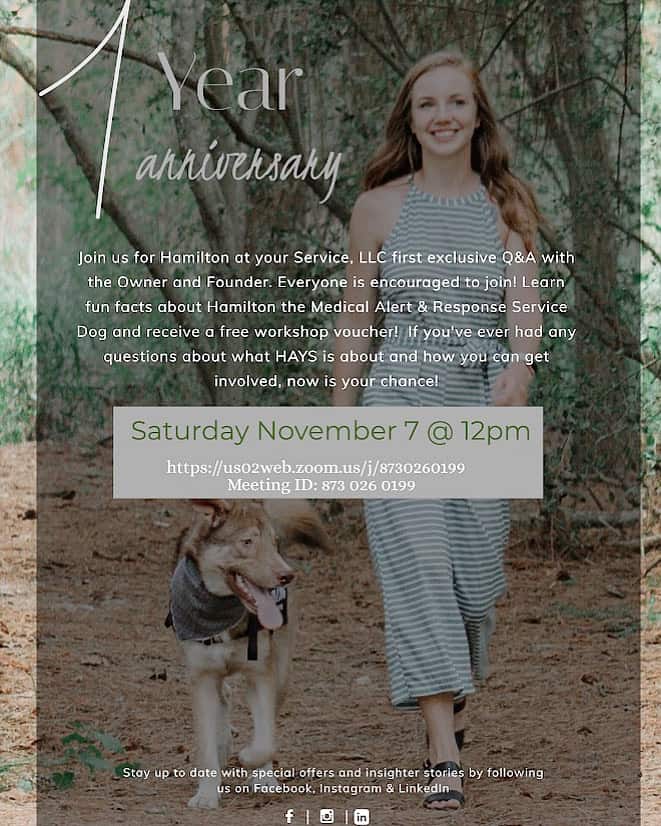 Frequently Asked Questions About Service Dogs
After speaking with Kaydin and meeting Hamilton, I wanted to learn more. Read below to find the answers to some frequently asked questions:
What's the difference between a Service Dog vs. a Therapy Dog vs. an Emotional Support Animal (ESA)?

A Service Dog is a dog that has been individually trained to do work or perform tasks for an individual, directly related to the person's disability.

A Therapy Dog provides psychological or physiological therapy to individuals other than their handlers. Therapy Dogs interact with people in hospitals, schools, hospices, nursing homes and rehabilitation centers.

An Emotional Support Animal provides emotional support for a diagnosed mental condition. Their emotional support is provided simply by their presence.

Service Dogs and their handler's rights and access are protected under the Americans with Disabilities Act (ADA). Emotional Support Dogs and their owner's rights and access are protected under the Fair Housing Act and the Air Carrier Access Act.
How bad does your anxiety have to be to get a Service Dog?
Whether your anxiety requires you to have a Service Dog depends. And it's really between you and your doctor.

If you have been diagnosed with a condition that disables you and impedes your ability to perform daily tasks, your doctor may recommend a service dog. The Service Dog would need to perform specific tasks to help you with your disability. (That means more than calming your nerves when you pet your pooch!)

If you don't need a dog to perform a specific task for you, but have a diagnosed mental disorder, your therapist or doctor may recommend an Emotional Support Animal instead. Many people who suffer from mild to severe depression, anxiety, PTSD and panic attacks have found relief with an Emotional Support Animal. Petting a dog releases the "feel-good" hormones such as serotonin and oxytocin. It has a calming effect. But because Emotional Support Animals aren't specifically trained, they don't have public access to areas that don't allow pets.
Are service dogs required to be licensed?
There is no official registry for Service Dogs and no special license for service dogs. However, they do need to be licensed in that they are required to abide by local laws, i.e. have a dog license and tag if required per local and state regulations for every dog.
What are two questions that a business owner can legally ask someone about their service animal?
If a business owner has concerns over whether a dog is a service animal, they can legally ask just 2 questions:
(1) Is this a Service Dog?
(2) What tasks does he/she perform?
Business owners can not ask what the handler's disability is, or distract the dog in any way.
Is Service Dog Registry fake?
Yes. Service Dog Registry, US Dog Registry, Federal Service Dog Registry — any of the Service Dog registries you find online — have no legitimacy.

If you have a diagnosed mental disorder, your doctor or therapist can provide a "prescription" for an Emotional Support Animal if that is the right treatment plan for you. This ESA letter is what's needed, not an online registration.

There is no such thing as an online certificate that officially qualifies a dog as an Emotional Support Animal under law.
How do I make my dog an Emotional Support Animal?
Your doctor, therapist or other licensed medical professional will need to provide you with an ESA letter that follows these requirements:

1) Health professional's letterhead and signature, plus the date of issuance.
2) Health professional's license type, the date the license was issued, license number, and the state that issued the license.
3) Confirmation that an emotional support animal is a vital part of your life.
4) Description of how the animal will help the condition.
5) "Prescription" or recommendation for an ESA.
6) Your name and details about your pet (type, breed, name, etc.)

This letter will meet requirements for an assistance animal under the Fair Housing Act and the Air Carrier Access Act.
Where can a service dog legally accompany their owner?
Service dogs can legally accompany their owner in any area where members of the public are allowed to go. This is required under the Americans with Disabilities Act (ADA).

Remember, falsifying a pet as a Service Dog is illegal and extremely harmful, no matter the reason. If you are interested in getting more information to ensure it's the right treatment plan for you, then reach out to Hamilton at Your Service, LLC. They are here for you, to guide you through the process and answer any questions you may have.
Where can an Emotional Support Animal legally accompany their owner?
Emotional Support Animals can accompany their owners in their home and on flights. These activities are allowed under two federal laws: the Fair Housing Act and ACAA.
Why do so many people want to make their dog an ESA?
The rise in Emotional Support Animals in the Houston area is primarily tied to housing. Many landlords have breed restrictions or limitations on the size of dogs that you can have in the home. If a dog is an Emotional Support Animal, the landlord can not refuse you housing under the Fair Housing Act. However, falsifying paperwork to document your dog as an Emotional Support Animal is illegal, and adds to the sigma of Service Dogs.

Others may want to bring their dog on an airplane without the required fee or cargo shipping. Note that the U.S. Department of Transportation is considering changing its rules regarding Emotional Support Dogs on planes. Watch for changes in 2021. The expected change is due to the abundance of individuals falsifying paperwork and letters for pets as ESA's.