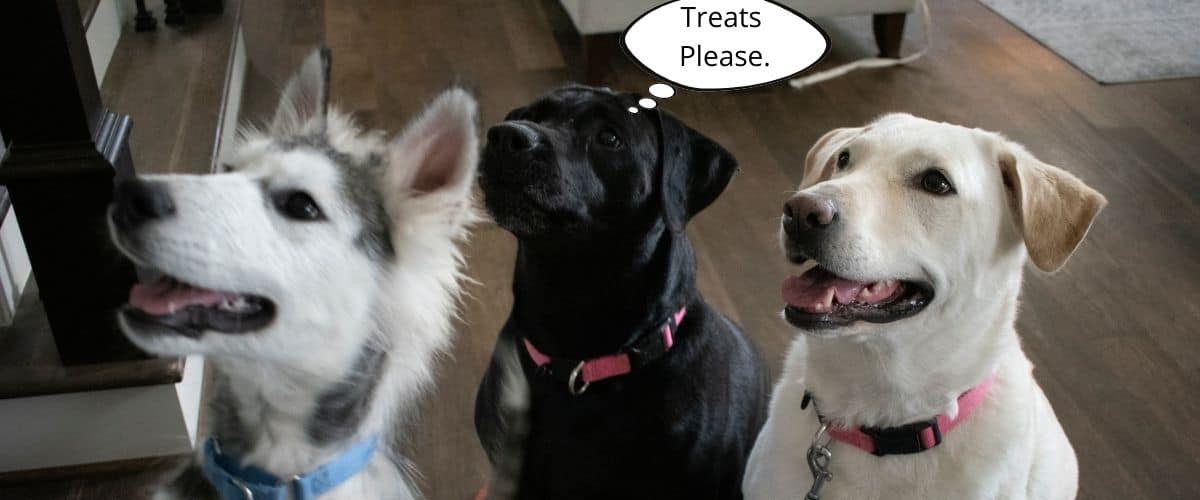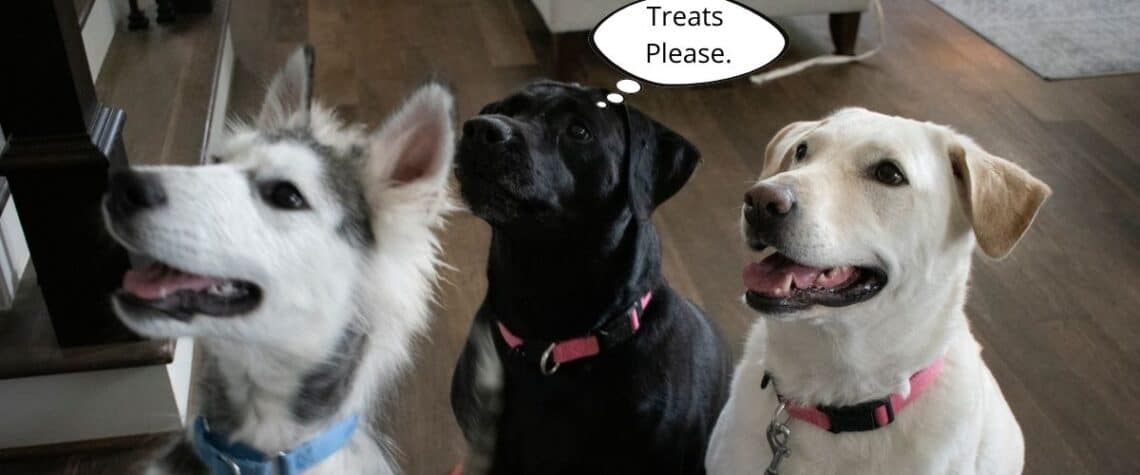 Turkey & Sweet Potato Dog Treats
Turkey & Sweet Potato DIY dog treats are the perfect recipe for this time of year. You can make them with leftovers from your Thanksgiving meal, or prep them anytime with some simple ingredients.
For this batch of treats, we worked with Cheryl McCleary, a neighbor of ours in the Garden Oaks area of Houston. Cheryl is a realtor and dog lover, so of course the name of her realtor site is HoustonRealtorandDogMom.com.
I met Cheryl through Jo Dunham, owner of Joasis-Houston, where I had Doug & Tammy's dog birthday party in August. Suffice it to say, it's a small world.
Cheryl, Jo and I have joined together to create The Pup Stop on Wakefield, at the corner of Alba and Wakefield in Houston. It's a little "lending library" type structure. Only instead of books, it's filled with dog treats! Anyone in the Garden Oaks / Oak Forest area can take free treats or potty bags while they are out walking.
And from 9 to 10am on the second Saturday of each month, we give out special goodies.
This month, our treat of the month is…you guessed it… Turkey & Sweet Potato Dog Treats.
How to Make Turkey & Sweet Potato Dog Treats
This recipe is quite simple. We have to give kudos to the folks at Two Healthy Kitchens for this recipe. There are only 4 ingredients. (Five, if you count water.)
Sweet Potato. There are a few options here. For our recipe, we used baked sweet potatoes, no added butter or salt. You can also find cubed sweet potatoes in the freezer section to make preparation easier. If you use frozed cubed sweet potatoes, just steam and mash.
Turkey or Chicken. The protein in this recipe comes from turkey, or you can substitute chicken. Avoid using the skin, as this will make the consistency greasy and hard to work with. You will also want to remove cartilage and small bones. Avoid using chicken strips from the deli or freezer section. While this is a quick substitution, they have a lot of added sodium used in processing.
Eggs. Eggs are the binding agent in this recipe, to help pull it all together.
Flour. For our recipe, we are using whole wheat flour. If your dog has a wheat allergy, you can use oat flour instead. Simply pulverize quick or old fashioned outs in your blender to make the oat flour.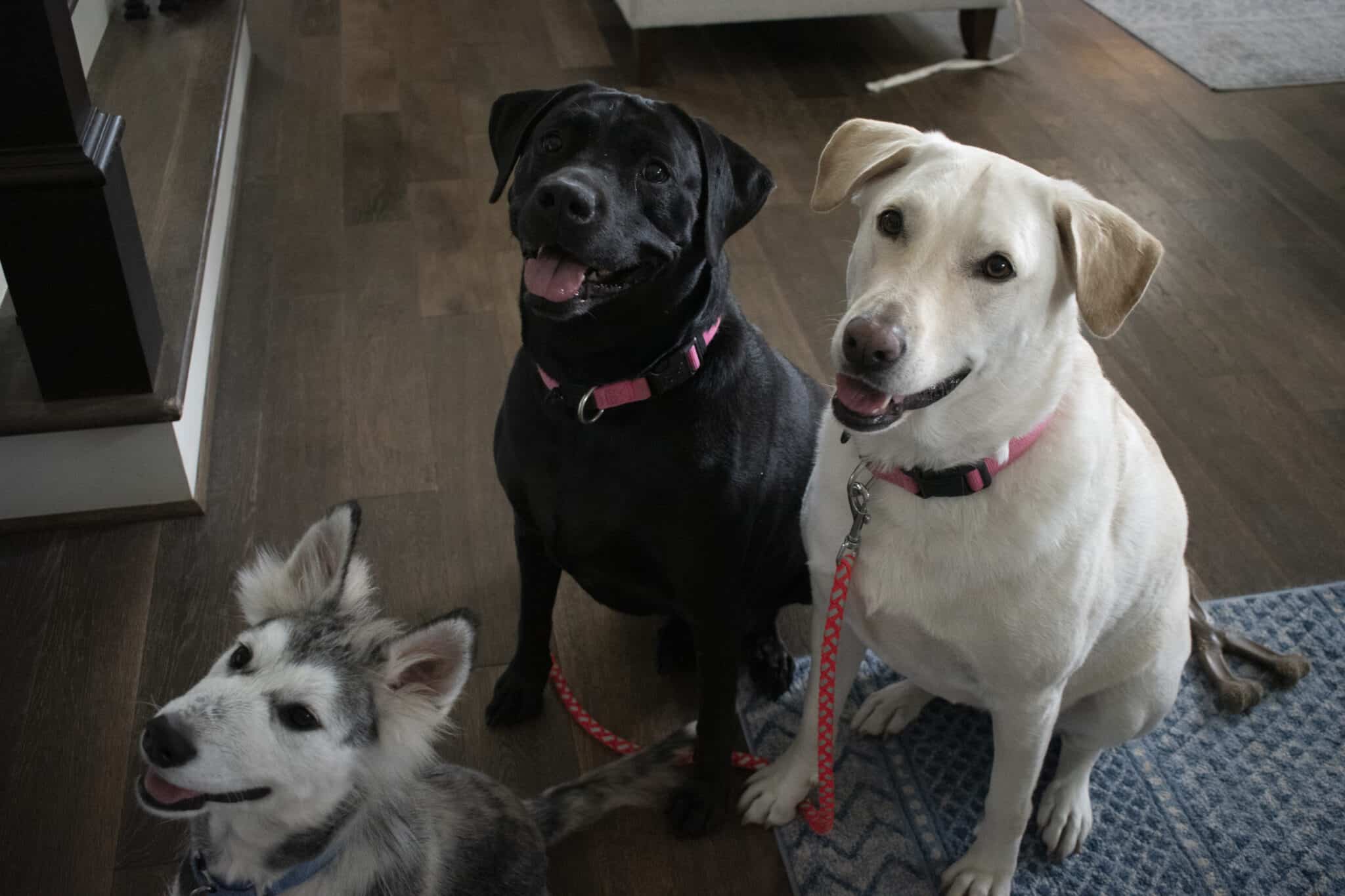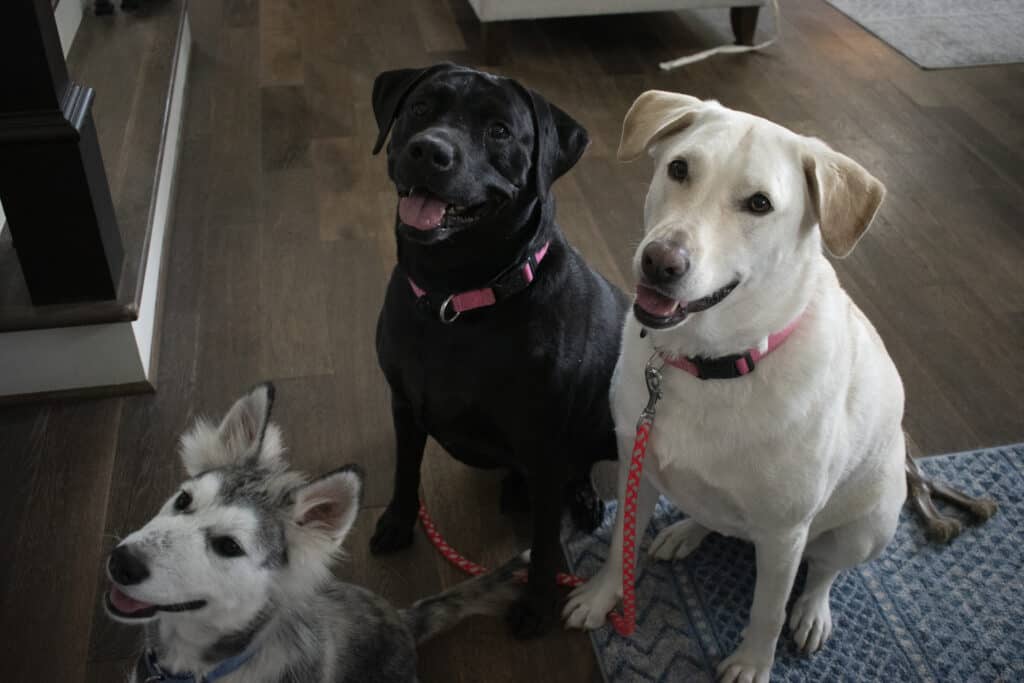 Cooking Techniques for Turkey & Sweet Potato Treats
If you've read any of my other recipes, you'll know that I'm not a perfectionist when it comes to making dog treats.
I have some cute bone-shaped cookie cutters. And you can certainly use something like that! It makes them super cute if you are giving them as gifts. (If you're taking this approach, you'll roll your finished dough to 1/2 inch thickness.)
There are a couple easy options for these treats. And I guarantee either method you use, your dogs will love them.
Pizza Cutter Method. For this approach, flatten the dough on a cookie sheet to a uniform thickness of 1/2 inch. Then use a pizza cutter to cut into small 1-inch squares. No need to separate first! Bake them at 350* for 20-25 minutes, then snap them apart after baking.
Rolled/Drop Cookie Method. Here's another easy approach, just like making cookies. Make the treats with a heaping teaspoon of dough, rolled in a ball. You should flatten them with the back of a spoon so they are around 1/2 inch thick prior to baking.
That's it! Now, I hate when there's a bunch of fluff in these recipe blogs. So let's get to the main point. The recipe!
Turkey & Sweet Potato Dog Treats
These easy dog treats have just 5 ingredients. Your dog will love them!
Ingredients
1/2

cup

Cooked Mashed Sweet Potatoes

No added salt or butter

3/4

cup

Water

1

Egg

Lightly beaten

2

cups

Cooked Turkey or Chicken

Finely chopped

2

cups

Whole Wheat Flour

(Or substitute oat flour)
Instructions
Prepare your ingredients. Bake and mash sweet potatoes. Finely chop cooked meat. Lightly beat egg.

In a medium bowl, combine cooked mashed sweet potatoes with water and egg.

Add finely chopped turkey and flour. Mix to combine. Note the mixture will be very thick and sticky.

Make biscuits using the drop cookie method (1 teaspoon dough per cookie) or pizza cutter method above.

Baking time depends on method used. For drop cookie method, cook 11-12 minutes, until lightly golden brown. For pizza cutter method, cook 20-25 minutes. Check cookies and remove when they are light golden brown.

These freeze well and will keep for around 2 months. If they are not devoured right away, store them in a ziplock back in the refrigerator (around 2 weeks).
Will Your Dogs Like Turkey & Sweet Potato Treats?
We have no doubt that your dogs will like Turkey & Sweet Potato Treats. That's because the ingredients are things that are common in commercially available dog treats.
The sweetness of the sweet potato makes this a nice treat. And the turkey? What dog doesn't love turkey!
Here's the proof.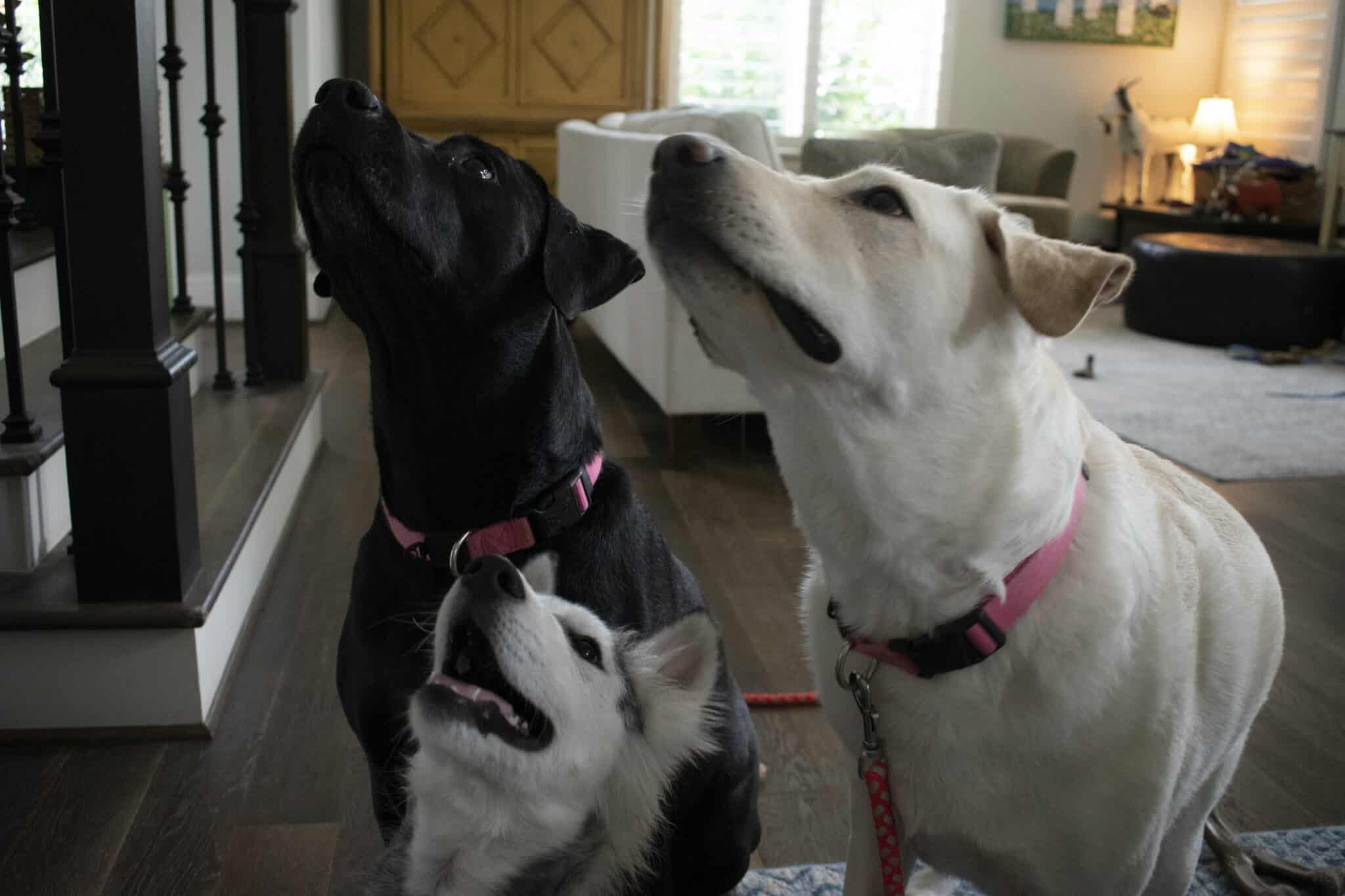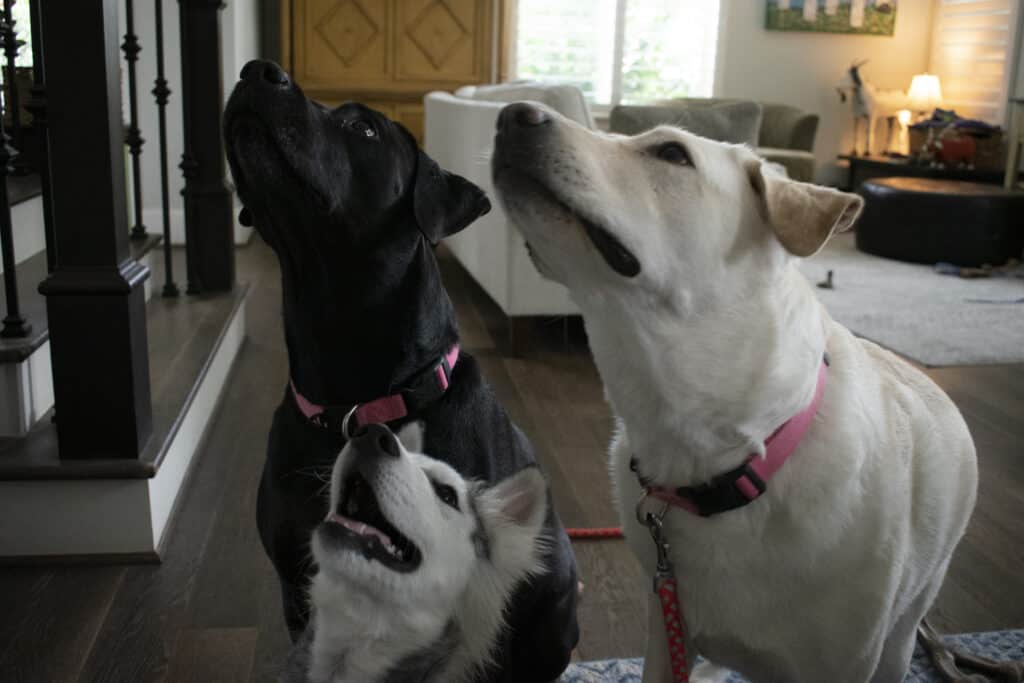 Cheryl's two rescue dogs Sunny (white lab) and Bailey (black lab) and newcomer rescue Max (husky) just couldn't wait to try them!
Sunny and Bailey were adopted from Citizens for Animal Protection. Max is from ThisIsHouston, a street rescue team that focuses on severe medical cases.