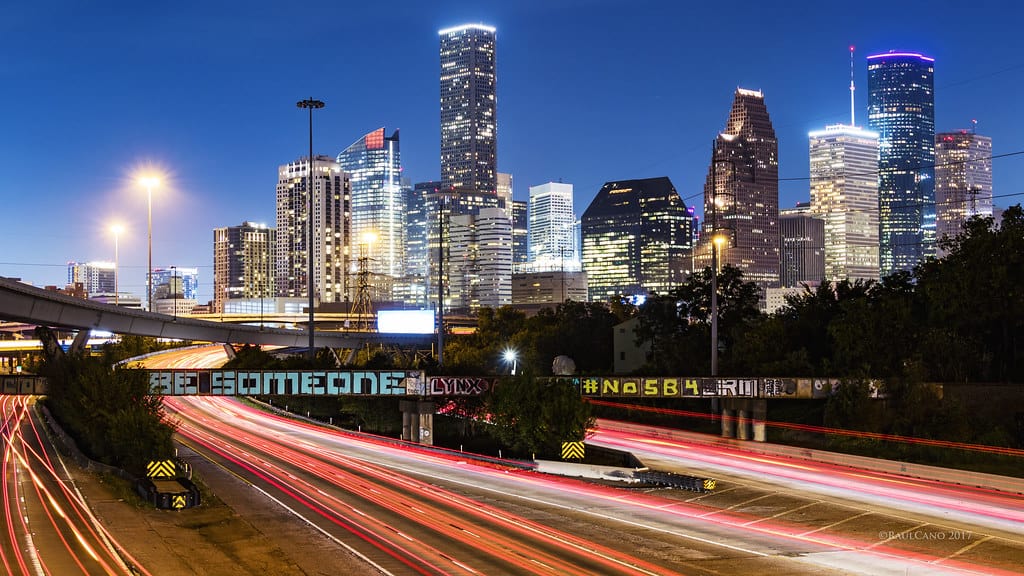 Be Someone. Dog Fosters & Adopters Needed in Houston
Be someone. It's a simple statement. But to Houstonians, it's the call to step up and make a difference. You can be that someone to save a dog.
Harris County is desperately trying to save dogs. It's the only mandatory intake shelter that serves all of Harris County outside of City of Houston. Unlike privately run shelters, they can't say no when they are full. And they can't pick and choose what dogs they take.
Because of that, they have almost 500 dogs in a shelter built for 250. Some of the dogs have been there for over 4 months.
It's maddeningly loud. There are 2-3 dogs in each kennel. It's stressful for everyone — the dogs, staff, volunteers and adopters. Free earplugs are available. The staff wear them everywhere to avoid hearing loss. The dogs are desperate for attention. They bark at every person that walks by, "Hey! Over here! Look at me! Pick me!"
Every week there are hard decisions on dogs. Good dogs lose their lives for length of stay, meaning they have been there too long with no interest. Dogs with issues, like barrier aggression from being kenneled or not dog-friendly, are more at risk. The shelter doesn't have the training resources to rehabilitate them.
Which brings us to the point of this article. How can you help save dogs in Houston?
Foster for Harris County Pets Resource Center (Harris County Animal Shelter)
You can foster a dog for the Harris County Pets Resource Center if you meet these requirements:
Live in one of these counties: Harris, Waller, Fort Bend, Brazoria, Galveston, Chambers, Liberty, Montgomery.
Yup. That's it.
You provide the home. You network the dog on your social media and bring it to adoption events. Or, if it's a dog scheduled to transport out of state, you hold the dog for 6-8 weeks, then send it on its way. The shelter will provide flea/tick and heartworm prevention and cover medical costs. They can provide a crate and dog food if needed.
Here's how to become a foster for Harris County Pets:
Email [email protected] and volunteer your home.
Include the following information:
Subject: New Foster Volunteer
Your Name
Size, age and sex of dog you can foster. For example: "I can foster a male adult dog up to 60 lbs." "I can foster a mom and puppies."
How long you can foster. For example: 2 weeks? 1 month? 2 months? Until adopted?
What county you live in.
You can find more information on CountyPets.com. Please note that not every dog is available to be fostered through the county. Dogs selected for this program are those that have been tagged for transport or dogs that have been there longer term.
Which brings us to the next opportunity. And this is a huge opportunity to save dogs off the euthanasia list.
Foster a Dog For Rescue in Houston
Harris County Pets is fortunate to have a large team of volunteer networkers. They video dogs at the shelter and post them on Facebook for visibility. That attracts adopters and rescue groups. People across the country pledge funds for rescue.
The missing link is always the foster. Because if we have a foster? We can dang sure find a transport or local rescue that will take that dog.
Follow these pages on Facebook:
When you see a dog that calls out to you, raise your hand. Say, "I CAN FOSTER" on the post. Then message the page with the animal ID, where you live and how long you can foster.
That one statement, "I CAN FOSTER" puts the wheels in motion. Our teams will work to find a rescue group that can save that dog. Or email me directly and I will work with you to find a match.
Adopt a Dog from Houston Shelter – Harris County Pets
Want a forever friend? You can adopt a dog at Harris County Pets Resource Center.
Don't like what they have available? As I tell people, "New inventory arriving daily."
And it's true. This is a mandatory intake shelter. They receive 40-50 dogs per day. Those are dogs coming in from Animal Control 7 days a week, and animals from the public on Monday, Tuesday, Thursday and Saturday. The new shelter opened in September 2020 and is 3X the capacity of the old shelter. No matter how big the shelter gets, we will fill it until there is mandatory spay/neuter in Harris County.
Harris County Pets has adoptions 7 days a week. They are open weekdays 1-6 and weekends 11-4. The shelter is located at 612 Canino Road (Little York & Hardy).
To make an adoption appointment at Harris County Pets, call 281-999-3191 or go online. Or just show up. No appointment needed.
Adoption fees are $50 for adult animals and $80 for puppies. The fee includes spay/neuter, microchip, age appropriate vaccinations, rabies vaccine and 1-year county license.
Want a small dog? Good luck. They go fast. That's why the shelter mainly has dogs over 30 lbs. I recommend Houston rescues for small dogs, especially CAMO Rescue, Pom Squad Rescue or Honoring Hope & Faith Rescue. No matter what kind of dog you want, you can find it in Houston rescue. Adoption fees are typically $250, which doesn't come close to what these rescues spend saving dogs.
Volunteer with Harris County Pets Resource Center (Harris County Animal Shelter)
Can't foster? You can still help. Volunteers are needed for any of the following opportunities:
Dog Walking: Come out on Saturdays 8-10:30am and walk dogs. The shelter has walking trails and play yards. You'll play, take pictures and make notes on their behavior.
Dogs Play for Life Play Group: Assist with behavioral play groups. These supervised groups let shelter staff observe the dog's behavior with new dogs. That allows the dog to be co-kenneled or identifies if they want to be an only dog.
Photographer: Shelter intake photos are notoriously horrid. And a photo makes all the difference online. The photo below? It's taken with an i-phone in portrait mode. Simple and life changing.
Videographer: The 4 networking pages above could use your help videoing.
Shy Kids Club: Work one on one with a shy dog to help them gain confidence.
Adoption Counselor: Help adopters meet their potential new pet.
To volunteer, complete the application online AND email [email protected] to let them know you have applied and your interests. The applications are processed centrally in Harris County for a background check. The folks handling the volunteer email can expedite your application.
QUESTIONS ABOUT FOSTERING? Email me. [email protected].
---