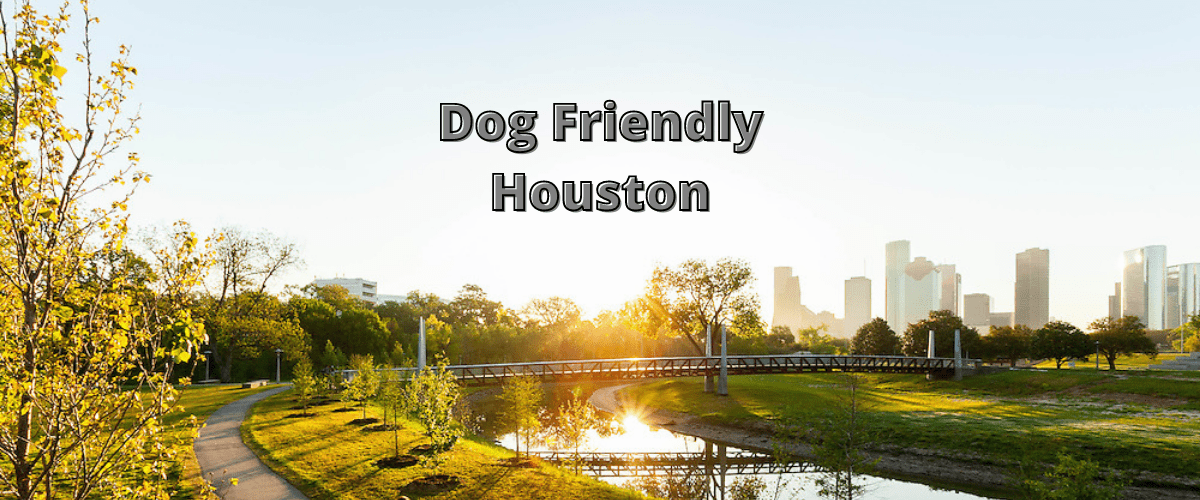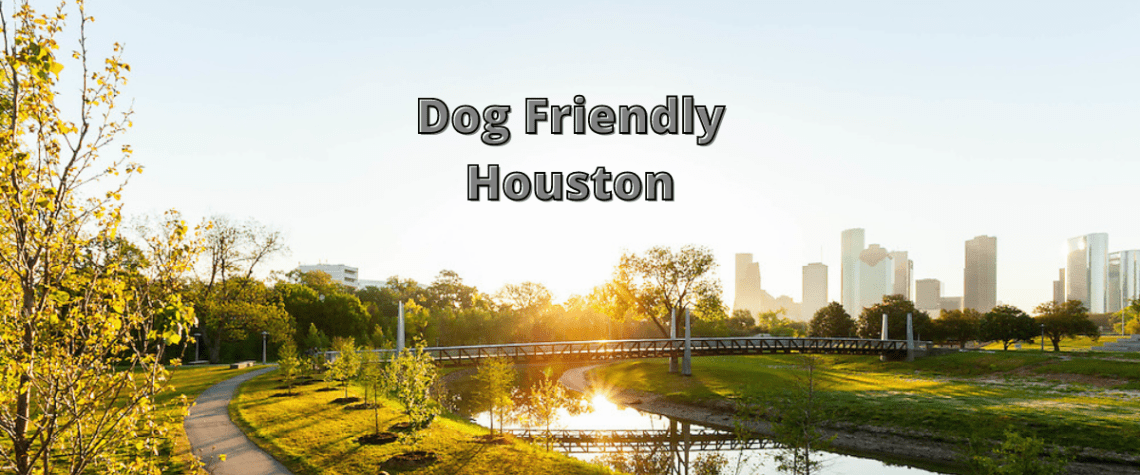 A Weekend in Houston with Your Dog
A friend recently visited Houston and asked me what you can do with your dog in the city. Houston is a dog-friendly city, and our many parks, trails, beaches, and stores are the perfect places to enjoy time with your furry friend. So I challenged her to find her own list of things to do with your dog. Here's what she came up with — ways to spend a weekend in Houston with your dog!
Dog Friendly Bars in Houston
There are lots of other dog friendly bars in Houston. But if you're looking for a place to hang out with your dog and enjoy some good food, Barkley's in Midtown is the place to be. They have a huge outdoor play area for dogs to roam free. You can grab a table around the perimeter or sit inside the play area with them. There are always special events during the weekend, usually with vendors selling dog treats and other items. Great brunch too.
Another favorite we stopped by is the St Arnold's Brewery. Huge outdoor area and a lot of dog to sniff and visit with. Plus great skyline views. But be sure to check out the other dog friendly breweries around Houston.
If bars aren't your thing take a walk at one of these centrally located parks to check out the action. Leashes required, but there's a postage stamp sized off-leash area at Discovery Green.
Discovery Green Park & Nature Reserve (1500 McKinney St.)
Houston Museum District & Hermann Park (6001 Fannin St.)
Rice University Campus (image below is Doug Dog in front of Herring Hall, where I spent way too much time in the early 90's.)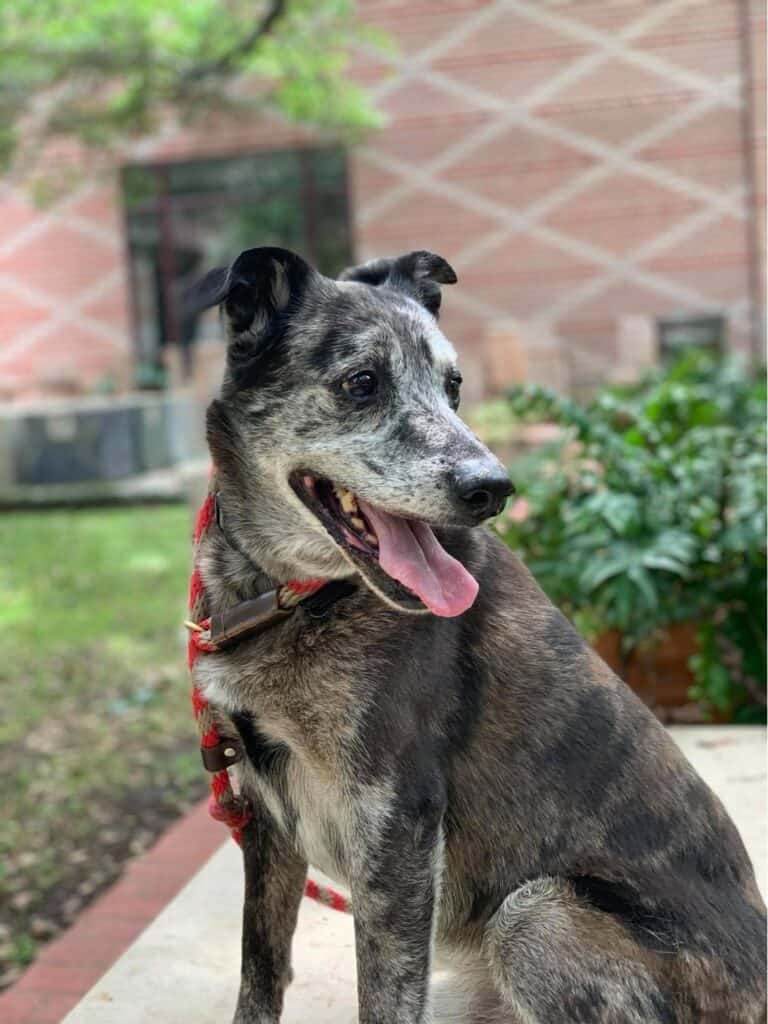 Dog Parks in Houston
If you're in downtown, the best dog park around is Johnny Steele Dog Park, located within Eleanor Tinsley Park. The small dog area, located on the southeast side of the park, is a fenced-in area with grass, sand and other soft surfaces for your little guy or gal to run around in. There is a water station at this end of the park for dogs who want to cool off after playing hard.
And for each area, there's a place where you can wash your pooch if he gets muddy from rolling around on his favorite thing—mud! There are also doggie bag dispensers and poop bags available throughout both sides of the park. But your best bet is to bring your own, since they are often out.
Parking is an unspayed female dog, if you catch out meaning.
Dog Grooming & Treats
If your dog gets really dirty? Call Woof Gang Bakery & Grooming and make an appointment for a dog bath and grooming.
We skipped that but browsed the array of bakery offerings like peanut butter cookie cups or pumpkin pie scones — all made from scratch with love by their team of bakers.
Dog Friendly Coffee Shop
Looking for a casual hangout in the Heights? Just north of the Johnny Steele Dog Park, along White Oak Bayou, we popped in to Onion Creek Cafe. Great little coffee shop plus wine, beer and food.
The entire patio was filled with dogs and their people, all enjoying the DJ spinning records in the parking lot. It's a super relaxing atmosphere.
Fancy Dining with Your Dog
My friend had read about Brasserie 19 having a dog menu named after a young socialite's dog. But having a smaller budget than necessary, I quickly suggested Backstreet Cafe instead. (Yes, they're still around.)
We enjoyed a nice meal tucked away in their patio. Duck spring rolls, salmon salad and shrimp and stone ground grits. Delightful. Doug dog liked the leftovers.
Dog Health – Pet Insurance in Houston
We got into a discussion on dog care while enjoying some wine at brunch. I chatted about my volunteer work at the shelter and how I always preach heartworm and flea prevention, which makes me popular at dinner parties.
One of the most important things to do with your dog is take care of its health. Dogs need regular checkups, shots, and other kinds of medical attention just like people do. It's also important that your dog sees a vet if something seems wrong or if you notice any changes in behavior or physical appearance.
I also recommend pet insurance for your dog in Houston. It protects you from large vet bills if your dog gets sick or injured. Because of this, all dogs should have health insurance, just like humans should have health insurance!
Trip to the Beach With Your Dog
When my friend saw how close Houston is to the beach, she wanted to check out dog friendly beaches. Stewart Beach Park and East Beach caught her eye. But I quickly pushed her toward Galveston West End as the party scene is not my thing. Galveston Island State Park is a great place for on-leash pets. But the beaches on the far west end, like Jamaica Beach and San Luis Pass have less people. Or cross over the bridge to Surfside.
Dogs need to be on leash on the beach, but use a long line to let your dog swim freely. Make sure you stay out of the dunes. There are nesting birds and also possibly turtle nests there.
So that wraps up my friend's list of things to do in Houston with your dog. What's on your list? Drop me an email and let me know!