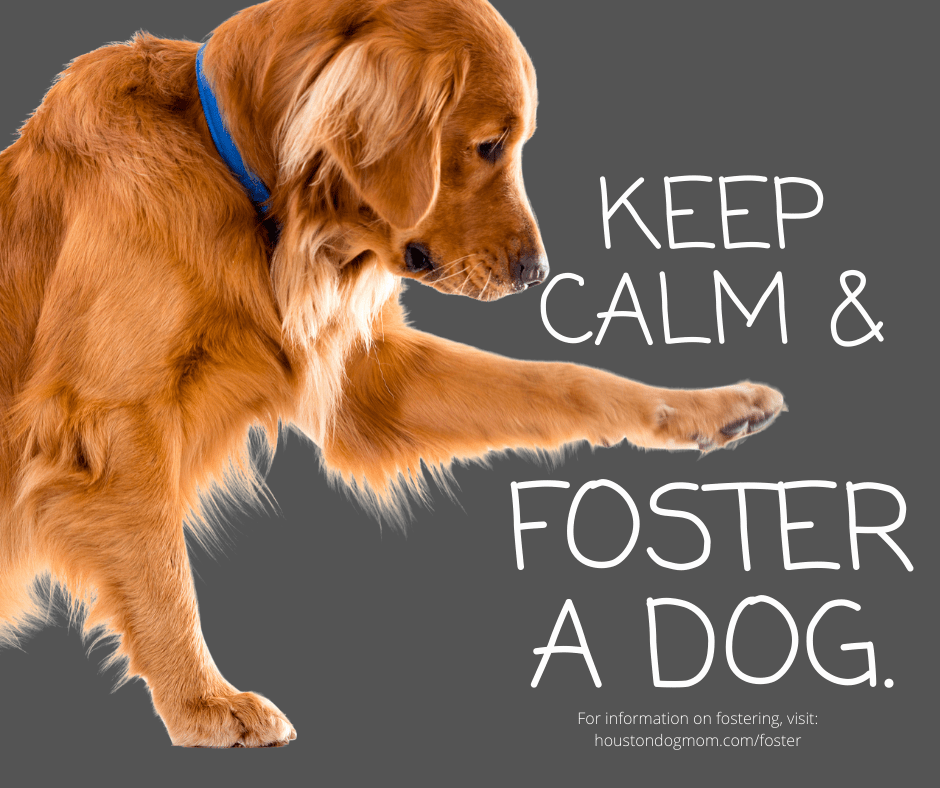 Why Now is the Perfect Time to Foster a Shelter Pet
Across the Greater Houston area, shelters are overflowing with animals that need you.
Now is the perfect time to foster a shelter dog or cat. Adoptions are down due to people staying home. Out of state transports may be cancelled due to the pandemic. And yet, every day stray dogs and owner surrenders are entering area shelters.
You can help by providing a temporary foster home.
Benefits of Fostering a Pet
While many people across the United States are worried about the coronavirus pandemic, fostering a cat or dog just might be the thing to calm your nerves.
In a survey by the Human Animal Bond Research Institute and the Cohen Research Group, 74 percent of pet owners said they had mental health improvements from pet ownership.
Fostering also has these benefits:
You'll feel good knowing you made a difference. That's empowering during times when we feel a little helpless.
Your kids can get a trial run on pet ownership.
You'll have company while you work from home!
Fostered pets get a chance to decompress, which makes it easier for them to find adoptive homes.
Pets can not get COVID-19 Coronavirus! Don't let fear keep you from fostering!
Never fostered before? We've created a Pinterest board just for you, with tips across the internet on how to foster a dog.
How to Foster for Harris County Animal Shelter
This Houston Dog Mom regularly volunteers at Harris County Pets. So we will start there. (Don't stop reading… a list of other local animal shelters is below!)
Harris County has implemented a Drive-Up Foster program. You will not need to enter the shelter building. Here's how it works:
Email [email protected] with the subject line Spring Break Foster.

Include whether you can foster a medium (30-50 lbs) or large (over 50 lbs) dog
Also include preference of male/female, if applicable.
NOTE: As of 3/24/20, no small dog fosters or cat fosters are needed.

You will receive a confirmation with the Animal ID number.
Drive to the shelter at 612 Canino Road in Houston. Upon arrival, stay in your vehicle.
Download the QLess app.

Select Harris County Veterinary Public Health
Select HCAS Foster.
In the Notes section, include Animal ID Number.
You will receive a text back confirming your place in line. Reply with your car description, and that you are outside.

Shelter staff will deliver the pet to your car.
Questions about fostering? You can find more info on the County Pets web site.
Feeding Your Foster: You can receive free dog and cat food for your foster! Just specify that when you confirm your pick up.
Who can foster for Harris County Animal Shelter? Residents from Harris, Brazoria, Chambers, Fort Bend, Galveston, Liberty, Montgomery and Waller county.
How long will I keep my foster? Plan on keeping your foster for at least 3 weeks. That will help to alleviate overcrowding at the shelter, until transports and adoption events can re-start.
Can I adopt from Harris County Animal Shelter? Yes, all pets are also available for adoption. For a listing of available pets at HCAS, please visit www.countypets.com. All adoptions must be done in person.
Foster for a Harris County-Approved Rescue
In addition to fostering for the shelter, you can foster for a rescue group. Rescue groups regularly pull dogs from the shelter into their rescue. They can't do this lifesaving work without fosters.
Facebook networking groups like Urgent Shelter Pets Houston post videos daily.
Pick a dog that is a match for your family, based on their video and write-up.
Then, send a facebook message the Urgent Shelter Pets Houston page with the ID number of the dog you can foster, and how long you can commit for.
Volunteers will match you with a rescue group that you can foster with!
Other Houston Area Shelters
Harris County Animal Shelter is our favorite shelter. But there are many other shelters in the Houston area that are in need, including:
Fort Bend County Animal Shelter – Fort Bend is offering a "Door Dash Program." They will bring a pet to you for foster or adoption if you reside in Fort Bend County. Or, drive up and get curb-side delivery of your foster.
Website: https://www.fbchhs.org/animal-services
Phone: (281) 342-1512
Montgomery County Animal Shelter
Website: https://www.mcaspets.org/
Email: [email protected]
Phone: (936) 442-7738
BARC (City of Houston):
Website: http://www.houstontx.gov/barc
Email: [email protected]
Phone: (713) 837-0311
City of Baytown Animal Services & Adoption Center:
Website: www.Baytown.org
Email:[email protected]
Phone: (281) 422-7600
South Houston Animal Shelter
Facebook: Friends of the South Houston Animal Shelter
Website: https://www.southhoustontx.org/
Houston Area Rescues – Short Term Fostering
There are hundreds of rescue groups in the Houston area. If you are new to fostering and want to foster a pet short term before you commit, these are excellent options:
K-9 Angels. Heights-based rescue group that adopts pets locally. Foster as little as 1 week, once approved.
Rescued Pets Movement. 2-3 weeks fostering, animals transport to Colorado weekly.
Wag Again Rescue. 3-6 weeks fostering. All animals are listed on PetFinder and adopted out of state.
Are you a Houston rescue that wants to be listed? If you have short term fostering opportunities, email [email protected]