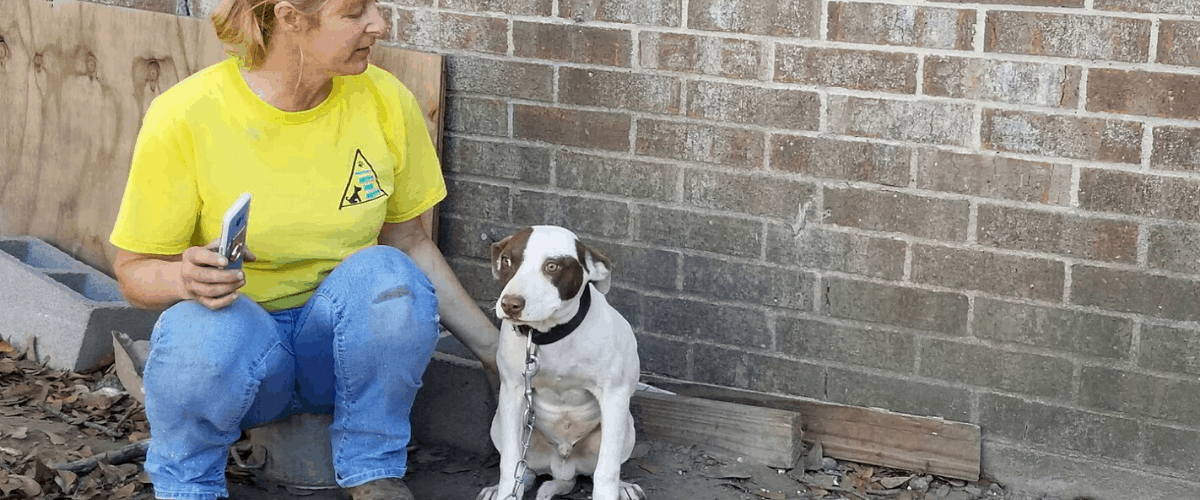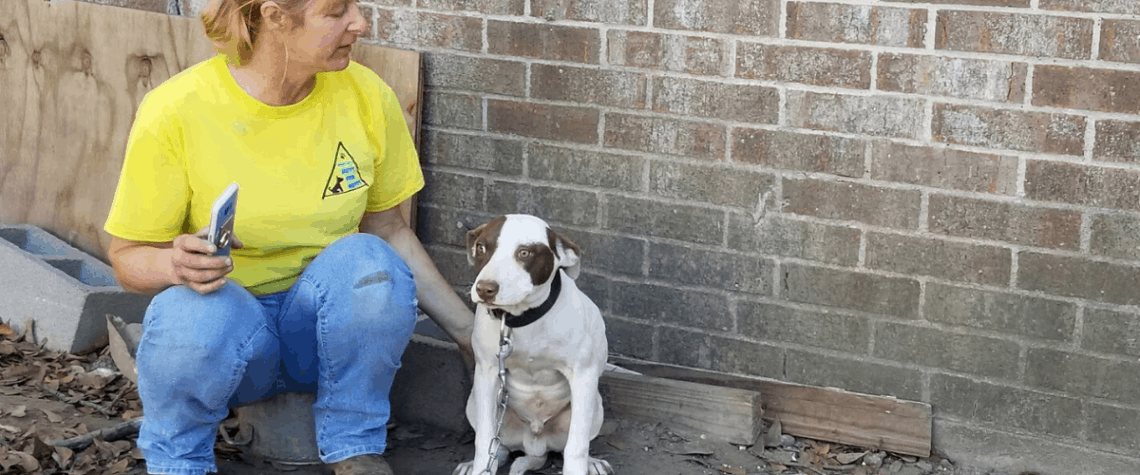 Houston Huts 4 Mutts – Outreach to the Chained Dogs of Houston
The Third Ward is an area of contrasts.
In one part of the Third Ward, you'll find stately homes, parks, bike trails. It's the home of Beyonce and Project Rowhouse and the center of Houston's civil rights movement in the 1960's. It's the home of the University of Houston and Texas Southern University.
But just northwest of the University of Houston, tucked between Elgin and I-45, is an area that is different. It's a lower income area where it's not uncommon to chain dogs in the yard.
And it's into this neighborhood that Houston Huts 4 Mutts ventures each week, offering dog houses and help.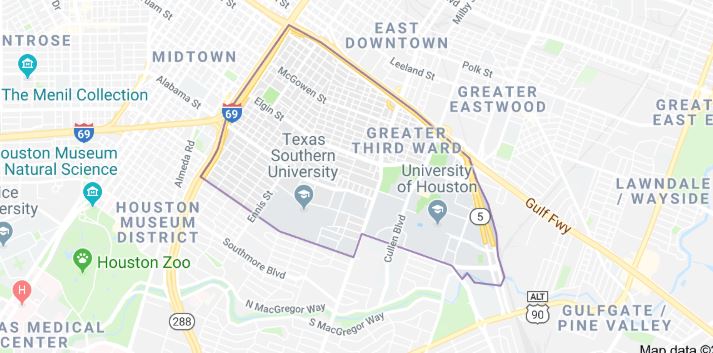 Map of the Third Ward, Houston TX
NOTE: Houston Huts 4 Mutts is no longer focused on housing outdoor dogs as of late 2021. Instead, they focus on spay/neuter programs, and work with both the SPCA and the Harris County Animal Cruelty Task Force to report animal care violations.
A Day with Houston Huts 4 Mutts
"Knock knock! Knock knock!," cries Aliesha Meyers Medley as she walks into a stranger's yard. "I think this is the house…they have some puppies that need to be dewormed and I'm talking to them about fixing the momma."
It's a Sunday afternoon in 90 degree plus weather and the Houston Huts 4 Mutts team is distributing donated dog food.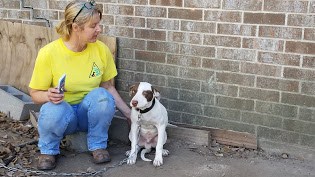 A volunteer stands by the back of the van to control distribution. No grain free specialty foods here. This is Purina Dog Chow, Pedigree and store brand dog food, bought on sale at area stores. It's better than table scraps. In one yard we dump out a food bowl hat has attracted flies and their off-spring. In another, dogs drink thirstily from water poured from gallon jugs.
In addition to the food, the van carries flea control, dewormer, collars, lightweight tethers, and dog bones. There are pest control items too, granules that can be sprinkled to kill flies. The flies and fleas are rampant.
This week there are also some Frisbees and kick-balls for the neighborhood kids. It's not just about the dogs. It's about the people too.
What Does Houston Huts 4 Mutts Do?
Houston H4M's mission is to expose the conditions of chained dogs in Houston, most without quality shelter.
The first step is to provide a dog house. But the dog house is just an excuse to gain access to the dog.
Once the dog owner accepts the house, it's the start of an ongoing relationship. From there comes a water bucket, flea control, and replacement of the chain (sometimes padlocked around the dogs neck) with a padded collar and tether.
H4M provides food on a regular basis, so the dogs don't have to rely on scraps from the dinner table. This creates a trusting relationship with the owners to improve the dog's situation.
Here are just some of the expenses Huts 4 Mutts incurs:
Dog house construction: $65
Padded collar: $8-$14
Tether: $14
20 lb bag of dog food: $15
(Want to help? See their Amazon Wish list.)
Why is Chaining Common in Houston?
You live in a comfortable suburban home or a city loft. Your dog has access to clean water, food, a bed, toys. You have a fenced yard. Your dog is spayed or neutered.
When you don't have disposable income, priorities are different.
When you don't have the money to pay the water bill, where do you get money for flea control?
And if a dog has fleas, it can't come inside the house.
Fence? That's expensive. And I don't want the dog to wander. So I'll chain it to the front tree.
Dogs are outside, for protection.
Neuter? Nah, my dog is a stud. Spay? I can sell the puppies for $20 each.
Free spay and neuter and free shots? I would but I don't have a car, how am I supposed to get there?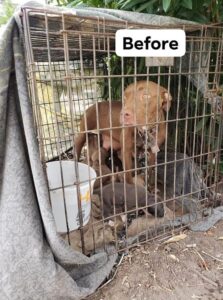 What are the Current City of Houston Laws on Tethering?
Here are the current City of Houston laws on dog tethering.
City of Houston Dog Laws, Chapter 6 of the Municipal Codes of Ordinance
Animals must be kept in clean and sanitary enclosures.
Animals must be fed "good, wholesome food" and clean water.
Dogs may not be tied to a tether that is less than ten feet in length.
Owners must also provide "sufficient and appropriate exercise."
In addition, all dogs must be licensed and registered with the city.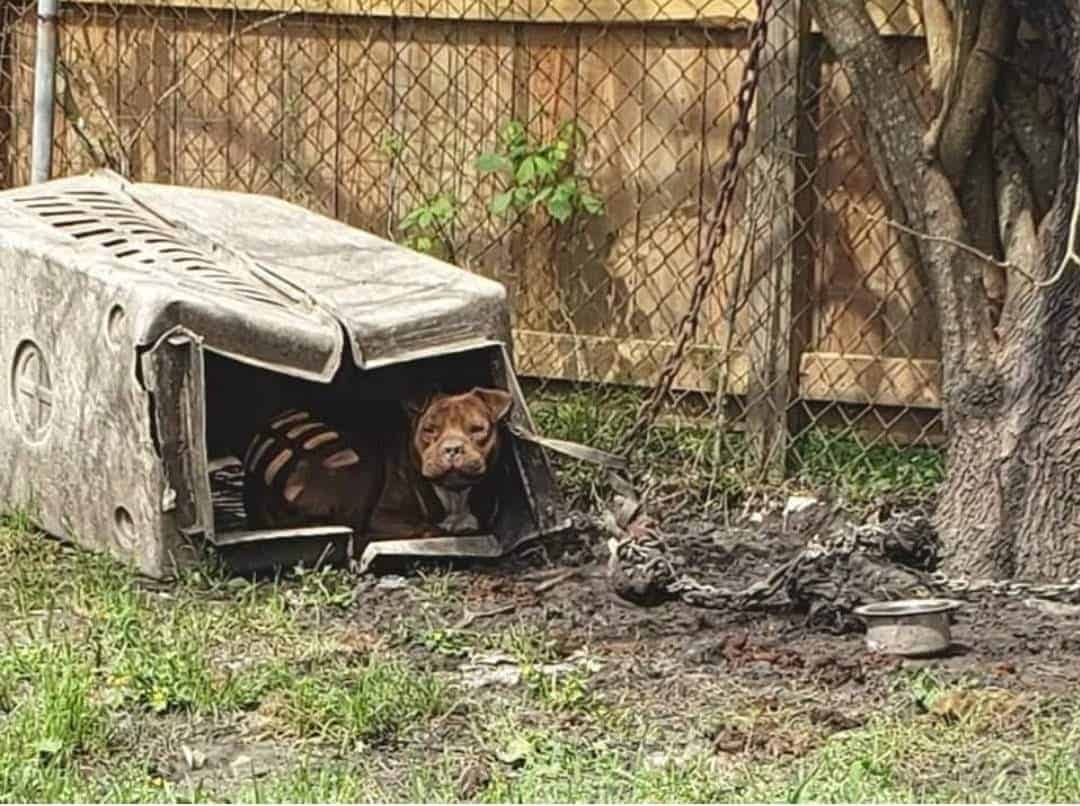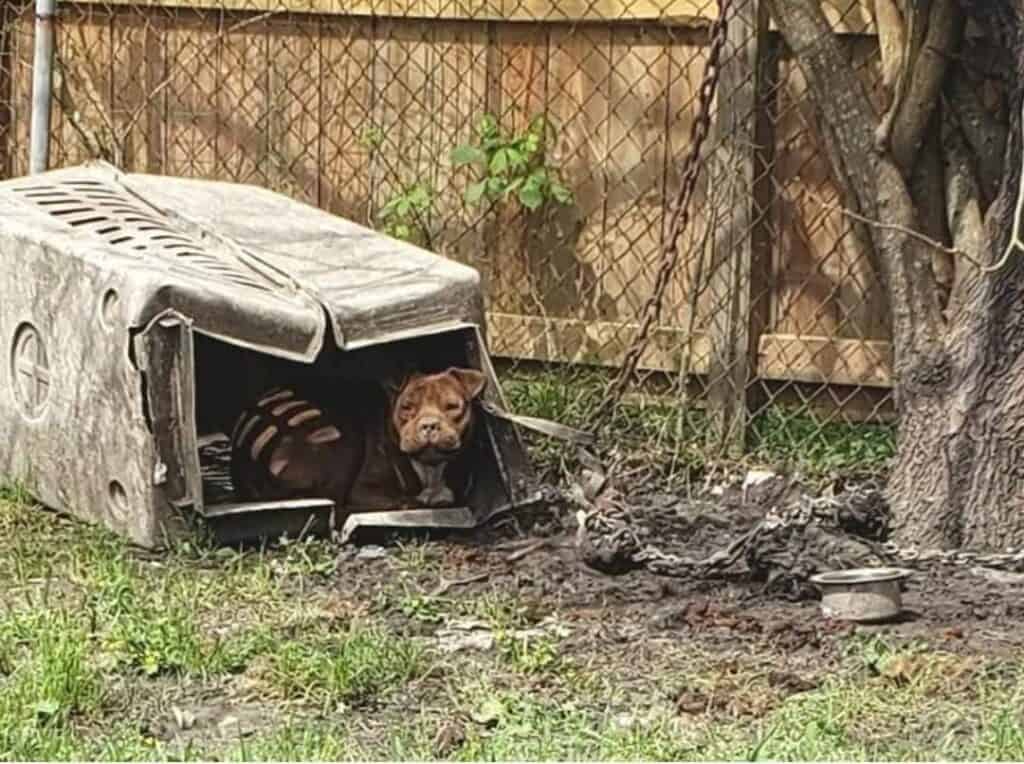 What are the New Texas Dog Tethering Laws?
Years in the making, local law enforcement and animal control finally have the ability to penalize those who don't care for their animals humanely.
The new law, UNLAWFUL RESTRAINT OF A DOG OFFENSE, takes effect January 18, 2022. You can read the full text of the new Texas dog tethering law online, but here's a summary.
1st Offense: Class C Misdemeanor (up to $500 fine)
2nd Offense: Class B Misdemeanor (up to 180 days in jail / $2000 fine)
MAY restrain a dog outside in Texas IF:
Dog has shelter from weather with dimensions that allows the dog to stand and lie down in a normal position.
No standing water or excessive animal waste.
Shade from direct sunlight.
Potable water.
Has a restraint that is 5x the length of the dog or 10 feet long, whichever is greater
Properly fitted collar or harness (i.e. not a chain with padlock)
You MAY NOT restrain a dog outside in Texas IF:
You use a chain.
The restraint has weights attached.
Collar or harness is not properly fitted.
It does not have shelter and there is inclement weather to include:

Rain, hail, sleet, snow, high winds.
Actual temperature is below 32 F. (note: this is unfortunate wording, because we all know wind chill is an issue.)
A heat advisory has been issued.
The reality is, tethering a dog outside, alone, for an extended period of time is inhumane. But hopefully this new law will allow animal control and police to take action.
For reference, here's the old version of the Texas tethering laws.
Texas Health and Safety Code, Chapter 821 1) Tether, chain, rope, leash, or cable must be at least five times the length of the dog, from nose to tip of tail 2) The restraint must use a collar that is properly fitted to the dog. It must restrain the dog safely and cause no injury. 3) Dogs can be tied outside only between 6:00am and 10:00pm. 4) Dogs may not be tied outside in "extreme weather conditions" such as when a heat advisory is issued by local or state authorities.
How to Report a Dog Tethering Violation in Houston Texas
Harris County Animal Cruelty Task Force: 832-927-PAWS or 927Paws.org
Houston SPCA (all surrounding counties) 713-869-7722.