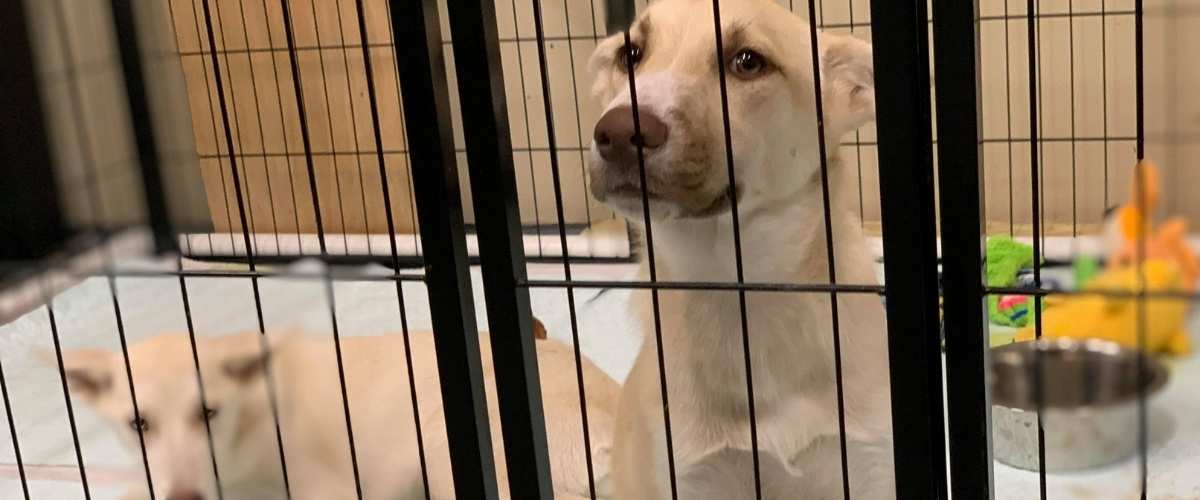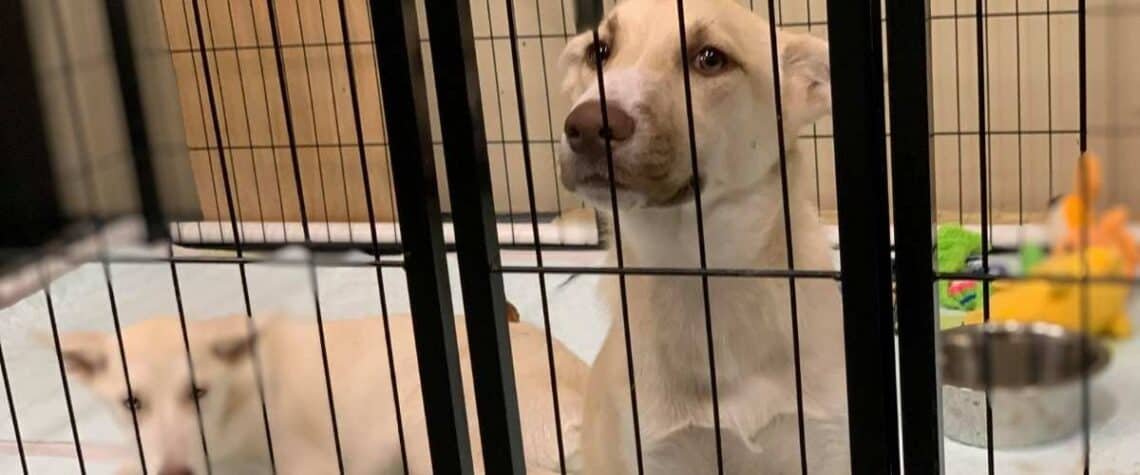 Pearland Parvo Recovery Center – Affordable Parvovirus Treatment
Parvo. Just the word makes most rescuers anxious. Highly contagious, parvovirus can decimate a litter of puppies and easily kill an unvaccinated adult dog. And it means upwards of $4000 -$6000 per dog for treatment.
Not anymore.
The Pearland Parvo Recovery Center was created to help rescue groups battle parvo. And with their approach, it costs around $300 to save a pup.
Pearland Parvovirus Recovery Center – How it Started
Pearland Parvovirus Recovery Center (PPRC) started with the realization that there had to be a better way to treat parvovirus.
The original founders of PPRC — Jeanette Savage, Candice Goode, Darren Bishop, Mona Cabler, Susan Wetmore and Summer Burnsall — were fosters or transporters for Rescued Pets Movement (RPM), a Houston rescue that focuses on out-of-state adoptions.
"We almost always lose parvo dogs," one of the RPM staff said in passing, after a litter Mona was fostering died.
Jeannette Savage, who currently runs PPRC, clearly remembers that day. "My parents used to say that my first word wasn't mom or dad, it was why. I kept thinking, why do these dogs have to die from parvo? There had to be a better way."
A medical first responder for 18+ years, Jeannette began to research online for treatment protocols. And she discovered that Austin Pets Alive had a separate quarantine area for parvo, with their treatment protocols posted online. After reviewing the protocols, she approached her vet, Dr. Manley May with the Pearland Pet Health Center.
Would it be possible to set up a rescue treatment center for parvo using these treatment protocols? And could he provide medical support and allow them to operate under his supervision and oversight? Absolutely, was the reply.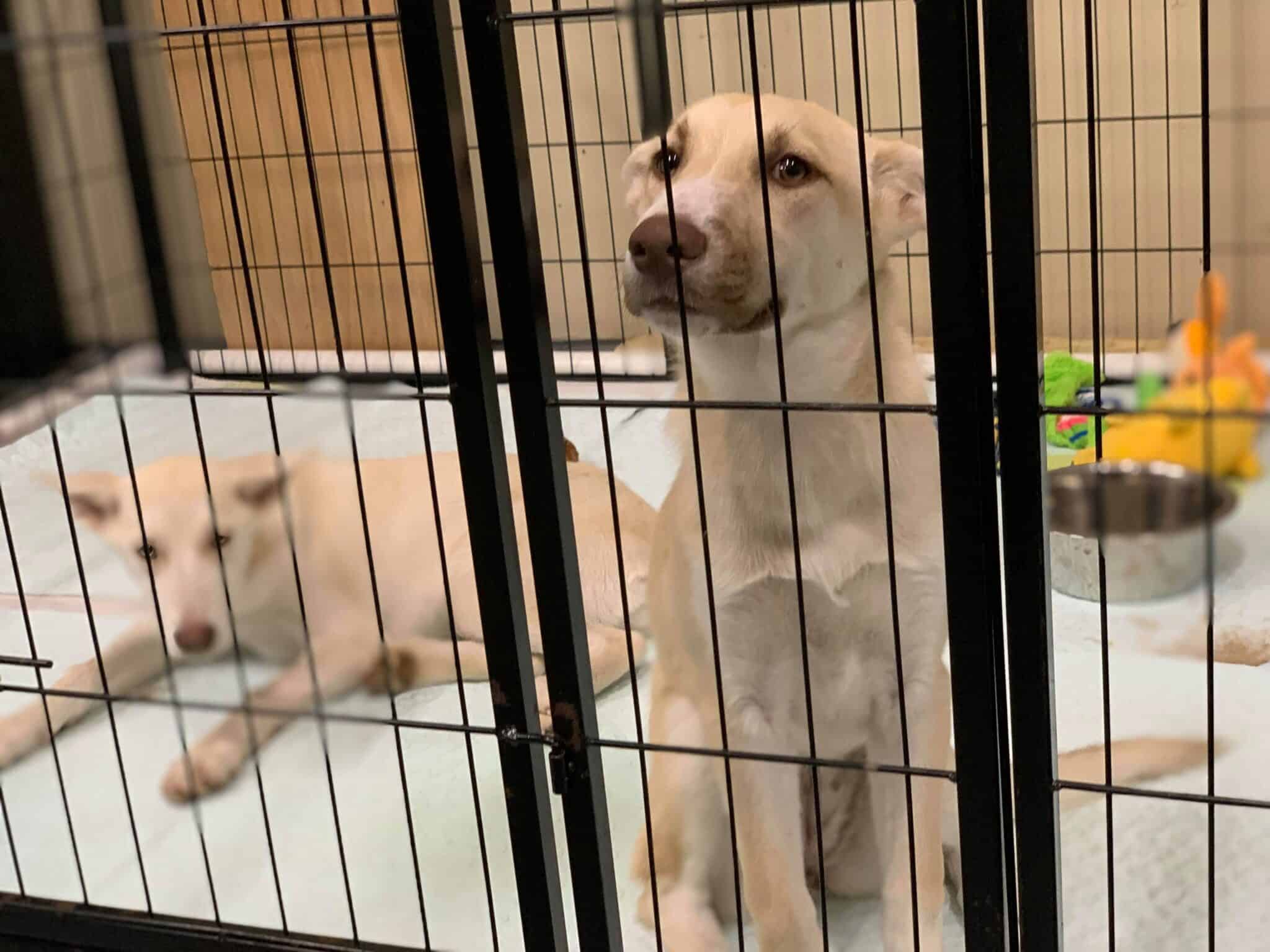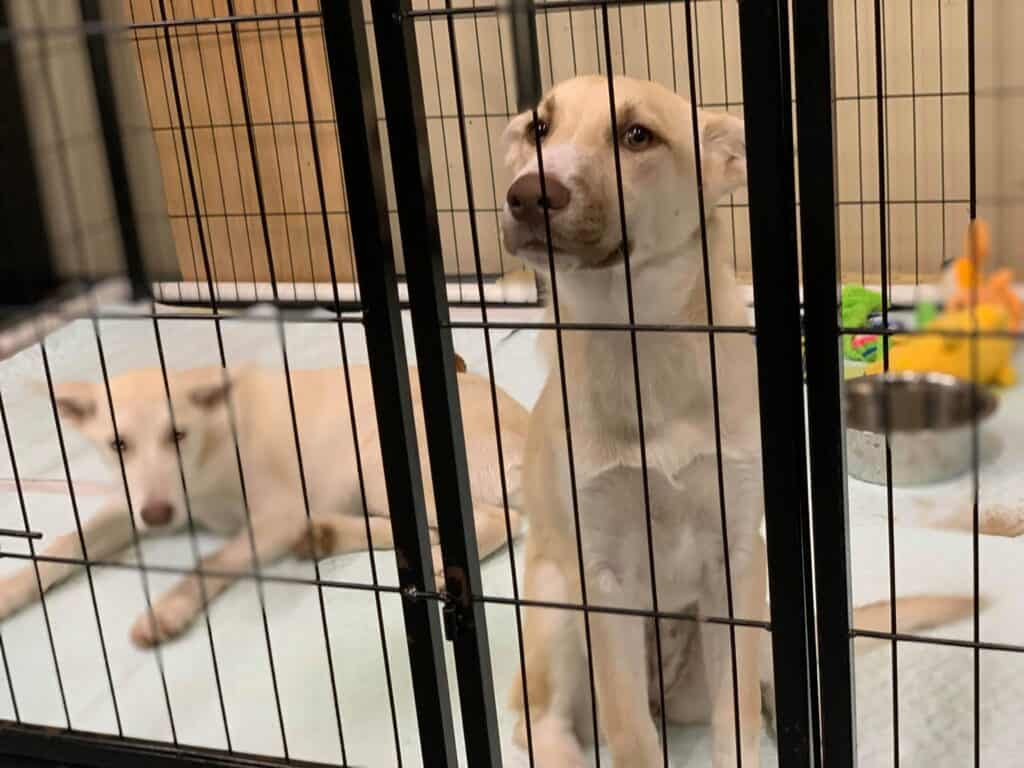 The initial pilot program took place in Mona Cabler's at-home puppy room with exposed puppies from RPM, just 5 or 6 at a time. But parvo is highly contagious. The group decided they needed a dedicated facility, to avoid accidentally spreading the disease.
With a Facebook fundraiser and $4,000 in their pocket, the team rented a space and opened PPRC.
Parvo Treatment at PPRC
Parvo treatment at local vets cost $600-$1000 just to begin treatment. That includes testing, bloodwork, exams, IVs and medication. Treatment typically requires high levels of care for 4-7 days. Most vets refer dogs for treatment at a 24/7 emergency veterinarian, at a cost of $1500 per day. Even with rescue discounts, parvo is expensive.
PPRC is staffed with part time vet techs and volunteers, with the oversight of Dr. May. Their charges depend on the severity of the case: $300 for IVs and 24 hour care, $200 for moderate cases and $100
And that's not per day. That's the total cost.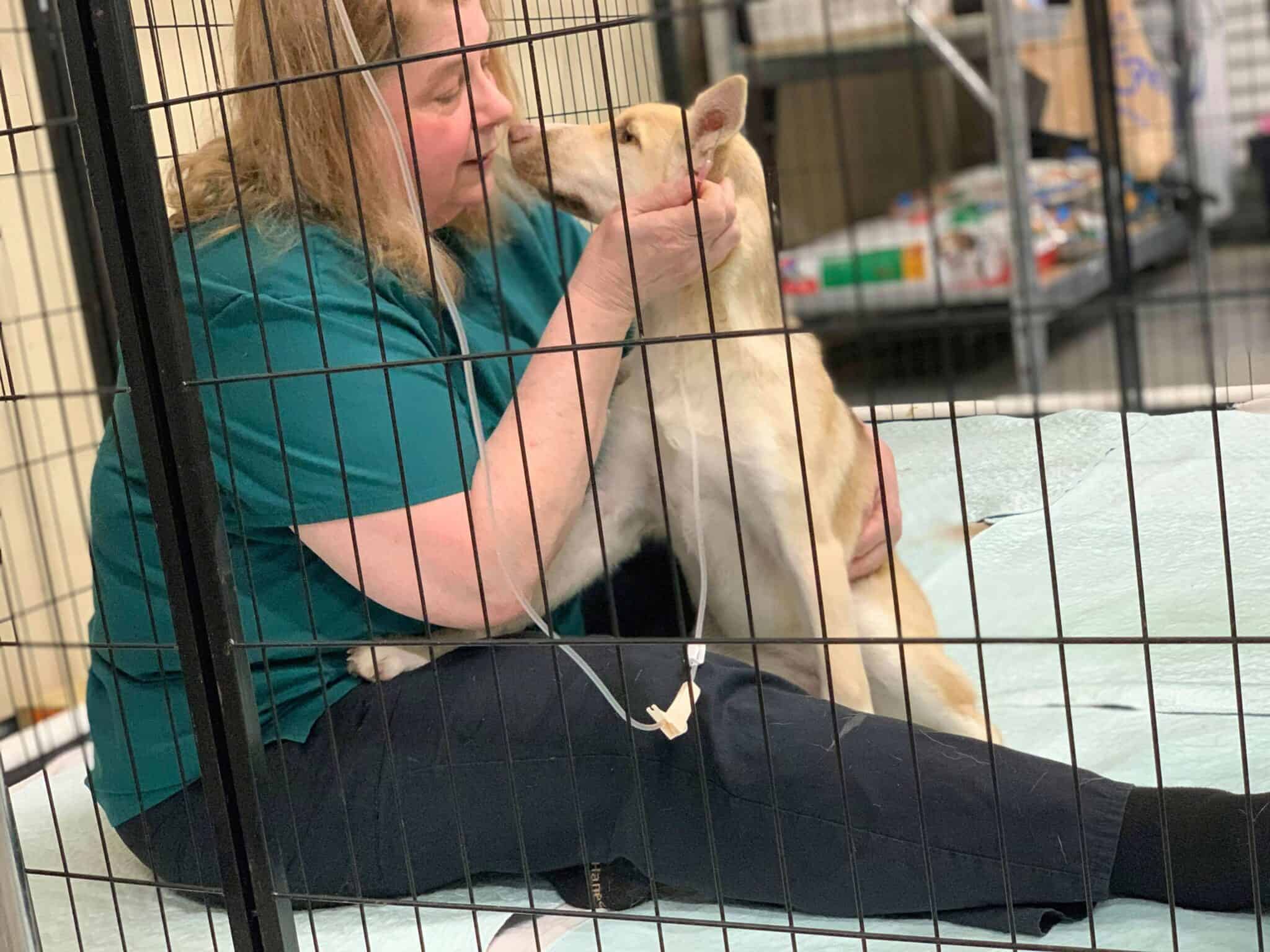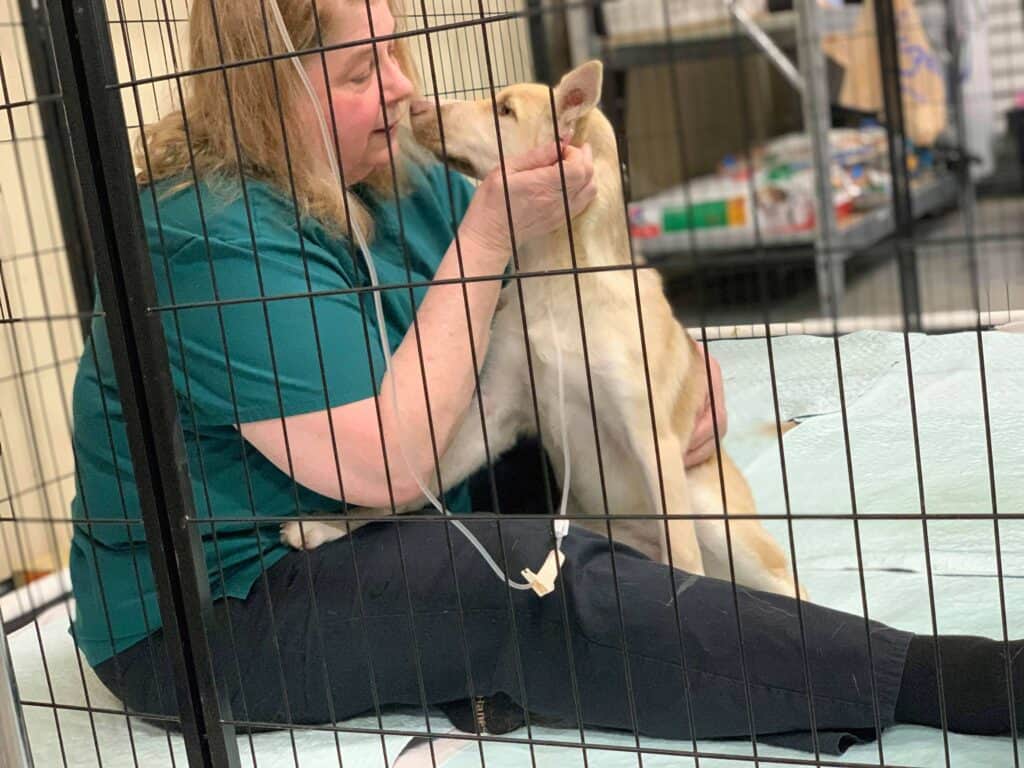 The center is familiar with treating dogs with multiple issues. Many of the dogs have coccidia or roundworms in addition to parvo, which will further weaken the dog.
"We're not in the business of treating dogs for parvo. We treat dogs that have parvo and everything that comes along with it, including wound care, necrotic skin, upper respiratory infections, parasites, broken legs, you name it,"

Jeannette Savage, Pearland Parvo Treatment Center
PPRC's biggest expenses are for parvo tests and antibiotics. They've worked with veterinary pharmaceutical companies to get special rescue rates. They've also received a Make-A-Difference grant from Houston PetSet. And, they have a small space (900 square feet) which keeps their overhead to a minimum.
Since it's founding in August 2019, PPRC has worked with over 60 rescues and helped treat 610 parvo-positive dogs.
And what PPRC celebrates at it's 2 year mark? "What I celebrate are the dogs that we've been able to save," says Jeanette. "And really it's what the rescue community has been willing to step up and take on, now that they know they have a resource. There are some amazing things they're doing, saving dogs."
How to Create a Parvovirus Treatment Center for Rescue
One of the goals of PPRC is to share information with others, so the approach can be copied in other communities.
But more than a local resource, PPTC wants to encourager others to follow their model. "You can do this in your own community," Candice Goode, one of the original founders, emphasizes. "Small shelters can use this protocol. Rescues can use this protocol."
Their parvo treatment protocol is available on Give Our Pets a Hand (GOPAH.org) and and on the Pearland Parvo Recovery Center website.
Rescues can also meet with the PPRC team to discuss setting up their own program.
How to Support the Pearland Parvovirus Treatment Center
Donate: Donate through Paypal. Consider making a recurring donation. PPRC's overhead costs are approximately $1800/month.
Amazon Wish List: Purchase supplies off their Amazon wish list.
Volunteer: Volunteer your time at PPRC!
Transport Team

. Pick up dogs that have been exposed to parvo and transport them to/from PPRC.

Care Team

. Volunteer at the clinic for 2 hours at a time, to hold and comfort recovering puppies, clean and do laundry.

Medical Team

. Administer IVs and subcutaneous fluids. Training is available.
Foster: Foster an exposed but healthy puppy, or a recovered puppy for 14 days. That's the incubation period of parvo, and it's also the length of time that a puppy continues to "shed" the virus after they have tested negative. Your fostering allows the rescue to save money and keeps space open at PPRC for pups that need more attention.
NOTE: The best treatment for parvovirus is prevention. Penny, featured in the photos above, passed unexpectedly that night, after fighting parvo for 5 days. Run free, baby girl.? Patty continues to grow stronger every day.
Frequently Asked Questions About Parvovirus
What is Parvovirus in Dogs?
Parvovirus is a highly contagious illness caused by canine parvovirus. The virus spreads through direct contact with an infected dog, or by contact with a contaminated object.

The virus can live in soil for up to one year, and on objects (food or water bowl, clothing, hands, collars/leashes) for up to 3 months if not properly disinfected. Common household cleansers will not kill parvovirus.
What are the Symptoms of Parvovirus in Dogs?
Signs of parvovirus include lethargy, loss of appetite, vomiting and severe (often bloody) diarrhea.

And the result? Persistent vomiting and diarrhea can cause rapid dehydration. Parvo also attacks the bone marrow, weakening the body's ability to produce the white blood cells that fight the virus and secondary infections. Damage to the intestines and immune system can cause septic shock.
What is the treatment for parvovirus?
There is no cure for parvovirus. Treatment is through managing symptoms and with 24/7 veterinary care. Much of the focus is on controlling vomiting and diarrhea, fighting dehydration by replacing electrolytes and fluids, and preventing secondary infections through antibiotics. With proper treatment, parvo survival rates are 80-90%. Without treatment, the mortality rate is 90%.

Below is the treatment protocol for mild to moderate symptoms. (Source: PPRC)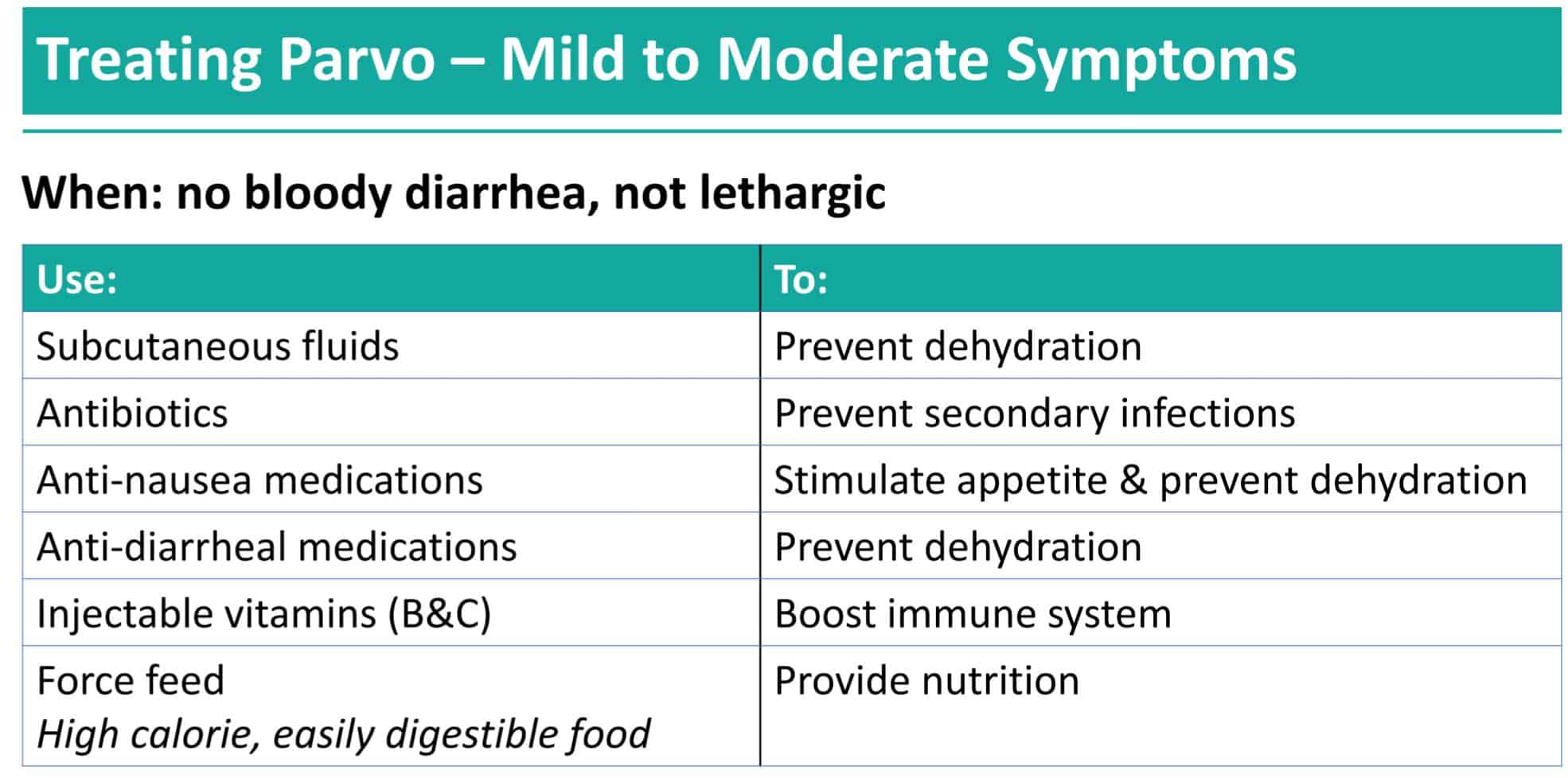 Why is parvovirus common in Houston?
Parvovirus is common in Houston due to several factors.

1) Unlicensed breeders. Breeders that do not properly clean and sterilize their environments between litters may have parvovirus in their yard and in their home. Each litter becomes exposed, but symptoms do not show until 10-14 days after exposure. The greatest risk of parvo is during the "immunity gap." That occurs between 4 weeks, when the pups are being weaned, to 12 weeks, as their immune systems develop.

2) Large stray dog population. Stray, unvaccinated dogs may have other parasites such as hookworms or coccidia. These weaken the immune systems, making the dogs more susceptible to parvo.

3) Lack of education on proper shot protocols. Full vaccination requires 4 shots for puppies under 6 months, and a booster shot for adopted adult dogs over 6 months. Owners may not know the full vaccination regimen. And they may not know there are plenty of places for affordable vaccinations in Houston.

4) Cleaning protocols at shelters. Older shelters have cleaning systems that are inefficient. A mop and bucket can spread parvovirus across a kennel. A tiny spec of feces from an infected dog can infect an entire wing of a kennel, requiring cleaning with special products.

This is 100% the opinion of HoustonDogMom. Let us know what you think the problem is in Houston! Email us at rebeccag @ houstondogmom.com.
Does parvovirus affect certain dog breeds more than others?
All unvaccinated dogs can catch parvo if exposed to the virus.

However, the American Kennel Club states that the following breeds are more likely to be affected: American Staffordshire Terrier, Labrador Retrievers, Doberman Pinschers, German Shepherd Dogs, Spring Spaniels and Rottweilers.
How do you prevent parvovirus?
You prevent parvovirus through proper vaccination and disinfection of exposed surfaces.

Puppies should be vaccinated against parvovirus at 6, 8, 12 and 14 weeks. "Paws off the ground" is the rule for any puppy that has not completed their full 4 rounds of puppy vaccines.

Your puppy should only be on the ground in your own self-contained yard. No dog parks! No pet stores! No dog bars! (And yes, I'm so excited about it, I approach strangers with puppies to inquire about their vaccination status. I'm that person. Puppy owners hate me.)

If you acquire a dog with an unknown shot status, the dog should receive a parvo vaccine and a booster if recommended by your vet. Low cost parvovirus vaccinations are available in Houston.
What products are used to disinfect an area exposed to parvovirus?
Parvo can live on surfaces for up to 3 months. If your home has been exposed to parvovirus, you will want to clean every surface of your home. Lysol does not kill parvovirus, but the cleaners listed below will kill parvovirus.

Here are bleach cleaners that KILL parvo:
Sodium Hypochlorite (Clorox Bleach), NOT Clorox wipes

These Bleach Alternatives KILL Parvo: 
Chlorine Dioxide – Sniper
Sodium Chlorite – Performacide
Accelerated Hydrogen Peroxide – Rescue (formerly known as Accel)
Potassium Peroxymonosulfate – Trifectant, Virkon