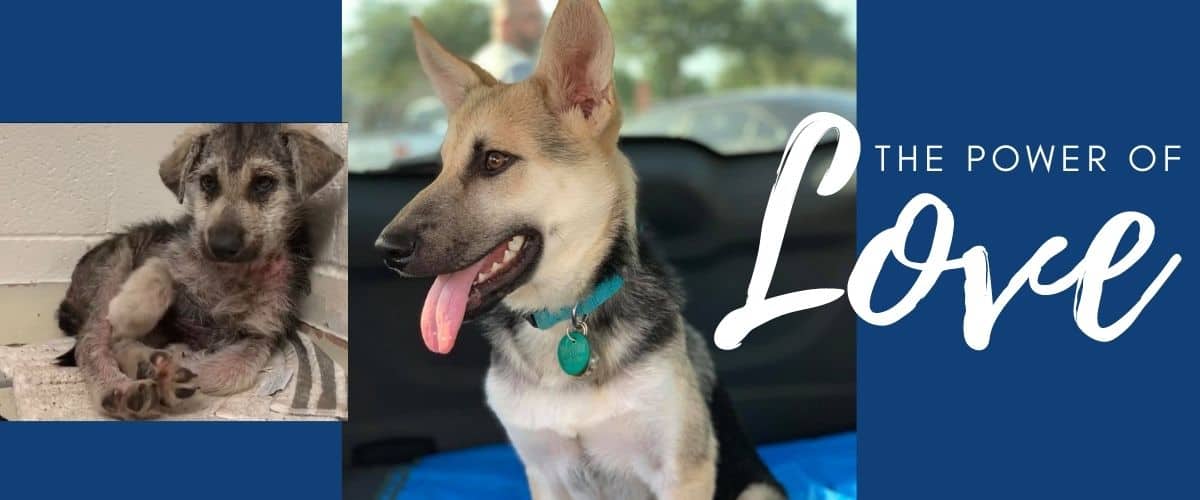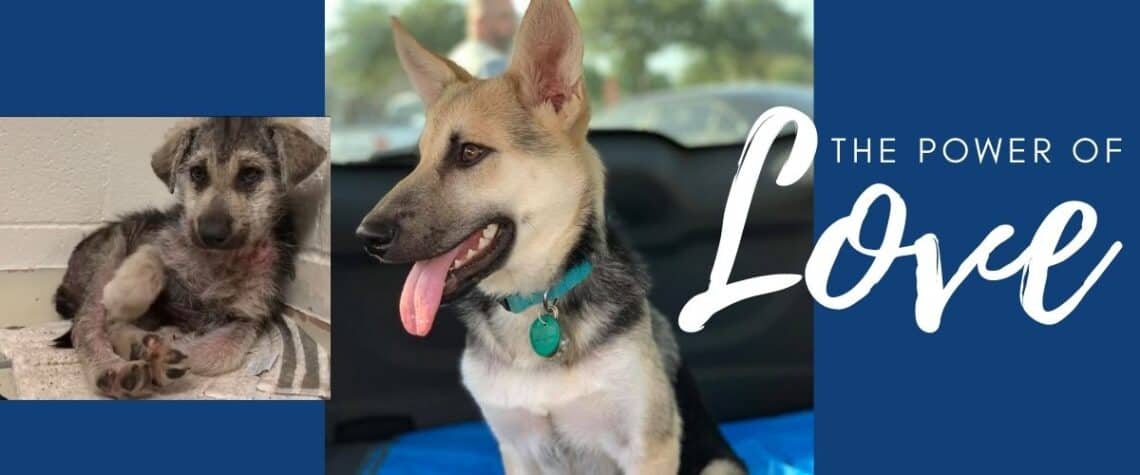 "Coyote Puppy" to German Shepherd – Fostering & The Power of Love
He looked like a scared little possum. Or maybe even a baby coyote. Little Moon Pie just sat curled up in a corner of his kennel at the Harris County Animal Shelter back in April 2020.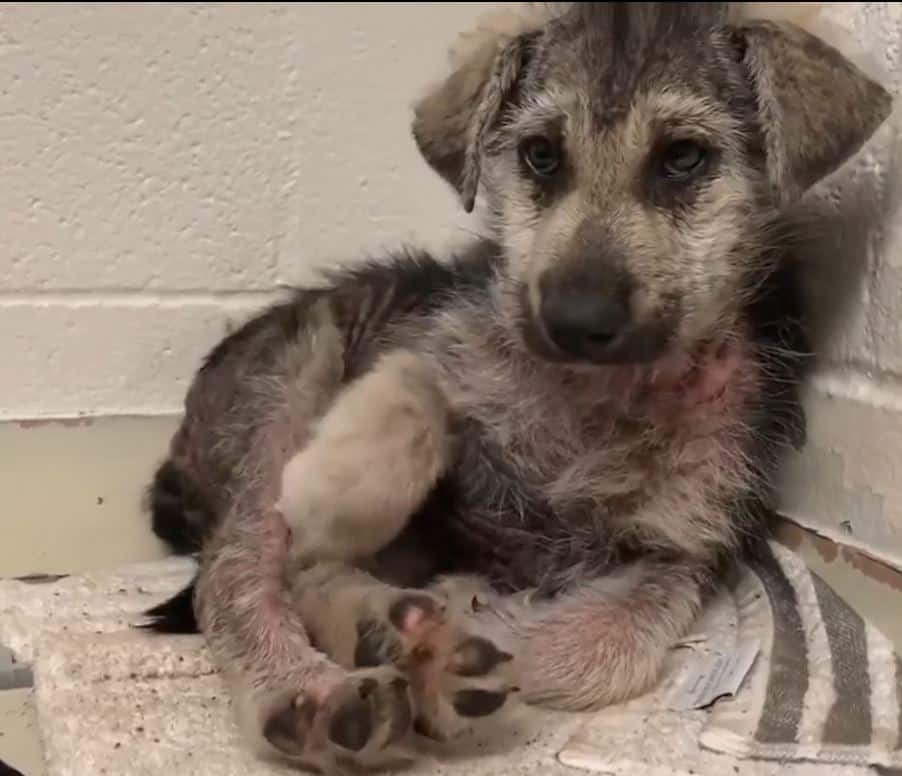 He was not looking his best. And yet adorable. Here's what I said in the video that I recorded for Urgent Shelter Pets Houston, a networking page:
We're at Harris County Animal Shelter, where this adorable puppy… will be an adorable puppy, trust me. Is adorable right now. Um. Needs some help with some skin issues. He's just a baby… He needs a foster or adopter…We can help you get this dog back to looking beautiful! We can tell you exactly what to do!
You can still watch the original video on Urgent Shelter Pets Houston.
Wag Again & Foster to the Rescue!
Luckily a Houston rescue group, Wag Again Rescue, stepped up. A friend volunteered to foster (which meant I got to visit… squeee!). And so Moon Pie left the shelter to go to a foster home. He was such a sweet and playful puppy. He loved to have his paw held, and loved playing with toys.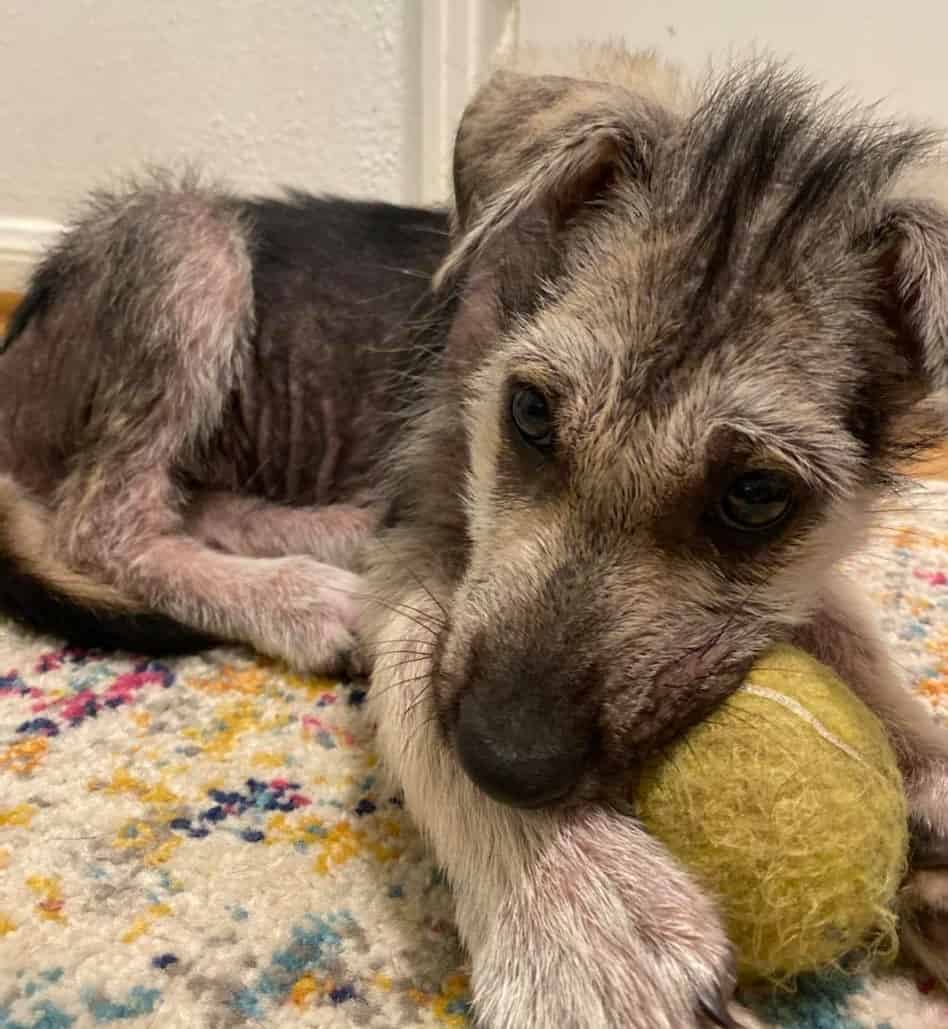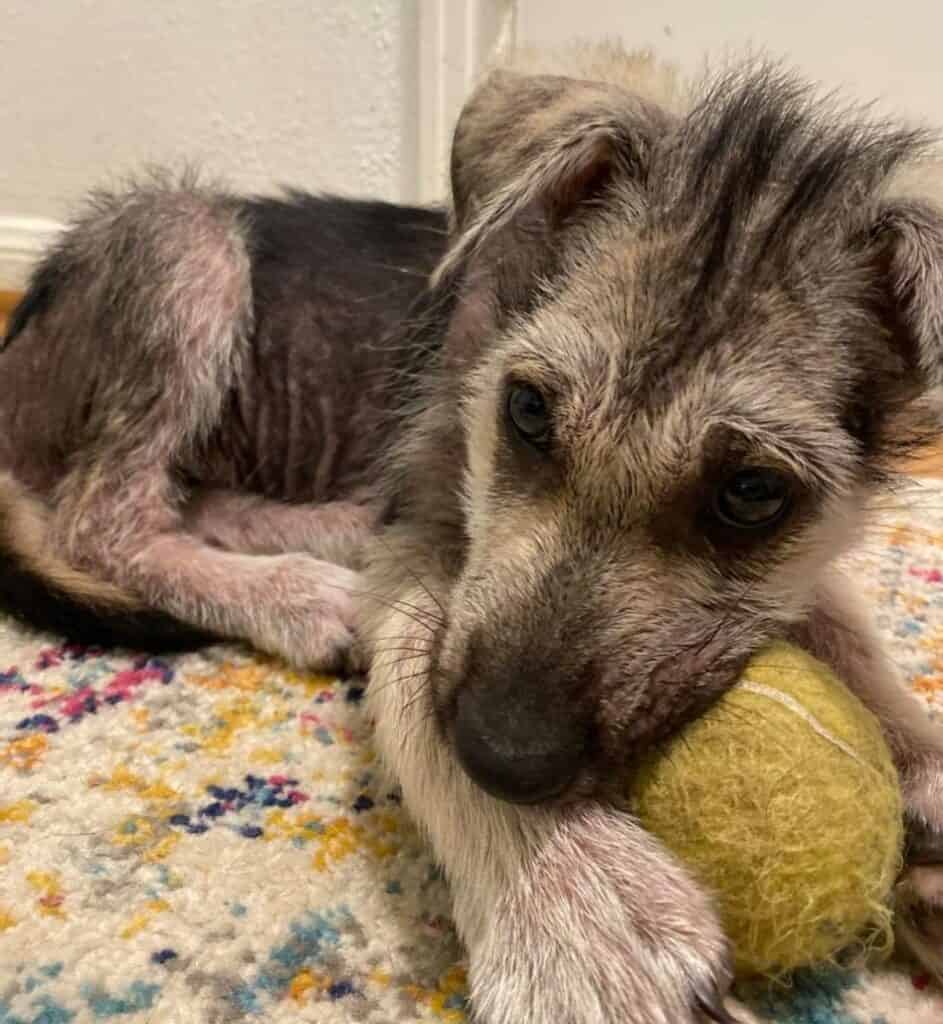 But within 4-5 days, he went from playful puppy to lethargic. He vomited and had bloody stools. Both are sure signs of parvovirus. Moon Pie immediately went to NVC Groves, a veterinary clinic in Groves, TX known for working with rescue groups.
Yup, in addition to demodex mange, skin infections and horrible intestinal worms, Moon Pie was now fighting parvo. Parvo can be fatal to puppies. He was aggressively treated with antibiotics, medications for vomiting, nutritional supplments and fluids. Shortly thereafter he also developed pneumonia, likely from aspirating vomit. And, kennel cough, completing the trifecta.
He. Was. One. Sick. Puppy.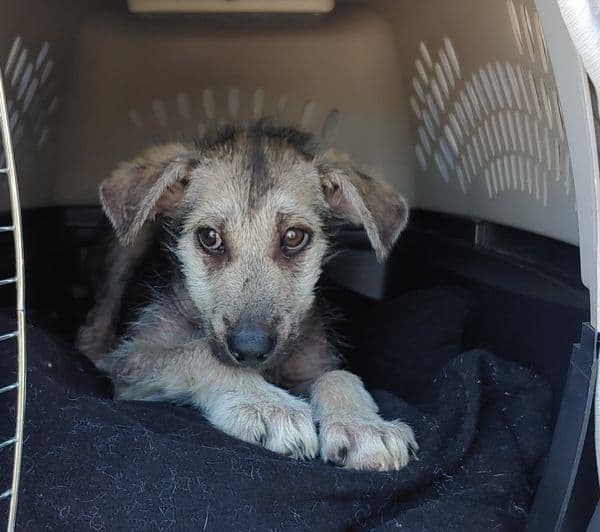 Luckily, with the support of donors and his rescue group, Moon Pie received the care he needed and headed back to his foster home.
He adored playing with the foster's other dogs, especially the foster's big pit bull, Maggie.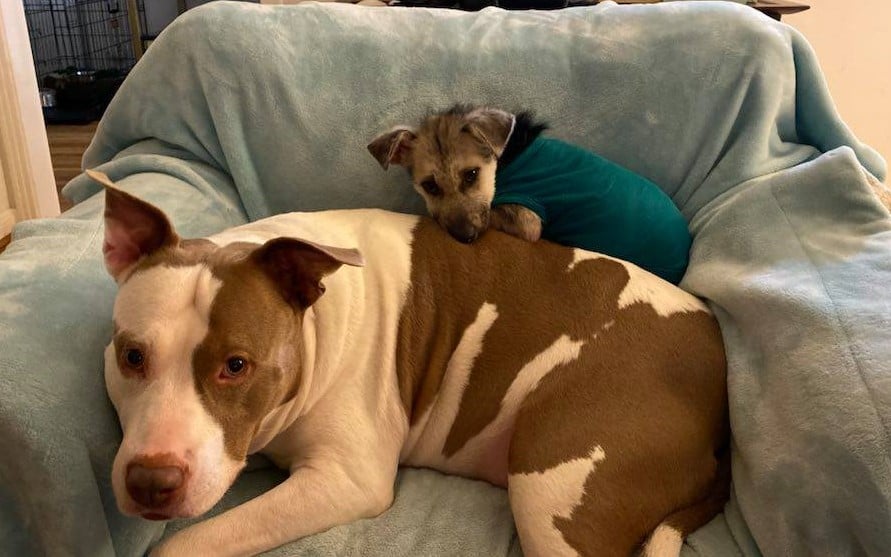 The little puppy that was nicknamed "Wylie Coyote" soon revealed his true identity. He was indeed a gorgeous German Shepherd puppy.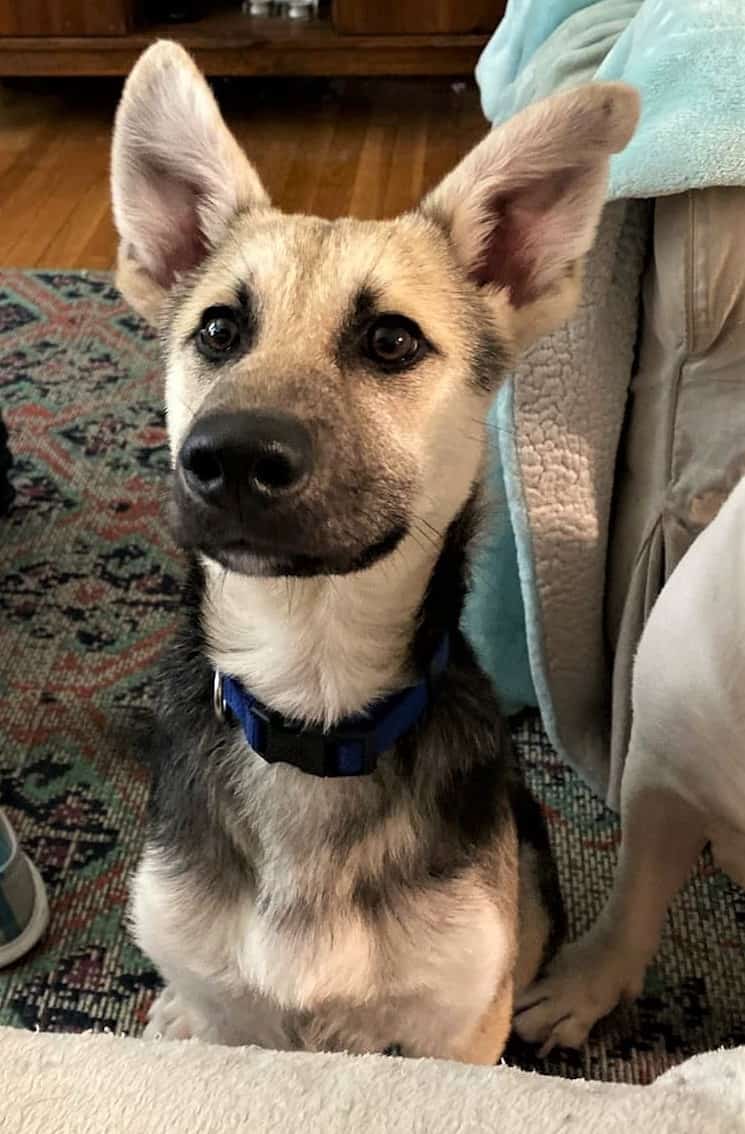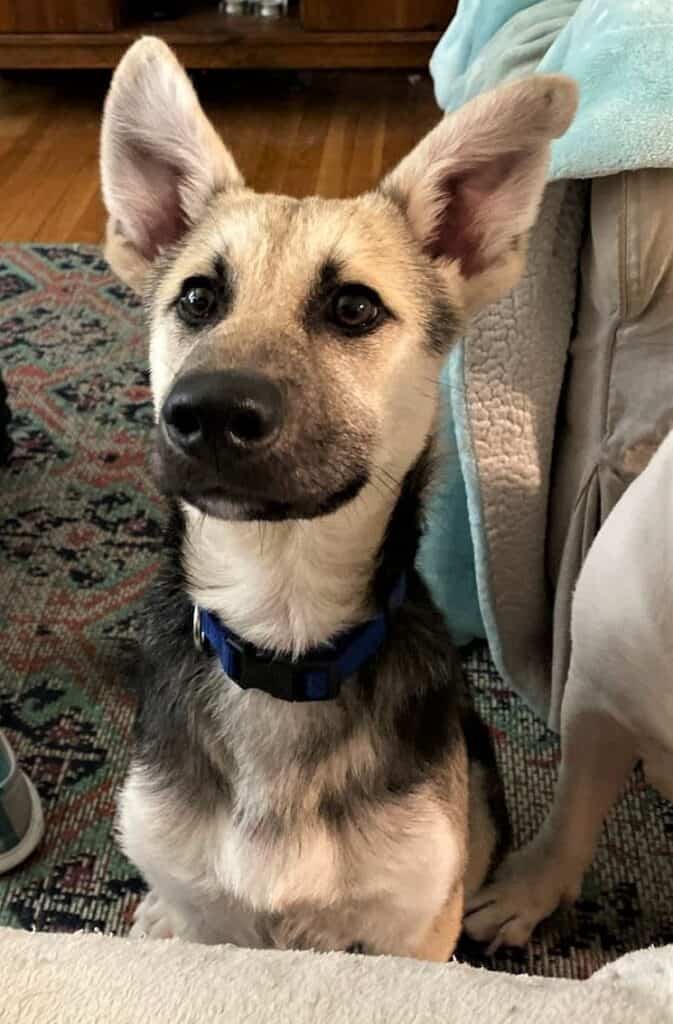 Wylie Finds a Home
And then, it was time for Wylie to find his forever home.
Wag Again Rescue works with out-of-state adopters in the Pacific Northwest. Their unique approach includes reference checks, and foster video interviews with the prospective adopters.
Wylie's foster immediately knew the right family to pick.
Brandi M and her husband had rescued other GSD dogs and were familiar with the breed. Their older GSD had recently passed, and their 16-year old female GSD, Sugar, was lonely.
Wylie transported to his forever home in August 2020. He had made an amazing transformation, as you can see below. Yup, that's Moon Pie leaving the shelter in April 2020 as a mangey coyote puppy. And in August 2020 leaving his foster home as a gorgeous German Shepherd Dog named Wylie.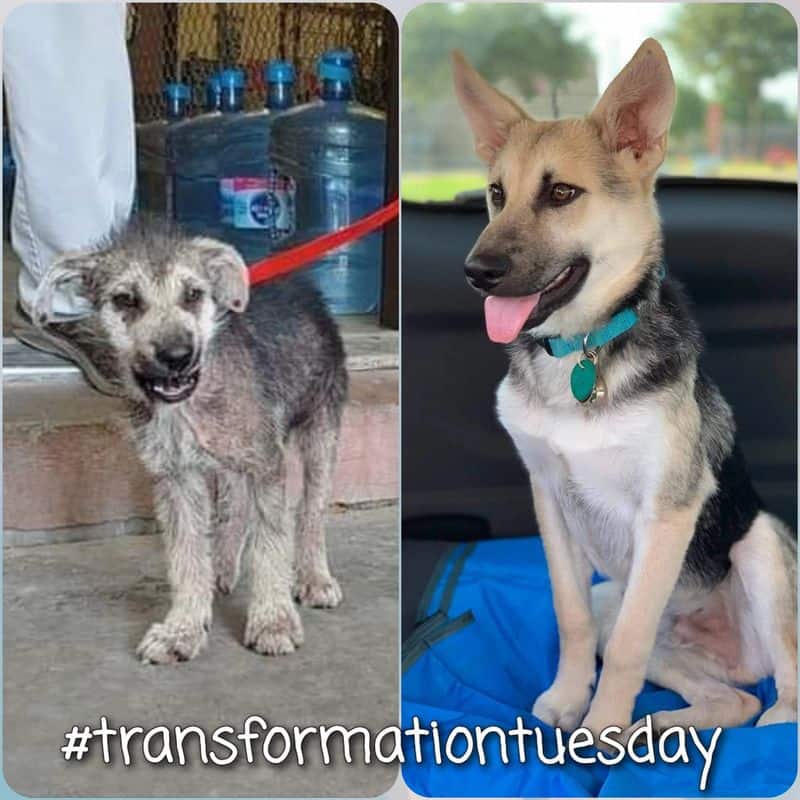 Sugar and Wylie immediately hit it off once he got to Washington State. He even made friends with the cat, Gizmo.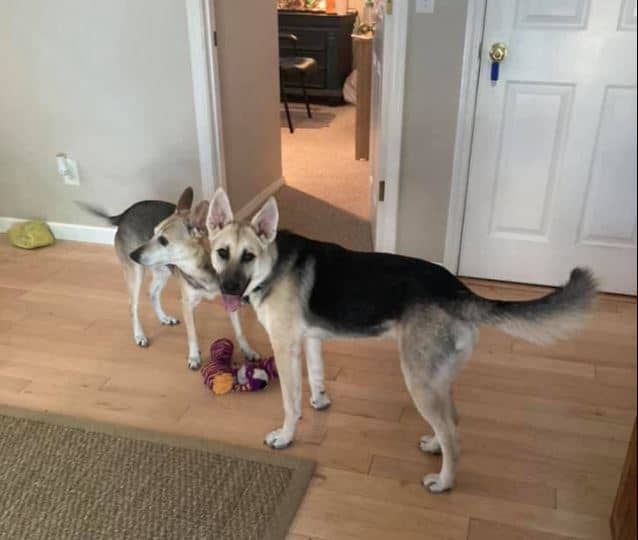 His family are clearly in love with Wylie, and made this post in November.
…yesterday was 3 months since he arrived to his forever home!!! He is so handsome, playful, epic zoomie master and destructor of all toys! He loves digging which is easy since he's created several mud puddles in the yard, although he thinks it's a wrestling match trying to dry is paws off. He's a little stinker but we absolutely adore him!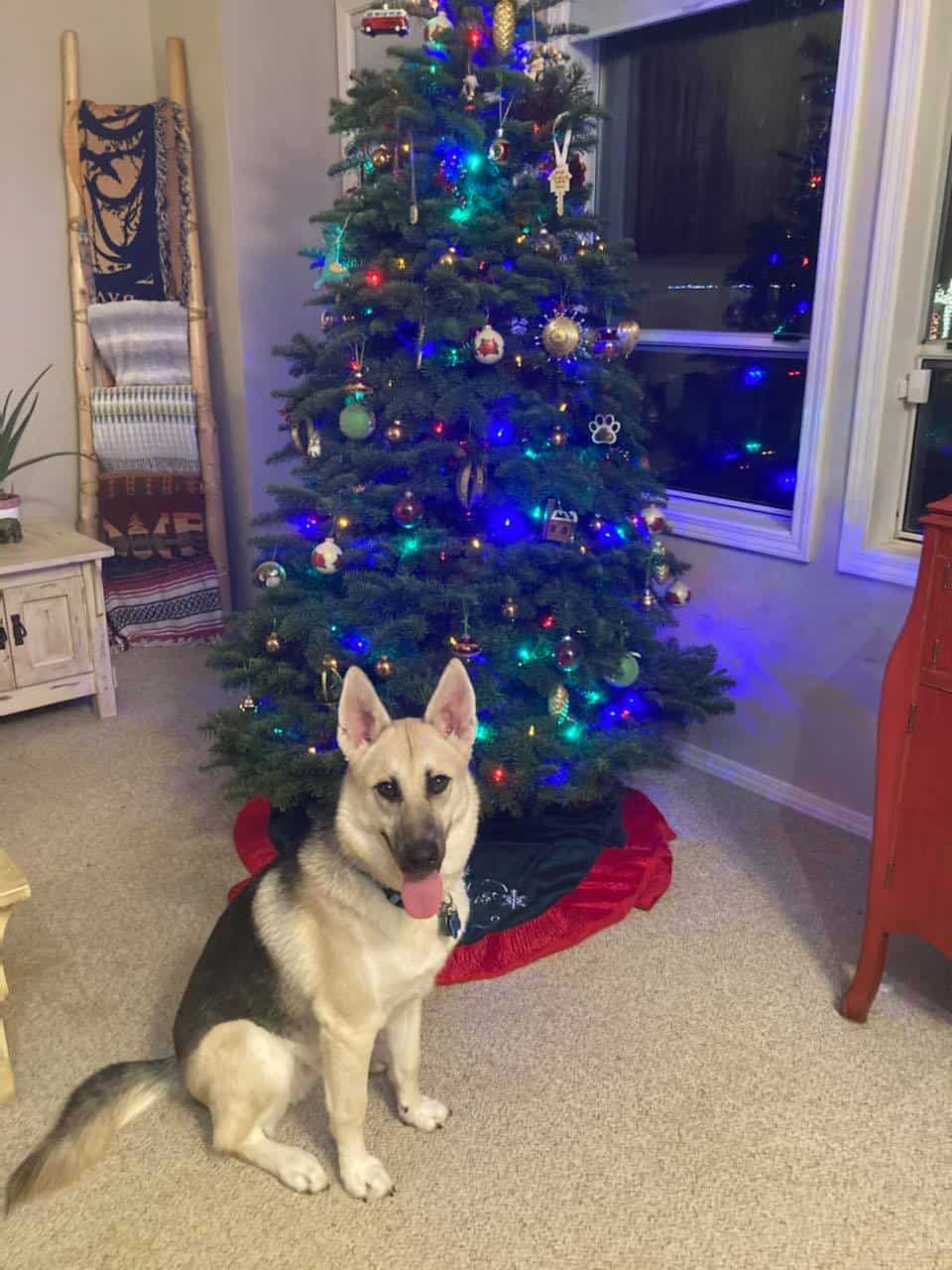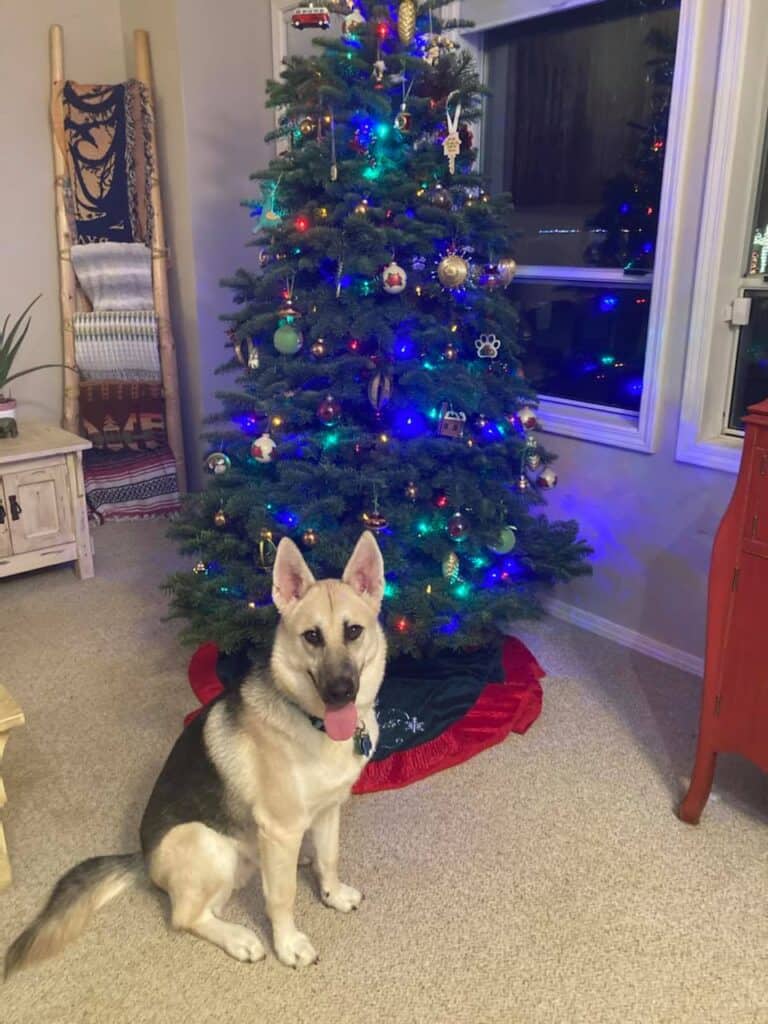 Wylie's transformation was made possible by love and selflessness. It's not easy to foster a dog. It's inconvenient. There are messes. But there's also love. And there's the amazing heart-filling joy of seeing an animal transform with your help.
Consider fostering this season. It may just change your life.
How to Foster a Dog in Houston Texas
There are many foster-based rescue groups in Houston Texas that you can foster for.
Transport rescue groups need short term fosters to allow for an out-of-shelter quarantine before crossing state lines. Examples of this include Rescued Pets Movement and Lola's Lucky Day. Dogs transport to shelter and rescue partners out of state.
Wag Again Rescue, featured in this story, is a foster-based rescue that transports directly to adopters in the Pacific Northwest.
Every rescue in Houston needs fosters. You can search "dog rescues in Houston" to connect with a rescue group near you.
Does Wylie look familiar to you? It's because Houston Dog Mom featured him back in April, in our article "Stop Sharing Those Sad Puppy Posts; Here's How to Actually Help."