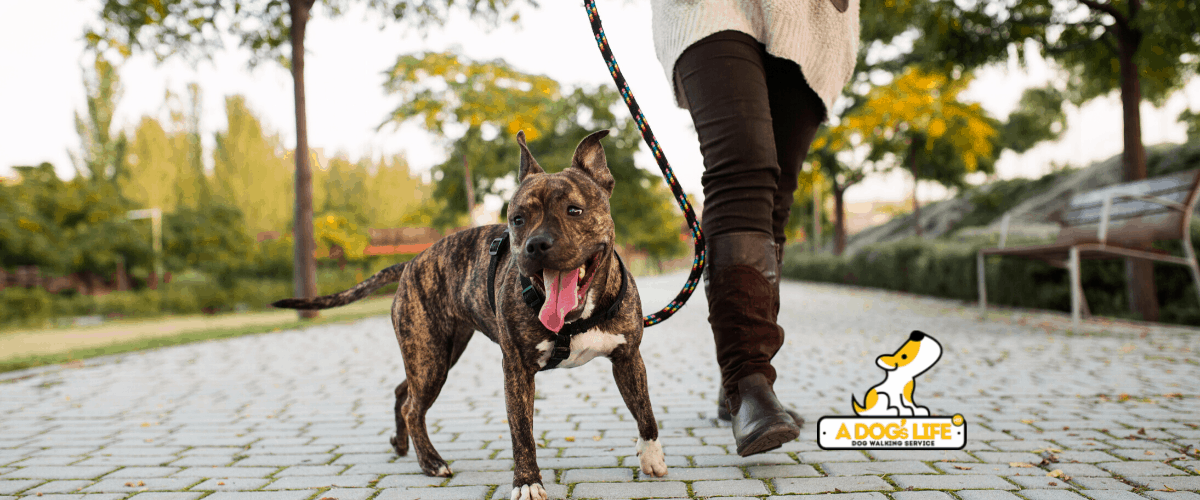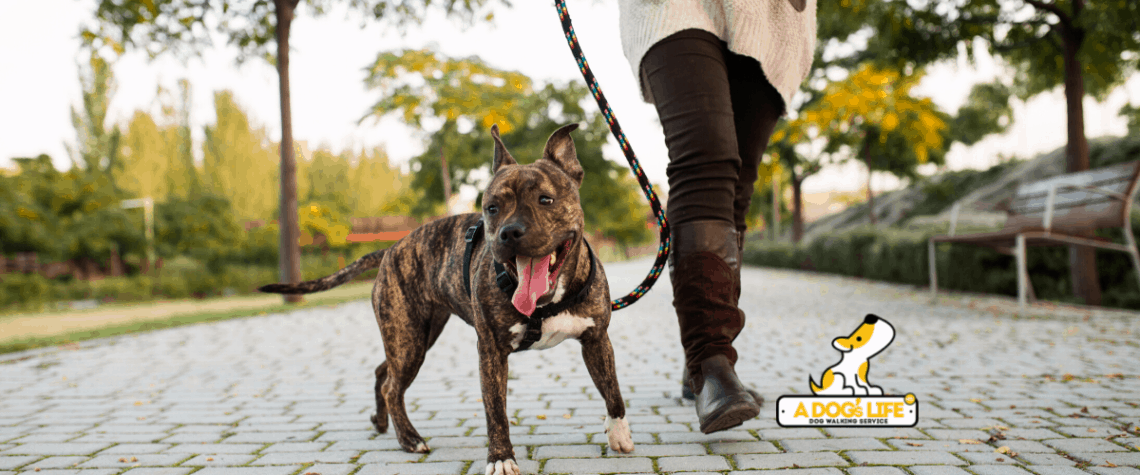 A Dog's Life HTX – Doggie Care & Community Support
There are many dog walking , pet sitting and doggie day care options in Houston. A Dog's Life HTX is one of the best.
We talked to Fern De Santos-Viramontes about her business and how giving back to the community is a core part of what they do.
How Did You Get Started in the business?
"I'm a chef by training, and have worked in the service industry as a server, manager and cook. I was working 12 hours a day in a bakery cafe on the east side, Tout Suite. There were 5 dogs in the construction site across the street. I soon found out it was a pack of 12 stray dogs. We caught them one by one and adopted them out. That's when I got the idea to do something related to dogs rather than the restaurant business.
"I quit my job and told my wife, hey guess what, I'm going to start my own company. I didn't have a plan. To start, I literally bought a book online on Amazon, A Dog Walker's Start Up Guide. I still have the book!"
That was 2016.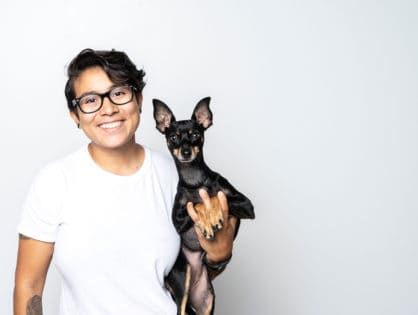 Fast forward to 2019, and A Dog's Life HTX has 10 employees, including a full time office manager, an HR manager and 7 dog sitters/walkers.
When hiring for her company, Fern looks for people who have empathy, are sensitive and want to care for others. The hours are long, starting at 7am and typically ending at 7pm, with a lot of driving in between. Fern also offers continuing education classes for her employees so they can expand their dog training knowledge.
Bonus: it's a great exercise program. Fern's personal fitbit regularly registers 37,000 steps in a day (equivalent to 12-14 miles).
What Services Does A Dog's Life HTX Offer?
A Dog's Life HTX offers different levels of pet sitting and dog walking.
Dog walking options include a 30 minute walk for up to 2 dogs for $25, a 1 hour walk for up to 2 dogs for $35, or a dog park outing for $40.
Dog sitting at home also varies. "The Royal" includes visits 3 times a day (20 minutes per visit), and an overnight 8 hour stay for $100/night up to two dogs. "The Tuck-In" offers a 20 minute visit in the morning for feeding and potty and an afternoon 2-hour visit including a walk and play time and tuck-in for the night for $80/day. Or choose the "Independent" with 2 20-minute visits and walks per day for $50/day. All services include medication administration, mail pick up and trash take-out.
Other services include dog washing, nail trims, pooper-scooper yard service and transportation to vet appointments. And yes… they'll even take care of your cats.
What Makes A Dog's Life HTX Different?
A Dog's Life HTX wants to make all pets feel safe, happy and relaxed while their parents are away at work or on vacation. They are are bonded, insured and CPR certified.
Says Fern, "We bond with each of our clients. We'll be there, rain or shine."
And when she says rain or shine, she means it literally. For clients that were out of town during Hurricane Harvey, Fern brought the dogs to her house to care for them along with another dog sitter. "We had eight client dogs, plus my 86 year old neighbor and their cats."
During the storm, Fern also worked with Hector Garcia (Neue Creative/DogPop/Puppies for Breakfast) and Sasha Vonn (Your Hipster Pet grooming ) to organize a dog bathing event at the George R Brown Convention Center. "We bathed 70 dogs at the GRB, plus a guinea pig. There were so many volunteers, people were waiting in line just to help bathe a dog!"
Giving Back to the Community
A Dog's Life HTX makes giving back to the community part of their core.
During their first 2 years in business, Fern and her employees rescued over 100 stray dogs that they found on walks. The business paid for basic vetting including vaccinations and spay/neuter, then partnered with rescue groups to network and find homes for the dogs. In her spare time, Fern can still be found heading out to rescue a chained or abandoned dog that others can't approach, or deep in a drainage ditch, army-crawling her way to some stuck puppies.
For their third year in business, A Dog's Life HTX has expanded their support of the rescue community by sponsoring events. These include:
April Egg Hunt (April – Benefiting North American Sharpei Rescue)
Puppies for Breakfast
Anniversary Party (September 15 – Benefiting Albert's Dog Lounge)
Costume Contest (October 13 – Benefiting A Chance to Bloom)
Pictures with Santa (December 1 – Rescue TBD)
Says Fern, "We like to build community and give exposure to the rescues. That's our mission, to make something for the community"
Senior Dog Prom – September 15
A Dog's Life HTX' next event is their Senior Dog Prom on September 15, benefiting Albert's Dog Lounge.
Albert's Dog Lounge focuses on senior dogs that have been surrendered by their owners. "They have spent 14 or 15 years with their owner, and then they are in the shelter, scared and confused," says Fern, who also fosters for the rescue. "This rescue gives older dogs the opportunity to live the last bit of their lives happily. These dogs have so much life still, and so much love to give."
The Senior Dog Prom will feature a DJ, vendors, food truck, dog play area and raffles. Dogs are encouraged to come in their 80's costumes, with extra points awarded if their owners come in costume too, all culminating in the award of Prom King and Queen. The first 250 attendees receive a doggie goodie bag with freebies. Local brewer Holler Brewing Company is a sponsor.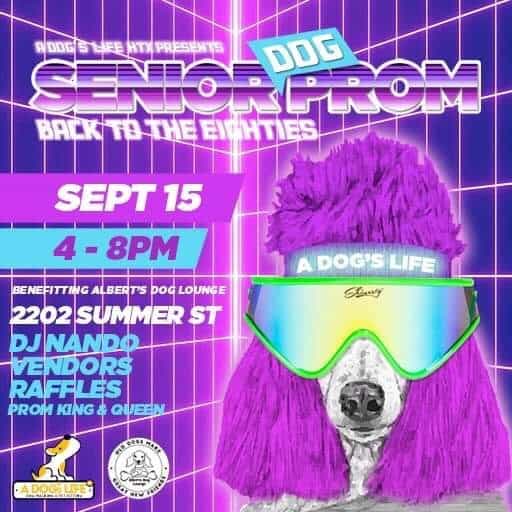 There's no admission fee. Just come in, enjoy, donate and buy a raffle ticket to help Albert's Dog Lounge!
The event is at 2202 Summer Street (Washington Heights area) from 4-8pm on September 15.
The Dogs of A Dog's Life HTX
As you can imagine, Fern and Vanessa have dogs of their own, in addition to their fosters. All are rescues that Fern found along the way.
Jerri is a female hound/shepherd mix that Fern picked up at a park in Dallas. "She was being abused by kids at this park. They were throwing rocks at this tiny puppy and spraying it with water. She ran up to me and laid down under my dog (who is normally dog aggressive). I picked her up, carried her home and she never left."
Broady is a min/pin female that Fern saw running stray in traffic on Telephone Road. A woman stopped to help Fern catch the dog. "She caught the dog, knocked on my car window, passed her through the window and said, 'I'm so exhausted with rescue I can't do this anymore.' She passed me the dog and the rescue curse, and after that the dogs kept coming!" Broady was caught at Telephone Road and Broadmoor…thus the name
Flaco is a male Boston terrier that was abandoned in a Luby's parking lot near Fern's house. "He was skin and bones and a scaredy cat. It took 2 weeks to earn his trust."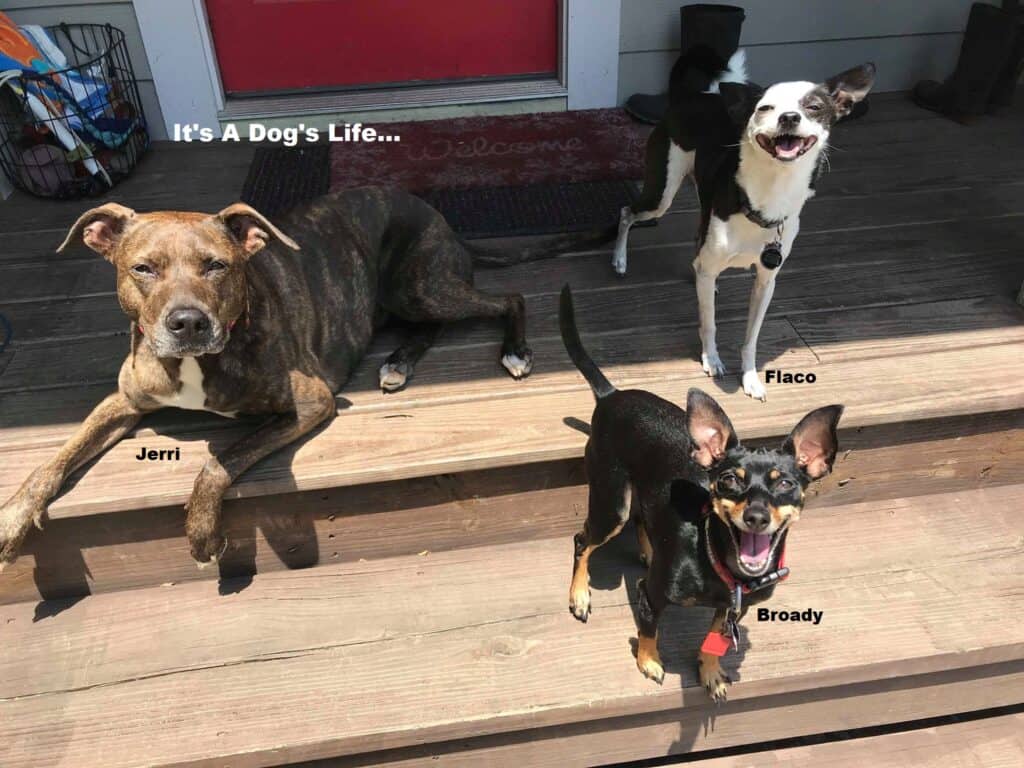 Fern's dedication to dogs, her community and giving back shine through in everything she does. As for her decision to buy that book 3 years ago and open a dog business? "I wouldn't change it for anything," says Fern.
A Dog's Life HTX
Office: 2204 Summer Street
Website: https://adogslifehtx.com
Social: https://www.facebook.com/adogslifeHTX/
Email: [email protected]
Schedule Meet & Greet: https://adogslifehtx.com/meet/