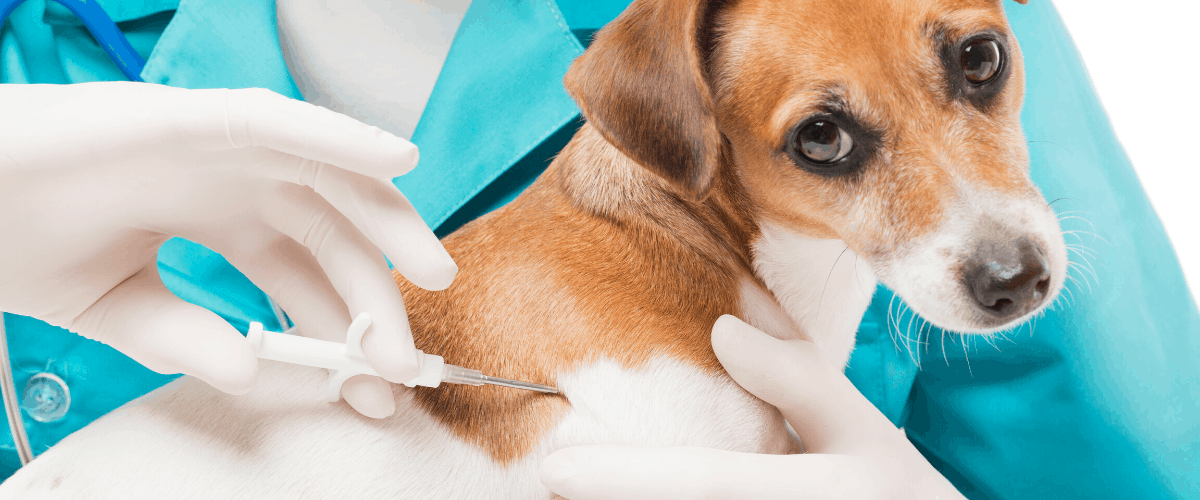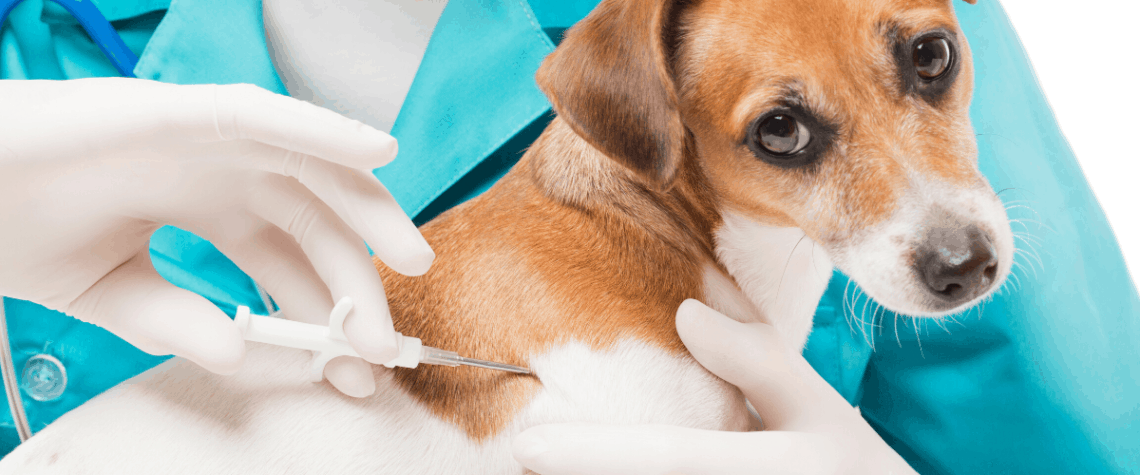 The Importance of Microchips — Annie's Return
"They found Annie! They found Annie!"
Deidre Martinez was in her vet tech practicum without access to her phone that day, June 18. When she picked up her phone, saw the multiple missed calls and heard the messages, she was overcome with joy.
Annie, her deaf white American Pit Bull Terrier had been found, a little over 2 months after she had disappeared.
This is the story of Annie and the importance of microchips.
How Annie Got Lost
Geoff Lakings, Deidre's roommate, was taking their German Shepherds, Ti and Ramona for a walk that afternoon, April 16.
Annie wanted to go too, but two large dogs were enough to handle,
Annie decided to take things into her own hands. She hit the door — hard — and broke the locking mechanism, charging out the door. Geoff let go of Ti and Ramona's leashes as he lunged for Annie. And then they were off, all three dogs running down the street toward the bayou, their usual walking route.
Ti returned home almost immediately. But Ramona and Annie? They were gone.
Ramona, age 15, decided she had enough and stopped at a local apartment complex in Inwood Forest. She was home by Friday, April 19. But there was no sign of Annie.
Annie, age 5, had continued her trek down the bayou trail. We can only guess at how long she wandered in that direction. But we now know that Annie made her way on to the roadway median and moved down Antoine to 34th Street, on the other side of a major highway.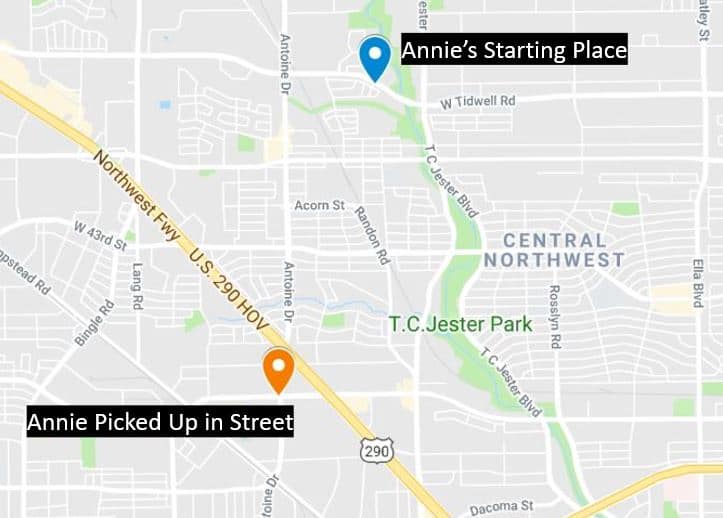 She was now 3 miles from home.
The Search for Annie
Deidre was frantic. She refers to Annie as "Ramona's Dog." Ramona, her dog-selective GSD, had instantly bonded with the 4-month old deaf puppy when they got Annie from the Galveston shelter. Five years later, the dogs were nearly inseparable.
When Annie disappeared, she had a collar but no tags. Deidre had removed the tags after a doggie-wrestling match earlier in the month, when the dogs' tags became entangled, and had yet to replace them.
Deidre's first step was to contact the microchip company. She made sure they had her work and cell number, and the numbers for her friends. She gave permission for the microchip company to release her contact information to anyone, anytime.
Geoff and Deidre posted on multiple neighborhood Facebook pages: Candlelight Estates, Timbergrove, Oak Forest, Garden Oaks. They created a Facebook page, Bring Annie Home. They plastered the bayou bike and hike trail with signs. They created banners and additional signage in English and Spanish for the apartment complexes near the bayou.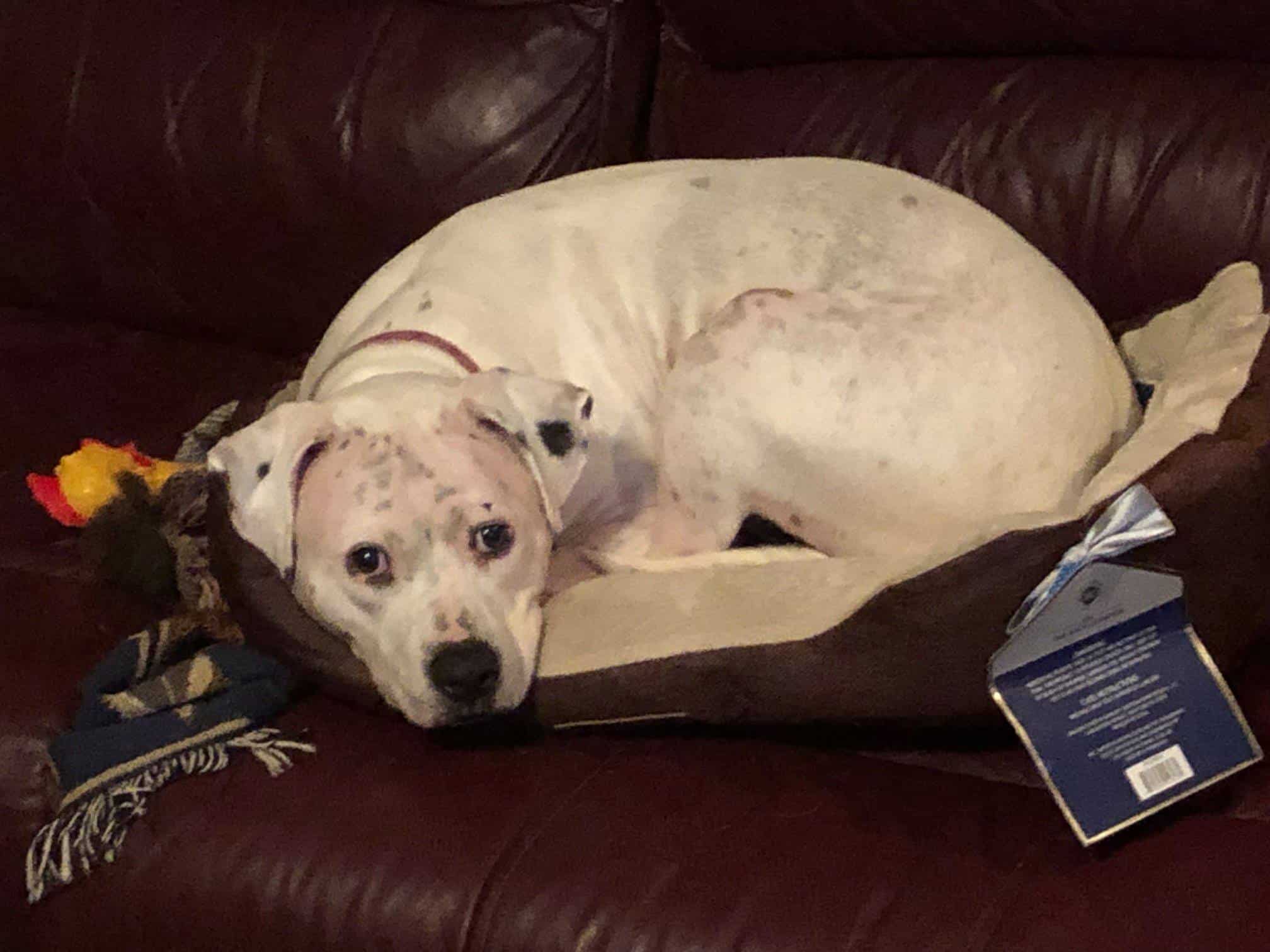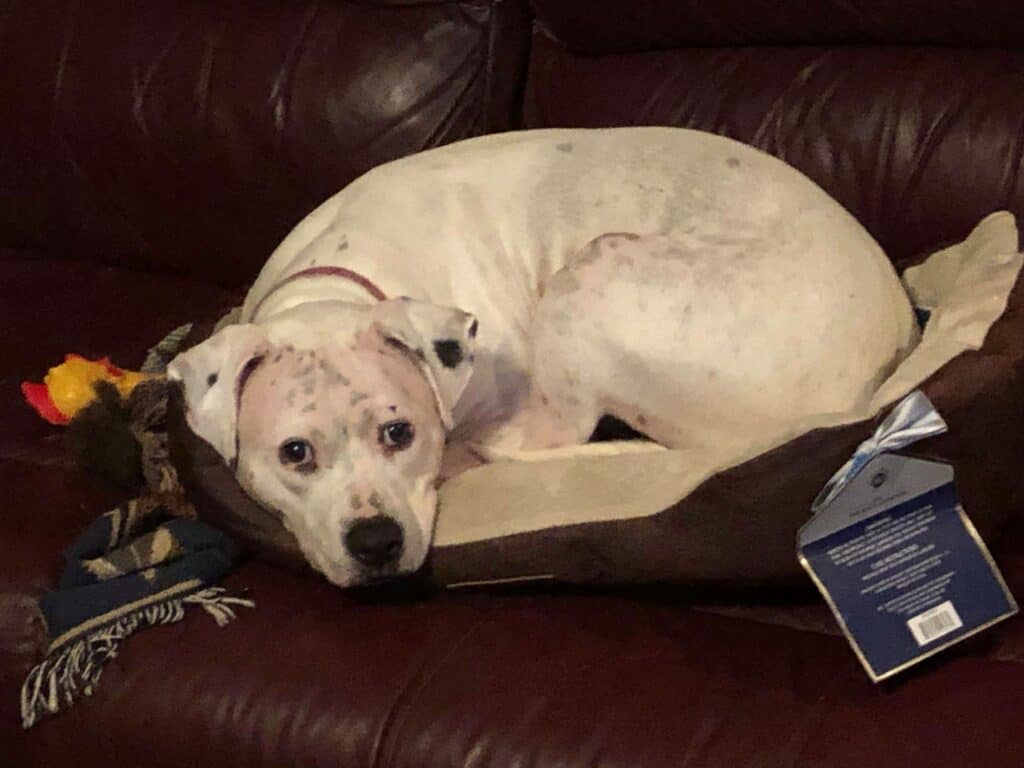 Two weeks into the search, they expanded their circle. That Sunday had been Easter Sunday. Maybe someone who had traveled to visit family had found her? They began posting in a wider circle, targeting neighborhood groups in Humble, The Woodlands, Pearland, Sugarland.
Deidre checked the shelters daily. She received 50-60 photos of various found white pit bulls that were forwarded to her. None of them were Annie.
Deidre didn't give up hope. A devout Catholic, she prayed to St Francis (patron saint of animals), St Jude (patron saint of hopeless cases), and St Anthony (patron saint of lost things).
She never gave up hope that Annie would be found.
How Annie Was Found
And where was Annie? Annie was several miles north of them around 249 and Antoine.
A woman and her son, driving on 34th and Antoine late one night, had spotted Annie in the middle of the road. When they opened their car door, she hopped right in.
The finders were not familiar with what to do with a found dog. Annie became integrated into their household.
The finder and her two young adult sons all work retail, and no one was home until after 9pm each night. Because of this, Annie spent her afternoons and evenings in the back yard, And she didn't like that one bit.
Annie would howl and bark in the back yard. (Something she doesn't do at home).
A neighbor called animal control. Animal control issued a citation. Annie was scanned for a microchip.
And Annie was found.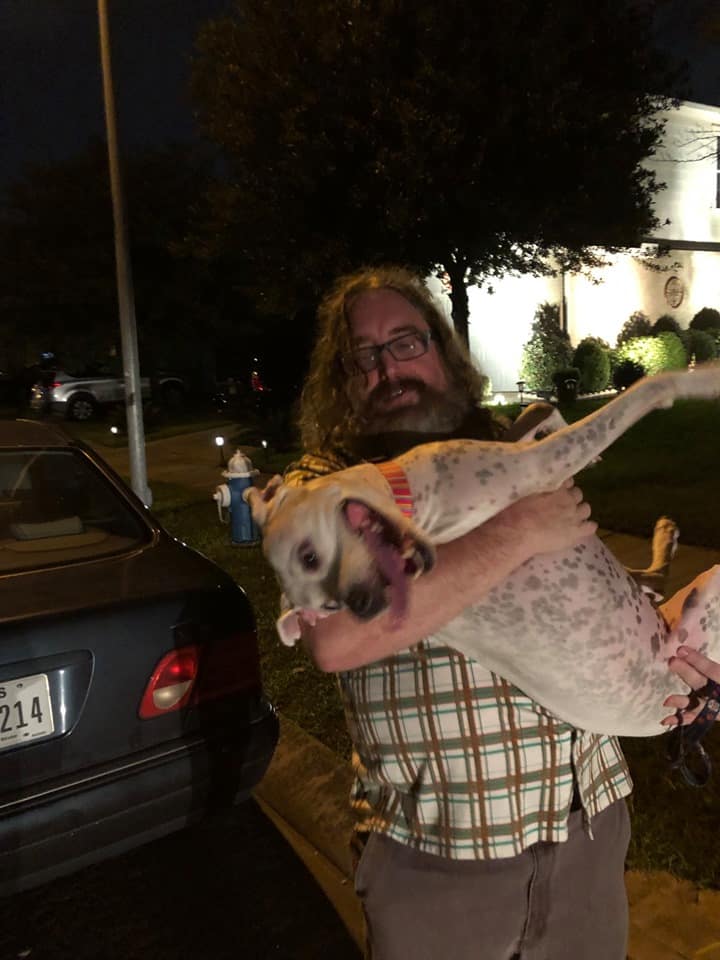 The Tail End
Bring Annie Home has now transitioned to Annie is Home, Let's Help Others. Deidre is posting lost pets in hopes of reuniting others.
Deidre has 1 year remaining in her Vet tech program and hopes to volunteer with disabled and older dogs.
Annie, Ti and Ramona have new collars embroidered with their name and phone number.
Last week, Annie celebrated her sixth birthday at home, where she belongs.
—-
What is a Microchip?
No bigger than a grain of rice, a microchip is a radio-frequency identification transponder made up of just a few components encased within a slender capsule of bioglass. The microchip stores a unique ID number that is used to retrieve the pet owner's information from a database.
How Does a Microchip work?
When a dog is found and brought to a shelter or veterinary clinic as a lost dog, the dog is scanned using a universal scanner. If a microchip is found, the ID number is entered into a database.
Here's the super crazy part about microchips. There is no universal microchip database. What the what? Yes, it's true. The closest thing to a universal registry is the one maintained by the American Animal Hospital Association, called the Pet Microchip Lookup Tool. However, not all commercial microchip services report into this service. Here's a list of those that DO participate!
The Pet Microchip Lookup tool lists the microchip number, and the service that the microchip is tied to. Then, the finder must contact that service company to retrieve the dog owner's information. Depending on the service, you may get the owner's information directly, OR the service may need to contact the owner for you.
What are Common Misconceptions about Microchips?
There are two most common misconceptions about microchips (overheard at the animal shelter, with new adopters):
Many believe that the address and contact information is stored on the microchip. This is incorrect. The microchip only contains a unique number. As the owner, you must maintain your current phone and address information in a database that ties you to the chip.
Others believe the microchip is like a GPS system, with a tracker that will allow them to immediately locate their dog when it's lost. While there are GPS trackers on the market for dogs, this is different from a microchip.
Where Can I Get My Dog Microchipped?
Your personal veterinarian can microchip your pet. Or, you can save money by getting a microchip at any local shelter. Below are just some low cost pet microchip locations in the Houston area:
What to Do If You Find a Dog
If you find a stray dog, take it to any veterinary clinic or animal shelter to have it scanned for a microchip, free of charge.