Sometimes you find the dog. Sometimes the dog finds you. And sometimes you write a poem about it. This is Reesie's story, as written by his mom, Alejandra Villanueva.
"Back in 2014, my husband Corey and I were attending Texas A&M University when I came across an animal rescue on social media, Urgent Animals of Hearne Robertson County Texas. We worked with them to become fosters, and fostered several dogs for the group.
One day, their founder Deborah Fatheree, sent out an emergency text. She needed a foster for an abused dog who had been living under a house, was high heart worm positive and was covered in bullet fragments (the X-ray revealed).
We were very poor college kids back then. But without hesitation, my husband and I searched every couch cushion for gas money to make the trip. We managed to scrounge up $10 for gas money and headed to the vet. Deborah was pretty honest when she greeted us. In addition to his medical issues, the dog was very skittish and he smelled. Sure enough, this shy pup gets brought into the foyer. We could smell him before the door even opened. He reeked of urine. He slowly inched up to me, stood on his hind legs, and hugged my leg. That's when we knew we had to take care of this poor baby.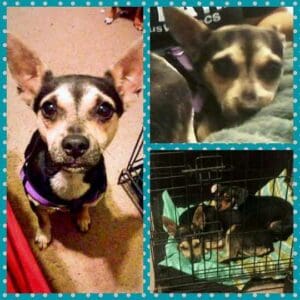 Reesie was so malnourished his fur was dull and stiff. He sat on my lap in the car on the way home from the vet, his fur sticking through my jeans like pins and needles. The smell was unbearable, even with the windows down. (Unfortunately, he'd just been neutered… so we got used to the smell over the next week!) When we got home Reesie hid in his crate. Any little noise would startle him. Our other dog, Kiwi, would climb into his kennel with him. We worked diligently to comfort him and reshape his views of humans. When Reesie got more comfortable with us we took him to his first adoption event. As all the fostered animals were being paraded and presented, my husband quietly decided to take Reesie for a walk— far away from potential adopters. That's when Deborah and I decided that Reesie was already home. We've had him for almost six years and he will be 8 years old this August He's gone from fearing humans, rocks, and even the sound of crumpled paper, to being the first to the door when someone knocks and demanding to be let under the blankets to cuddle when it's bedtime. ❤️ I wrote this poem because this boy's transformation was incredible.❤️"
Foster Failure
by Alejandra Villanueva
"Can anyone help him?"
The rescuer cried.
"He's sickly & lonely,
but doesn't deserve to die.
There aren't enough fosters
to open up their homes.
He'll have to go back to the cages,
and sleep scared and alone."
With empty pockets and an empty tank,
they took it upon themselves to join the ranks.
The ranks of the rescuers who made sacrifices every day,
to save countless lives and make the pain go away.
"It's just for a couple of days.
Just until he heals.
He just needs a cozy bed
and a healthy meal."
His ears radiated fear,
and his eyes were full of pain.
Brittle, dull, and uncared for
was his black, balding mane.
His ribs were imprinted on his sides,
and he panted with a longing thirst.
With the last bit of hope he had
he extended his head but prepared for the worst.
Then he felt a hand upon his head that came with a promise to do him no harm.
He kept begging for love and she took him into her arms.
"I promise to nurse you back to health; to get meat on your bones.
I promise you will be safe and never again feel alone.
Even if for a short time I will shower you with love and care.
Until your adopter shows up and answers our evening prayer."
Adoption day came and they just could not bear it.
The thought of letting go was too much,
they finally admitted.
They had taken him in to do their part,
but he turned around and stole their hearts.
He had been home all along
Right where he belonged.
Never again would he be hungry or scared.
He had found his furrever home,
and a family who cares.❤ Originally published August 5, 2014