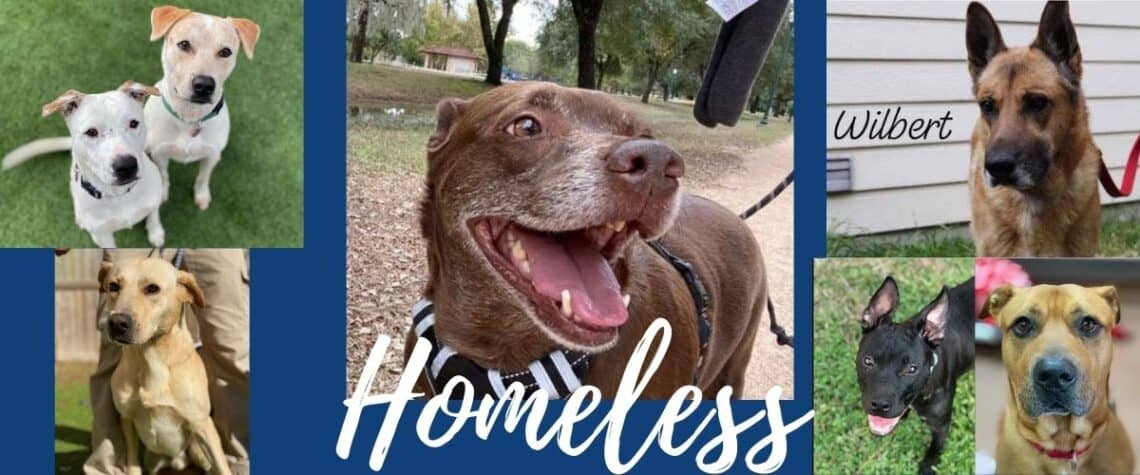 Houston Rescue Dogs That Need Forever Homes
Last year we featured "6 Perfect Dogs You'd Never Believe are Homeless." This year we continue our tradition with 7 more rescue dogs in Houston.
The population of homeless dogs in Houston Texas is overwhelming. Some put the number of strays at over 250,000. The shelter I volunteer at, Harris County Pets Resource Center, intakes around 18,000 animals each year. Around 40% of them leave with local rescue groups. Rescues also intake animals directly from the public.
But what happens after the dogs reach a rescue?
It's no magic solution. Some of them languish in foster homes or in boarding for months on end, waiting for a home.
Puppies are placed easily. Small fluffy dogs? Not a problem. But big dogs? Older dogs? Bonded dogs? Not so easy. Here are their stories.
Milo & Otis – Big Love Rescue
It's hard to place one big dog, let alone two. And yet that's the task that Big Love Rescue in Cypress Texas has undertaken. Meet Milo and Otis. They were found covered in fleas and ticks, filthy and hungry. And now they live in a boarding facility, not a home.
Otis is a speckle-faced cattle dog/lab mix, around 60 pounds. Milo is a white cattle dog/pit bull mix, 50 pounds with speckled ears. They have been in boarding since August 2020 at Urban Mutt Retreat, where they have been reported to be the bestest ever boys.
Milo and Otis do not have to be adopted together, however, they (and the rescue) would love to make that happen.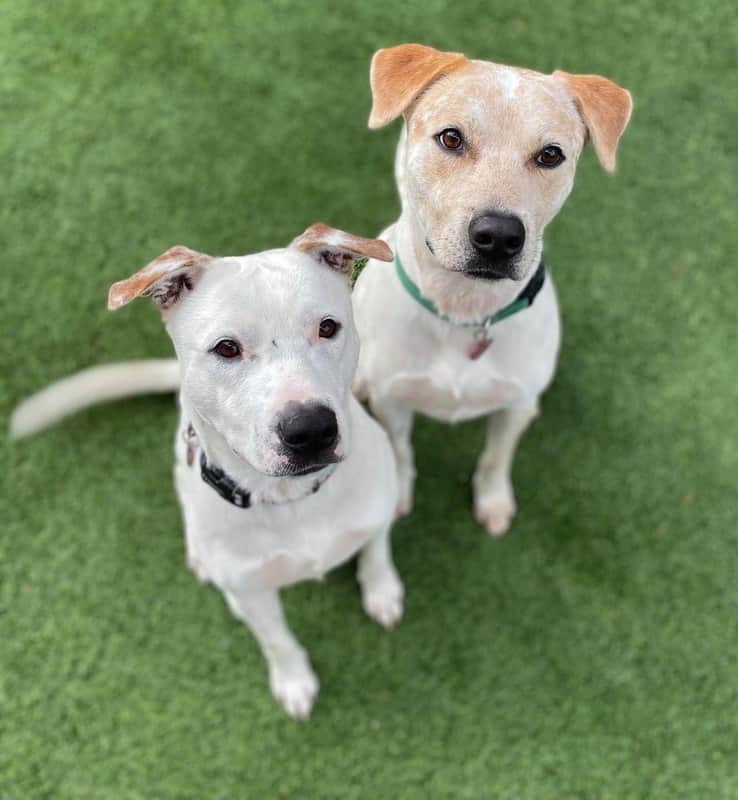 You can watch Milo and Otis on Big Love Rescue's Tik Tok channel, BLRescueTexas. View more of Otis & Milo's antics on facebook: https://www.facebook.com/bigloverescuetx
Apply to adopt them online at BigLoveRescue.org
Wilbert – Chip N Snip
Wilbert is a handsome gentleman, and Chip N Snip's longest-term adoptable dog. Founder Tiffany Frazier says, "It's baffling to us how such an amazing dog can be overlooked for years for adoption."
A 9-year old German Shepherd Dog, Wilbert weighs in at 90 pounds and enjoys napping, watching TV and soaking up the sun in the backyard.
Wilbert is house and crate trained and loves children. He would be ok as an only dog, or would enjoy the company of a low-key medium or large dog.
"Wilbert does have a little arthritis and mild hip dysplasia. He won't ever be an athlete but he has tons of love to share with the right family and enjoys a nice evening walk. This boy is a volunteer favorite. He is such an easy guy to love."
To apply to adopt Wilbert, contact Chip N Snip rescue via their website.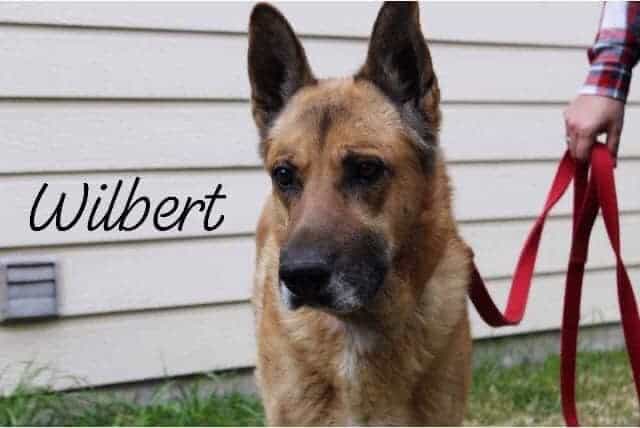 Milton – Greenawalds Service Inc.
Milton was a stunning yellow lab at Harris County Pets Resource Center with a serious problem. Initially in as a stray, he was pulled by a rescue and returned within 24 hours for attempting to bite his foster over a toy. (View his initial video and the timeline on Houston and Harris County Volunteers)
Greenawalds Service, a rescue that focuses on providing service and companion dogs for veterans, stepped up for Milton to get him out of the shelter. They asked Fur Paws Pet Hotel's trainer, Jorge Guerra, to evaluate Milton. Jorge recognized Milton's behavior as anxiety and lack of training.
Milton has worked with a trainer for a little over a month and is ready for a forever home. Milton's trainer says "Milton likes the company of humans but also likes some alone time. He needs a confident owner that will give him boundaries and not baby him." Milton is dog friendly.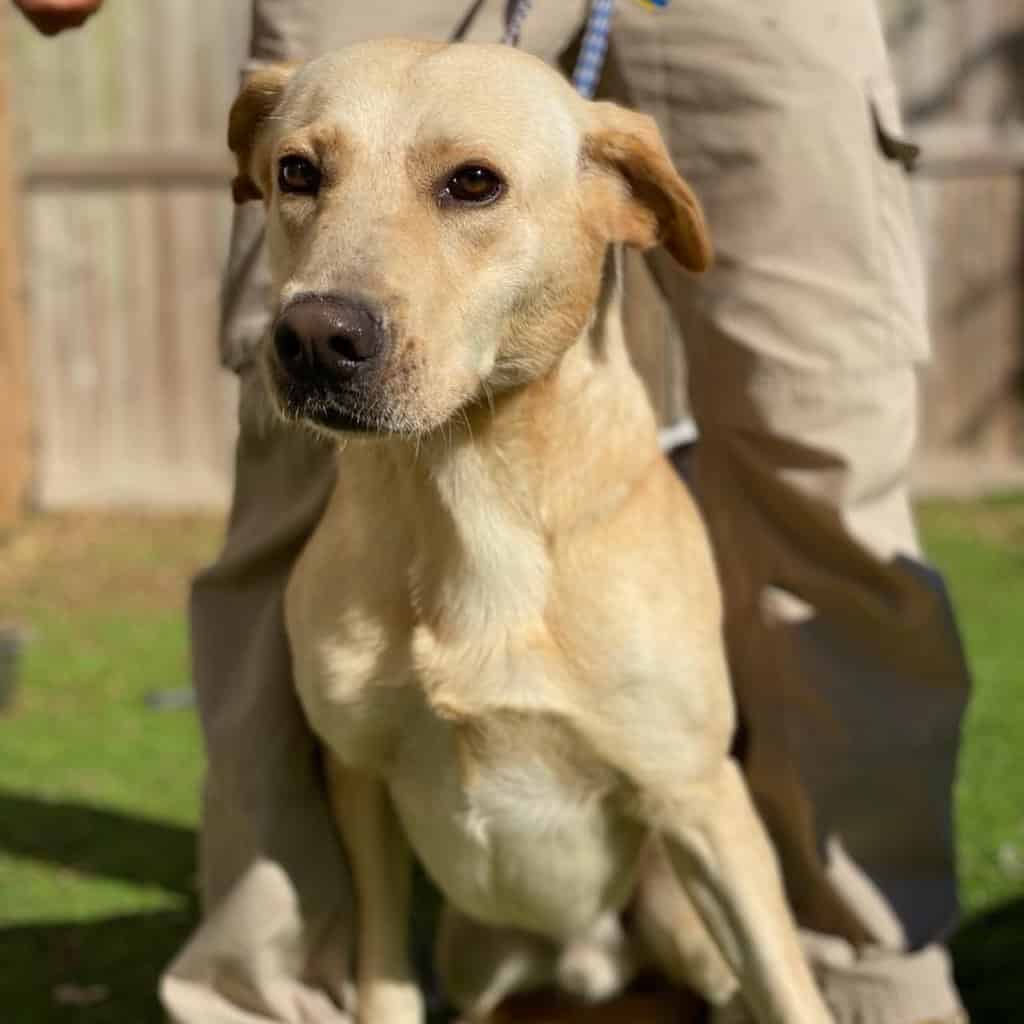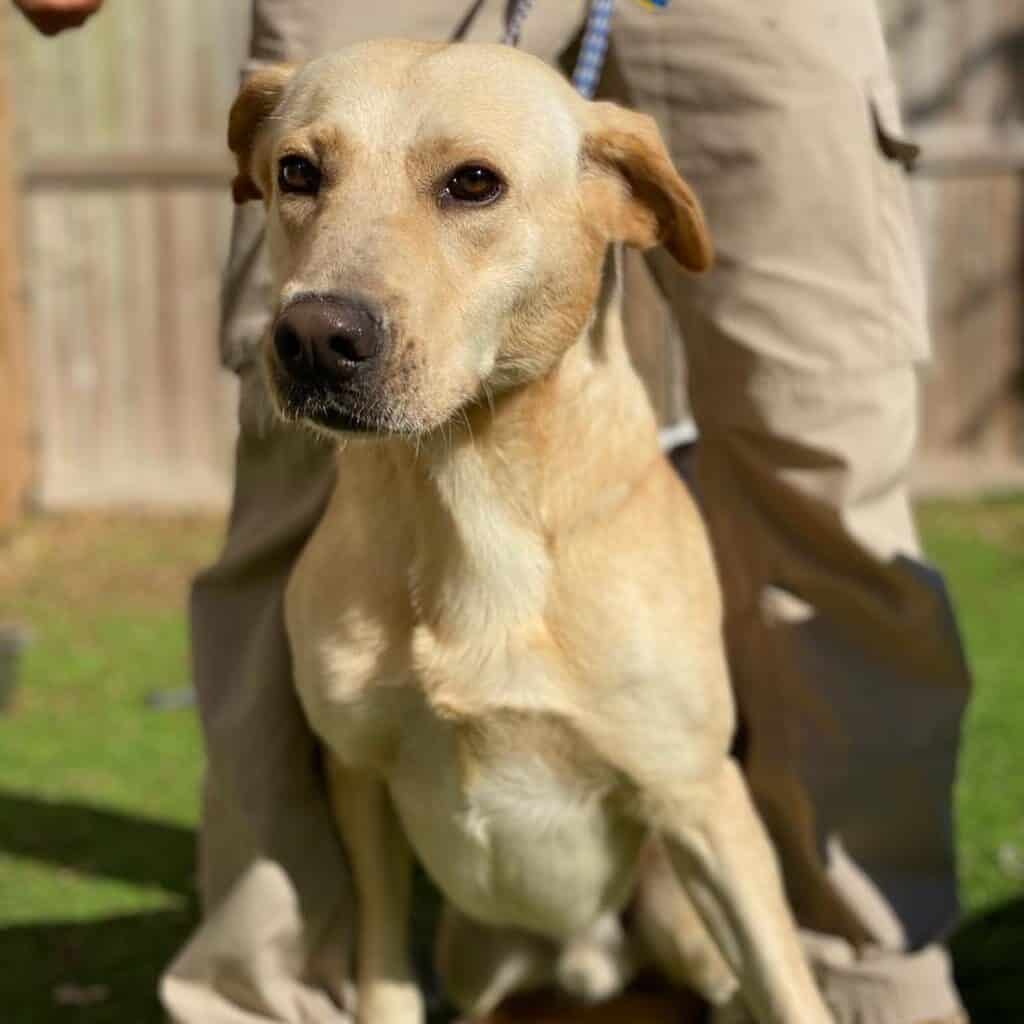 View Greenawalds Service adoptable dogs, including Milton, on Petfinder, or apply online. You can arrange to meet Milton at his boarding facility and can also meet with his trainer.
George – Animal Justice League
George is a happy go lucky boy who enjoys running the fence line, daily walks, playing with squeaky toys and car rides.
He's a quiet, sweet, friendly and gentle 5 year old that does not mind being in his crate with his favorite treat and loves his four foster doggy siblings. He's lived with a cat before, but he would do best with dogs.
George currently weights 60 pounds but is working out and looking to slim down. He likes turkey, green beans and carrots after his exercise walks.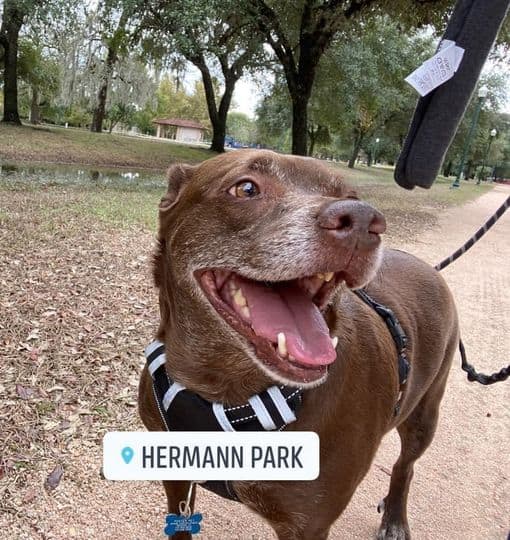 George's foster says he loves to rid in the car "shotgun" in the passenger seat, with a seatbelt on, and touching his human in the driver's seat. The best thing about Georgie? His calm disposition and his habit of little barks in his sleep.
For more information on George, visit the Animal Justice League website, or search "George" on their Facebook page.
Brody – Spring Branch Rescue
Brody was born into rescue. Spring Branch Rescue found his mom tied to a tree, pregnant. Brody was adorable as a puppy. But the family that adopted him but returned him 6 months later saying they didn't have enough time to spend with him.
The rescue foster soon noticed he had severe crate anxiety, possibly from being crated so much by a family with no time. While in the crate he would bark and spin in circles.
Now that he's worked with a trainer and receives daily walks and runs, Brody has chilled out. But he's still an athletic boy of 45 pounds and needs an adopter that will help him burn that extra energy with regular exercise.
Brody is dog and cat friendly, and the rescue is asking that the adopter have another dog that he can play with. Brody is available to adopt locally in Houston, or can transport to an approved adopter in the Pacific Northwest.
For more information on Brody, visit the Spring Branch Rescue website.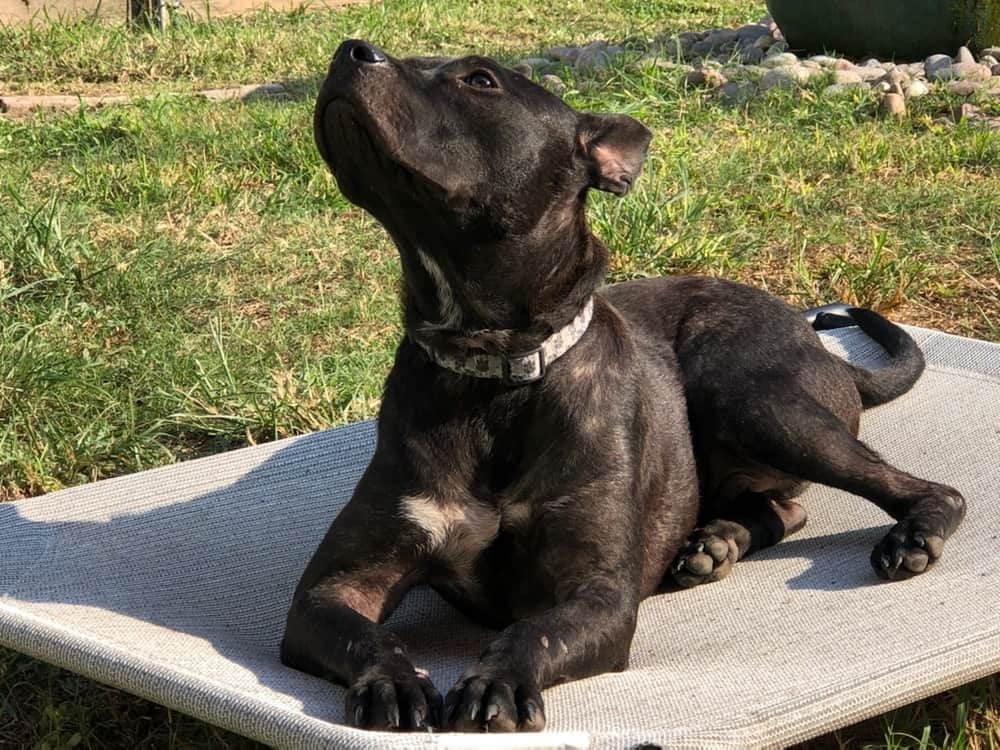 Tito – Jake's House of Animal Rescue
Tito wins the award for the dog that has traveled the most miles, only to come back to Houston to look for a home. He's a 5-year old 55 pound pit bull mix that has been looking for a home for over two years.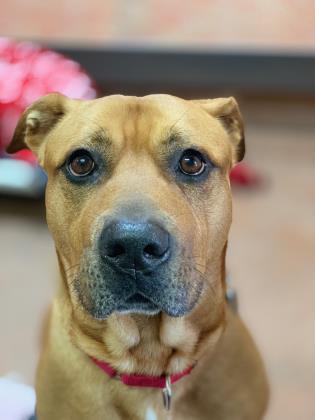 Tito was in a local Houston animal shelter when he was pulled by a rescue in September 2018 and placed in a foster home. He transported to Washington state in January 2019 where he was adopted and returned 3 times in 2 months. Tito then went to a no-kill sanctuary in New Mexico. Nine months later, that sanctuary closed due to lack of funding and Tito was homeless again.
Jake's House of Animal Rescue stepped up to help Tito. Not only did they help to fund his transport back to Houston in February 2020, they paid for a well known local trainer to work with him for some anxiety and abandonment issues. (Go figure.)
Rescue founder Jennifer Cole describes Tito as laid back and independent, with a calm personality. He likes solving puzzles to find treats, shaking hands and being cuddled. Jake's House of Animal Rescue is on a 40-acre ranch and Tito enjoys riding in the ranch 4-wheeler to sight-see. (You can rent The Wildflower Ranch or one of their tiny homes for a getaway. The ranch rentals help to fund the rescue group.)
Tito gets along with some dogs, but is not a fan of the ranch chickens or the cats. Apply to adopt Tito on the Jake's House of Animal Rescue website.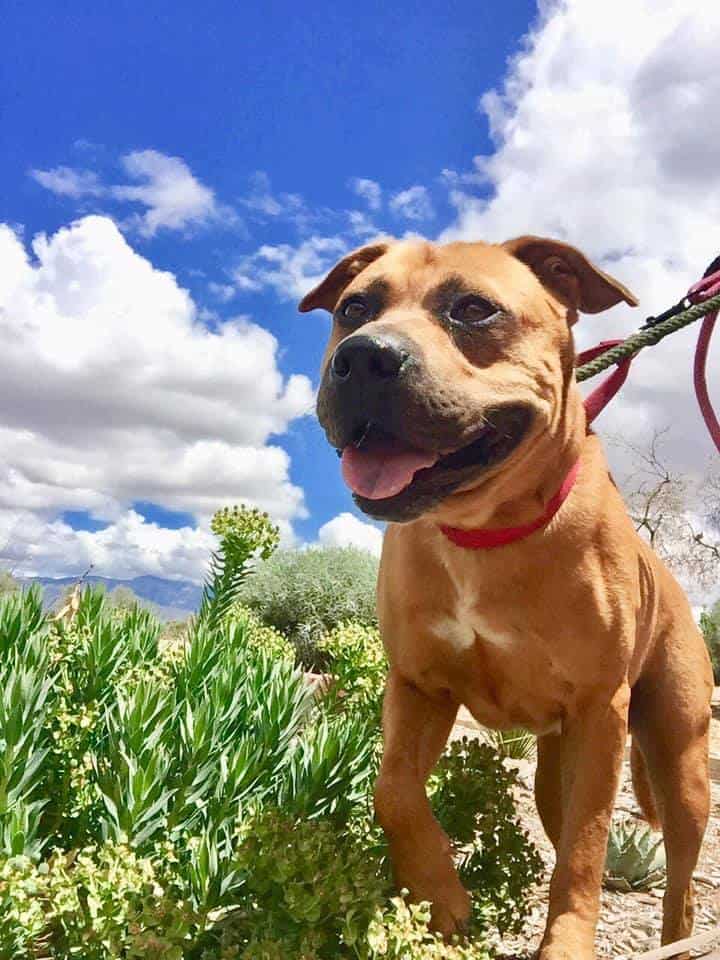 ---
There are thousands of deserving cats and dogs in Houston rescue that need homes. Many rescues post their animals on PetFinder.com. Search by zip code and type of animal to find your next best friend.