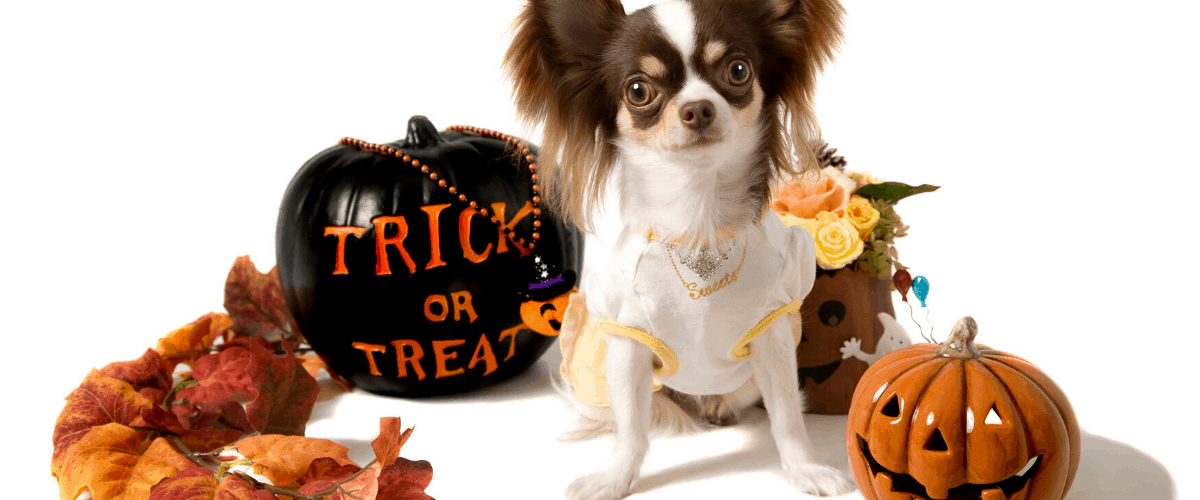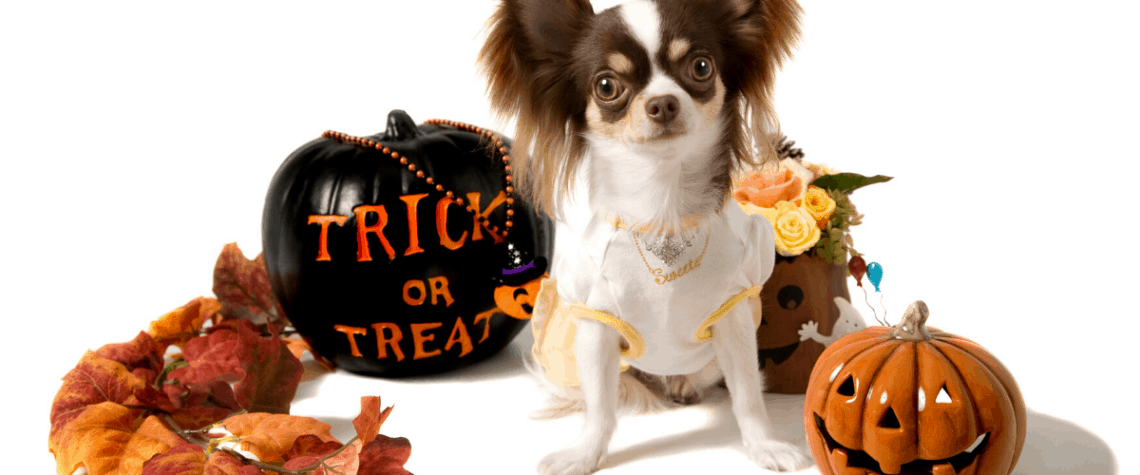 Best DIY Dog Costumes for Halloween
Been itching to use that new glue gun? Have we got a project for you! It's time to DIY your dog's halloween costume! Here are some of our favorites, with links to complete how-to's.
Wash-Off Pet Paint Costumes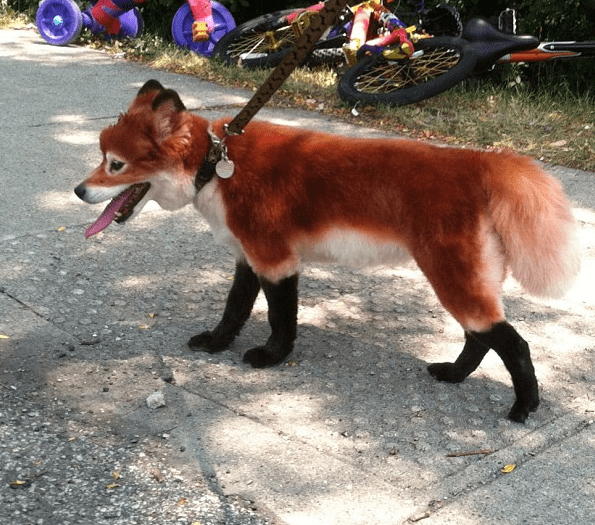 The sky is the limit with washable non-toxic pet paint! Options include spray, paint and chalk. Designs include zebra stripes, tiger stripes, day of the dead skeletons, or this foxy look! Google "painted dog costume" to get inspired, or visit Pet Paints to order pre-packaged kits with stencils and all the colors you'll need!
DIY Dog Puppuccino Costume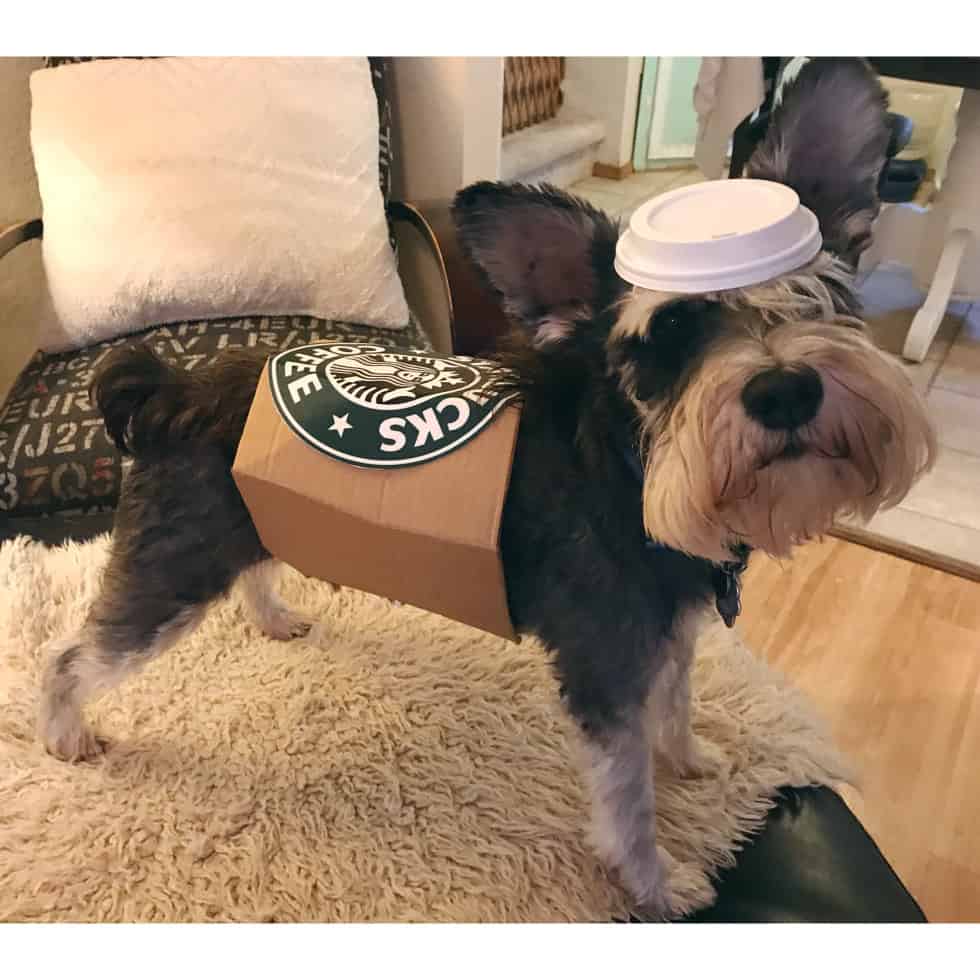 This costume is amazingly simple. All you need is cardboard, a color printer and the largest coffee top you can find. Want more detailed instructions? Check out this blog post for inspiration.
Favorite Emoji Dog Costume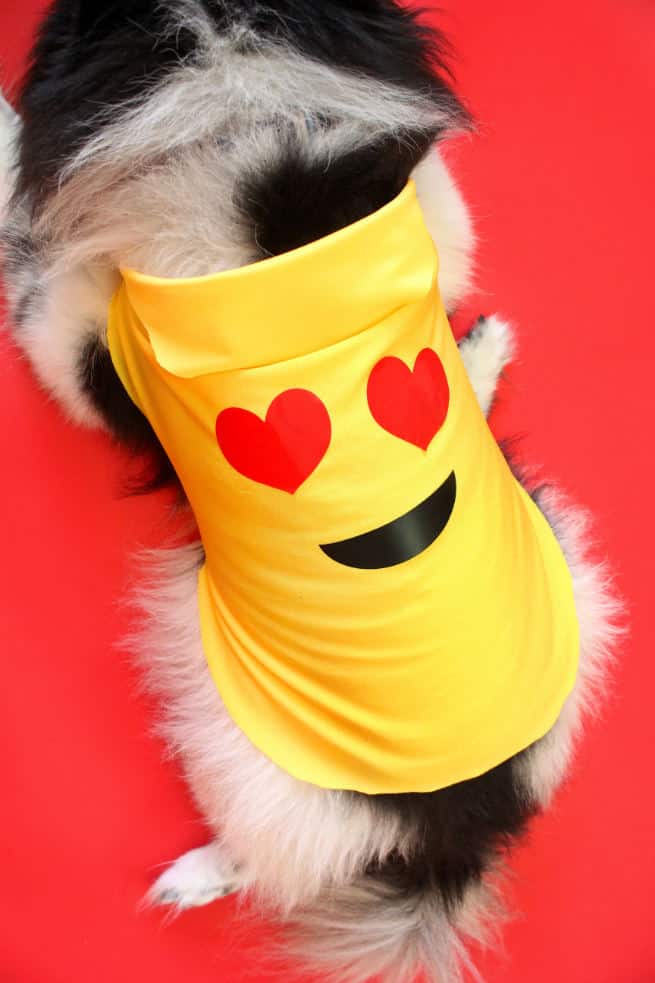 For a super easy approach, use a yellow baby onesie or child's t-shirt. Use fabric markers to draw the face. Or, get your glue gun handy and make a custom dog emoji costume (with matching costume for you!)
Cha Cha Cha Chia Pet Dog Costume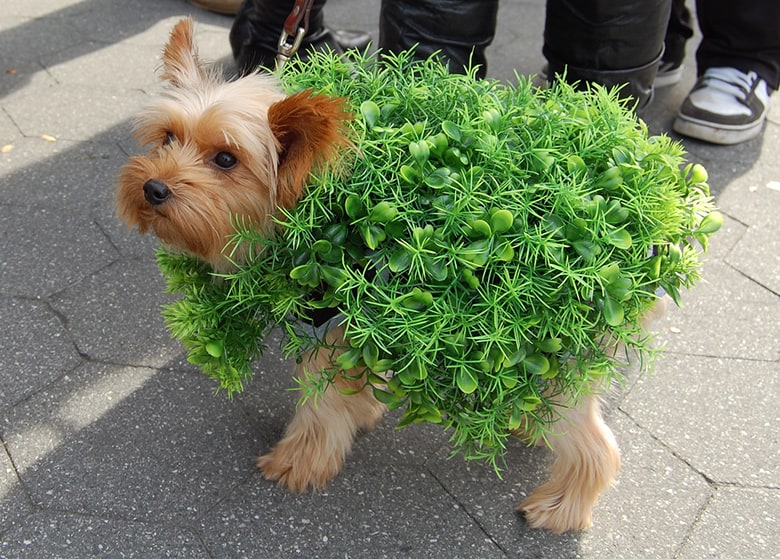 Make your dog into a Chia Pet! You will need a dog sweater that fits tightly. Glue plastic foliage to the sweater, and add "terra cotta" legs using brown fabric. Want to go super duper over the top? You can make it more complicated and turn it into a 5 hour craft project following these instructions!
Harry The Dog "Sea Monster" Costume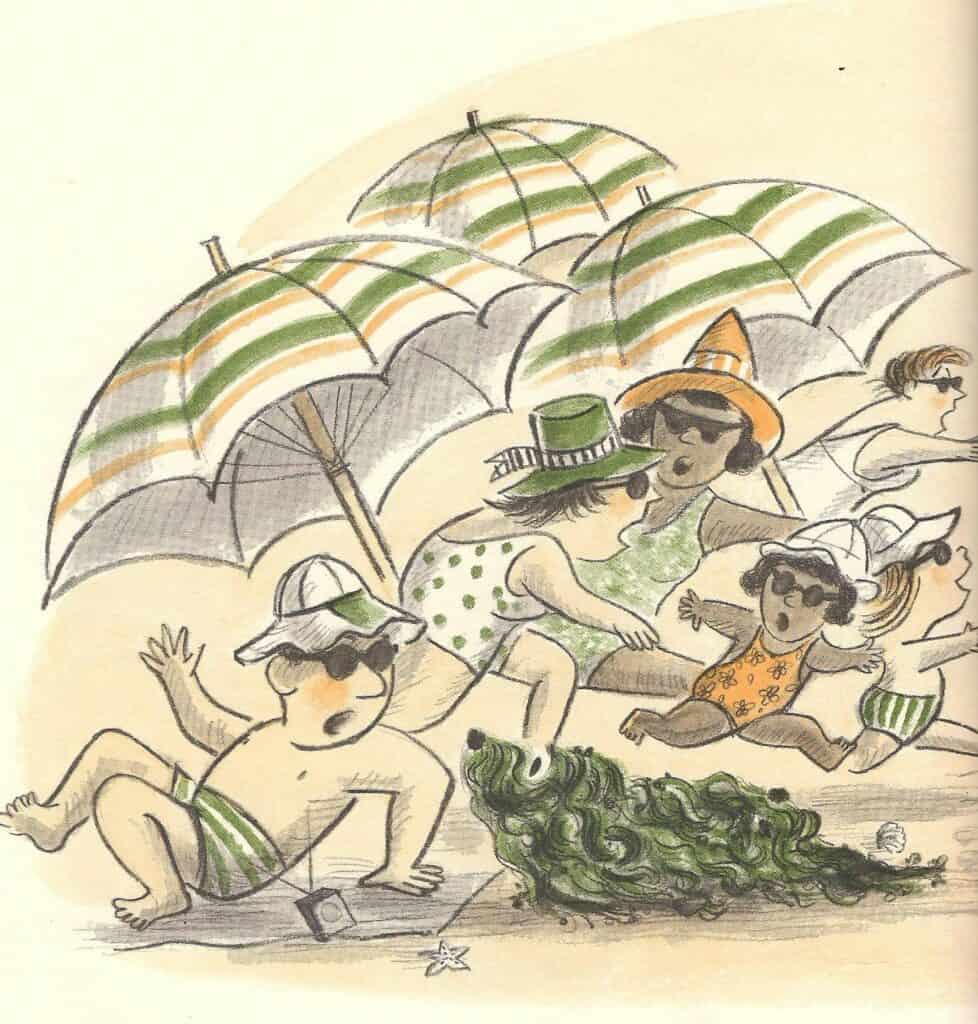 Have a bigger dog but still like the Chia Pet idea? Turn your dog into Harry the Sea Monster from this childhood classic book. Just add longer greenery and print off a copy of the book cover to hand around his neck. Boom.
DIY Spooky Spider Dog Costume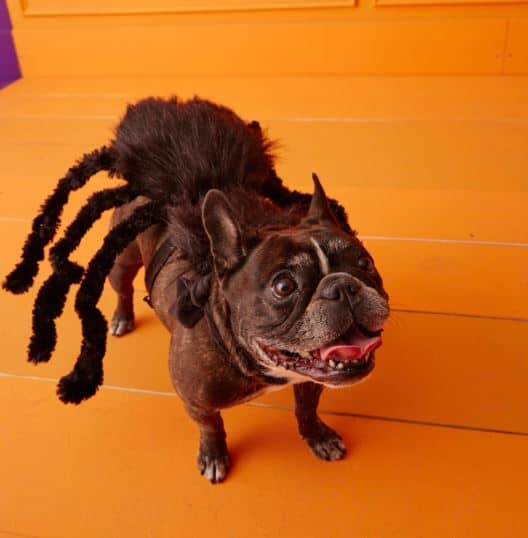 If you are the more crafty type and have a sewing machine, download a spider pattern from Joann Crafts & Fabric. This spider is made with craft fur and jumbo chenille "stems" as spider legs. Download the free spider pattern online!
Not as crafty? The easiest approach is to use a black t-shirt that fits your dog, and glue a black piece of foam to the back of the t-shirt. Glue large black pipe cleaners, or the legs off a spider Halloween decoration, to the foam piece.
Martini Dog Costume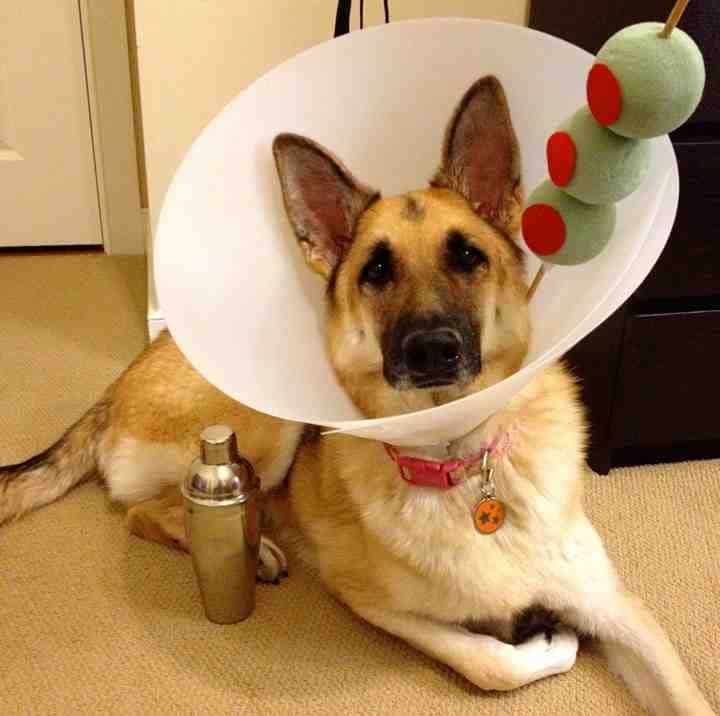 If your dog doesn't mind the cone of shame or if they are already wearing one, you can make them a martini! Paint foam balls to look like olives, and use a wooden dowel as the toothpick. Be sure that the end of the dowel isn't sharp!
ChippenDog Dancer Costume
Perhaps the perfect costume for Houston — the Chippendog Dancer! Measure a pair of black women's tights or yoga pants against your dog and cut out a hole for your dog's tail. Cut out the crotch area so that your dog can easily potty and cut off the toe of each tight. Put the tights on your dog and roll up the end of each leg. Use gauze or white vet tape to make cuffs for the front paws and add a bow tie. Don't forget to glue or tape some Monopoly money to your dog's pants!
Poop Factory DIY Dog Costume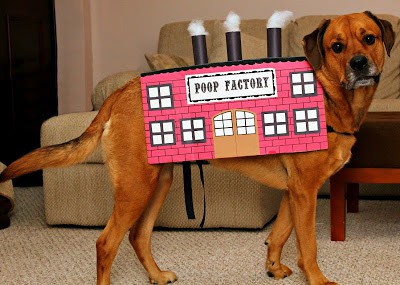 Get a box that will fit on your dog and remove all but three sides. Use construction paper to decorate the outside of the box, and don't forget the "Poop Factory" sign! Paint several toilet paper rolls black, cut slits around one end of each roll, bend the slits outward, and glue the slits onto the top of the costume to make the smoke stacks. Glue some stuffing or cotton balls into the smoke stacks, and attach a strap on either side of the box to tie under your dog's belly, and another strap across the front. Full directions here.
Dollar Store Delight
Your local dollar store has a Halloween costume section for kids, plus a kids dress up section. Grab that blue hero cape or mermaid costume! Or get some glow in the dark Halloween decorations and paste them on a doggie t-shirt. The tackier the better!
Amazon Prime – Instant Gratification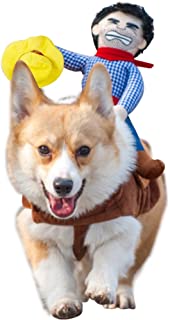 If you are anything like me, the thought of glue guns and felt gives you hives. So no, this last one isn't a DIY dog costume, it's a quick tip to save your sanity and get instant gratification.
You can buy a dog Halloween costume on Amazon for under $25. Double bonus — buy it via the Amazon Smile program and support your favorite animal rescue group!