Valentine's Day Gifts for the Dog Lover
It's Valentine's Day! Whether you're shopping for your dog, your rescue pal or your beau, we have gifts for everyone!
The adorable Dog is Good Valentine's Day collection brings back their limited edition "Dog is Love" series. So darn cute! See the whole Dog is Love collection online. (Note: Use the promo code on the left side to get 15% off your purchase of any Dog is Good merchandise!)
Or how about a new new reflective dog leash for your best buddy? This Just a Cinch dog leash from Ruffwear is great quality, with a padded hand loop. We prefer this slip lead style of leash to any other on the market. The slip leash is great for training and control while walking. Plus it removes the risk of the "tuck and duck" that can happen with a regular leash and collar.
What's better than a big mutt? Drinking wine out of glasses that say "I like Big Mutts and I cannot lie." Get the 4-pack of wine glasses at Dog is Good.
Speaking of drinking… is your dog a slob when it comes to eating and drinking? Get the Basecamp mat from Ruffwear to make clean-up a breeze. Your Valentine will thank you for being so thoughtful!
If you're in dog rescue, you've heard all the excuses. Here's the perfect fridge magnet for your Dog Mom rescue friends for Galentine's Day.
The Dog is My Zen tank is perfect for your yoga-loving Dog Mom friends to wear while doing up-dog or down-dog. (Or to wear while binging Netflix in their yoga pants.)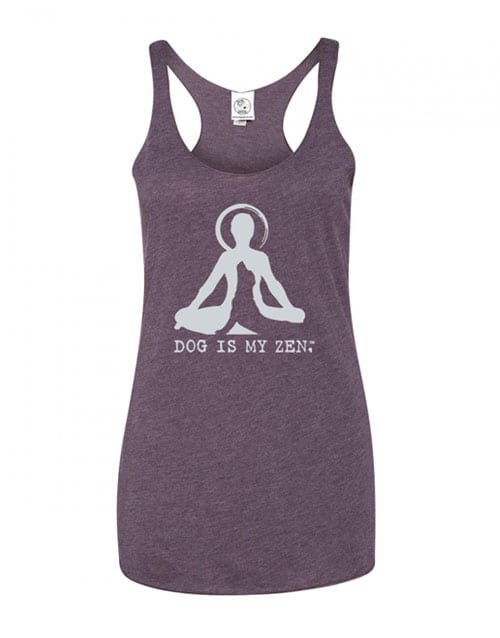 And lastly, get your doggie pals these decorated dog treats from The Doggie Express! This mini-treat pack is just $10, available online. If you spend over $25, use promo code HBM5 for $5 off your purchase! (Read more about their awesome treats in our recent article.)