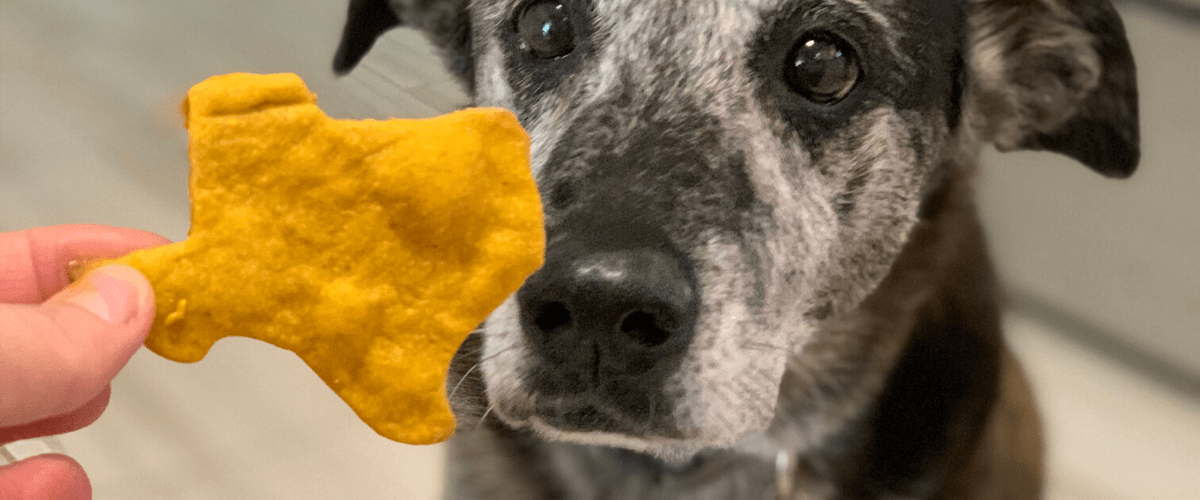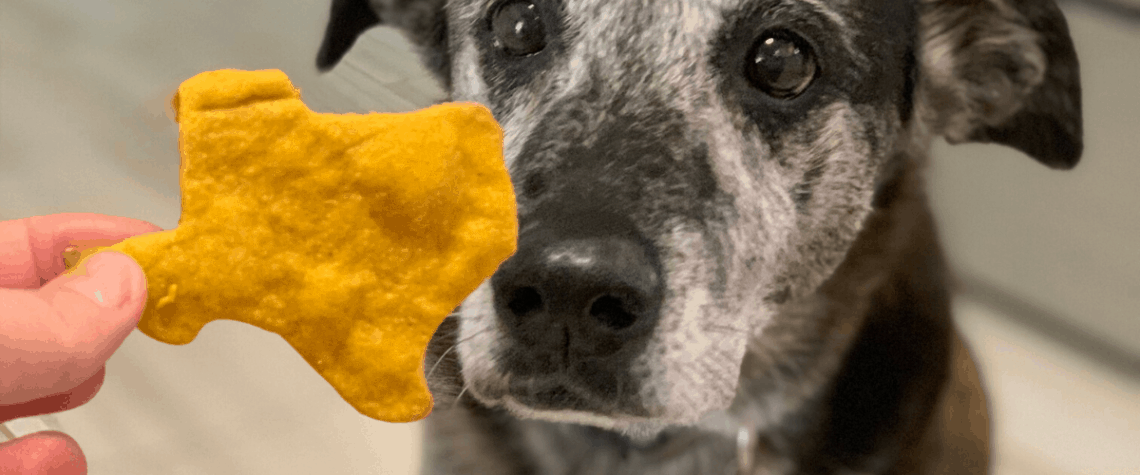 DIY Peanut Butter & Pumpkin Dog Treats
These dog biscuits are easy and low cost to make at home. And I know your dogs will love them! Because if my picky eater Tammy will eat them… chances are your dog will too.
I was on day 3 of a Flu quarantine when I decided I needed to make dog biscuits. Actually, what I needed was some dog food. My just-in-time inventory system had me one day short of my Chewy.com delivery.
So I popped on my flu mask and headed to the store. Note: if you ever want people to avoid eye contact and steer clear of you, wear a germ mask to the grocery store.
Now, I'm not big on the DIY stuff. I am pretty darn lazy when it comes down to the make vs buy decision. But this 3-ingredient recipe is super easy.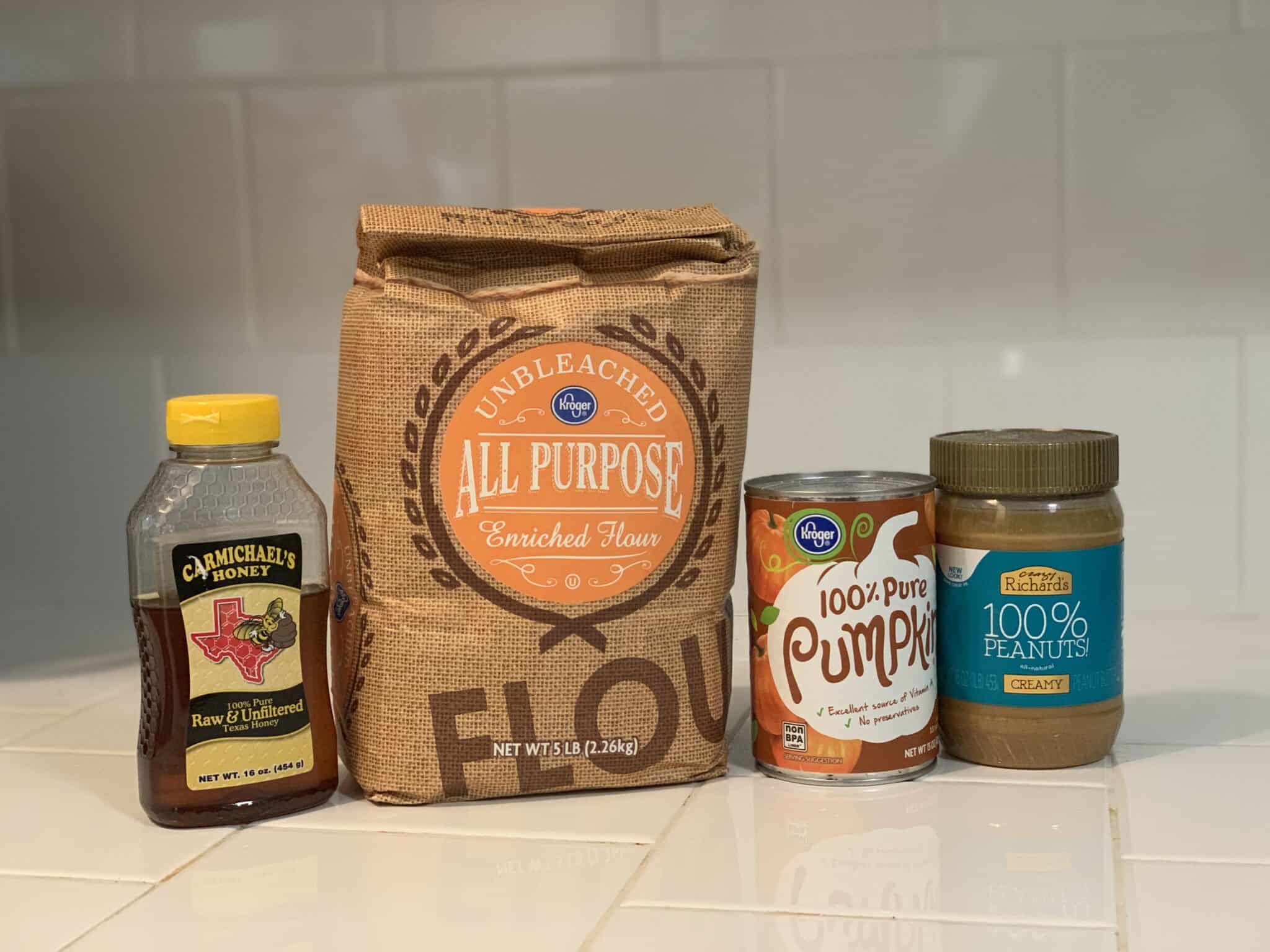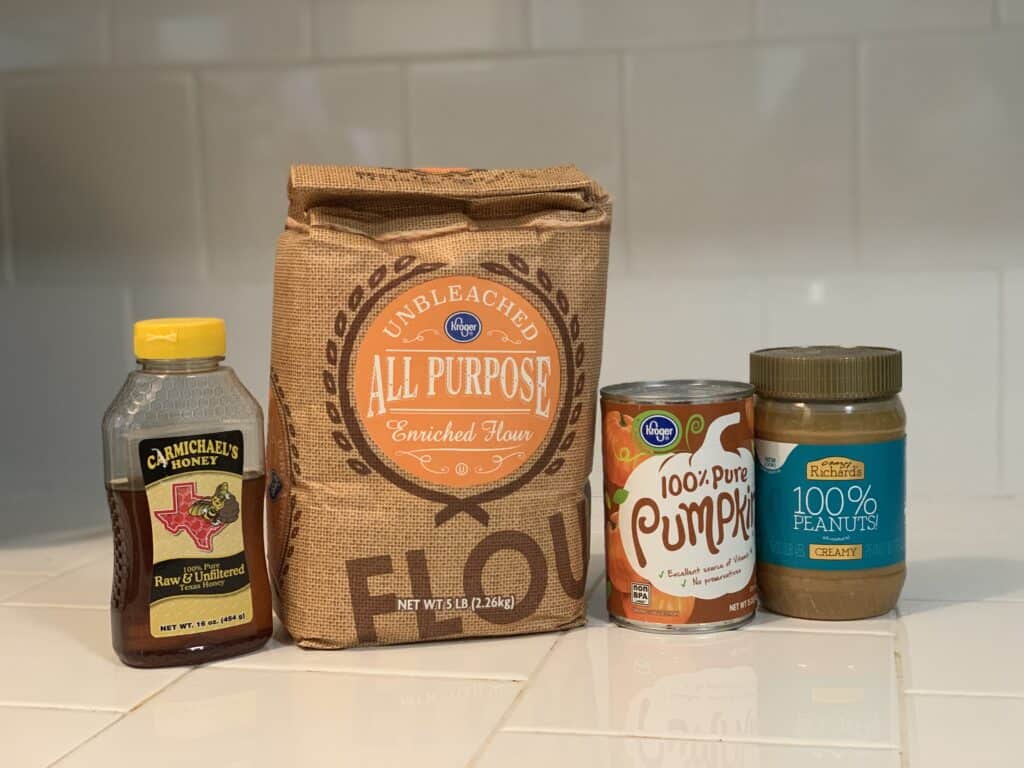 It's flour, peanut butter and pumpkin. Simple! I added a little bit of honey to the recipe. Why? Because dog treats should double as cookies! (Add 1 cup brown sugar and 2 tsp cinnamon and I swear these could go to a party as "real" cookies.)
Note: If your dog is allergic to wheat, feel free to use a substitute flour, such as rice flour, oatmeal flour or chickpea flour. You may need to adjust the amount of flour based on the consistency of the flour alternative you select.
I used a food processor to whip up this recipe. (Yes, that's an original Cuisinart from wedding #1 in 1996.) Just don't over-process once you add the flour. Otherwise the dough will get tough due to everyone's favorite, gluten.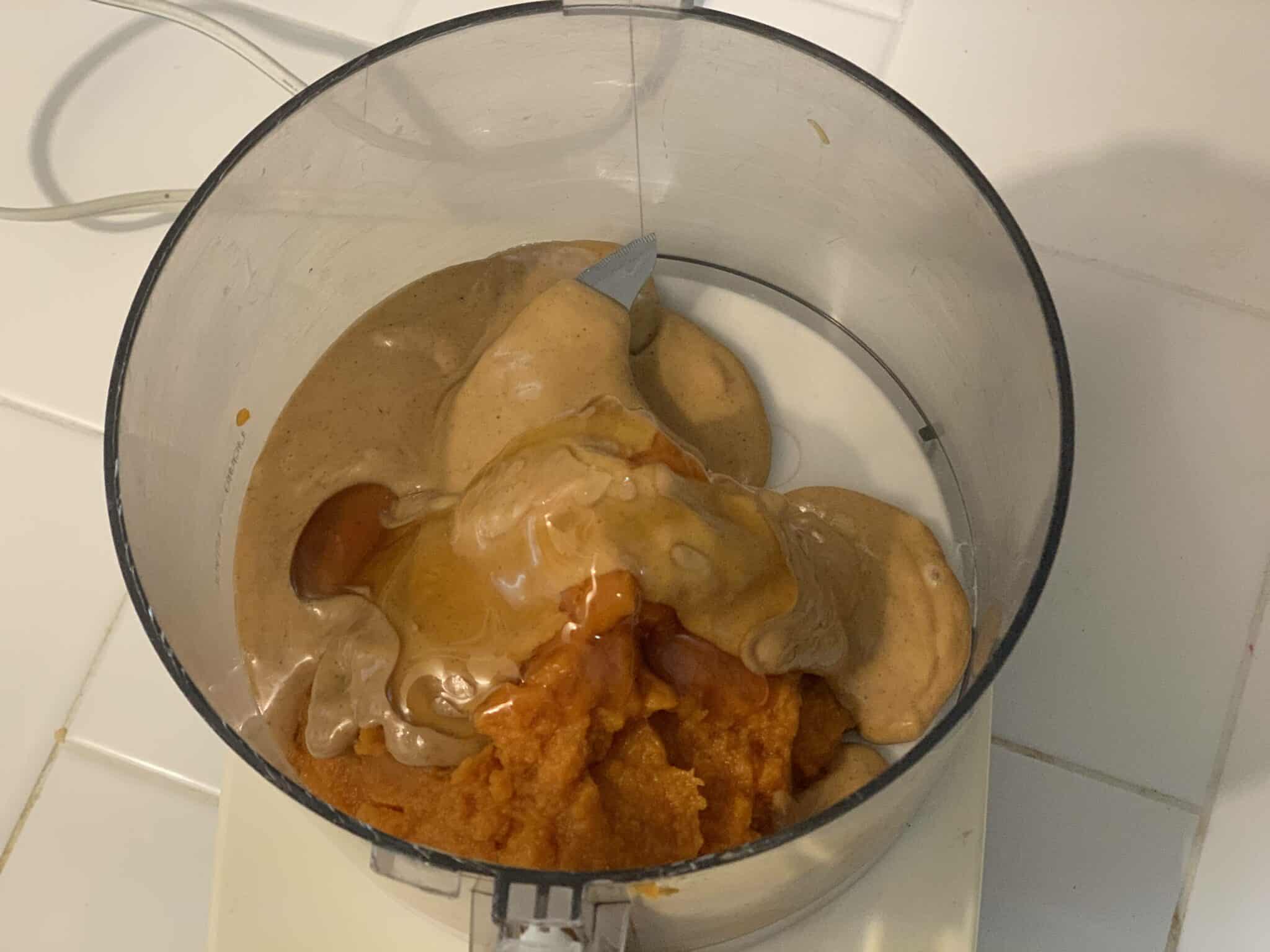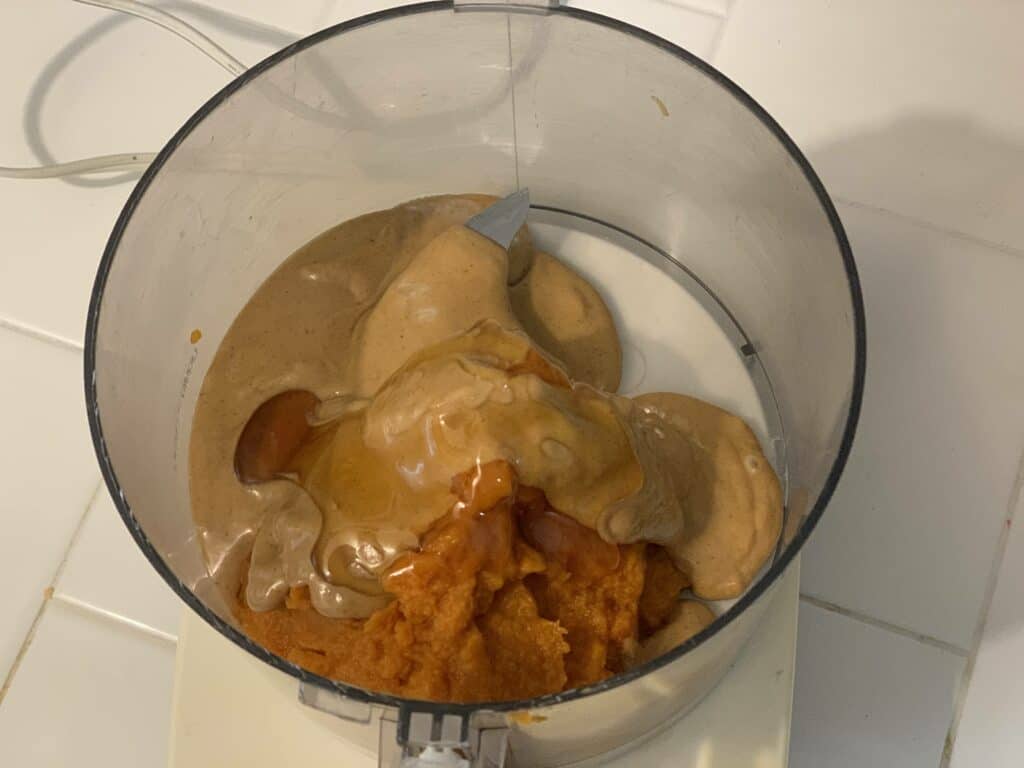 No cookie cutters? For my first pan, I used a Texas shaped cookie cutter.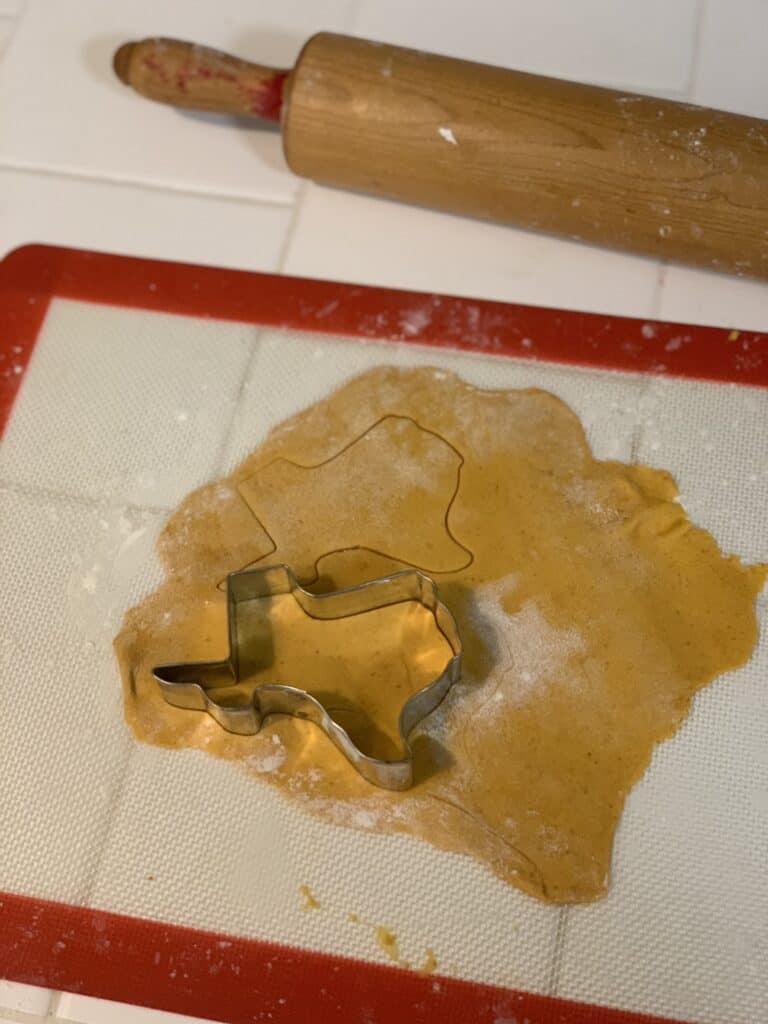 Then I switched to a glass to press circles in the dough. They came out the size around of a buttermilk biscuit.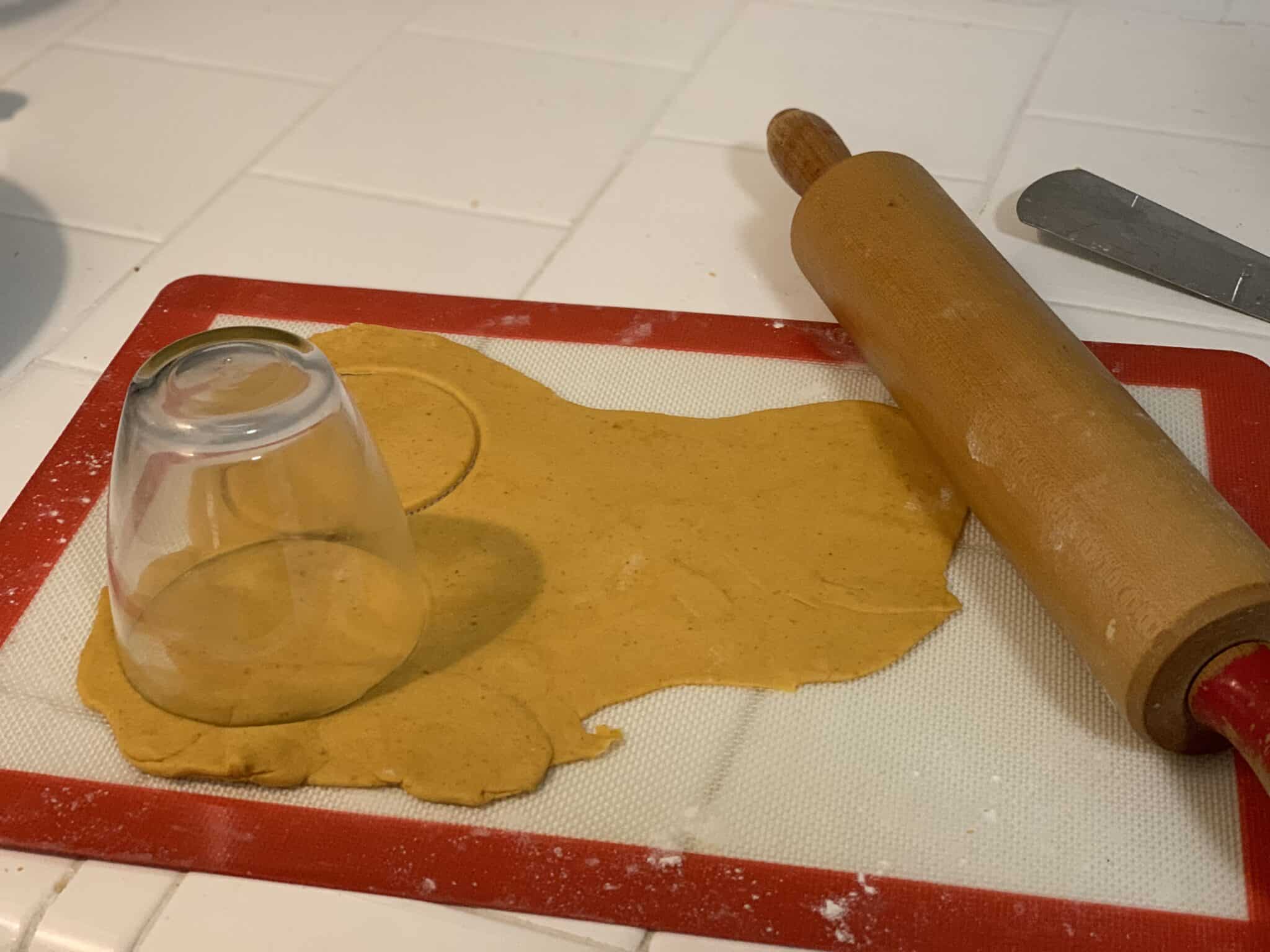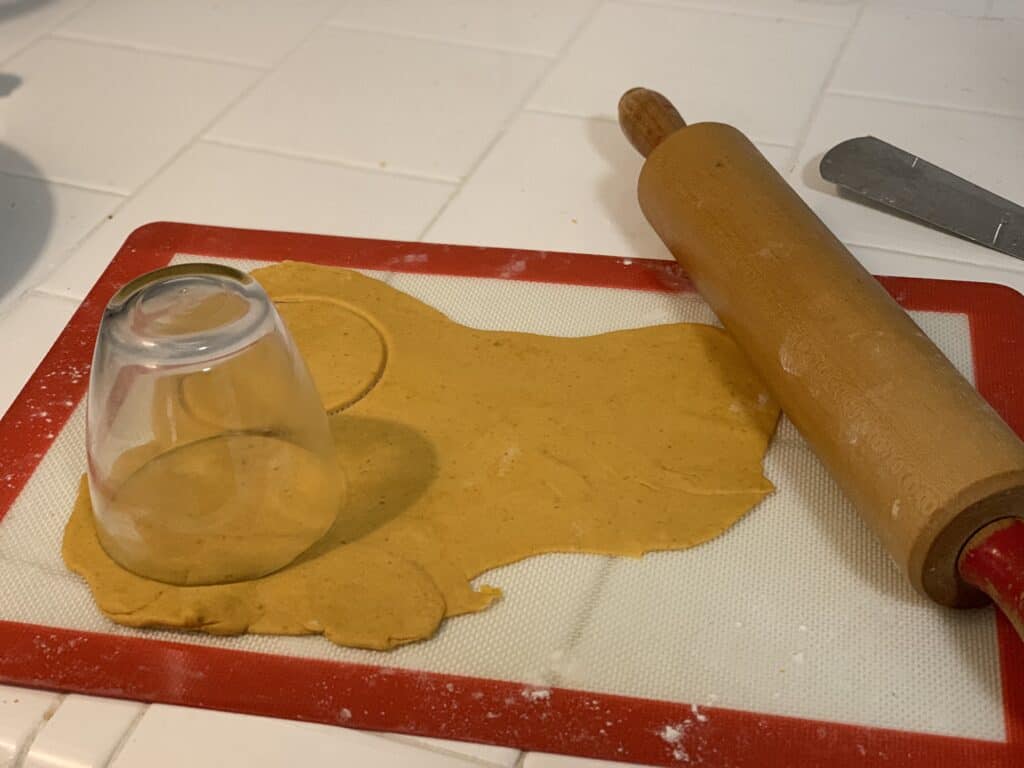 Here's the cool thing about making dog treats. If they are too crispy around the edges? A little too thin or thick? Wonky looking? It seriously doesn't matter.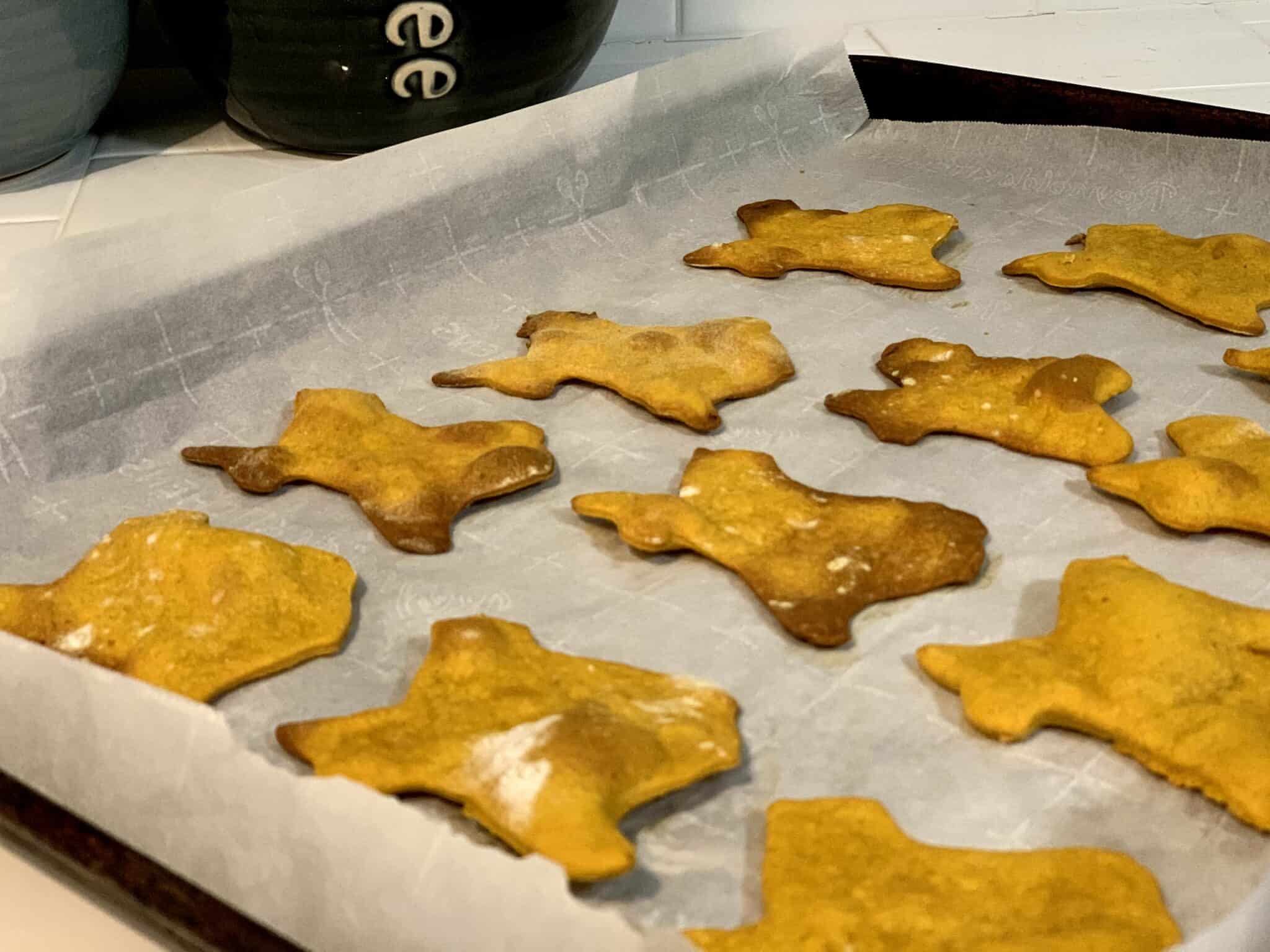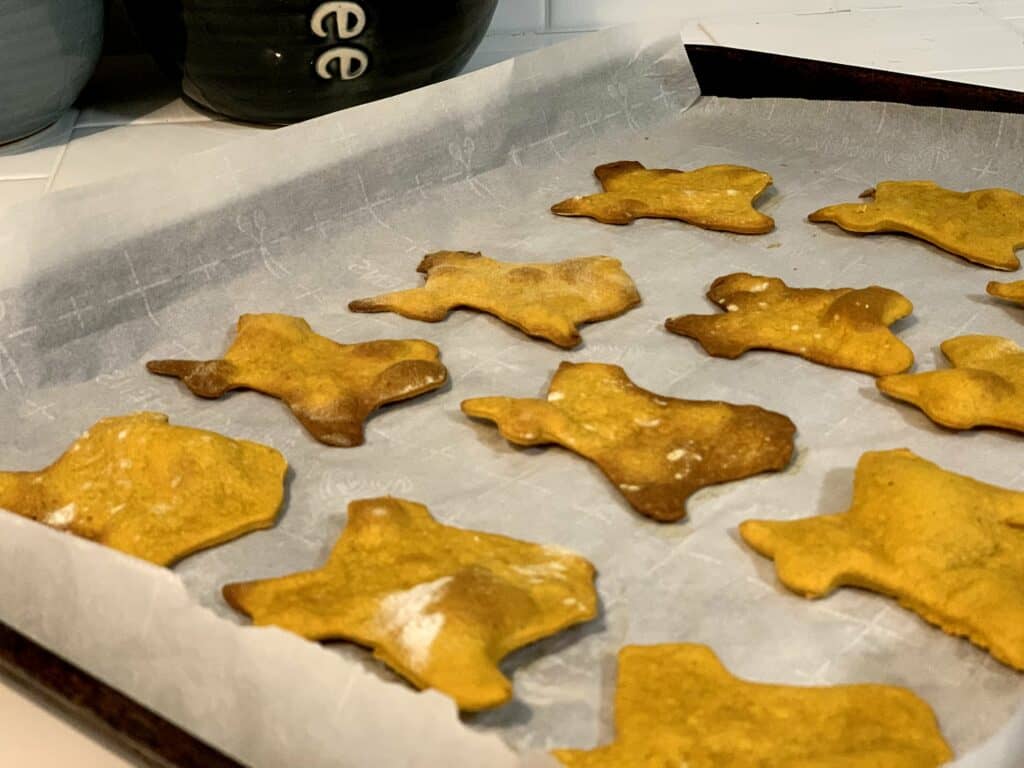 Because the dogs don't criticize. They know what they like and they nom nom it up. As you can see, Doug lives life with gusto and takes big bites. Tammy is suspicious of all food. After this picture, she snatched it up and took it outside to enjoy the ambiance.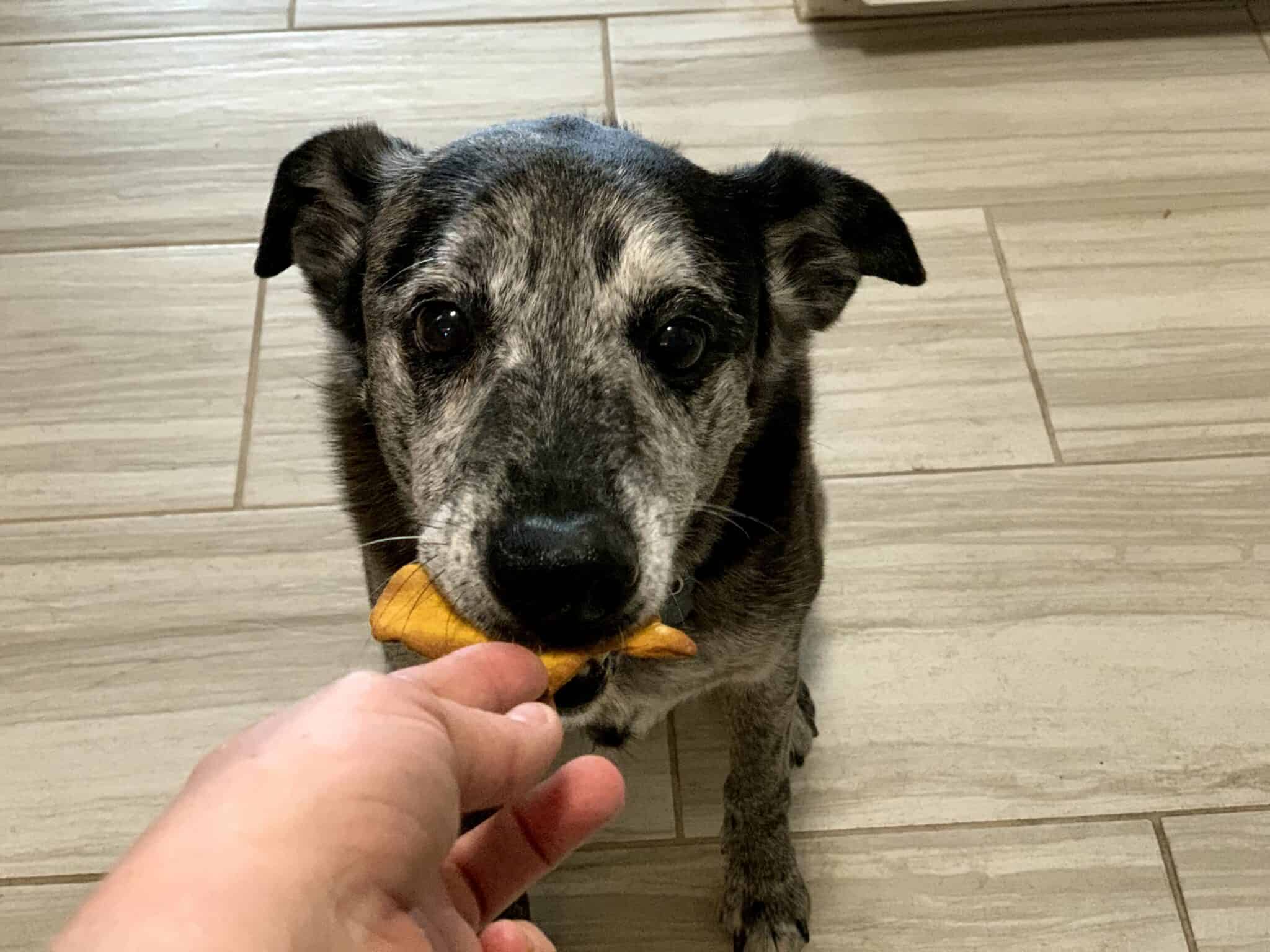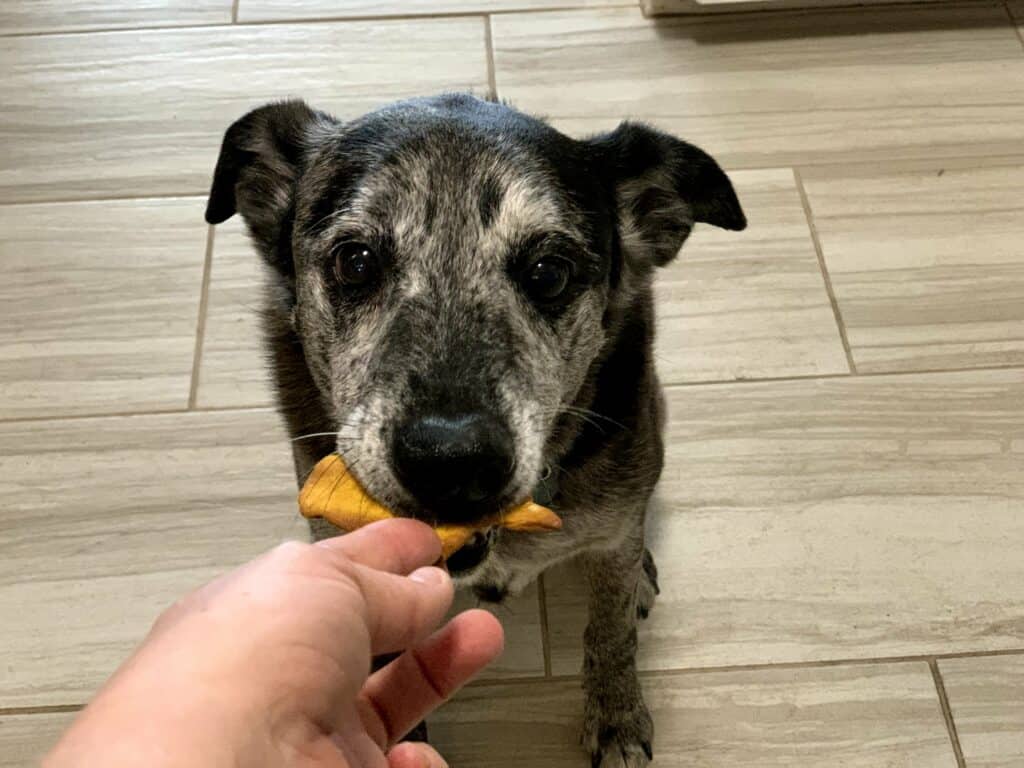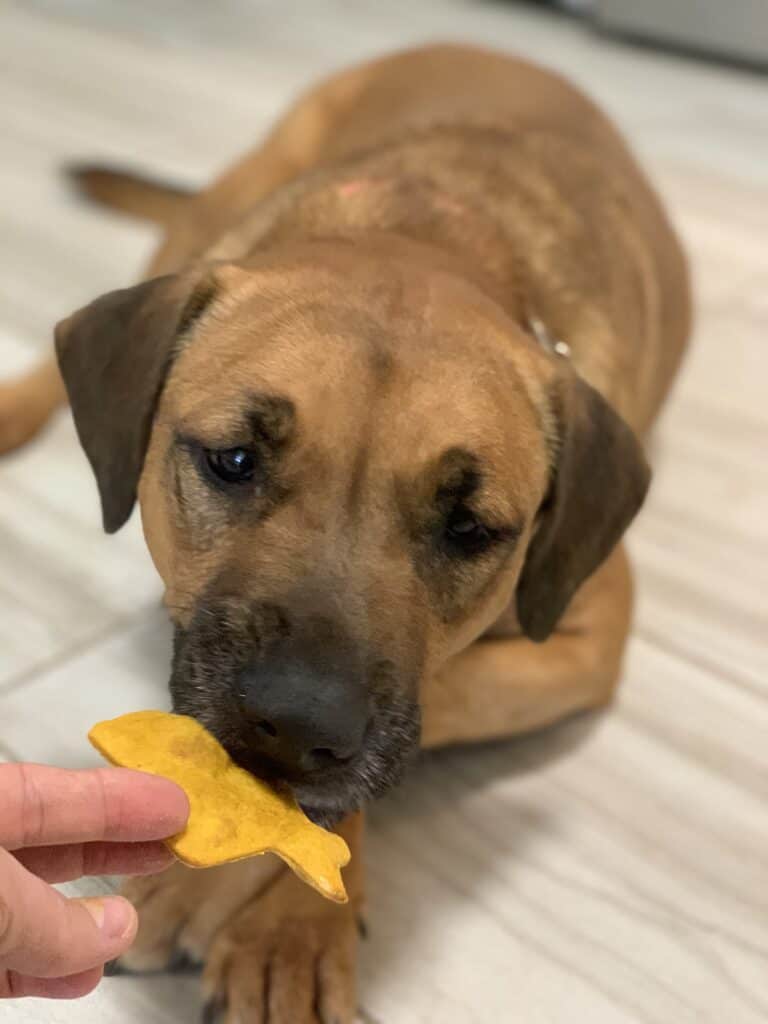 This recipe makes a lot of treats, with the quantity depending on size. They store well in the refrigerator or freezer. But they are also a hit with doggie friends, so share the joy!
Pumpkin & Peanut Butter Dog Treats
2 cups flour
1 cup canned pumpkin
1/2 cup peanut butter (chunky or smooth; xylitol-free!)
2 Tbsp honey (optional)
Preheat your oven to 375 F.
Mix the pumpkin & peanut butter together. I like to use the food processor for speed, but you can hand-mix or use a regular mixer. Add honey at this step if you like.
Stir in the flour and combine the mixture into a dough.
Roll out the dough onto a floured surface. Pick your thickness based on crisp or chewy treats.
Cut into shapes with your favorite cookie cutter.
Place treats onto an ungreased baking sheet, about a half inch apart.
Bake for 12 minutes in the preheated oven.