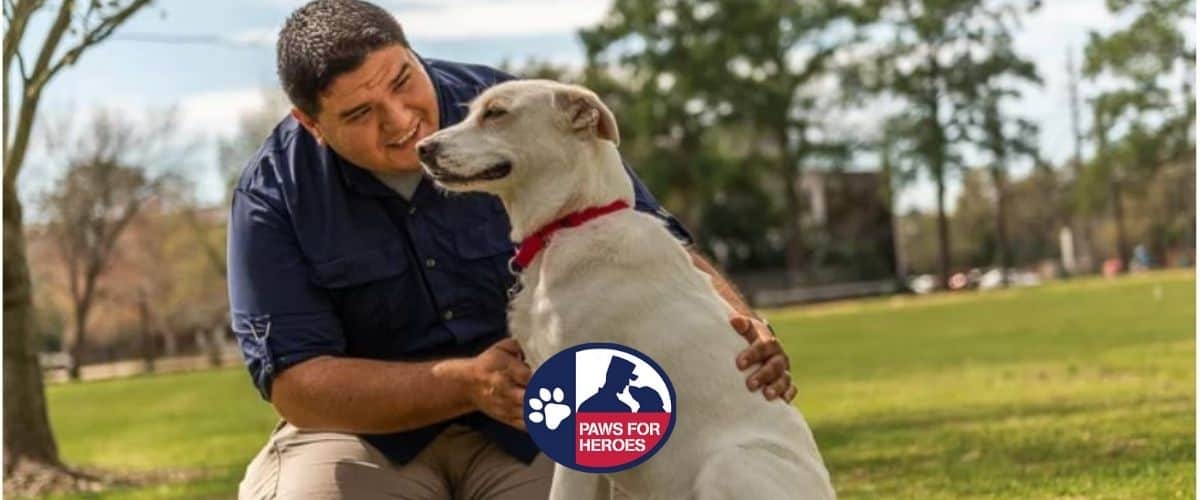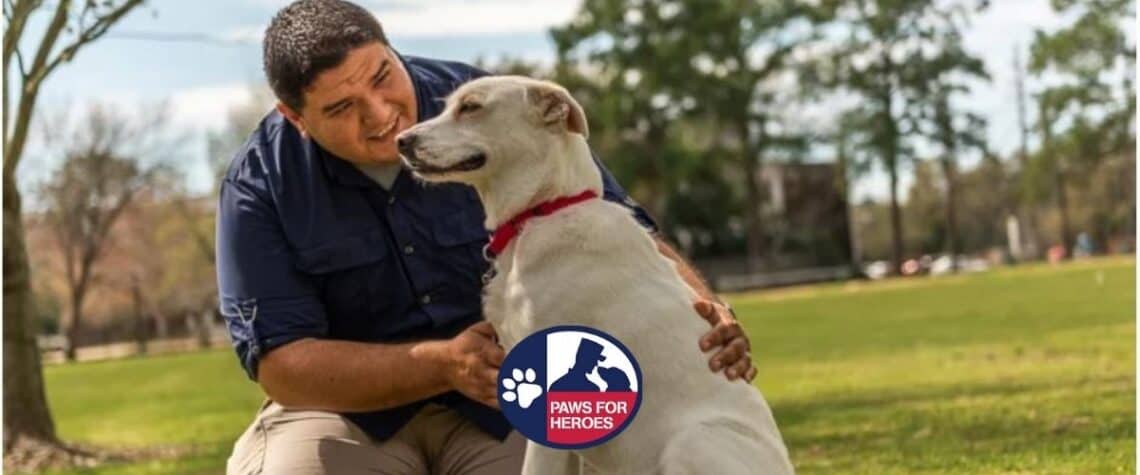 Paws for Heroes – Companion Dogs for Veterans
As dog owners, we know that our dogs provide us with companionship and love. But for those with PTSD, anxiety, isolation or loneliness, they can make a world of difference.
Paws for Heroes, which matches professionally trained companion dogs with veterans with PTSD, was started to address two forgotten populations in Houston.
First, Houston has the 2nd largest concentration of veterans in the US, some of whom are suffering from the after-effects of combat while transitioning to civilian life.
Second, Houston is home to thousands of homeless shelter dogs that are at risk of being euthanized.
Simply put, Paws for Heroes connects these two groups so that each Paws for Heroes veteran-dog team forges a lifelong bond that helps mitigate the effects of PTSD and assist veterans in their transition from military members to veterans.
About Paws For Heroes
Paws for Heroes was started in 2013 by three individuals who all have veterans in their families — Jessica Nelson, Jan Potts, Deanne Goyer.
Jessica, a military daughter/sister and dog lover wanted to volunteer somewhere that trained companion animals for veterans. The problem? She couldn't find anyplace in Houston that offered the service. She and Jan had previously worked together (both are corporate attorneys) and she knew Jan was retired.
Her pitch? "I don't think it will take more than a couple hours a month of your time." The pair still joke about those being the "famous last words." As anyone in rescue knows it can be all-consuming.
Deanne joined the team at their first event. She had just moved from Canada due to her husband's relocation and was unable to work due to her visa status. She loved the mission, having veterans in her family as well.
As Jan says, "What we do with Paws for Heroes is make life better for one dog and one veteran at a time."
The team has successfully matched over 60 veterans with their dogs, who are referred to as "Battle Buddies."
PTSD Service Dogs and Companion Animals for Veterans
A PTSD Service Dog is trained to perform specific tasks for a veteran such calm/alert to anxiety, cover/watch my back to keep other people away, or wake from nightmare. Paws for Heroes dogs are not trained service dogs. Instead, they are trained companion animals.
However, don't dismiss the importance of this role. One study found that a companion dog's untrained behaviors were considered by veterans to be equally or more important than trained tasks for their PTSD. These include the dog's ability to "provide companionship, non-judgmental support, love, a calming presence, happiness and a sense of routine."
And that's important. Many veterans with PTSD produce excess cortisol, a stress hormone that helps you sense danger, stay alert and be cautious. Those are important things in battle, but not so needed in everyday life.
Jan adds, "Spending time with the right dog causes your brain to release seratonin, dopamine and oxytocin, the feel-good chemicals. The dog actually counteracts the stress and anxiety producing hormones of PTSD."
A service dog that performs a specific task can cost $20-$40,000. A trained dog, specially selected to serve the veterans companion needs? Is free from Paws for Heroes.
But notice that Jan says "the right dog?" Finding the right dog is part of an intense selection and matching process.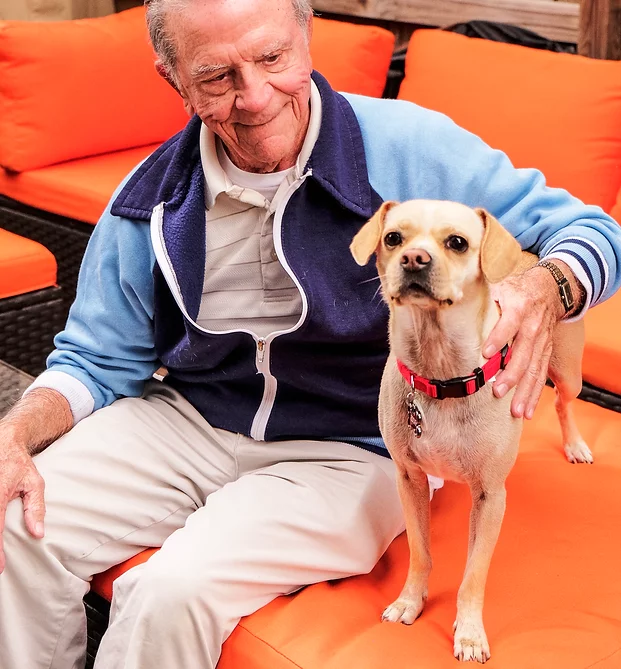 The Selection Process – Finding the Right Dog for Veterans
"There is no one best breed for service dogs for PTSD. Instead, it's all about the dog's temperament and the receiving veteran's needs," says Jan. "Finding the right dog is the most time consuming part of what we do" and can take up to 6 months for a placement.
The first step is understanding what the veteran needs. What size and style of dog works best for them and for their family?
Next, the group looks at available dogs at local shelters including Houston SPCA, League City Animal Care, South Houston Animal Shelter and Montgomery County Animal Shelter. They also work with rescues like Adore Houston and Red Collar Rescue.
The ideal companion dog for veterans is one that is happy, self-confident and people oriented, and between 2 and 4 years old.
Volunteers conduct a series of tests with the dog. For example, the first test is to gauge their interest in humans. Does the dog seek out humans or are they disinterested? The next test is to pet the dog for 60 seconds (timed). Does the dog want to move away or are they staying by the human? Other tests help evaluate food aggression, playfulness and their curiosity (or fear) or new objects.
Once a candidate is identified, a behaviorist/trainer performs the same tests on a different day. Are the results consistent?
Acceptable candidate dogs then proceed to the next step: training.
Training Dogs to Become Veteran Companions
Training is conducted in two parts, over 8-10 weeks.
Once selected for the Paws for Heroes program, a dog will go directly to a one month foster home. This helps the dog decompress from their time at the shelter. During this time the foster will observe the dog's behavior to confirm that the temperament is what was previously observed. The foster will also work on crate training, potty training and helping the dog understand house behavior.
Next, dogs go to a board and train facility for obedience training for 4 to 6 weeks.
Here they learn basic commands including sit, down, lie down, place and come. The commands need to be fully obeyed, without question. The dog must learn to be a solid, dependable companion to their owner.
"For example, the stay isn't stay until you don't feel like it. It's stay until I tell you the next command," says Jan.
Once training is completed, the veteran receives a crate, bed, bowls, leashes, toys plus training sessions with the trainer to ensure a smooth transition. All services are FREE to the veteran.
Successful Matches – Veteran and Companion Dog Teams
The process must work. Jan says that in over 60 matches of veterans and dogs, there's been only one mismatch, which was quickly resolved. The success stories of Battle Buddies and their veterans are all over their website.
Like DJ and his dog Axel.
When Axel was presented to DJ, his wife, Cathi, was so happy to see the joy on her husband's face, saying, "I haven't seen him beam like that since the birth of our children. Since Axel has arrived, he hasn't stopped smiling." DJ's wife Cathi said Axel has been a Godsend in helping DJ with his PTSD. Cathi said Axel has given her family back the husband and father they thought they lost.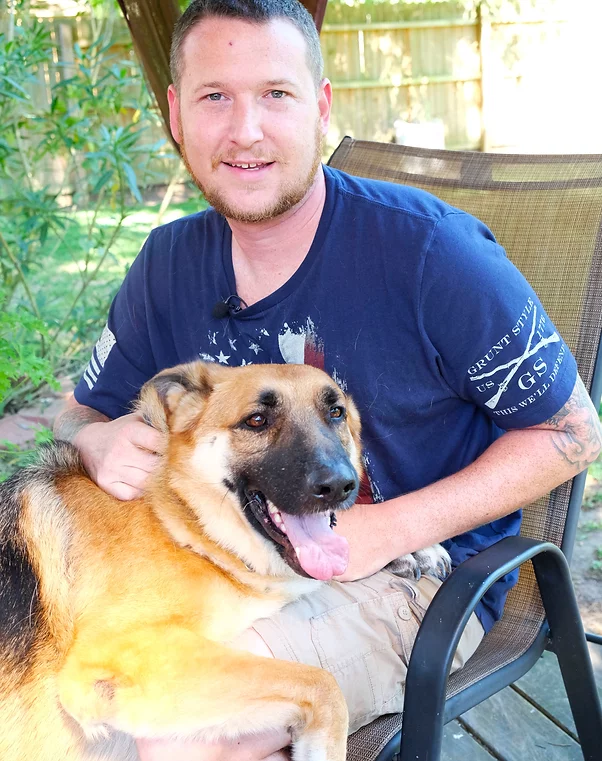 ​Or this team, Lashada and Rocky.
"Rocky is like having a best friend around all of the time who is up for doing whatever I want to do…whether that's napping, watching football or going for a walk. He's awesome!!" Lashada said one of the best parts of receiving a dog from Paws for Heroes was all of the information they provided, their willingness to answer any and all questions and being there every step of the way after Rocky was placed with her.
How to Apply for a Texas Companion Dog for Veterans
Texas veterans that need a companion dog can apply for services through Paws for Heroes' web site. Typically, a matching companion dog is placed within 6 months of application.
Jan also emphasizes that even if a veteran does not work with Paws for Heroes, they should not hesitate to look for a companion dog on their own since local shelters and rescues are full. Look for a dog that meets the screening tests outlined above.
How to Support Paws for Heroes
Become a Foster! Fosters are needed for a 4-6 week commitment. These fosters help evaluate the dog, work on crate training and potty training, and confirm that the dog's temperament is a match.
Donate to support Paws for Heroes. Their services are free to veterans.
Follow on Facebook
Attend an event benefitting Paws for Heroes! The Pup Stop on Wakefield, a charity give-back group, will hold "Here Comes Santa Paws – A Benefit for Paws for Heroes" on December 4th from 1-4pm. This event at American Legion Post 560 Garden Oaks will include professional dog photography, vendors, and raffles with 100% of funds raised going to the rescue group.
Purchase a stuffed Battle Buddy! This is how we originally found out about Paws for Heroes – their display of stuffed animals at an event. Who can resist a new stuffy? Each one comes with a photograph of the Paws for Heroes team that they represent. Pick up your Battle Buddy at the December 4th event or shop online!