The Doggie Express – Best Dog Treats in Houston
We've already established I'm not a DIY person. (For proof, here's my post where I make my own dog treats.)
So when I thought about making my own DIY Valentine's Dog Treats, I reached out to The Doggie Express (DEX) to find out how they make their treats look and taste amazing.
First a little about them, then on to my DIY Decorated Dog Treats.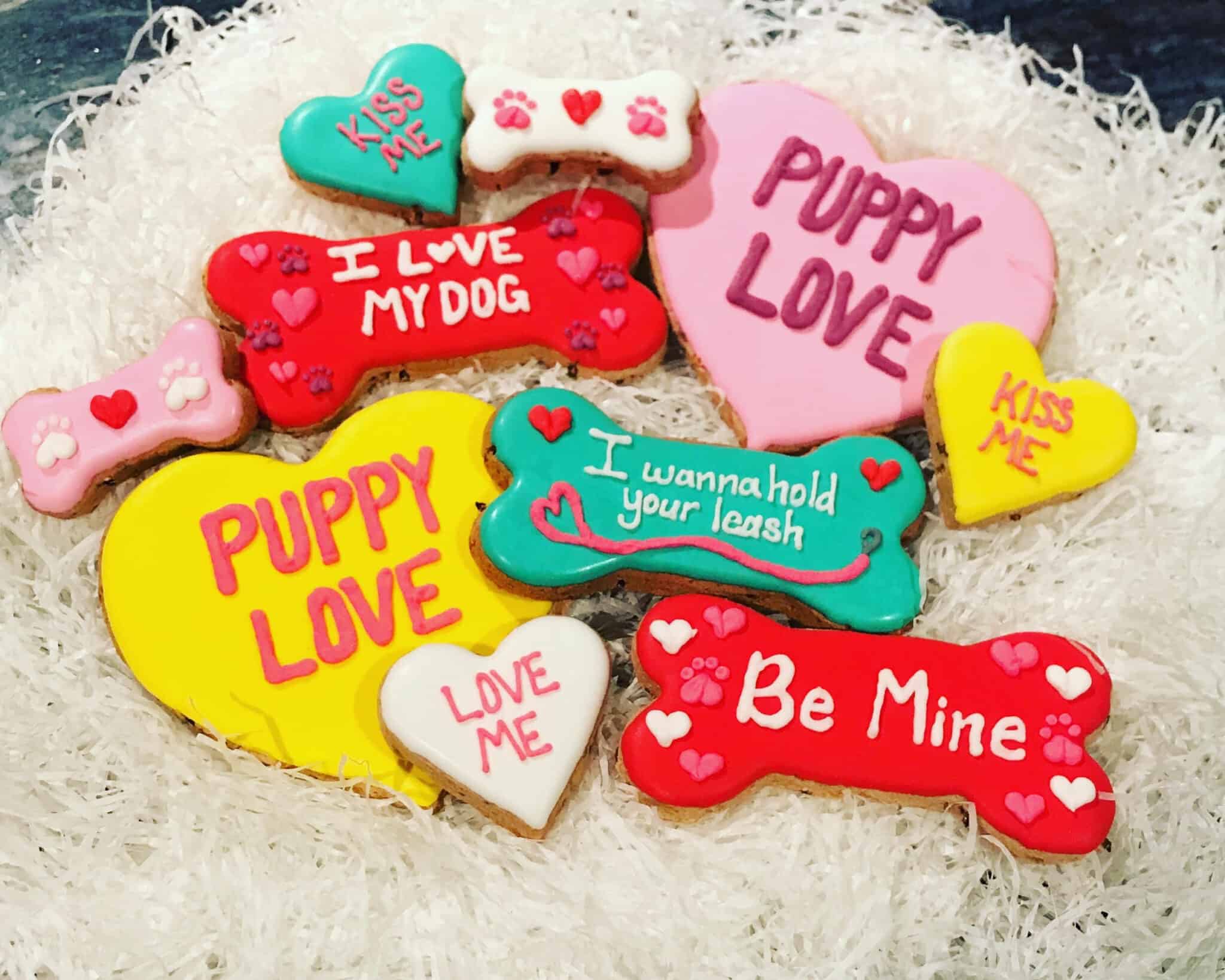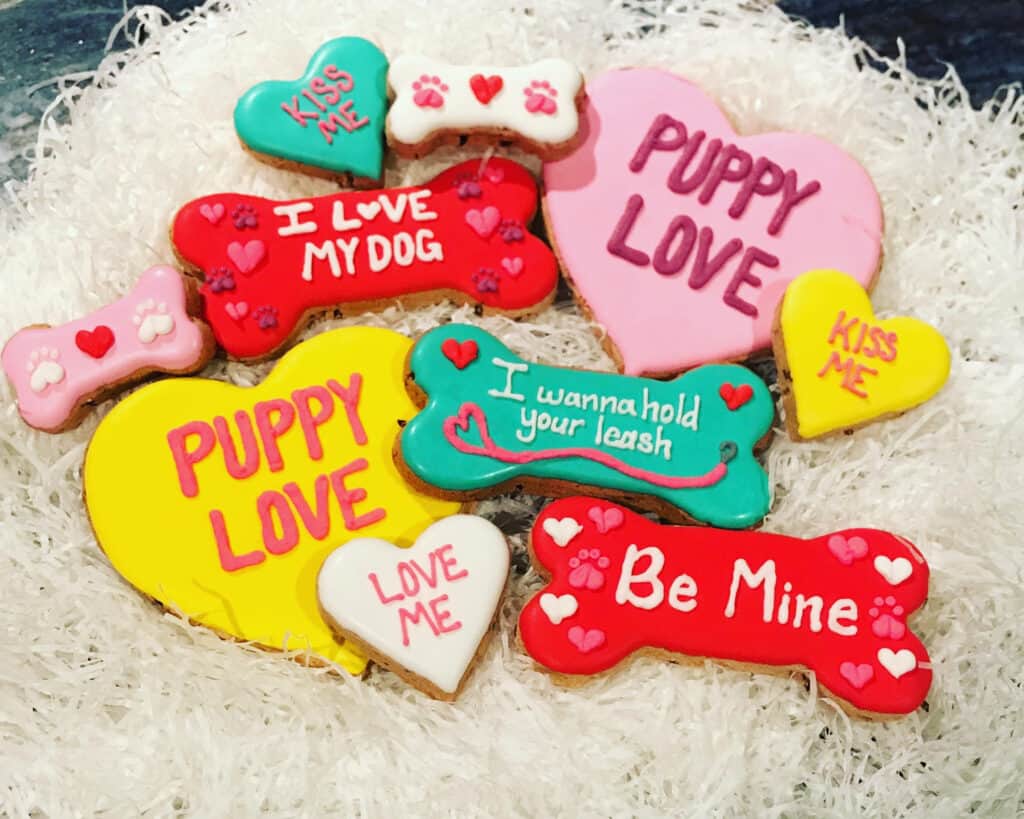 About The Doggie Express
DEX started in 2014 the brainchild of Kelly Long. Kelly is a scientist by training (PhD in Physiology).
After her dog got sick eating some commercially available dog treats, Kelly began researching how to make high quality dog treats.
When an Edible Arrangements truck passed her one day, something sparked. What about making beautiful dog treats, and delivering them to customers?
From that idea grew a business that now serves 24 retail locations (see list on their website), including the Bucc-ee's in Waller, WoofGang Bakery, Flying M Feed Co, Patsy's Pet Market and Rocky & Maggie's Pet Boutique. They also have a pop-up shop for the holidays in The Galleria, 1st floor near Peli Peli.
You can also buy direct from The Doggie Express, selecting specific products, or by signing up for DEX Swag, a monthly treat box subscription. (More on that below)
Best Dog Treats in Houston Texas
DeX likes to say "We wouldn't feed our dogs something we wouldn't eat ourselves."
So of course I tried them. (Don't YOU taste your dog's treats? Surely I'm not the only one?)
After tasting them myself, I can honestly declare that I think they are the best dog treats in Houston Texas (and beyond).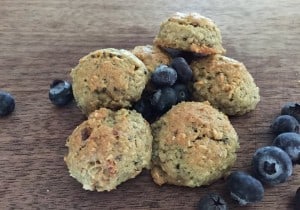 All treats are made with human-grade ingredients and local sourcing. All treats are organic, grain free, gluten free and dairy free. This helps avoid allergens. For example, their products include:
The Doggie Express Dog Treats
Doggie Express makes a range of treats including:
Woofins – Mini muffin biscuits in 5 flavors including blueberry bacon, peanut butter banana and cranberry almond
Pupcakes -Cupcakes for your pup
Cookies — Variety including decorated or undecorated cookies, and the popular crunch cookies in several yummy flavors. (Try the Blueberry Bacon Crunch. Trust us, they are delicious!)
Ice Cream – Made from almond milk, in Strawberry Banana, Peanut Butter Banana, Peanut Butter Banana Bacon and Ruffy Road.
Bones Day Cakes — Personalized for your buddy's birthday.
Jerky — Both Clucker and Moo Chew variety (chicken or beef) in 1/4 and 1/2 pound jars
If you've sampled any of the treat and toy boxes and found the treats a little lacking, The Doggie Express offers an alternative. Called DEX SWAG, it's a monthly subscription service of yummy treats. You can pick your own assortment, or get the monthly selection, aka The DeX Boneyard, for just $25 a month.
Why Royal Icing and Not Yogurt?

Many DIY Pinterest dog treats use yogurt as a frosting base. DEX uses Royal Icing. Turns out many dogs are lactose intolerant. Dairy can cause gas and diarrhea. Not what you want for a special treat. The sugar in the icing is less then the sugar level in many yogurts.
Making Frosted Valentine's Dog Treats
Now on to my tour!
When I entered the DEX bakery, I was greeted by Quality Control Staff Dexter and Ellie.
I was amazed at the array of beautiful decorated cookies they were making, and asked how they come up with their ideas.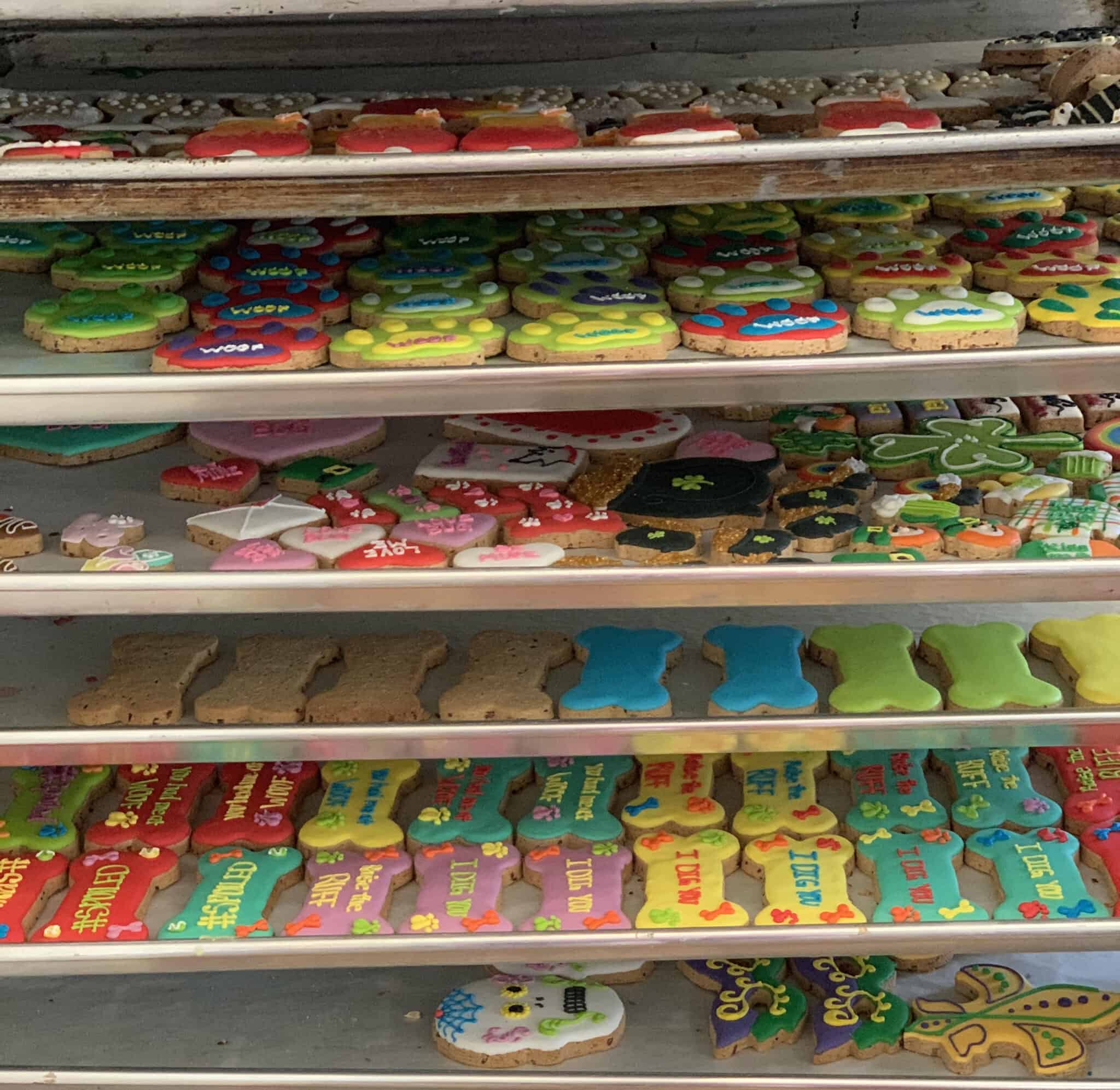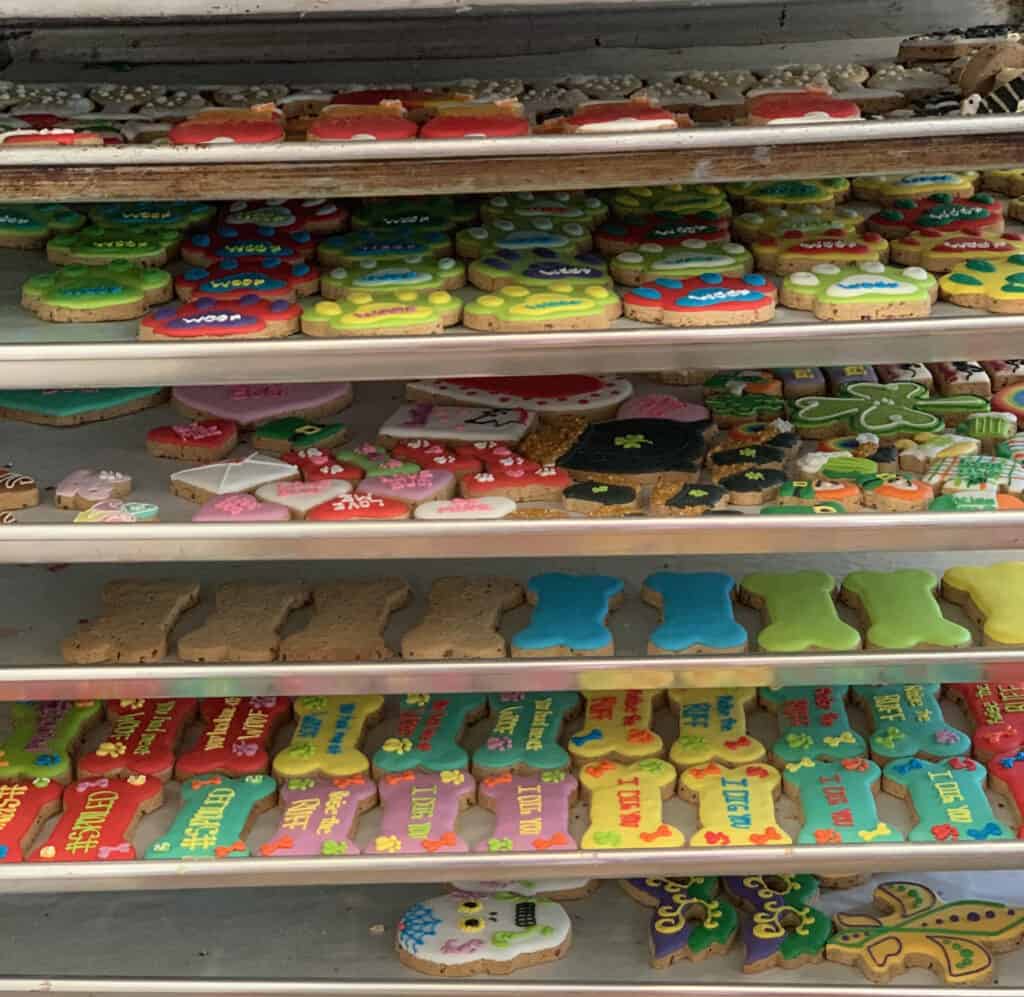 Turns out, some of the ideas come as direct requests from store owners, but most of the ideas come from their bakers. Their staff includes a trained chef from Le Notre Culinary School, a graphic designer and artists.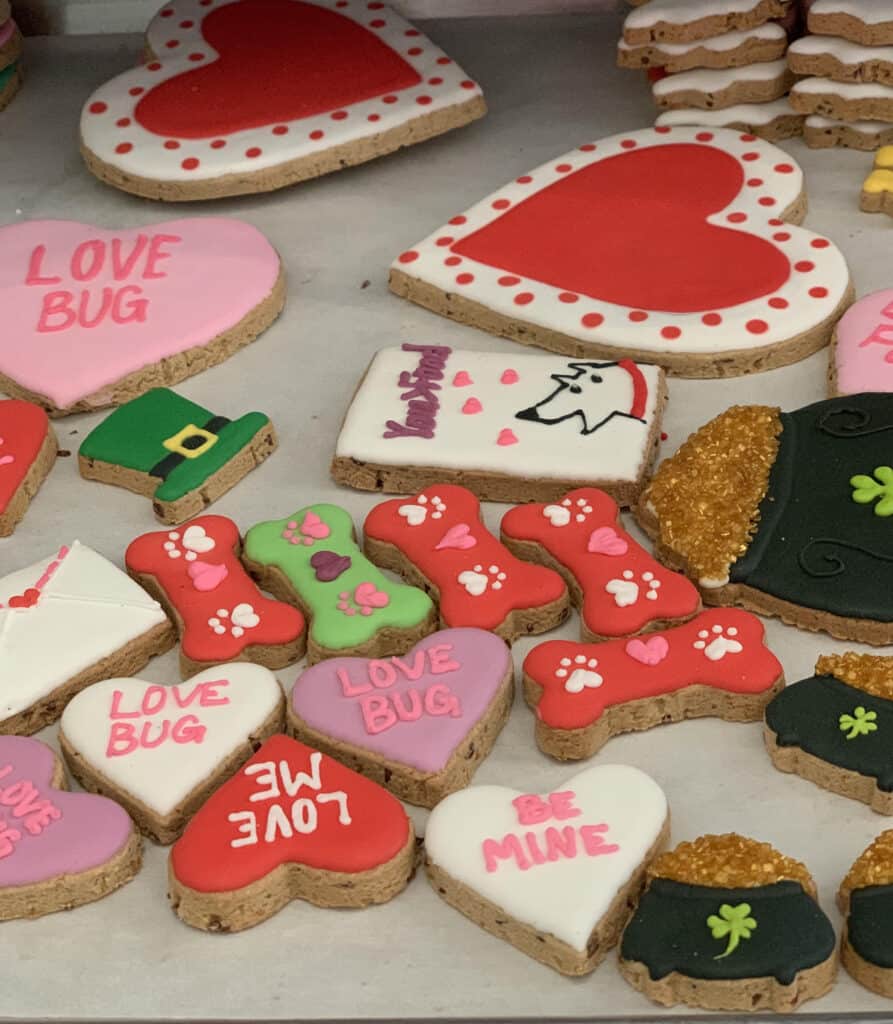 I watched one of their experts to get the idea of it. Seemed easy enough.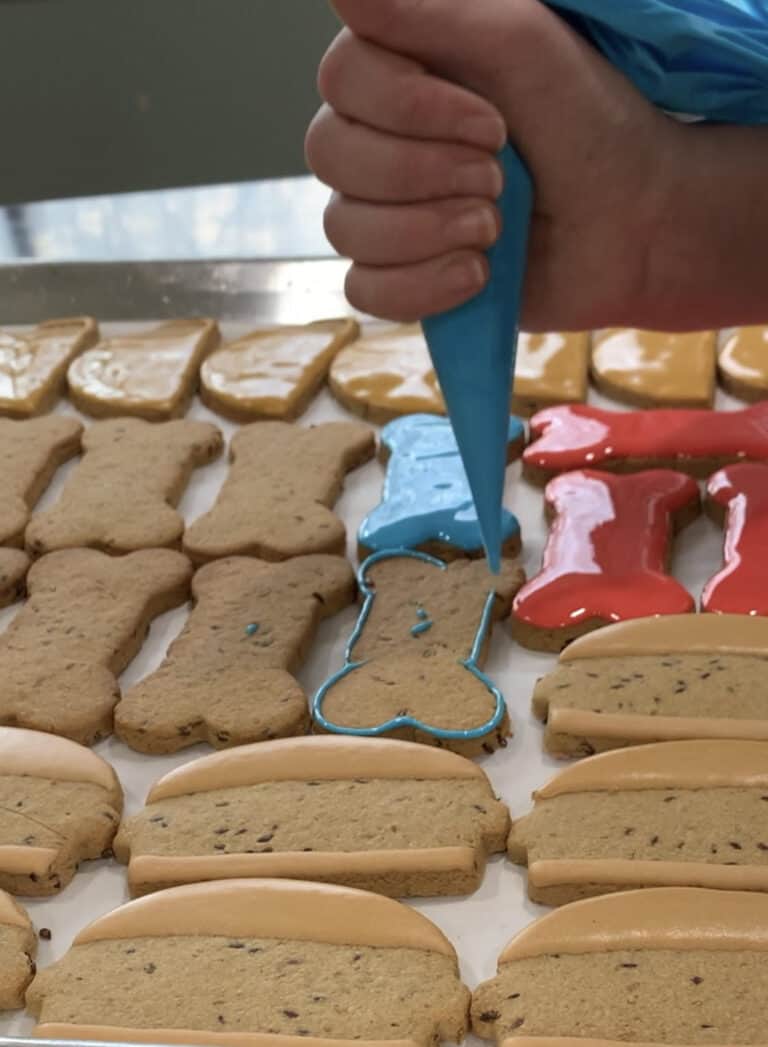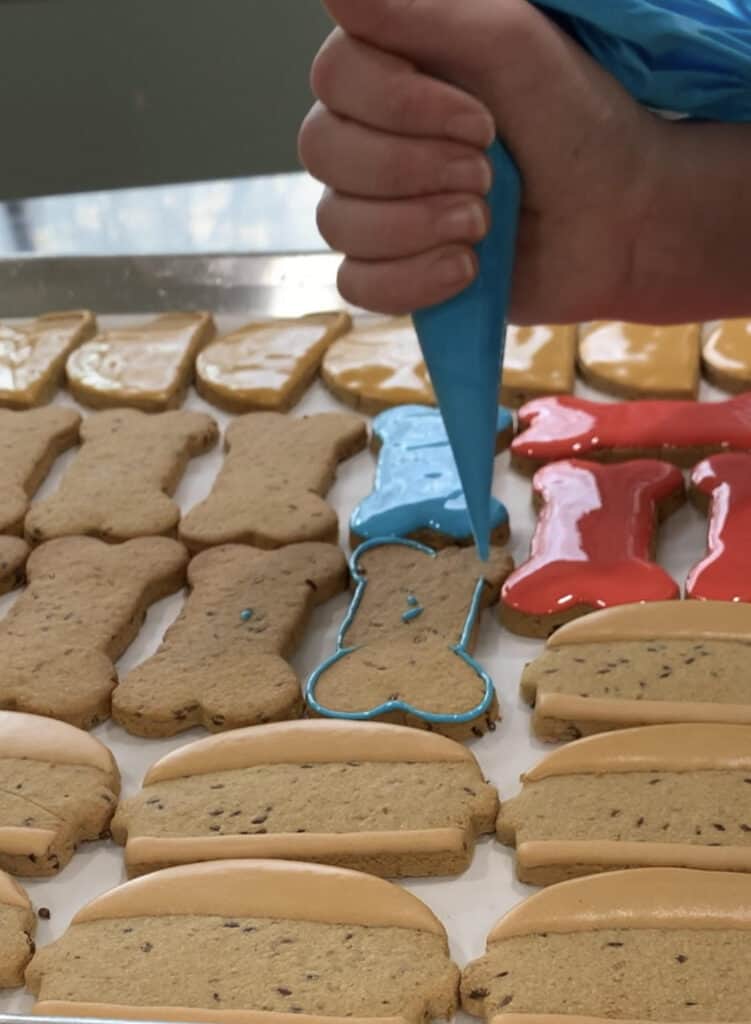 A few basic instructions and I was on my way. Hmm. Not as easy as it looked.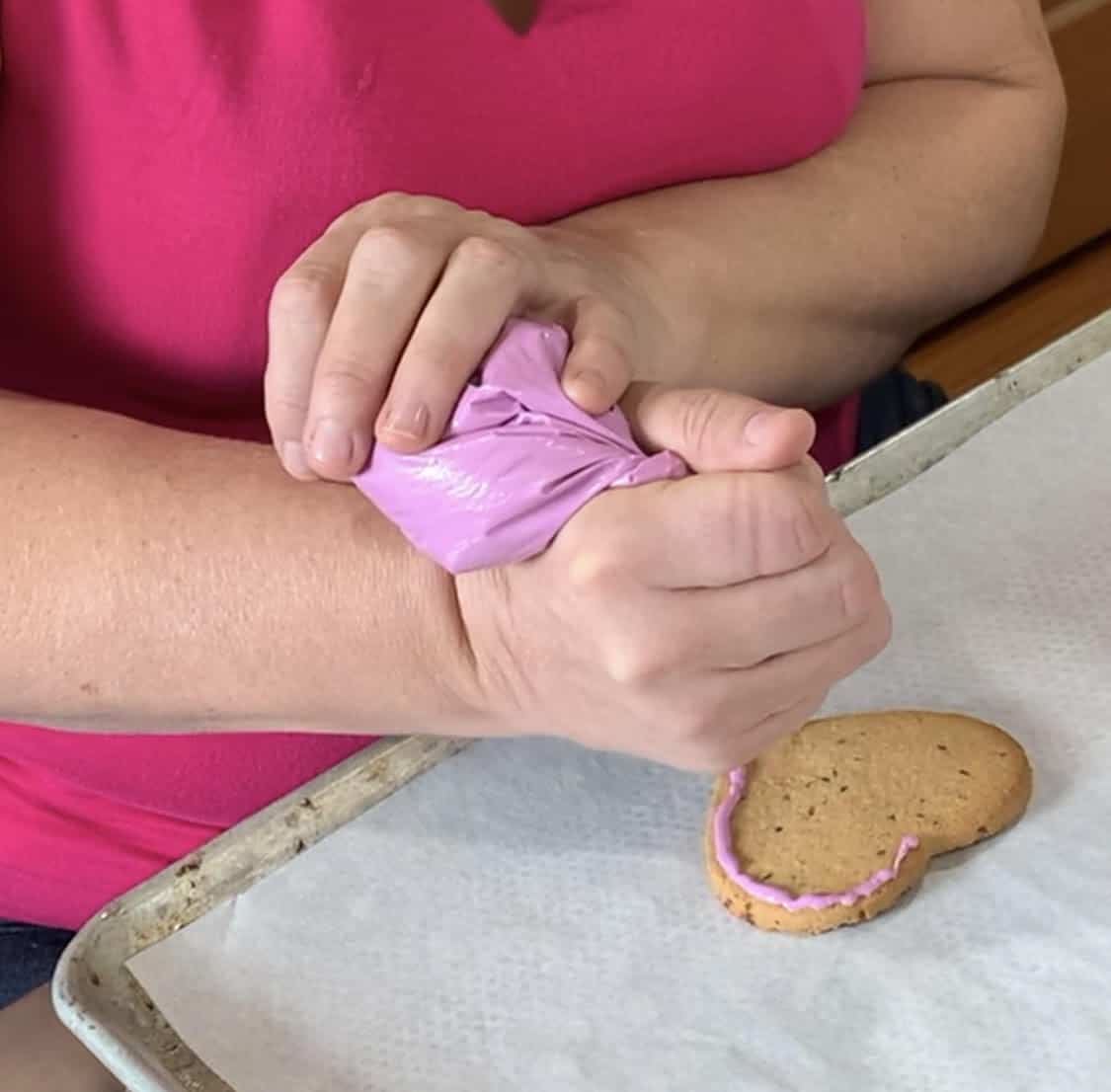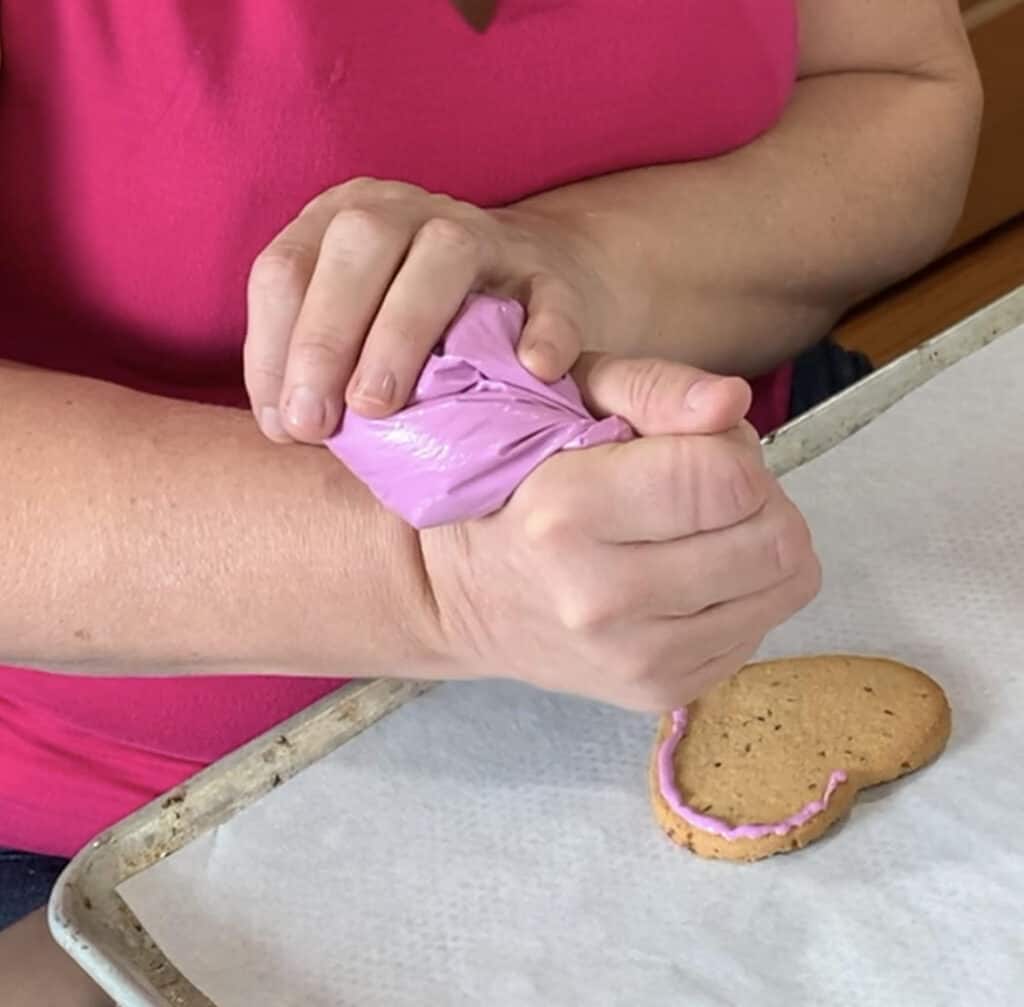 My finished product wasn't bad for an amateur, but wouldn't have passed The Doggie Express Final Inspection due to its uneven coating.
I mean, seriously. Look how gorgeous these are.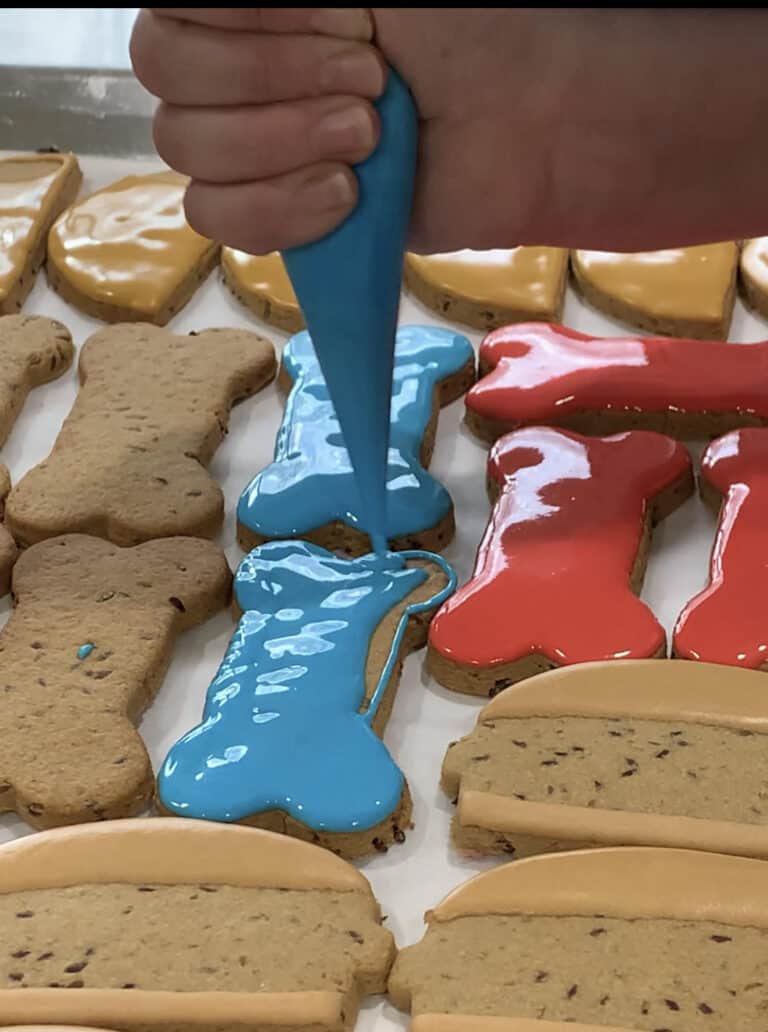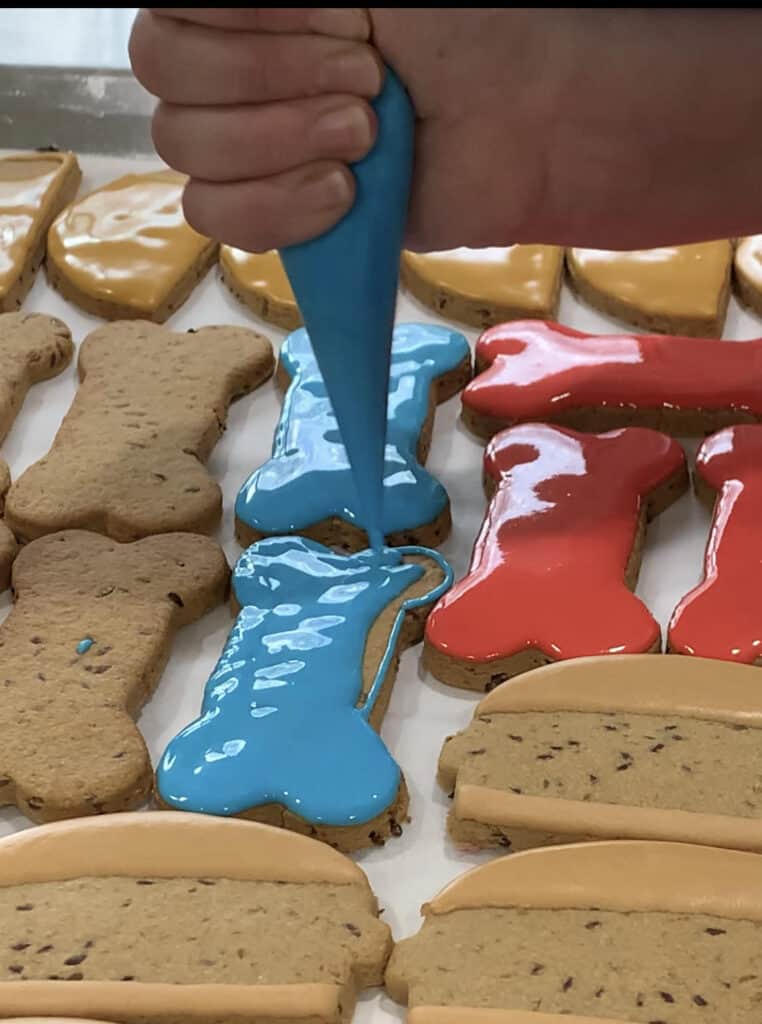 My conclusion? DIY is fine for everyday, but you want professional decorated dog treats for a special occasion. Thankfully, The Doggie Express offers a beautiful assortment.
The Doggie Express Valentine's Day Dog Treat Offer
Want to treat your doggie to something special? How about a gift for your favorite dog rescuer? Here are some options to choose from.
The Doggie Express mini-pack is 6 mini cookies (each 1-2 inches) for just $10!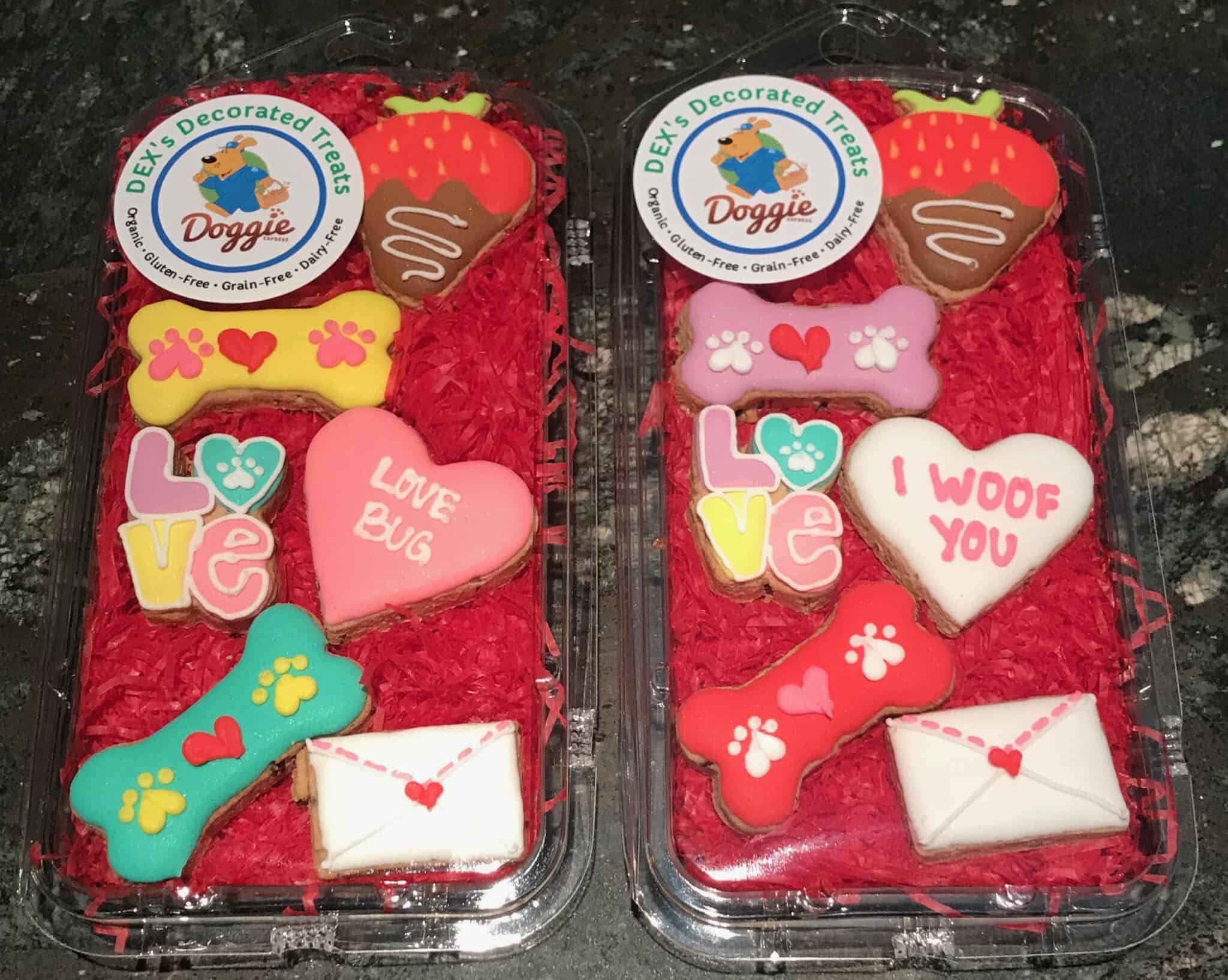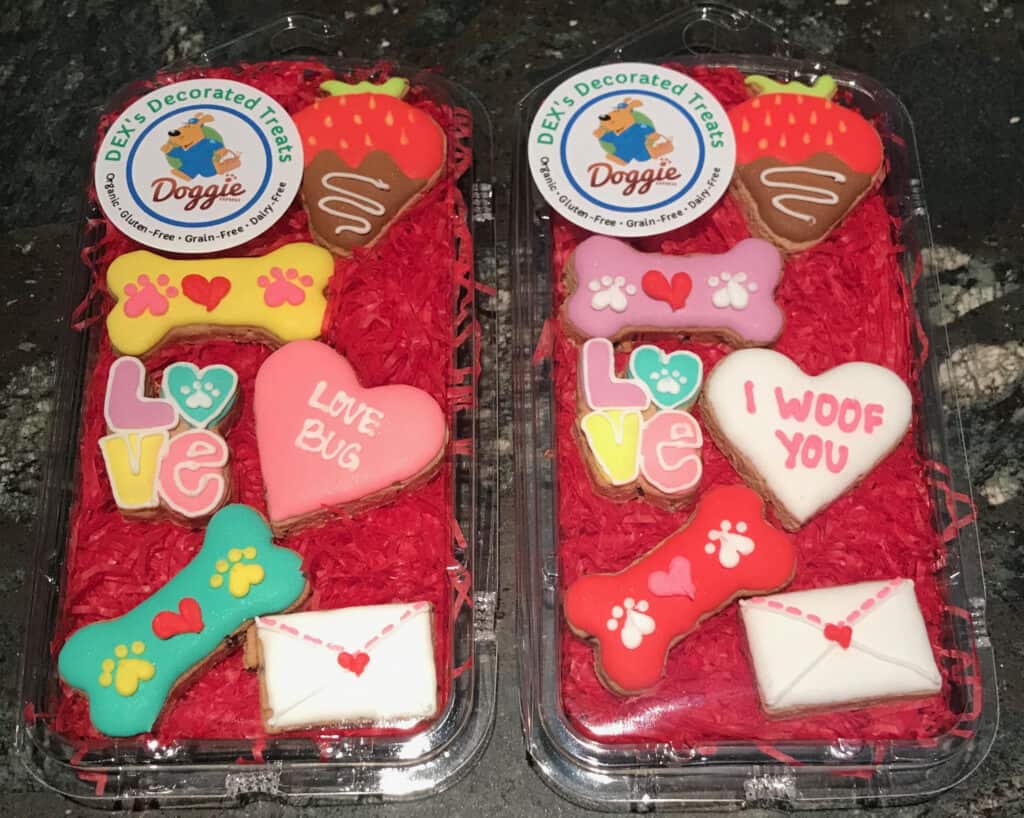 Or for the gift that says "I Woof You," purchase the large gift box (shown below) for $45 or a smaller version for just $25.