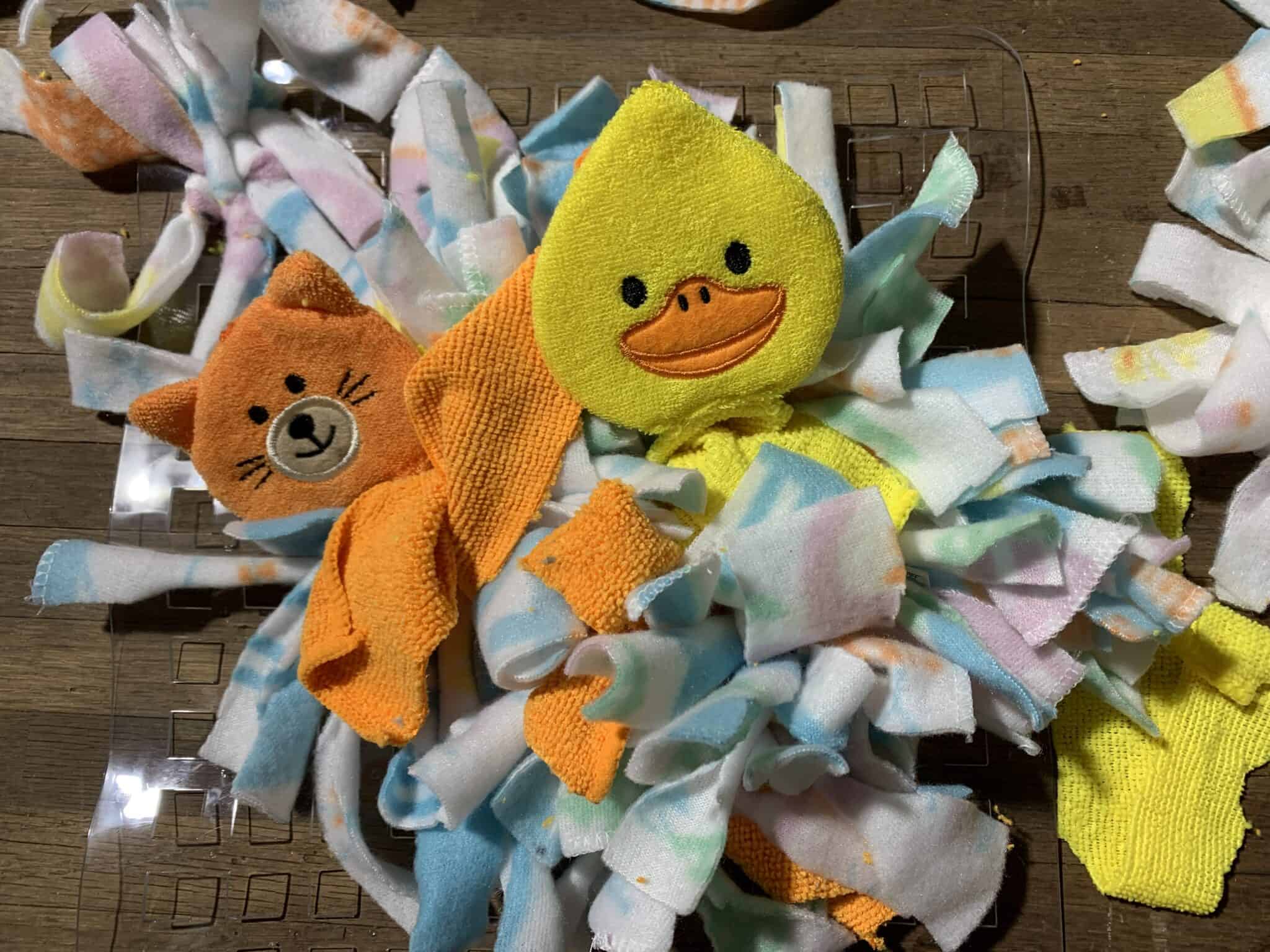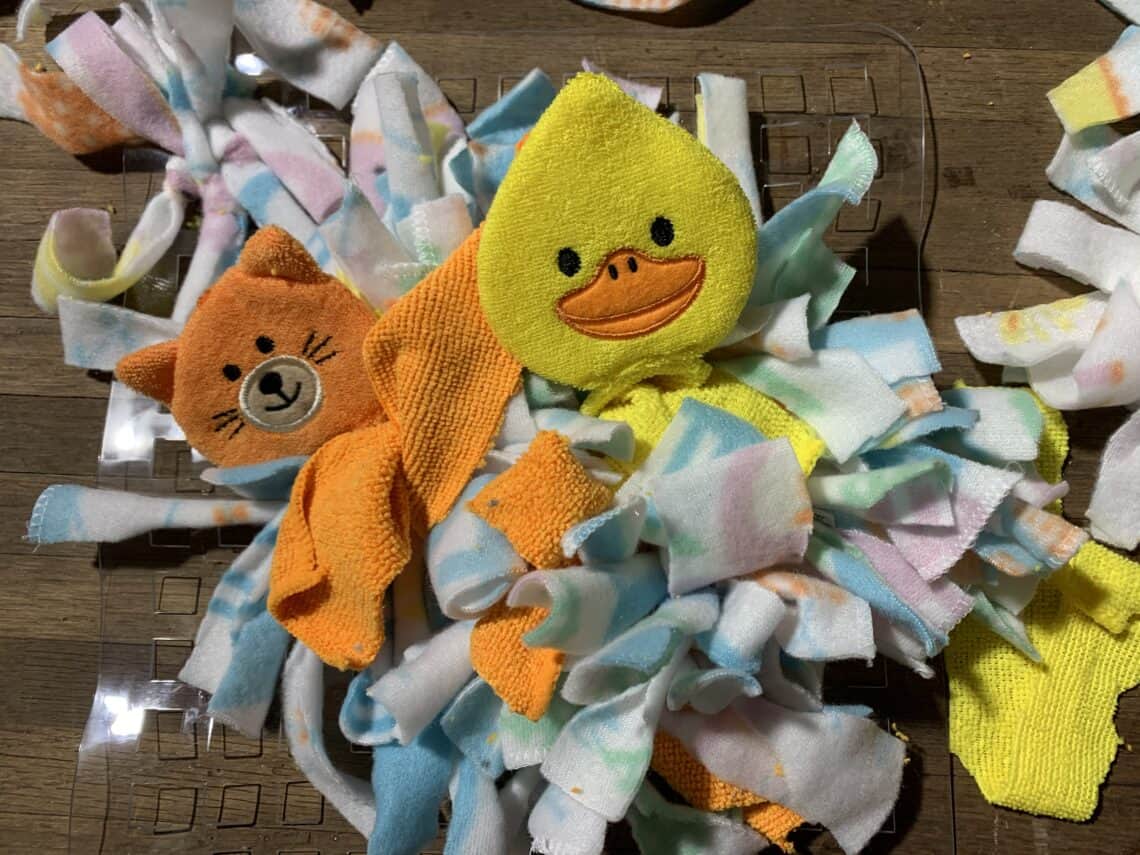 How to Make A Snuffle Mat
Canine enrichment helps to keep your dogs mind active and gives him or her a task to perform. Enrichment includes things like obstacle courses and training.
But one of the easiest ways to provide dog enrichment is with a snuffle mat. Here's how to make your own!
What is a Snuffle Mat for Dogs?
Dogs have a tremendous sense of smell. And most of them love treats.
A snuffle mat combines smell and taste, letting your dog search for treats by snuffling though loose strips of fabric.
A basic snuffle mat consists of fleece strips tied on to a rubber mat with holes in it. The loose fabric faces upwards and makes a great hiding spot for treats.
How to Make a DIY Snuffle Mat for Your Dog
Time needed: 1 hour
Here's how to make a snuffle mat for your dog.
Purchase materials at your local dollar store

The basics: You'll need to purchase a rubber/plastic sink mat and 2 soft baby blankets.

Upgrade your snuffle mat:
–For a fuller look use 3 baby blankets, or purchase medium weight fleece at any fabric store.
–For visual appeal, add a stuffed animal, baby washrag, or crinkle toy.

Cut fleece into 1 inch wide x 8-10 inch long strips

Some bloggers recommend using a 1-inch piece of cardboard to measure the perfect width.

The easiest method I found was to cut the blanket into thirds. Then accordion the fabric and cut at the folds. My cuts aren't perfect, but my dogs have never complained.

Begin weaving fleece strips into the sink mat.

Tie each fleece strip to secure the fabric

A single knot for each piece is enough. Once completed, the amount of fabric will hold everything securely in place.

Continue until every hole in the sink mat is full.

Each hole in the sink mat will have multiple pieces of fabric woven horizontally and then vertically.

The picture below shows the back of the mat, so you can see how densely woven it will become.

Add a toy or decoration

The local dollar store had these adorable baby washcloths. I cut most of the washcloth off (and used it as additional fabric.) Then I simply wove it into the middle of the mat. You could also use dog toys or stuffed animals.

For even more dog sensory overload, use crinkle plastic film, specially designed for dog and baby toys.


Sprinkle the completed snuffle mat with your dog's favorite kibble or treat and watch the fun begin!
Here's a quick video to walk you through the steps. This video features Wiley a foster dog with Wag Again Rescue, Houston TX.
Best Snuffle Mats for a Dog
I'm more of a "buy" than a "DIY." And I made these because, as the video says, I was bored in the house and was in the house bored.
But I will say I found the snuffle mat construction oddly calming and satisfying.
If you prefer to buy a snuffle mat, here are 5 options we recommend:
More DIY Dog Fun!
If you liked making a DIY snuffle mat, try these DIY Dog Treat recipes!
DIY Peanut Butter & Pumpkin Dog Treats
Gluten-Free Chicken & Spinach Dog Treats
Cupboard Pupcakes – DIY Dog Treats
These DIY dog treats are all easy recipes. Not great at baking? No worries. My theory is, even if they aren't perfect, they are perfect for your dog.
Yup! We're an Amazon Affiliate site. If you purchase using one of the recommended products, we may receive a small commission. That doesn't impact how much you pay for the product! Your purchase helps keep Doug & Tammy in kibble!